By the time you read this, the Hong Kong stock exchange will have re-opened after Lunar New Year, with Shanghai bourse remaining closed until 17 February.
Global stock markets are subject to seasonal influences throughout the year, as the usual routines of traders and investments are interrupted for a public holiday or event – this can lead to rallies, sell-offs, increased volatility and everything in between.
In fact, many track these movements and attempt to predict them, forming trading strategies around the historical patterns of seasonal impacts.
Lunar New Year (LNY) and Golden Week are two of the largest holiday/seasonal events to impact the Chinese stock market – and we are in the unique position of seeing the impacts of these holidays in an ongoing COVID-19 environment. So, in the leadup to the main exchanges emerging from hiatus, we're going to explore the impact of LNY on markets in the last few years and how it may shape the next few weeks in Hong Kong.


The current state of the Hang Seng (HSI)
In January 2021, net purchases of Hong Kong stocks reached record highs of over HKD $300 billion (Bloomberg), driven particularly from mainland Chinese using Hong Kong as an access to international exposure and the remarkable size and performance of several recent IPOs – for example, Kuaishou Technology (1024.HK) listed at HKD 115 and closed at HKD 398 as of 11th February – a 346% gain.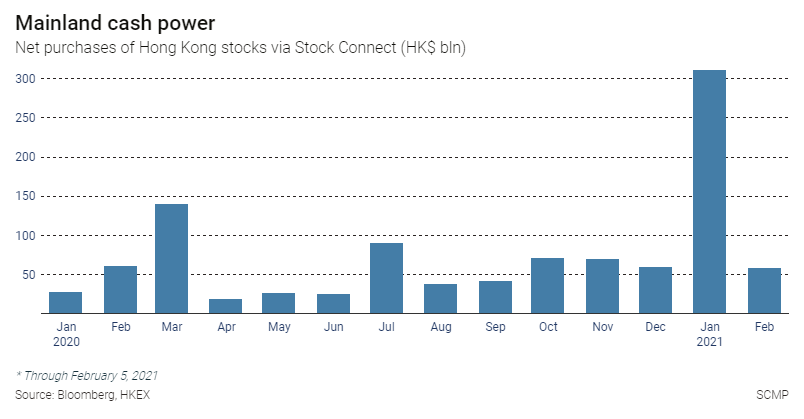 But as stock exchanges began to close and people go on holiday, liquidity has tightened significantly in the leadup to February 11. 
As the chart below shows, daily trade volumes in the leadup to LNY fell to 1/5 of their peak levels in January.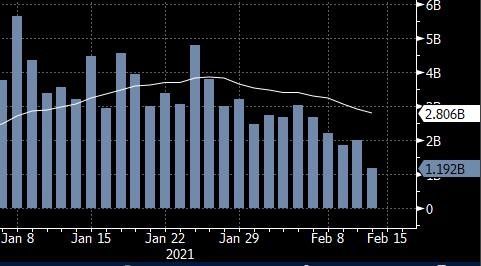 Despite this contraction in liquidity, the Hang Seng closed at record highs on 11 February.
What we'll explore in the next section is that this is not always the case. In fact, the market tends to slump so often that it has been given the moniker "Chinese New Year Dump".
Impact of Chinese New Year
Historically, markets have sold off in the lead-up to Lunar New Year.

This can be attributed to a number of factors, primarily large institutional investors de-risking and scaling out of positions in preparation for a week of exchanges being closed. Anecdotal evidence presented by some analysts also suggests that given the cultural affinity for spending and giving cash gifts during this time, retail funds exit the system to fund gift giving.
Let's look at some of the historical dips in two asset classes which have shown similar behaviours around the Lunar New Year close, equities and Bitcoin, in 2020 and 2018.

The HSI fell -9.44% in the two weeks leading up to the LNY close on the 25th Jan 2020. This was closely mirrored by Bitcoin, which fell -6.71% in the week leading up to the close.

The price action after the re-opening of the exchange is also similar – both asset classes jumped to recover most (if not all) of the fall, with equities tapering off after that jump whilst Bitcoin continued to rally.
Similar circumstances occurred in 2019 but were less accentuated compared to general market volatility.
The exact same scenario was seen in 2018; equities fell -11.14% then clawed back most of those losses in the next week, Bitcoin dropped -37.76% and then rallied to new highs a week later.
Why is this time different?
Neither the Hang Seng nor Bitcoin have exhibited the usual sell-off coming into the 2021 Year of the Ox closure.
Why is this?
The most obvious reason may be the sheer volume of money in the financial markets this time around. A catalytic mix of a strong Chinese economy and Western stimulus (particularly from US investors participating in IPOs and buying Hong Kong-listed companies) may all but prevent the market from selling off, pushed up by global momentum.
This is particularly relevant for Bitcoin, which now have far more global participation – very much including retail investors from the US and Europe – as opposed to most of the retail participation in 2018 being from Asian investors.
It may be that Hong Kong is simply maintaining its strength because it is a more global exchange in 2021, be it by encouragement of the Chinese Communist Party to be an essential financial hub, or the flows driven by successful and high-profile IPO deals.
As the compliance disclaimer goes, past performance is not a reliable indicator of future performance.
We may see Hong Kong open higher this afternoon as people go away to discuss stocks in the exchange hiatus and stoke a buying frenzy on returning.
Or it could be that the slump has just been delayed, so taking the exchange 'off the boil' for a while will put some valuations into perspective.
We are in a new world for the Hang Seng, one in which the traditional market movements around one of its biggest events of the year seem to have waned. Time will only tell what impact Lunar New Year will have on markets going forward – watch the market in a few hours to see.
The views expressed in this article are the views of the stated author as at the date published and are subject to change based on markets and other conditions. Past performance is not a reliable indicator of future performance. Mason Stevens is only providing general advice in providing this information. You should consider this information, along with all your other investments and strategies when assessing the appropriateness of the information to your individual circumstances. Mason Stevens and its associates and their respective directors and other staff each declare that they may hold interests in securities and/or earn fees or other benefits from transactions arising as a result of information contained in this article.