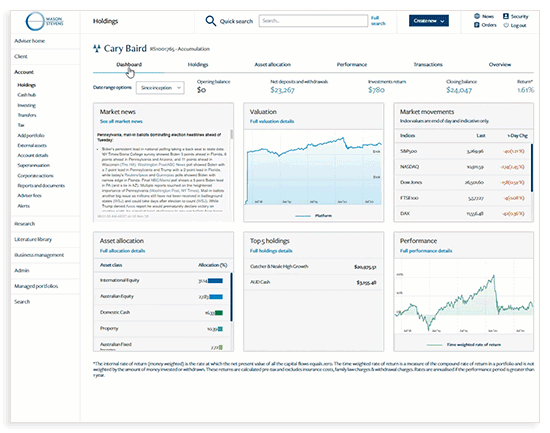 Our investment platform is a contemporary administration solution built to help you create portfolios that lead your business into the future.
The platform is a scalable and efficient investment administration across all asset classes from direct fixed income through to international equities, foreign exchange through to derivatives. It is the only adviser driven portfolio admin solution backed by execution through over 50 dealing and broking partners across the globe.
A solution for investors seeking:


Expert insights, guidance & exclusive investment opportunities

Support in constructing investment portfolios
Expert investment execution

A sophisticated & scalable investment administration solution
Transact and report on any securi

ty

, in all major asset classes and currencies

.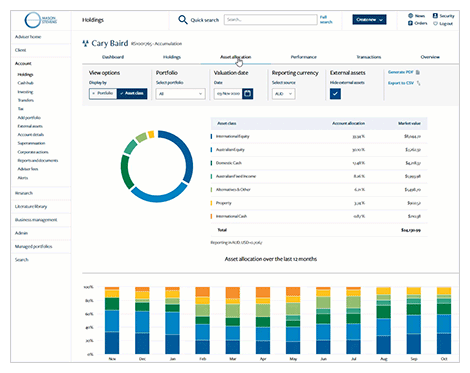 Unlock a truly global & diverse investment offering
From direct equities and fixed income to IPO's, managed investments to managed accounts, Mason Stevens clients have access to a comprehensive list of multi-asset, multi-currency investment options.
Your models, your way
Create, manage and implement customised investment models for clients. Whether you choose to utilise your own in-house investment expertise or select third party asset managers (or a combination), the choice is yours.
International account consolidation
Ability to transfer any international pensions accounts your clients may have acquired whilst working overseas. We're currently leading the way in transferring UK Sipp Accounts.
Expert guidance
Led by our dedicated investment team to help you make informed decisions.
Our technology makes the once complex task of investment administration, managing client portfolios and order execution, simple and straightforward.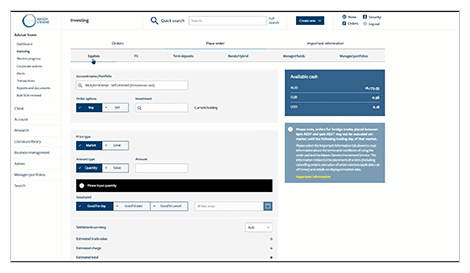 Leading technology
Supported by industry leading technology, creating efficiencies in your business across investment, SMSF, Retail Super and Pension
Live, 24 hour trading
Live execution through 15 domestic brokers, 8 offshore brokers, 80 fixed income market makers, across over 55 global exchanges. 
Holistic portfolio management
View clients' investment portfolio and superannuation account all in the one place. This includes the ability to add non-custodial assets to the platform and portfolio reports.
Household reporting
Our technology offers reporting at a consolidated household level, down to an individual entity or even single portfolio.
Integrated mobile app
View accounts, holdings and asset allocation breakdown, anywhere, anytime. 
Partnering with you to create a customised solution to fit your business.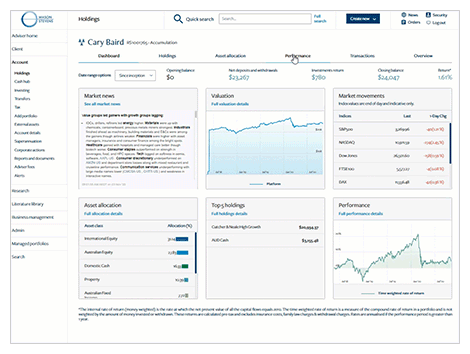 In-house investment research and execution guidance
Our experienced investment team are available to consult on your portfolio construction.
Detailed reporting
Consolidated reporting across Investment and Super.
Flexibility
Onboard your clients with fully electronic, paper based or hybrid application processes to suit you and your business process.
Smooth transition support
Highly experienced team to support and guide you through your transition.
"Implementing managed accounts has allowed us to deliver high quality investment outcomes for our clients and create significant efficiencies within our business.
This means more focus on our clients and more focus on growing our business.
Mason Stevens are an active partner for our business, delivering market insight and expertise when required. They provide us a new dimension of experience and market knowledge, which is valuable."
"We explored the Australian market and reviewed all platform solutions in the country for four years. Mason Stevens' service and capability is far superior to anything on the market. They have been flexible, proactive and tailored solutions to suit our business and clients' needs. They are now an important partner for us, delivering a best-of-breed platform solution along with ongoing coverage across domestic, offshore and private markets."
"Mason Stevens are passionate about making unique investment ideas a reality. Their collaborative, proactive culture is evident in their ability to workshop investment solutions. In our case an FX hedging solution that served our clients well, allows us an unmatched direct global approach in the market place."
Frequently Asked Questions
Does Mason Stevens provide in-specie transfers?
Yes. Mason Stevens will assist in the transfer of assets for investment accounts.
Can I utilise an SMA solution sourced from the market?
Yes. We have a current menu of SMA managers which has been carefully selected based on adviser demand and manager quality. We will assist in the manager approval process for inclusion on the Investment and Super menu.
Can I setup firm specific model portfolios and rebalance in bulk?
Yes, we work with advice practices and dealer groups to help them create investment portfolios. We can work with you and your portfolio/research manager to deliver an efficient trading experience to maximise client outcomes.
What is the process if I wish to add an investment option from the market that isn't available on the platform?
We can add securities to the investment administration service at any time. Investment options are added to Super on a monthly basis.
Can Mason Stevens cater for the following investment options (direct, mFunds, ETF's, managed funds, hybrids, bonds, multiple term deposits, self-funded instalment warrants)?
Yes, we have a far broader capability than the assets described above. Essentially, we can execute, book and settle and report on assets from any global market, and across all asset classes. We also manage FX on international equities and bonds, with assets able to be reported in their native currency and/or $AUD.
What business reporting is available?
We have a deep analytics engine (MASA) providing Dealer Group insights which we can demonstrate for you.
Financial Wellness Hub
Resources to help you get the most out of your super.
Retirement Calculator
Figure out how much super you need to retire in comfort. 
Support Centre
Browse our Support Portal.
Connect
Follow us on LinkedIn.