Over a century ago, electric vehicles accounted for over 30% of all vehicles on U.S roads, made attractive by their quieter operation and lack of choking fumes. Compared to steam-powered or combustion engines they were competitive in cost, had acceptable range and did not require lengthy start-up processes.
So why did we not enter a utopia of cheap, widely accepted electric vehicles?
Well much like introducing the five-day work week, Henry Ford came in to revolutionise (or ruin, depending on perspective) the industry with the Model T.
Fast-forward to 2021, and as governments around the world look to phase out combustion vehicles over the next few decades, the electric car looks to make a resurgence to meet our ever-growing transportation demands.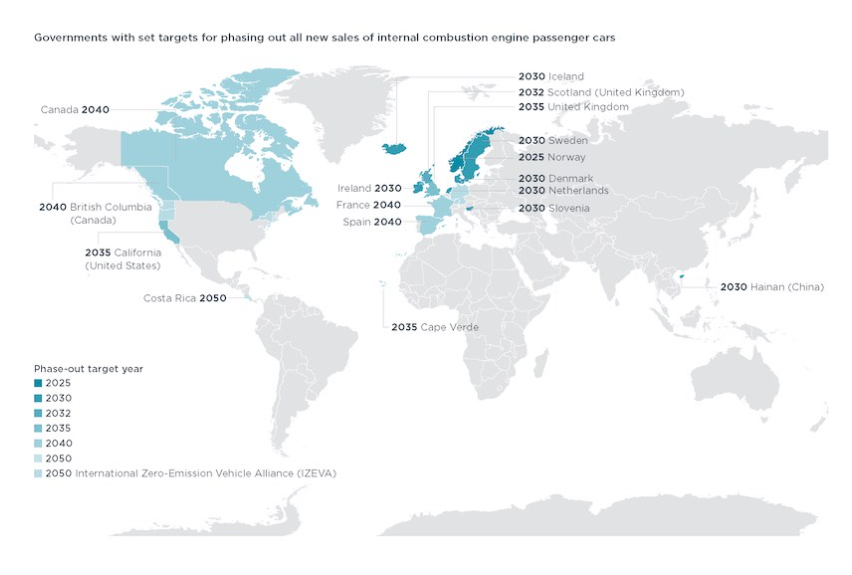 With the background of a growing movement to phase out petrol and diesel engines, let's examine current forces moving towards electric vehicles and growth opportunities for investors in the future.

Electrifying
According to Bloomberg, global annual investment into 'low carbon technologies' totalled $500 billion USD during 2020. This included approximately $300 million USD electric vehicle (EV) R&D, particularly around renewable engine capacity, whilst general investment into increasing battery storage was around $3.6 billion USD.
Global EV sales were up 43% in 2020 (EV Volumes) – and as a comparison of this rate of growth compared to the combustion 'auto-market', EV sales in the USA increased by 4% y/y whilst the auto-market fell 15% y/y during 2020.
Global sales of electric and hybrid-electric vehicles have been steadily increasing over the last decade, with global plug-in vehicles now making up 4.2% of all light vehicles globally (as of December 2020).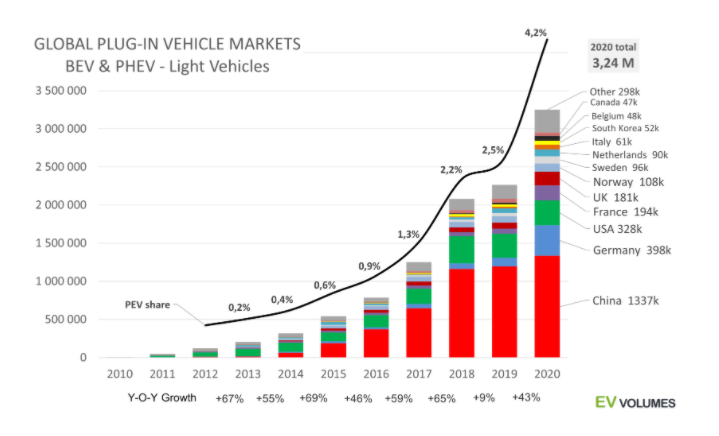 As jurisdictions around the world commit to lower emissions and the cessation of combustion vehicle sales, global car manufacturers have begun following suit and announcing target years to either go completely renewable or offer a majority EV range.
To name some of the major targets announced;
Investing in the future
With the structural tailwind of governments mandating the cessation of combustion vehicle sales, it seems apparent that electric (or 'green') vehicles will see drastic ramp-ups in demand and sales growth in the coming decade.
The industry for vehicles which do not use internal combustion is growing, offering new investment opportunities with each technological innovation in battery technology, engine capacity or alternative fuel-source.
Some of the largest EV producers in the world have seen booms in their stock prices in the last year, as well as the ETFs which track their progress.
The iShares Self-Driving EV and Tech ETF (IDRV) tracks companies which develop EV and self-driving technology across developed and emerging markets – and has seen a one-year performance of 78.73% as of Feb 28th 2021.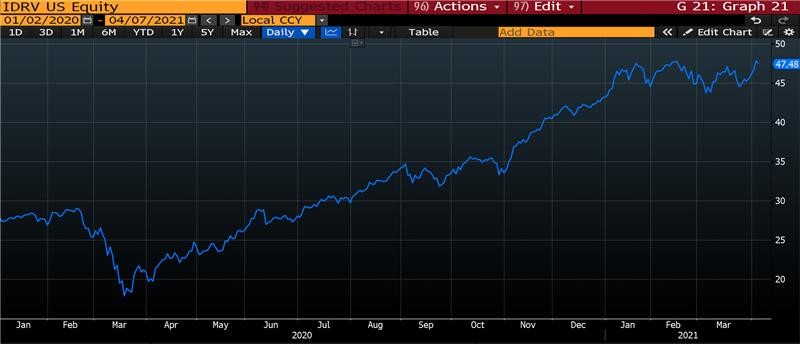 In the United States, Tesla (TSLA) remain the largest EV stock at the moment, with the Model 3 selling close to 200,000 units during 2020 – larger than the next five most popular EV models combined.
However, they are not alone in their strong position – General Motors (GM), Volkswagen (VOW3), Hyundai (005380) and Toyota (7203) all stand to benefit from the significant rise in EV demand over the next 10 years.
In Asia, the Chinese market dominates the growth of EV sales.
With the recent restriction of Tesla vehicles by the Chinese military, domestic manufacturers such as Nio (NIO) and Xpeng (XPEV) stand to have a dominant market position due to their existing sales and room to take market share from the incumbent Tesla Model S and Model 3 on the mainland.
In Q1 2021, Nio and Xpeng both reported 500%+ increases to their deliveries and there is a growing trend in South-East Asia for 'smart EV' technology, of which local manufacturers are best placed to handle the regulatory environment.
There are ample opportunities in the supply chain of vehicles; this includes semi-conductor manufacturers, lithium and graphite miners or developers of battery technology. In a further note we will touch on battery technology and the supply chain for alternative fuel sources, which is an industry growing in itself beyond the scope of just incorporation into EV's.
Driving growth
As the world moves inevitably towards alternate means of powering our transportation, investors are presented with an ever-growing set of opportunities to capture this global growth trend.
The most direct method is to buy the vehicle manufacturers themselves, or those who are in a strong position to leverage existing operations into EV production in the coming years.
As the world develops and technology pushes the frontier of our ability to move away from petroleum and fossil fuels, the investment universe will only expand and the means in which to get exposure to the EV thematic will get broader.
At the moment any investment is at the frontier of development, but as the industry matures and becomes more widely accepted, volumes will begin to define who are the leaders and who are the pretenders in the EV space – this will be the turning point for many investors, and perhaps the investment theme as a whole.
The views expressed in this article are the views of the stated author as at the date published and are subject to change based on markets and other conditions. Past performance is not a reliable indicator of future performance. Mason Stevens is only providing general advice in providing this information. You should consider this information, along with all your other investments and strategies when assessing the appropriateness of the information to your individual circumstances. Mason Stevens and its associates and their respective directors and other staff each declare that they may hold interests in securities and/or earn fees or other benefits from transactions arising as a result of information contained in this article.