It's at this point in the series that I regret not talking about coal power, so we could combine that with wind and call this note "Earth, Wind and Fire" – but I digress.
Following on from our first note on solar, today we look at the investible opportunities across wind power and hydro-electricity, two sectors which have been at the forefront of recent global climate discussions.
The Wind in the Willows
Wind power has been utilised by human civilisation since 5,000 BC, with windmills being used in agriculture from Ancient Egypt, to water pumps operating throughout middle Asia.
Today we look to wind power as an important cog in the larger drive towards a low-carbon future.
Wind power is one of the cheapest sources of large-scale renewable energy, with on-going enhancements to the size and efficiency of turbines.
In 2020, a total of 93 GW of new wind power installations were fitted across the world, bringing our global cumulative wind production to approximately 743 GW – around 30 GW more than solar in 2020.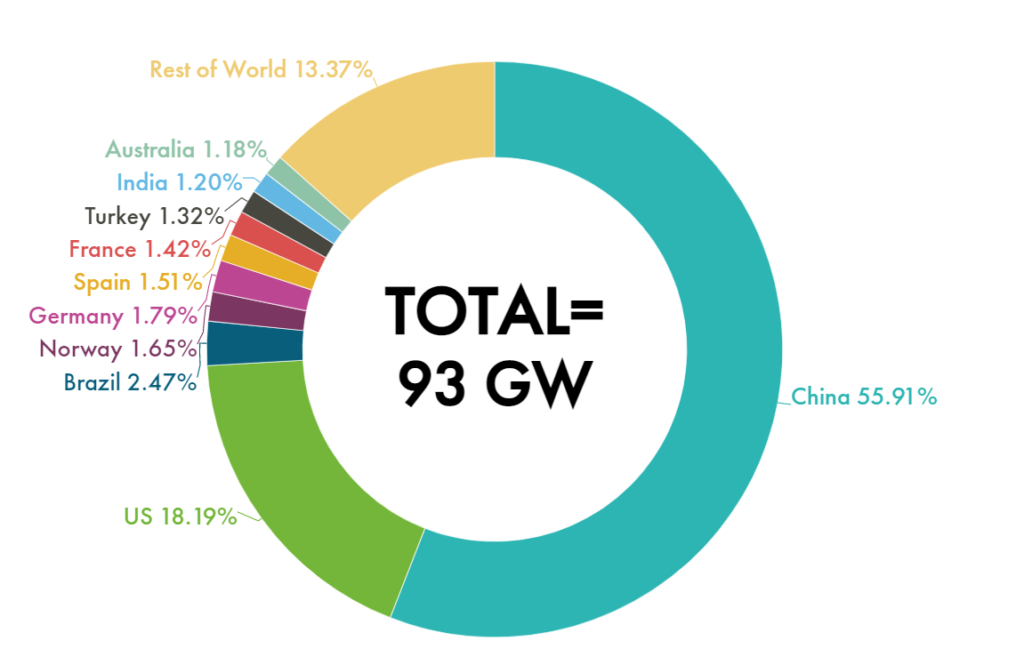 China and the United States are by far the largest producers of wind power, but what is interesting are those nations which use wind power as a portion of their total power consumption.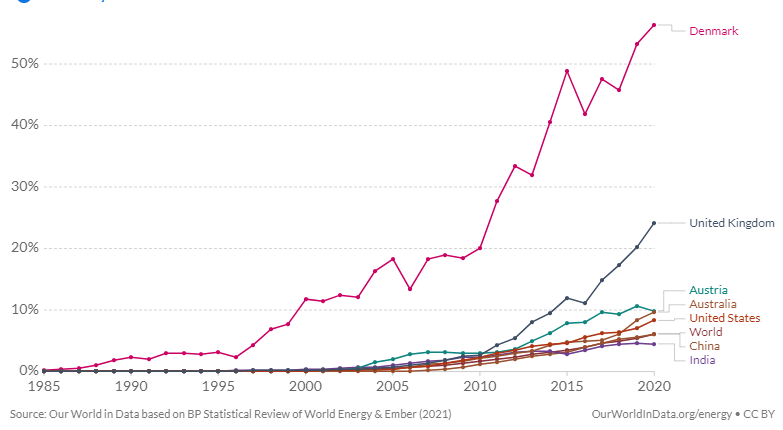 In 2020, Denmark was using wind power to meet over 50% of their national energy demand, and even Australia was able to source almost 10% from our onshore wind farms. This is an energy source with potential to take up large portions of national demand.
Investing into wind power can take you across the globe and across projects of various scales, from small regional farms to offshore megastructures.
For broad exposure, several ETF's exist which track the largest and most active companies in the wind energy industry; two of the largest ETFs are the iShares Global Clean Energy ETF (ICLN:NASDAQ) – which also captures other alternative energy companies – and FirstTrust Global Wind Energy Fund (FAN:NYSEARCA).

Finding pure-play wind power companies is often left to those in the private space, however there are larger energy companies with strong portfolios of renewable energy assets.
Clearway Energy (CWEN:NYSE) is one of the largest renewable energy operators across North America, focussing primarily on solar and wind assets – it even has some geothermal thrown in there which I'll discuss in the next part of this series.

Another company, one which is a more household name, is General Electric (GE:NYSE), the 33rd largest company in the U.S and an extremely diversified energy holding. Though far from a pure play, GE sources around 20% of its revenue from renewables (Source: FactSet) and has assets from Europe to the Sunshine Coast, QLD.
Damming with Fine Praise
Hydroelectric power is one of the largest renewable energy sources in the world – in 2020 the total capacity of hydroelectric power was 1,308 GW (International Hydropower Association), or close to the combined production of solar and wind.
The dependency on a very specific natural occurrence (large rivers or estuaries able to generate the power) means that whilst certain countries have little-to-no exposure to hydropower, others use it as a major component of their national power grid.
On average, almost a dozen African countries uses hydropower for 99.5% of their power needs, Greenland uses 80.28%, Brazil uses 64.58% and New Zealand uses 56.48%.
Whilst North America has been lowering its production of hydropower, South-East Asia and Africa have led the way in adding over 26 GW of new infrastructure over 2020 (IEA).

For investments, hydroelectricity may be the most challenging yet (geothermal is going to test that title soon though) – given the massive cost and potential politics involved in a hydropower project (including damming up areas or rivers going across borders), this is an expensive and specialised energy source.
iShares Global Clean Energy ETF will also cover this asset class, although the percentage of holdings related to hydropower are much smaller.
Ocean Power Technologies (OPTT:NASDAQ) is a company that occasionally appears in the news for its leading research and application of wave-energy technology, installing mechanisms along the coastline which generate energy from ocean waves.

Making a return from last note, Brookfield Renewable Energies (BAM:NYSE) is one of the largest renewable power companies in the world, starting as a hydropower income fund before becoming a more diversified holding. BAM owns 219 hydro generation facilities with a combined capacity of 7,900 MW, primarily across Latin America.

Positive Energy
As we move through these different alternative energy sources, there is a positive picture forming as globally we continue to develop our capacity and utilisation of green energy.
This not only bodes well for the planet but also for the private sector, since as more projects come online and there are new developments in technology, private investment will inevitably be required to supplement that of sovereign investment.
Next note we will conclude by discussing geothermal and nuclear power – and as this sector unfolds there will no doubt be more opportunities to discuss investible ideas, developments in technology and geopolitical progression as the world moves towards a low-carbon future.
The views expressed in this article are the views of the stated author as at the date published and are subject to change based on markets and other conditions. Past performance is not a reliable indicator of future performance. Mason Stevens is only providing general advice in providing this information. You should consider this information, along with all your other investments and strategies when assessing the appropriateness of the information to your individual circumstances. Mason Stevens and its associates and their respective directors and other staff each declare that they may hold interests in securities and/or earn fees or other benefits from transactions arising as a result of information contained in this article.