Since Michael Faraday's invention of the electric motor in 1821, the technological progression of our society has been tied to an increasing demand for power.
From household to industry, almost every person in the world has access to an electricity grid – since 2000, almost 1.2 billion people have gained access in Asia (International Energy Agency) bringing the total number of people without access to just 770 million (primarily sub-Saharan Africa).
With this growing access and demand – the need logically arises for increased production – as you can see below, the increase in production has been exponential since the Industrial Revolution.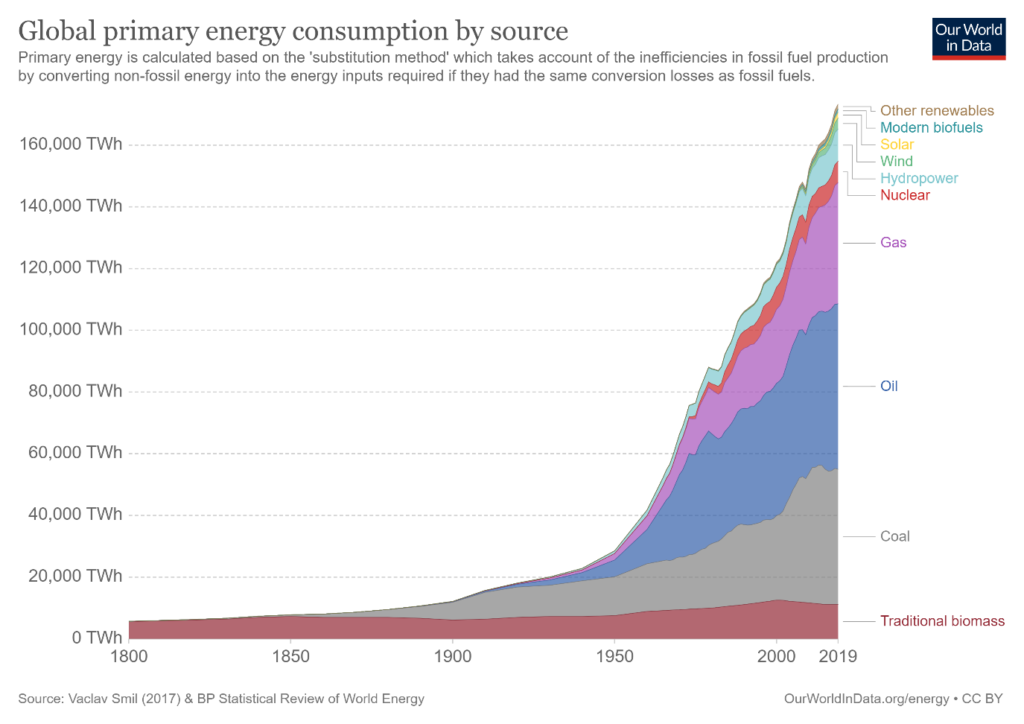 As governments, consumers and investors collectively acknowledge the ever-growing threat of climate change and look to pivot away from fossil fuels, we must now look to rapidly expand the capacity of renewable energy sources to power our world going into the coming centuries.
In the first of a three-part note around renewable energy sources, today we'll look at the current capacity for solar power, the outlook for its development in the near-future and the investible opportunities in this space.

Waiting for the Sun
The ability to capture and utilise solar power has existed since the early 1950s with photovoltaic (PV) cells, but with the introduction of government rebates to households and businesses for panels, this renewable energy source is really starting to have its time in the sun.
The global effort to cut carbon emissions has often taken focus on consumer usage of solar panels, as an alternative to relying on the grid.
In March this year, the Biden Administration pledged to cut the cost of solar energy technologies by 60% by 2035.
Back in 2011, China's five-year plan included a mandate for solar panels to make up a higher percentage of domestic energy production.
Germany's 'Energiewende' de-carbonisation plan has a heavy emphasis on public solar parks, individual usage of PV and for solar to a significant portion of total electricity production.
These are but a few of many governments to recognise that solar is one of the fastest renewable technologies that can be adopted from households up to the utility-scale (significant infrastructure) level.
The growth of PV has been exponential, with the global power output from PV representing approximately 713 gigawatts (GW) in 2020 (International Renewable Energy Agency). To put this into perspective, in 2018 all of Australia had an energy capacity of 66.5GW.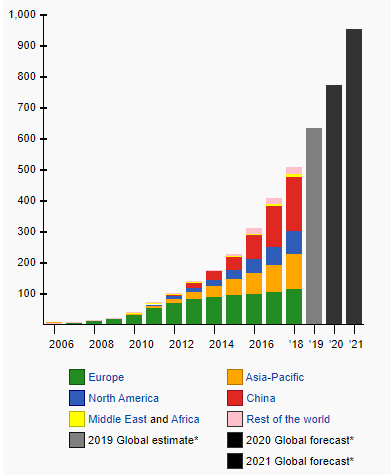 The International Energy Agency estimates that by 2050, global energy production by solar PV will hit 4.7 terawatts (or ~4,674 GW) – if the ratio of households (65%) to utility-scale plants (35%) remains consistent, there is over 2,500 GW of power supply to be provided by household PV alone.
Getting exposure to PV is also the most accessible part of the solar investing universe, with the manufacturers, installers and providers being listed across multiple exchanges.

An example of a PV-focussed company is First Solar (FSLR:NASDAQ), one of the America's largest manufacturers of domestic and commercial solar panels, as well as providing a recycling service for PV products.

For a broader exposure to the PV industry, the Invesco Solar ETF (TAN:NYSE) tracks the MAC Global Solar Energy Index, a global index which looks to gain exposure to solar technologies (particularly PV) and the entire production chain.

Another aspect to solar energy is utility-scale operations, more similar to an infrastructure investment in a coal-fire powerplant than in the individual panels on suburban homes.
This perspective affords a more macro-driven view, as projects of a size relevant to a city or nation generally require government backing and are of a more institutional-grade investment profile.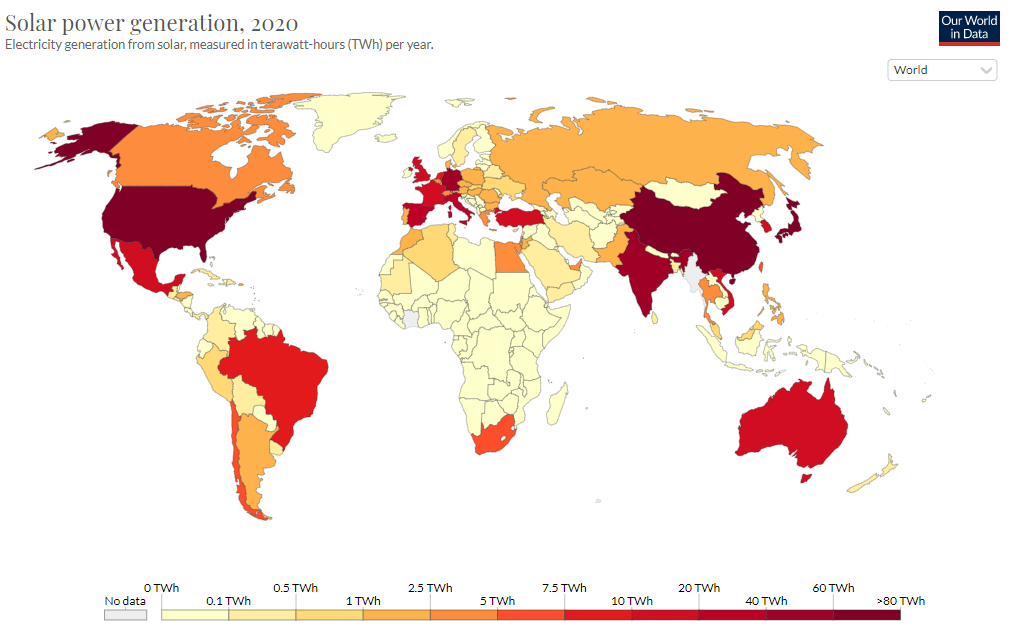 In 2020 the United States and China led the way for solar power generation (in terawatt-hours), followed by Japan, India and Australia.
Exposure to utility-scale solar operations, such as solar farms or solar installations on large facilities, is generally found in energy retailers and green bond issuances.
To focus on the energy companies, there are several global companies which are either entirely or focussed on solar energy production as part of their retailing offering;
Engie (ENGI:EPA) is one of the largest electric utility providers in the world. With their largest distribution channels throughout Europe, the company has been pivoting towards renewable energy production – particularly solar – since 2014.


Brookfield (BAM:NYSE) is the largest solar energy company in the U.S, and is a subsidiary of Brookfield Asset Management. Although positioned across multiple renewable sectors, one of their most significant upcoming infrastructure projects is a 1.2GW solar farm in Brazil (due for completion in 2023).


In Asia, GCL-Poly Energy is one of the largest solar companies in Hong Kong, supplying PV materials and constructing their own projects across China and India. Their parent company, Golden Concord Group, is one of the largest green energy suppliers across mainland China.
Third Rock from the Sun
There is growing structural support for renewable energy across the world – it very much seems we are in a global paradigm shift where households to governments are able to take action towards a collective goal of de-carbonisation.
To characterise solar amongst other renewable sources, it is one of the most readily accessible exposures for both investors and consumers – much like there are multiple existing listed securities from energy suppliers to manufacturers, there are also opportunities to participate in the solar shift on your own home or business.
This is important from a sentiment point of view as well as expanding power output; what is visible and readily accessible is often in a better position to move first when market attention does turn towards renewable energy investments.
The views expressed in this article are the views of the stated author as at the date published and are subject to change based on markets and other conditions. Past performance is not a reliable indicator of future performance. Mason Stevens is only providing general advice in providing this information. You should consider this information, along with all your other investments and strategies when assessing the appropriateness of the information to your individual circumstances. Mason Stevens and its associates and their respective directors and other staff each declare that they may hold interests in securities and/or earn fees or other benefits from transactions arising as a result of information contained in this article.