My supply is scarce, my price has gone parabolic and I am durable. What asset am I?
Unfortunately for fans of decentralisation, I am describing lumber – the slightly less 'cool' asset class which has risen over 340% in the past year (Bloomberg).
Lumber, also referred to as Timber outside of the USA and Canada, is a type of wood which has been processed into beams and planks, used primarily for construction.
Inflation Adjusted Lumber Prices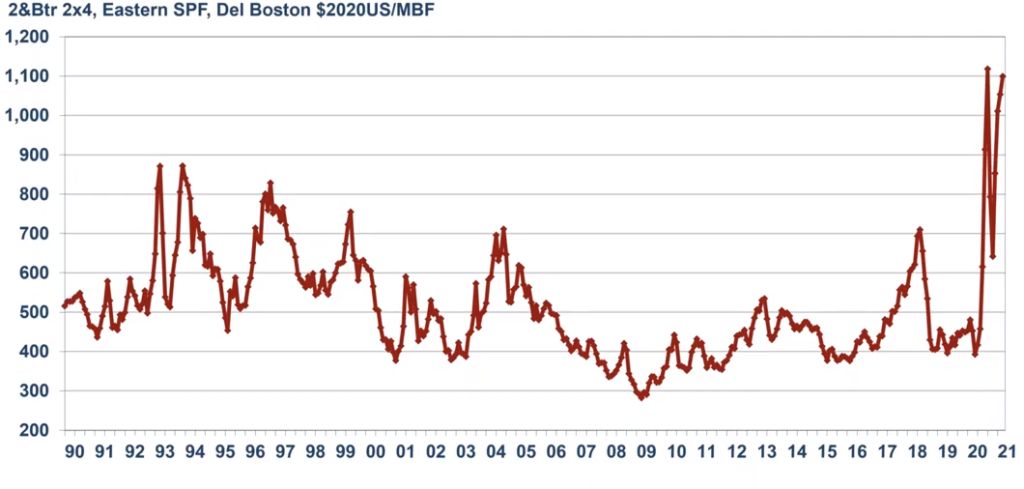 Source: Forest Economic Advisors
In today's note, the second of our Inflation Series, we will explore the reasons behind rapidly rising lumber valuations, why these increases may not be temporary, and the ways in which you can gain exposure.   
Why is Lumber Going Up?
Inflation is caused either through an increase in aggregate demand (demand pull) or through a decrease in aggregate supply (cost push) at a given price point.
Typically, inflation is borne through one of the two forces emerging over a longer-term time horizon. However, when both forces work in unison, dramatic inflation can occur over a short period of time, as has been the case with lumber.
Before going into the various inflationary dynamics, let's take a step back and look at the lumber supply chain.
The supply chain starts with a tree, which is felled to create logs. These logs are then sent to sawmills, where they are cut to size so that they can be processed into lumber.
The lumber must then dry to remove excess moisture, as wet/green wood (which is wood with high moisture content) will have a greater potential to warp and disfigure – much like how your timber floorboards can become disfigured through humidity or water related damage.
This drying stage is particularly important, given lumber is commonly used within the structure of a home. Sawmills will typically use wood drying kilns, which usually take around a day to dry the wood but can take up to a month (depending on the size and thickness of the wood).
Once the lumber holds an appropriate moisture content, it is sold to distributors, who are then able to sell to retail stores for end use.
As you can see, it isn't as simple as felling a tree and cutting it to size – along with being difficult to transport (due to its size), lumber requires considerable processing to reach a state which is appropriate for industrial applications.
In 2020, sawmills initially reduced capacity at the start of the COVID-19 pandemic over expectations of reduced demand.
However, consumers defied these expectations and actually increased levels of demand – and so sawmills struggled to keep up, hamstrung by COVID-19 related stay at home orders and by the closure of several sawmills in 2019 due to low lumber prices.
This created a logjam at the sawmill level of the supply chain, where the problem was not the supply of logs, but instead the ability of sawmills to process these logs into lumber.
The scale of this supply imbalance is reflected through lumber inventories, which remain at 20-year lows, with no significant increases in supply expected to come back online in the short-medium term.
US Lumber Inventories 2020

Source: Forest Economic Advisors
Lumber markets have also seen a considerable surge in demand, driven by increasing new home construction, and renovations of existing homes.
Housing valuations have been driven up in both Australia and the US, with home buyers incentivised by record low interest rates and a greater preference for home ownership.
Lower density housing demand has also skyrocketed as a result of lifestyle changes associated with COVID-19, with homebuyers having greater capacity to work from home, and reduced desire in living within metropolitan areas.
On the supply side, markets have seen record low housing inventories – necessitating the construction of further housing and subsequently driving up demand for lumber.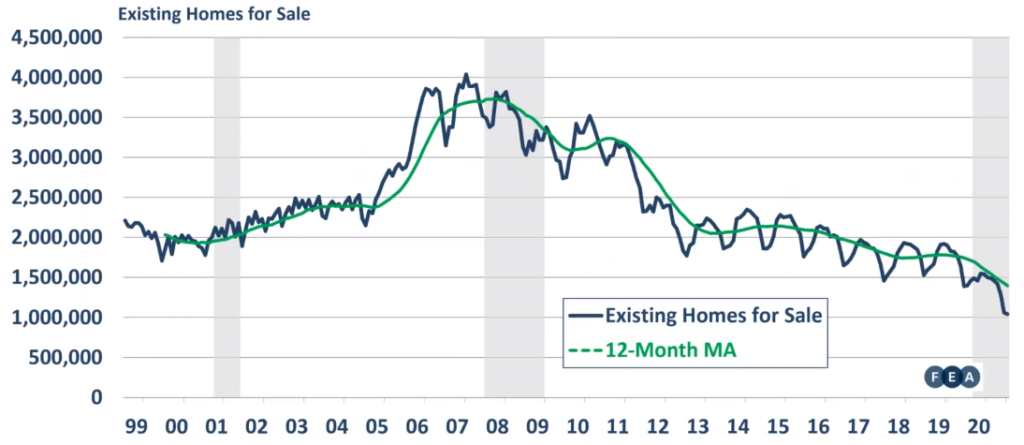 Source: Forest Economic Advisors
In the existing home market, lockdowns saw homeowners spending increasing amounts of time at home, leading to substantial increases in the number of DIY renovations. This trend was particularly apparent in the US where it made up 41% of lumber demand in 2020.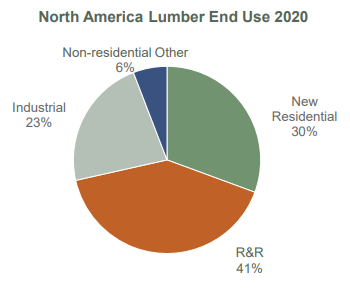 Source: West Fraser Timber
But how sustainable is this level of demand? Will the removal of restrictions and increasing inoculation rates reverse these trends?
Growing Like Trees
Whilst housing markets in Australia and the US have been driven into a frenzy in the past 6 months, positive demographic trends should underpin a strong housing market over the next 4-5 years.
As is the case in both Australia and the U.S, the most populous generation are millennials, who are either currently in, or soon to enter their prime home buying years.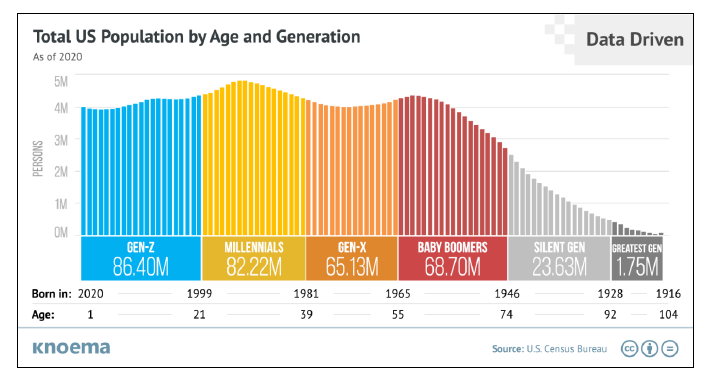 Source: U.S. Census Bureau, Knoema
Moreover, this generation will be supported by record low interest rates, which are expected to remain at their current levels for atleast the next 3 years.
As these prospective home buyers come to market, housing supply must be increased from its already constrained levels, which will create a strong and sustainable source of demand for lumber.
How To Get Some Bark in the Game
There are a variety of securities which provide exposure to lumber, each touching differing parts of the supply chain.
Sawmills – West Fraser Timber, Louisiana Pacific (TSE:WFG, NYSE:LPX)
Investors with exposure to sawmills would have seen considerably higher returns over the past year, relative to those with exposure to purely logging.
Remember – supply constraints have not come from the supply of logs (whose prices have not increased with lumber), but instead from the capacity of sawmills to produce lumber from the base material.
The majority of residential housing projects utilise Oriented Strand Board (OSB), which is a stronger and more efficient alternative to plywood.

Source: Bloomberg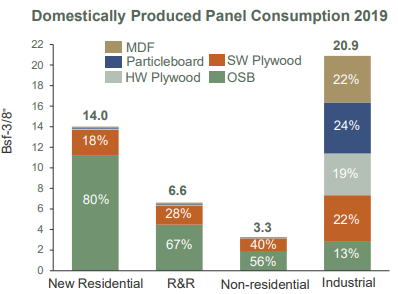 Source: West Fraser Timber
West Fraser Timber (TSE:WFG) and Louisiana Pacific (NYSE:LPX) lead the OSB market, and look set to benefit directly from growing US housing demand. Both companies operate mills around the world and have announced plans to re-open some previously closed mills in the US.
Timberland REITs – Weyerhaeuser (NYSE:WY)
Timberland REITs own and operate land used for the production and harvesting of timber, offering a diversified exposure to the supply chain.
Weyerhaeuser is the largest of the timberland REITs, owning 50,000km2 of timberlands in the US, and managing an additional 57,000km2 under long term licenses in Canada.
Weyerhaeuser derives revenue from the growing and harvesting of trees, wood processing and real estate, energy and natural resource assets.

Source: Bloomberg
Lumber ETFs – iShares Global Timber & Forestry ETF (NASDAQ:WOOD)
Lumber ETF's offer a more diversified method of getting long on the industry, with WOOD holding a mix of companies involved in the global forestry industry.

Source: Bloomberg
Where to Next?
It is unlikely that lumber prices will remain at their current levels in the medium term, given the expected increase in supply from reopening sawmills.
However, demand looks set to be stronger than prior to the COVID-19 pandemic, given the tailwinds of record low interest rates (which are expected to remain anchored for at least the next 3 years) and shifting lifestyle trends.
In the longer term, demographic trends are set to support increased home ownership and subsequently new home construction, requiring continual purchases of lumber.
The views expressed in this article are the views of the stated author as at the date published and are subject to change based on markets and other conditions. Past performance is not a reliable indicator of future performance. Mason Stevens is only providing general advice in providing this information. You should consider this information, along with all your other investments and strategies when assessing the appropriateness of the information to your individual circumstances. Mason Stevens and its associates and their respective directors and other staff each declare that they may hold interests in securities and/or earn fees or other benefits from transactions arising as a result of information contained in this article.