In our Healthcare note a few weeks ago, we outlined the merits of investing into the sector from the point of view that the world is getting wealthier and older. As we get older, we spend longer 'living with disability' on average, meaning that we require lengthier and often permanent care as we age. As we get wealthier, we trend towards spending more on quality care for ourselves and our family as a priority.
What we did not have time to touch on in-depth is the specific sector which is required as we live longer and require more specialised care – "aged care".
Aged care is a unique investment universe, presenting a range of challenges from geographic risk to ethical concerns – providers are, after all, caring for our family in their most vulnerable point of life. From nursing homes to over 55's retirement living, there is a range of potential investment opportunities for investors seeking both a healthcare and ethical theme in their portfolio.
To begin the conversation, we will examine the domestic aged care market, re-iterating the macro themes behind the healthcare thesis and what investible opportunities exist within this space.
A Background on Aussie Aged Care
Aged care covers a lot of ground as a sector, ranging from support services which assist the elderly in their own homes to permanent care in a dedicated facility.
Although there is no strict criteria by which someone qualifies for aged care, given the average life expectancy in Australia is ~83 years, around 65+ is the current rule of thumb for being considered an older person (at least according to our own government)
As of 2019, this worked out to be just under 16% of our population (source: Australian Bureau of Statistics), which has been increasing on average by 1-2% per year since 1999. A slightly more impressive statistic is the number of people aged over 85 (2.1% of the population), which has increased by 117.1% from 1999 to 2019, compared to a total population growth of just 34.8%.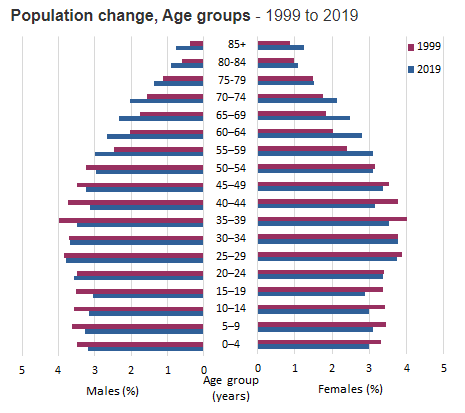 According to the Australian Institute of Health and Welfare (AIHW), governments spent over $21.5 billion on the aged care sector between 2019-20, with 63% of this going to residential aged care, leaving the remainder spread across home care and services.
This expenditure on residential aged care was 26% higher than it was during 2015-16, so clearly this is the area of the sector experiencing the most growth from the public sector.
In 2020 there were over 335,000 Australians using some form of aged care services, with 189,000 of these people being in residential care.
The Big Picture on Old Age
So, what drives us towards this increased usage, and spending, on residential aged care?
To reiterate a point from the Healthcare note, we have both an expected life expectancy and health-adjusted life expectancy (HALE) – the proportion of these two is one of the primary drivers around why an ageing population necessitates further aged care.
In 2016 the World Health Organisation reported that Australia's HALE was around 73 years – the life expectancy at the time was 82.45 years.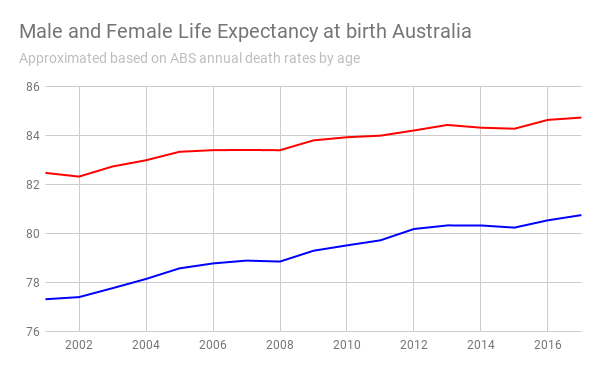 Globally the trend has been that as life expectancy increases, the portion of our lives spent with 'disease' increases – to hark back to that note again:
In 1990, the average life expectancy was 66.96 years, with 7.11 years lived with disability
In 2016, the average life expectancy was 76.36 years, with 8.51 years lived with disability
For the average Australian, we can expect that from around our 70s onwards we will need some form of care.
In most Australian families, children often don't have the life circumstances to assist their parents living at home if they are in a state of illness or disability, be it for cultural or financial reasons, so residential care offers an alternative where the elderly are cared for in a quality environment with trained professionals.
Depending on the specific situation, this could range from purchasing a luxury accommodation in a retirement living complex (the likes of Stockland, Aveo, Lendlease), to organising a room within an aged care facility (for example Regis or InteliCare).
Given negative press given to some aged care providers – particularly in light of the 2018 Royal Commission – many families will do their research and spend more in order to find the best quality of care, aiding to the growth of this sector for investors who find themselves involved with those high-quality providers.
Finding Opportunities in Aged Care
There are many listed aged care providers across the sector who present potential investment opportunities – depending on which area you want to gain exposure to.
Some of the largest retirement village/living developers are listed on the ASX, including;
Stockland (SGP:ASX)
Lendlease (LLC:ASX)
Aveo (AOG:ASX)
These companies offer a broader exposure, also being impacted by the movements of the domestic property market (which offers links to inflation, economic growth, and interest rates).
For a more specific exposure to aged care operators, investors can avoid some of the wider market influence to take more sector concentration;
Regis Healthcare (REG:ASX)
Estia Health (EHE:ASX)
Eureka Group (EGH:ASX)
Your specific investment exposure will largely depend on the comfort in either playing aged care from a high level, such as a general healthcare fund or provider/larger developer with some retirement living operations, or taking a narrow view on the sector to try and screen out market forces which may be correlated to broad equities.
The Twilight Years
Aged care investment is very much reading both macroeconomics and the sentiment of human behaviour – we work as a society to extend our lives, and thereby then need to work (and spend) to make sure the quality of that extended life remains high.
It is human nature to care for those in our lives who are most vulnerable, and as we find new technologies and new means of care, we will naturally spend what we can to ensure our ageing family receive the best care possible within our situation.
To take an investment view on this topic grants exposure to both a growing healthcare sector, and the potential to have an ethical and sentimental play within your portfolio – for many, this is just as important as the return profile.
The views expressed in this article are the views of the stated author as at the date published and are subject to change based on markets and other conditions. Past performance is not a reliable indicator of future performance. Mason Stevens is only providing general advice in providing this information. You should consider this information, along with all your other investments and strategies when assessing the appropriateness of the information to your individual circumstances. Mason Stevens and its associates and their respective directors and other staff each declare that they may hold interests in securities and/or earn fees or other benefits from transactions arising as a result of information contained in this article.