Video games have been around since the 1950s and 60s as computer scientists, a new field at the time, began designing simple games and simulations using mainframe computers.
There is dispute regarding what the first video game was – depending on a person's definition of a "video" – however, they started to emerge in the 1950s with Pong, Tennis for Two and Bertie the Brain (noughts and crosses) among the first.
From these humble roots the world's obsession with games grew away from traditional board games and sports, to utilising new technologies such as computers and video game consoles and microprocessors in the 70s and 80s to roll out bigger and better video games – ironically, they used progressively smaller devices.

Source: VanEck Vectors Video Gaming and eSports ETF (ASX: ESPO) fund factsheet
Consoles such as Atari or the Nintendo Entertainment System, where you could play Space Invaders or Pac-Man were all the rage that led to platforms such as the Game Boy – a hand-held console – while the internet allowed remote access online gaming, where players could participate outside their Local Area Network (LAN).
I have personally been playing computer games for over 20 years, where my brother first introduced me to Counter Strike in ~2000, a year after it was released – a game that is still played and its fanbase is now larger than ever.
Back then, it was a low-quality rendering of human-esque figures playing out a "first person shooter" scenario of Terrorists versus Counter-Terrorists.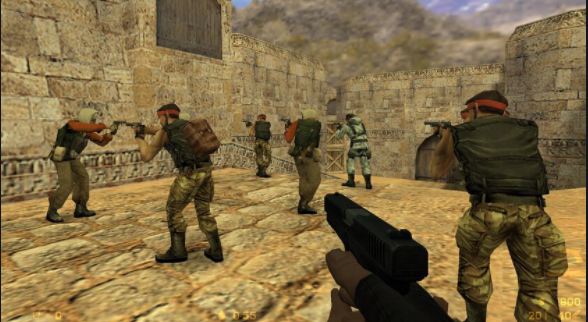 Source: Valve Corporation, Jesse's computer – Dust2 Terrorist lobby (2001)
Now it is a semi-realistic, immersive experience with over 5.6 million active players who have logged into the game in the last month, with an even larger fan base of people that watch professional players play.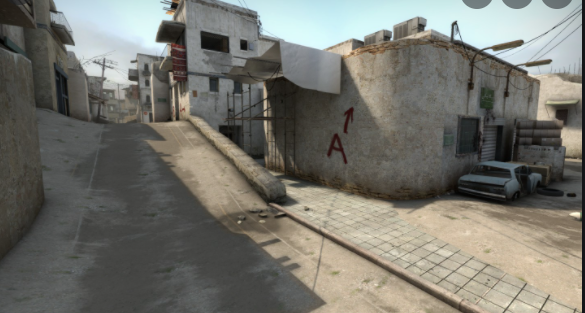 Source: Valve Corporation, Jesse's computer – Dust2 Terrorist lobby (2021)
In fact, the streaming of online gaming has become so lucrative that market incumbent Twitch, owned by Amazon (NASDAQ: AMZN), is currently valued at 15 billion USD, has 27 million daily watchers ("streamers") and over 6 million content creators using the platform.
So popular, that YouTube, owned by Google/Alphabet (NASDAQ: GOOG), has tried to follow suit and gain market share of the online streaming gaming experience.
The Investment Thesis
Herein lies the investment thesis for getting exposure to online gaming.
There is a growing body of people that work from home and spend an increasing amount of time on computers or video game consoles at home.
The age demographic that grew up with computer games are not "growing out of it" so to speak – as Millennials such as myself born in the 80s still play computer games as a way to relax, and latest research trends show that the next generation, Generation Z, is increasing their participation in online gaming compared to traditional sports and physical games.
If not just playing video games, people also like to watch others play games in both large concert halls or via online streaming platforms – such as YouTube or Twitch. For example, this is "The International" held in 2019, a DOTA2 event where teams of 5 players would face off against each other to determine who the best team in the world was. The prize pool for the top contenders? $34.33 million USD, where the 2021 prize pool is already over 40 million USD.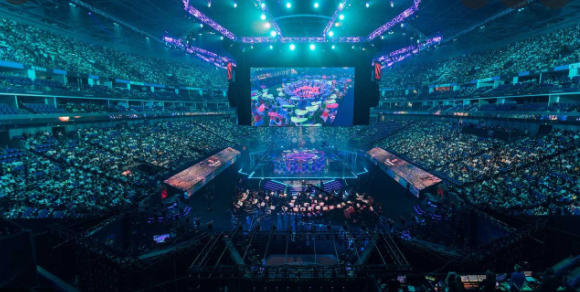 Source: CGTN.com
This burgeoning fan base and popularity has seen online gaming enter the realm of sports betting companies. For example, I can login to Unibet.com.au and bet on my preferred DOTA2 game teams or Counter-Strike teams just as easily as I can bet on horses, cricket, boxing, football, etc, where in many instances, the odds are priced more accurately because MORE people watch and bet on eSports games/tournaments than some sports such as cycling, golf, Olympics, etc.
With this comes the need for software companies to develop software and system infrastructure to allow for larger audiences, and interactive technologies to capture market share from some of the dominant players. For example, we're continually seeing advances in virtual reality and augmented reality software to create what will become the next wave of a virtual experience that will impact large facets of our lives through how we learn, how we play games, how we travel, how we shop, etc.
There will also be a need for advances in computer and console hardware, where we'll require better graphics cards (GPU), computer processors (CPU), microchips, displays, etc
Get On My Level
Because this investment thematic is multi-faceted and can be approached from many different angles, there are numerous ways to gain investment exposure.
I'll note in advance that there's a higher degree of market knowledge required to invest in some parts of the thesis – where staying abreast of companies with popular games or gaming systems may be more involved than buying the makers of graphics cards or microchips.
In terms of the easiest way to gain exposure, the VanEck Vectors Video Gaming and eSports ETF (ASX: ESPO) is an obvious choice, which seeks to track the MVIS Global Video Gaming and eSports index (before fees).
This might suit many investors as you're gaining passive exposure to an index of companies that derive their earnings from video gaming and the eSports industry.
Otherwise, there's a few direct equities that stand-out (many are owned by ESPO too):
Nvidia Corp (NASDAQ: NVDA) as the large US-based multi-national that designs GPUs for video gaming as well as automotive navigation (GPS), mobile computing and automated driving.
Sea Ltd (NYSE: SE), the Singaporean internet company which debuted at $15/share in 2017 before rallying to $230/share boosting its market cap to $120 billion USD and becoming Singapore's most valuable company. Sea own Garena (formerly Game Arena), a platform that hosts games such as Free Fire, a popular online game.
Nintendo (Nikkei: 7974), the Japanese multinational electronics and video game company that was founded in 1889 to originally produce playing cards. Nintendo are currently a top 5 valued company in Japan, and are most recently known for the Nintendo Switch console, as well as producing games such as Animal Crossing, Zelda, Mario Brothers/Mario Kart, Pokémon, Tetris and Donkey Kong.
These are just a few examples of ways to gain exposure, where if you're looking for more in-depth analysis and review – beyond the word limits we have in these daily notes – please reach out to your Mason Stevens contacts to hear more.
Closing Remarks
I find it hard to doubt the overall thesis of getting exposure to an area of modern day life that is growing exponentially.
As a person who's been amongst the growth, I know how far we've come but can also see how far we still have yet to go.
Even 10 years ago we didn't have live-attended eSports events like we do now, where we'll pack out large concert venues for online games just like we do for basketball, soccer or music concerts.
Today, it wouldn't be unbelievable to have more than 500k-1 million people watch a popular online gaming event such as DOTA2's The International or Counter-Strike Global Offensive "Major League".
Online gaming is even becoming a populist tool, for example, where US politician Alexandria Oscasio-Cortez (Dem-NY) plays a game called Among Us and streams it, where tens of thousands of Americans watch her play.
For these reasons, the only rebuffs to investing in this obvious growth area could be based on relative valuations or timing, rather than the overall growth prospects of these companies.
Lastly, if you're questioning the slope of the growth trajectory, I'd encourage you to watch a movie such as Ready Player One (2018, directed by Steven Spielberg), it grossed 583 million USD at box offices and provides a realistic virtual reality game that may exist in another form in the future.
I for one, would probably be one of the players.
The views expressed in this article are the views of the stated author as at the date published and are subject to change based on markets and other conditions. Past performance is not a reliable indicator of future performance. Mason Stevens is only providing general advice in providing this information. You should consider this information, along with all your other investments and strategies when assessing the appropriateness of the information to your individual circumstances. Mason Stevens and its associates and their respective directors and other staff each declare that they may hold interests in securities and/or earn fees or other benefits from transactions arising as a result of information contained in this article.