Resources ('Materials'), making up ~16.75% of the ASX (Bloomberg), has seen a particularly successful run over the last year, outperforming the ASX 200 index by just over 10%.

We've touched on the investment thesis for many aspects of the resources sector, from investments in gold as a risk-asset, buying the materials supply chain of complex products, to the potential inflation hedge offered through buying industrial metals and precious metals.
The sector has historically been a very 'boom or bust' area of investor interest, spanning everything from speculative microcap companies looking to strike big in exploration projects, to multinational producers and exporters with the capability to impact global commodity prices through their projects.
It's when discussing this sector when a colleague told me, "Money doesn't grow on trees, but maybe it does grow on ASX small caps" – for compliance sake, this is tongue in cheek, but it does show a certain market psychology when it comes to resources, particularly speculative stocks.
With over 600 companies listed by FactSet as part of the Resources sector, it's untenable to investigate them individually here.
Instead we will outline the market view on some of the various commodities the Australian resources sector depends upon and which particular niches stand to be winners from global macroeconomic trends.
Iron Ore
Let's start with one of our largest commodity sectors.
Some of our largest companies, let alone miners – BHP (BHP:ASX), Rio Tinto (RIO:ASX) and Fortescue (FMG:ASX) – are all subject to iron ore production and prices.
Iron ore prices dramatically impact our economic forecasting as a nation and impacts the sentiment of the entire ASX, as a window into global trade and our relationship to other nations such as China and the U.S.
The fervour around a rising iron ore price has been experienced from the smallest of junior miners to the industry giants – since a price of ~$78 in February last year, iron ore spot prices now sit comfortably above $200 USD/tonne.
Driven higher by a combination of higher demand for steel in China, depressed export volumes coming out of Brazil and low global inventory levels, iron ore has a positive short-term outlook.
Questions remain around when we will reach market parity and then eventually surplus, as Brazil comes back online – as will be the case with a few commodities we touch on today, a formerly depressed spot price will have created short-term supply constrictions as mines either close down or stop spending capital due to the spot price falling below their "break-even mark".
As a point of reference, BHP's break-even price is $45.0 USD/tonne, and the global 'seaborne supply' has an average breakeven price of $50 USD/tonne. As the iron ore price surged past that point, mines are coming back online and will see a lagged supply influx over the next few months/years.
Will this see a material depression in the iron ore spot price?
Perhaps not for the short term, as ongoing demand from Chinese and North American infrastructure projects provide support for the level (and price) of steel used globally.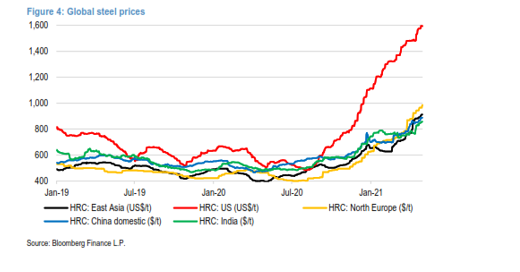 From a macroeconomic point of view, though steel is likely here to stay for the foreseeable future, global environmental policies (key focus on China's latest reforms here) are encouraging the steel industry to shift to 'green steel', requiring the use of higher grade iron ore versus lower grade over the rest of 2021.
This means those companies with either active mines or prospective reserves of high-grade ore will be better placed to benefit from steel usage in the longer term.
Copper
Although we are far behind Chile and Peru for production volumes of copper, many of our listed miners – such as BHP and OZ Minerals (OZL:ASX)- either own assets or hold equity in offshore mines.

Copper has several factors which are worth paying attention from a 'future upside' perspective.
Copper is currently sitting around $9,900 USD/tonne, more than doubling from its February 2020 lows of ~$4,700 USD/tonne.
This price particularly has been forced upwards by what Citi calls an "aggressive supply chain de-stocking" over the last few years- essentially producers were spending inadequate capital on maintaining or activating new projects whilst spot prices were low.
Copper benefits from a cyclical demand shift from China and the U.S. as componentry in everything from home building/remodelling to wiring and componentry.
But perhaps the more compelling driver behind copper is the global 'electrification' theme – coppers use in electric motors and semiconductors, in transmission wiring and in circuitry all place it at the centre of several macro themes leading the world towards green energy and automation.
If you are long electric vehicles at the moment, you are by association long copper.
Uranium
Uranium, that problematic element which generates some of the largest controversies due to its radioactive properties and usage in the production of nuclear energy, has come out of a lull recently to come into focus as a potential beneficiary of our global shift towards green energy.
Whilst uranium spot prices are not dramatically higher than last year, rising from $24.80 USD/tonne in February 2020 to $31.40 USD/tonne in May, it is the sentiment and focus around the metal which suggests a bullish outlook.
With a shift away from coal and oil-powered stations (particularly in the U.S and Europe), nuclear energy is gaining traction as viable alternative, generating more than adequate power to replace the fossil fuel predecessors without the harmful emissions associated with it – let's leave the matter of what to do with the depleted uranium off to the side for this note…
A recent development was a Warren Buffet and Bill Gates-backed initiative to create small-scale nuclear reactor projects that could supply between 250-500k homes, running on highly enriched uranium and lacking the intermittent quality of wind or solar power.
It seems uranium miners themselves are taking notice that the price has not run away from them yet – miners have been seen in the spot market purchasing already processed physical uranium for their own inventory; those clients who saw Boss Energy's capital raising a few months ago would have noticed their capital was used for that express purpose.
Between Boss Energy (BOE:ASX), Paladin Energy (PDN:ASX), Deep Yellow (DYL:ASX) and Bannerman Resources (BMN:ASX), the ASX has a wide variety of companies set to benefit from the potential upside towards a nuclear shift in the coming years, particularly if developed nations struggle to meet emission-reduction targets using wind, solar and hydro.
Lithium
Everybody loves an underdog story, and lithium is no exception.
Coming off of heavily slumped prices after the 2015 "commodity super-cycle" and operating at a discounted price due to its exclusion from many ESG-focussed funds/strategies, lithium perhaps represents some of the cheapest spot prices versus potential future upside in the market.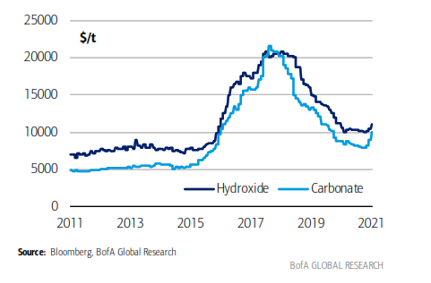 Lithium is a key component in next generation battery technology, with lithium carbonate compounds being the primary substance employed in EV power cells particularly. This is largely due to being a lightweight metal with electrochemical properties, with no current alternative compound able to be employed in commercial-scale production for the foreseeable future.
For this reason, the market is heralding large upside for this metal – with UBS being the most bullish, predicting a 1,100% increase in current demand by 2030. Bank of America are a little more conservative, forecasting global lithium demand to grow by 292% by 2030.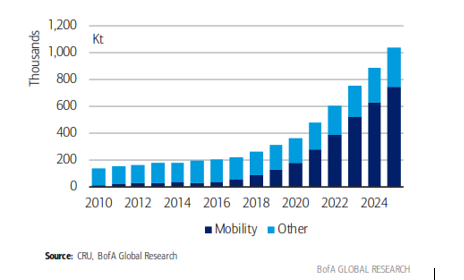 Australia and Chile are continuously the top two lithium producers in the world – in 2019, we produced 59.2% of global production (Forbes).
During that same year, Mineral Resources (MIN:ASX) was the fifth largest producer globally.
Even if we only look at companies above a $3 billion AUD market cap, Lynas (LYC:ASX), Pilbara Minerals (PLS:ASX) and Mineral Resources offer investors a diverse range of companies and asset locations.
Heavy Metal
A key to investing into the resources sector (for both explorers and producers) is the macroeconomic factors and themes driving the particular commodity those companies are exposed to.
There's not enough room in one of these notes to touch on all commodity markets, but in general the shift towards green energy and 'electrification' of our global economy is driven on the back of improvements in technology, powered by very specific materials.
Finding companies which benefit from rises in emerging technology and global trends, rather than ones who produce for the "old world" economy (like oil and coal), may be one of the most viable strategies to finding success investing in Aussie resources during 2021 and beyond.
The views expressed in this article are the views of the stated author as at the date published and are subject to change based on markets and other conditions. Past performance is not a reliable indicator of future performance. Mason Stevens is only providing general advice in providing this information. You should consider this information, along with all your other investments and strategies when assessing the appropriateness of the information to your individual circumstances. Mason Stevens and its associates and their respective directors and other staff each declare that they may hold interests in securities and/or earn fees or other benefits from transactions arising as a result of information contained in this article.