In extreme situations, humanity relies on three immediate "basic needs":
shelter,
clothing, and
food.
With the continual growth of our population across the globe – coupled with concerns about the impact on our agricultural land from over-farming and climate change – the issue of how we will continue to feed the world has become more pressing.
As the investment world begins to pay (more) attention to Environmental, Sustainable and Governance (ESG) factors of the companies they invest in, the topic of 'sustainable foods' has grown in popularity as a way of addressing both a burgeoning consumer preference and investing in an ethical sector.
In general, sustainable foods falls into Goal 2: Zero Hunger of the UN Sustainable Development Goals, "increasing agricultural productivity and sustainable food production are crucial to help alleviate the perils of hunger", whilst also tangentially fitting into Goal 14: Life Below Water, and Goal 15: Life on Land.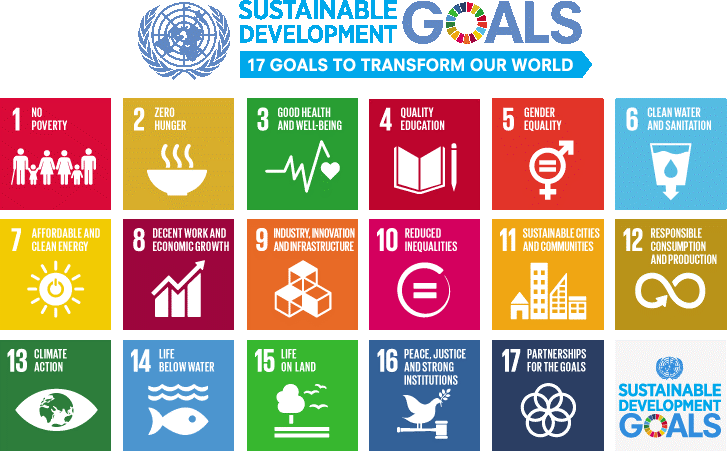 Source: United Nations
Why is this important?
Because when considering where ESG investment flows will go, most managed funds either focus on sustainability, or using an "ESG filter", base their criteria largely off the Sustainable Development Goals (SDGs) and determine their investible universe off how a company fits into one or more of them.
With this in mind, let's examine some of the statistics and figures behind the growth of sustainable foods and what is currently available within this investment theme.
What is Sustainable Food?
Much like the definition of ESG itself, there is a certain opacity around what "sustainable food" or a "sustainable food system" actually means.
It's generally accepted that sustainable food involves:
Agriculture that contributes to local economies and sustainable livelihoods for those involved in the production
Agriculture focussed on the avoidance of wastage of natural resources
Agriculture that does not contribute to green house emissions or climate change
Agriculture that preserves biodiversity of both farmed and wild species
The idea or spirit behind sustainable food is that agriculture can be conducted in a way that has positive outcomes beyond just the raw product that is pulled from the ground/tree/vine.
Do People Want Sustainable Food?
The desire for certain food trends will always ebb and flow, ask any fitness friends who have switched from a carnivore to vegan diet seemingly overnight.
But the consumer demand sustainable food is fuelled by more than just a desire for clean eating, there is also a social and ethical component to consumer preferences.
According to Tastewise, an A. I powered food intelligence researcher, 23% YoY more consumers in the United States prioritised sustainable food choices in 2020.
The trend as to why consumers favoured these products extended far beyond a simple focus on health and wellbeing: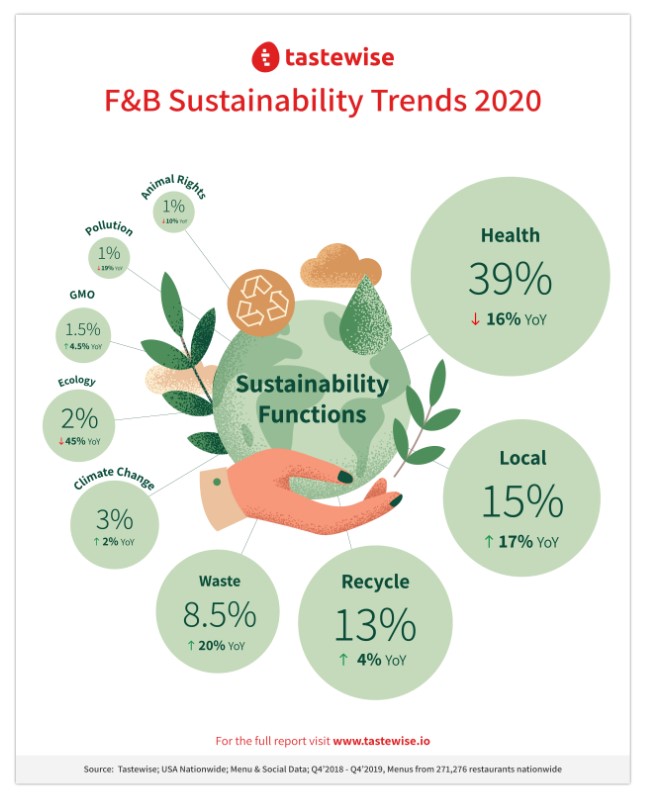 Source: tastewise.io
The sentiment has been a switch towards an interaction with our food that represents a holistically sustainable approach to living, addressing the environment, wastage, and a value on clean eating.
Forbes has echoed this sentiment in a collaboration with Barkley consumer research; sustainable foods represent a nexus of our growing desire to do well by our bodies, our community and our planet. In their consumer survey (from November, 2020):
65% of consumers actively look for products which can help them live a more sustainable and socially responsible life if possible
60% of consumers buy products and services from companies which are socially or environmentally responsible
43% of consumers will buy products and services from brands focussed on sustainability over their non-sustainable competitors
It's clear that there is a consumer trend towards sustainability, something that can be seen anecdotally in the wide range of sustainable products we see popping up in Coles and Woolworths each month.
And it is backed by a growing economic and political case as well – 2011 to 2020 marked the warmest decade on record and a large contributor to that was food, with agriculture accounting for 26% of total global greenhouse emissions (Source: Our World in Data).
A 2018 report by the Global Commission on Economy and Climate proposed that a global focus on sustainable agriculture could save the global economy over $2.3 trillion USD by 2030, through a focus on reduced waste and long-term increases in output as land becomes more arable and fertile.
Credit Suisse agrees, and has cited that in order to appropriately address the issue of unstainable food production practices at the moment, we would need to spend almost $14 trillion USD globally each year to bring our global food practices up to a level where malnutrition, waste and carbon emission concerns are met.
Growing Exposure
Now that the facts and figures have whet your appetite, how can investors sate their hunger for exposure to sustainable foods?
There are many global agriculture ETFs out there, but for a specialised vehicle the Rize Sustainable Future of Foods ETF (FOOD:LSE), invests in a basket of companies which potentially stand to benefit from a transition towards sustainable food production, with almost $250 million USD under management as of 24/06/2021.

Source: Bloomberg
For single stock names, there are household staples such as Beyond Meat (BYND:NASDAQ) which play into alternative products and as such meet dietary as well as social/environmental demand, or Freedom Foods (FNP:ASX) which focus on sustainably sourced produce and meeting the market niche of nut-free, dairy-free and gluten-free alternatives – the latter of which has undergone quite a bit of company upset and is trading at a large discount to its levels a few years ago.

Source: Bloomberg
There is also the niche market of agricultural technology, which focuses on accelerating the switch to sustainable foods through the development of new tools, processes and products. One such company is Novozymes (NYZM.B:CPH) , a Danish subsidiary of Novo Nordisk (the multinational pharmaceuticals company), which has been testing enzymes and their interaction with seeds to let the subsequent crop absorb nutrients more efficiently and thereby use less water and take less from the soil.

Source: Bloomberg

Good Eatin'
Sustainable foods are one of those investment themes which is a 'feel good' on many levels.
It sits at the nexus point of several environmental and ethical issues, from caring for our planet, providing food for the needy to increasing the nourishment we give to our bodies.
Speaking from personal experience, my stomach is not only the way to my heart, but also to my bank account.
As one potential exposure to the growing ESG trend, sustainable foods can play several roles in a portfolio as an investment theme, and there are single stock names which fit into either value or growth, so the universe is refreshingly unconstrained. Be it eating some sustainably grown green veggies to (if you're game) snacking on fried insects, investing in sustainable food may fulfil more than just one appetite for an investor. No more food puns now, I promise.
The views expressed in this article are the views of the stated author as at the date published and are subject to change based on markets and other conditions. Past performance is not a reliable indicator of future performance. Mason Stevens is only providing general advice in providing this information. You should consider this information, along with all your other investments and strategies when assessing the appropriateness of the information to your individual circumstances. Mason Stevens and its associates and their respective directors and other staff each declare that they may hold interests in securities and/or earn fees or other benefits from transactions arising as a result of information contained in this article.