The next couple of weeks get busier for equity markets with earnings announcements both here and in the US.
Australia's major companies are required to report on their financial condition every six months and this time the extensive lockdowns are going to cloud what will otherwise be a solid position.
The combined benefits of record-low interest rates continued government stimulus, and a weakening currency despite strong commodity prices has sent the ASX to record levels.
However, earnings will dictate if that momentum can continue.
Outlook statements are a key feature of any earnings period, but Covid uncertainties will mean most companies will display caution as government actions continue to be hard to predict.
While we are locked down, the rest of the world is coming out as expansive vaccination programmes allow life to start to resemble the previous. With that background, it's hard to see a valuation expansion leading the way given the media focus on the risk of alternate COVID strains.
With the current backdrop, the likelihood is for ongoing upward revisions to EPS expectations but just at a slower pace than what we saw in February.
February 2021 was a remarkable scorecard as earnings beats strongly overwhelmed earnings misses by a record margin.
The below table from Morgans highlights the extent of those surprises.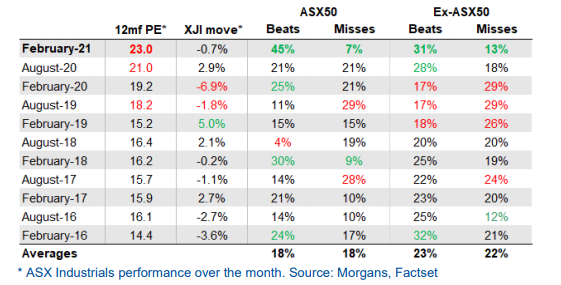 What is key from the table above is while a record 45% of ASX 50 companies surprised, the market move was lower on average because the good news was already priced in.
This time we are in a position with the market up over 6% since those February results and trading on a similarly stretched earnings multiple.
We do have good earnings momentum heading in not just in FY21 earnings, but carrying through to FY22.
On average we've been getting two upgrades to every one downgrade and no better indication of that improved corporate sentiment is the pickup in mergers & acquisitions.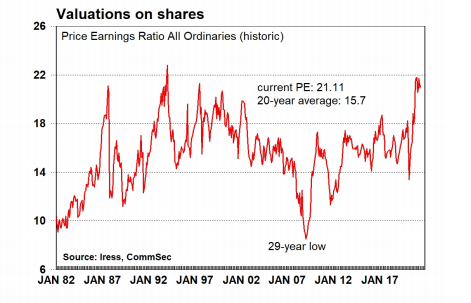 Industry-level Data
At the industry level, COVID has sideswiped some industries and been the catalyst for change in others.
Consumer discretionary, materials, finance, and stay-at-home (information technology) stocks have outperformed in the COVID-19 environment.
But utilities, energy, tourism, travel-dependent companies, and some REITS have been buffeted.
Companies dependent on foreign travel such as airlines and booking companies continue to face challenging conditions.
Local lockdowns and the closure of foreign borders have impacted hospitality, accommodation, arts & recreation, and gaming operators as well as commercial and retail property businesses and toll road operators.
In contrast, retailers have been in a sweet spot, solid sales especially on-line sales coupled with continued low or lower rents for some.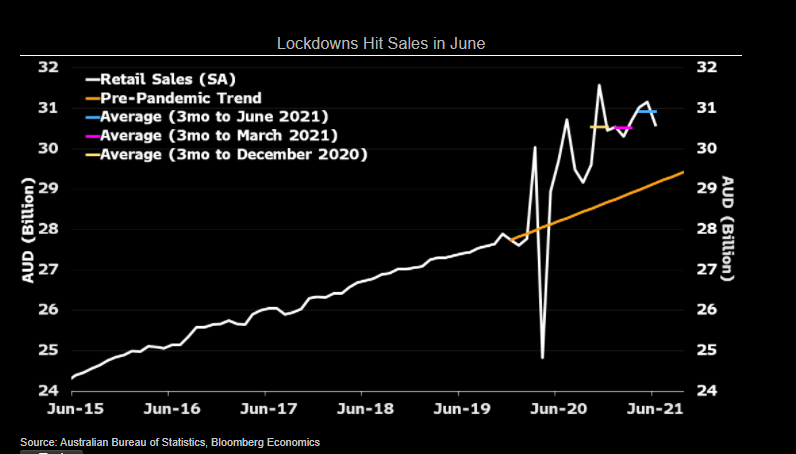 If you've owned banks you've had a solid year of returns and given the strong CET1 position means dividends and buybacks will support those gains.
Solid demand for home loans and some steepening of the yield curve has helped despite the caution from SME's to take on debt.
Energy companies have had a favourable quarter with the supply restrictions that OPEC imposed helping to drive oil prices on average higher allowing refining margins to expand amidst the pick-up in demand.
Miners, as mentioned earlier, have been enjoying continued strong prices along with a strengthening USD so the likelihood of dividend surprises is high.
Finally, with the return of corporate confidence, we are seeing resurging M&A.
Last year was a seven-year low for the bankers so they're making up for it and volumes of transactions and their value have jumped.
Should the SYD, SKI, and OSH deals conclude, the value of completed deals will mark the highest level since 2007.
The below table from JPM shows the names in their coverage they consider 'in play'.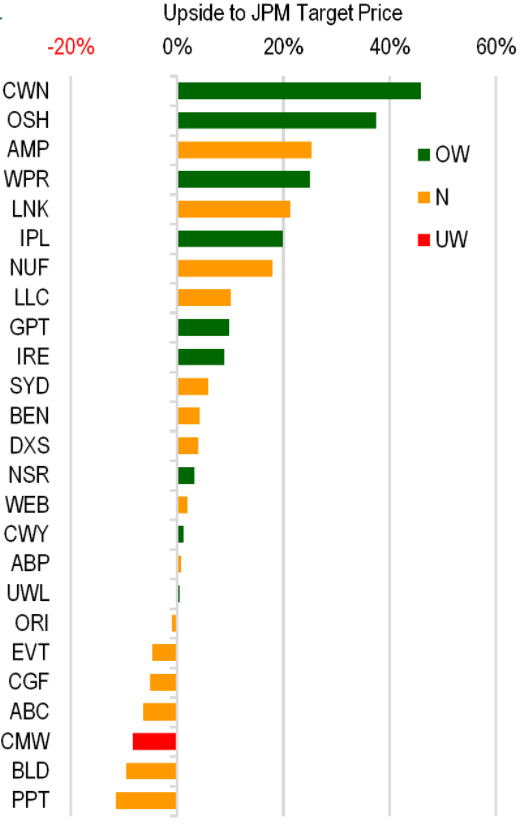 Source : JPM estimates, Bloomberg Finance LP
With the majority of sectors and companies running at decade-low leverage ratios, the capacity for corporate-led M&A is considerable.
Add to this, the firepower of private equity plus an increasing appetite of large super funds for direct investment, and the backdrop resembles the heady days of back in the mid-2000s.
In recent bids, the role of large super funds has been central, with IFM, for instance, leading the tilt at SYD.
The same is true of foreign pension funds, with Ontario Teachers moving in alongside KKR to bid for SKI.
In summary, while its difficult conducting business in changed circumstances the Australian corporates should provide enough evidence that staying invested remains the prudent choice.
The views expressed in this article are the views of the stated author as at the date published and are subject to change based on markets and other conditions. Past performance is not a reliable indicator of future performance. Mason Stevens is only providing general advice in providing this information. You should consider this information, along with all your other investments and strategies when assessing the appropriateness of the information to your individual circumstances. Mason Stevens and its associates and their respective directors and other staff each declare that they may hold interests in securities and/or earn fees or other benefits from transactions arising as a result of information contained in this article.