The Australian reporting season is more than half done and despite results tracking ahead of historical trends, momentum has shifted. As at Friday's close, 48% of firms reported had beat expectations against a long run average of 39%, with the skew even more positive across the resources sector with that number increasing to 55%.
However, results are backward looking in their nature and underlying sentiment has changed as iron ore prices fall. Record dividend payments being issued at a time of such low interest rates had caused a disconnect, supporting share prices as spot prices in the underlying markets were falling.
Commodity markets are far more cautious than they were last month, speculators are reducing positions and it is the pace of the sell-off that is causing concern.
Concerns over slower economic growth sent oil and metals prices tumbling, oil as measured by WTI crude is 16% off its July high. But that is nothing when compared to the collapse of our largest export – iron ore.
It was in free fall last week and is down 45% in less than three months as can be seen from the chart below. When commodities unwind it takes the Aussie dollar with it and headlines of extended lockdowns have taken the currency to a 10-month low and it's hard to see that momentum shifting.
SPOT IRON ORE PRICING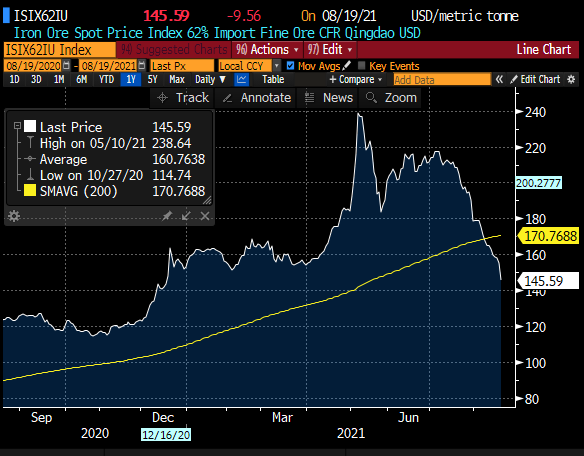 Source Bloomberg
It's arguably the fastest price correction on record as China's steel production curbs snowballed into an anxiety of economic growth being sideswiped again by the Delta variant. The materials index fell 9.6% last week with harder falls in the pure plays. The worst of these were Mineral Resources (ASX: MIN) which shed 17%, BHP (ASX: BHP) down 16% and Rio (ASX: RIO) falling 10.9%. These falls are despite their results, the exception is BHP which requires further explanation.
The cause of price plunge in iron ore is the forced reduction in production created by regulators on steel mills and falling demand on the back of hot weather and extensive rainfall in China. Steel output fell 8.4% YoY on the July monthly numbers released by the Chinese National Bureau of Statistics. The context and extent of that fall can be seen in the chart below.
Crude Steel Output China change over last 5 years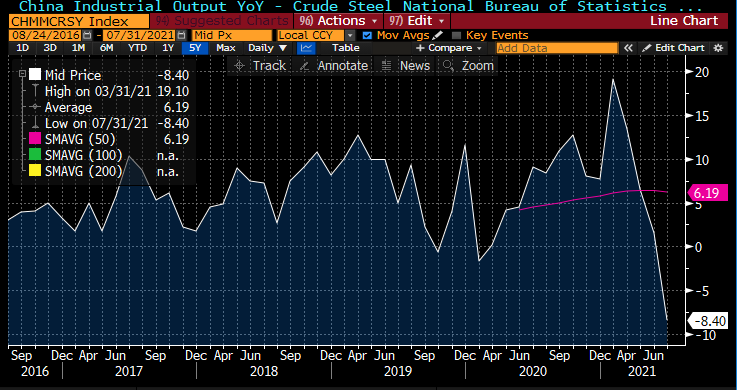 Source: Bloomberg
Aside from the steel production cuts, China also changed export taxes which has reduced the incentive to produce for international markets. This includes the cancellation of export tax rebates on some steel products in May and raised export tariffs on a crude form of iron in July.
What we're left with from an Australian stock perspective is an unusual situation, for the first time in a while, iron ore consensus forecasts in stock valuations are now higher than spot. Should this situation continue you will start to see earnings downgrades – something this sector hasn't seen for a while.
Looking ahead the only major yet to report in the sector is Fortescue Metals (ASX: FMG). FMG is highly sensitive to iron ore prices and the recent decline towards ~$US150/t has driven many to position for further downside risk. But with FMG trading with a FY21 & FY22 dividend yield that's 50-60% above peers, UBS think the market has oversold this stock ahead of its FY21 announcement on 30-Aug 2021.
Both BHP & RIO rallied into their strong results and they think FMG is likely to see similar price action until then. But after the reporting date they would strategically position short with any iron ore rally unlikely in the near term. The below chart shows how FMG trades following ex-dividend dates (Marked "D" in blue below).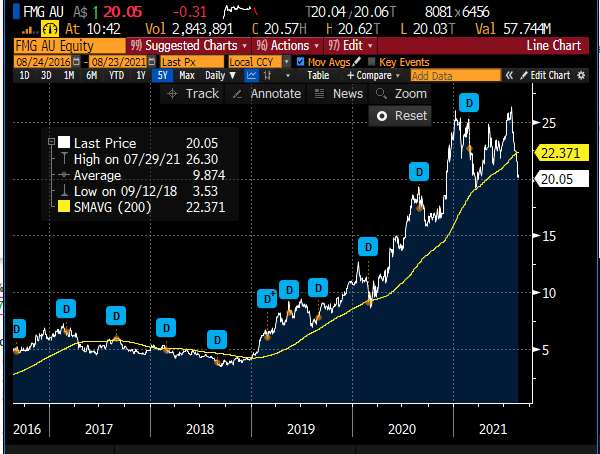 Source: Bloomberg
Going back to BHP, by merging their oil and gas operations with Woodside and investing in a long-life potash asset in Canada they're continuing the move they started when committing to selling part of its coking coal and all thermal coal businesses. Chief Executive Mike Henry said the divestment isn't a vote of no confidence in fossil fuels, more it's part of its repositioning of BHP for an era of lower emissions.
They also announced plans for a simpler corporate structure with the Australian listed half of the business acquiring the London listing whose shares trade at a discount. The outcome while costly to shareholders in the short-term results in an easier to run structure.
From an Australian perspective based on prices staying the same, BHP's participation in the ASX 100 index will move from the current 6.4% to 10.3%, so expect a lot of de-weighting from the FTSE, re-weighting to the ASX and significant ETF flows once we get shareholder approval. BHP Limited took the bulk of the selling last week, worse than even pure iron ore stocks and the restructure has analysts split with an increasing number moving away from buy recommendations and switching to holds for now.
In closing, Australian stocks are currently poised to climb for an 11th straight month, their longest stretch on record. The bumper earnings season has helped the S&P/ASX 200 Index cling on to a narrow advance for August amid growing COVID-19 concerns.
Still, investor jitters may force the benchmark to give back its gain and snap the winning streak as the reporting season continues and Sydney's delta-variant outbreak worsens.
The run up in the iron ore price helped the Australian economy and the government ride out a lot of the pressure which COVID had put on other countries around the world as tax receipts increased while many sectors of the economy were shut down. In Q2 iron ore jumped to 42% of Australia's merchandise exports up from 32% the prior year.
With other sectors still in disarray and now a falling iron ore price, the pressure is building on the government to get the economy opened up again.
The views expressed in this article are the views of the stated author as at the date published and are subject to change based on markets and other conditions. Past performance is not a reliable indicator of future performance. Mason Stevens is only providing general advice in providing this information. You should consider this information, along with all your other investments and strategies when assessing the appropriateness of the information to your individual circumstances. Mason Stevens and its associates and their respective directors and other staff each declare that they may hold interests in securities and/or earn fees or other benefits from transactions arising as a result of information contained in this article.