Afterpay (APT: ASX) is one of the true 'disruptor' stories of the last decade, an innovative business model taking market share from traditional consumer credit lenders and creating an ASX 20 company in the process.
If we talk in terms of game theory for a moment, Afterpay had the "first-mover advantage", breaking ground in a new market and establishing a brand presence unimpeded by strong competition, price pressures or regulation.
However, the first-mover advantage does not last for the entire game, and a new threat is emerging for this disruptive industry – the adaption of the disrupted, and the intrusion of corporate titans with existing platforms.
Met with challenges from the likes of PayPal (PYPL: NASDAQ) and Apple (AAPL: NASDAQ), as covered in Mike's note earlier this week, Afterpay enters the next phase of the game: finding an equilibrium outcome.

For a business, this means either changing its strategy for its next move to finding the most gain for itself, taking a "no regrets" approach and holding true to the original model, or attempting to find a decision that will most disadvantage the other 'players'.
Let's examine the approach that Afterpay has taken in the face of mounting challenges, and what kind of outcome they seem to be aiming for.


Existing Business Model
As a brief reminder of Afterpay's existing business model, Afterpay offers a core Buy Now, Pay Later offering which allows users to pay back a single purchase in 4 installments over 6 weeks.
This product is very much the bulk of its business and what it built its disruptive place in the finance industry around.
However, being interest-free, the repayments themselves are not how Afterpay generate income.
Rather, the consumer is no less worse off purchasing a product from a merchant using Afterpay (should they repay within the designated period), but it is instead the merchant who foots the bill. For each transaction Afterpay facilitates through a merchant, that same merchant pays a fee, generally around $0.30 AUD plus a variable fee of around 4-6%, depending on a range of factors including merchant size and volume.
As a guide, after costs, Afterpay's FY20 average merchant margin was 3.9% of underlying sales, and merchant fees made up circa 86% of Afterpay's total income in that same year (source: FactSet).
The remaining revenue stream for the company comes from late fees – also the main source of controversy and potential regulation – which are charged to customers who fail to meet one of the scheduled repayments. The fee is an initial $10, followed by $7 payments, at least for now.


Source: Factset


This is the core business which has driven the largely positive market outlook you see above, a model built around a core and innovative service – but not one that has a large amount of diversity in its revenue generation capabilities. This is set to change in the near future.


New Innovations
Afterpay have announced or launched a number of new innovations, in an attempt to expand both their target market and their ability to earn revenue from different aspects of their service.
The first of these innovations was rolled out in the US at the end of Q1 this year, the "Afterpay Card", a one-time use card which the company produced in conjunction with Mastercard. Stored in your digital wallet similar to how you might have your credit card synced up to your smartphone, a consumer can now use tap-and-go at a store, but still using the Afterpay BNPL offering.
What presents meaningful growth for the company out of this, is the dramatic expansion of their addressable market – Afterpay has had trouble integrating some large merchants (such as Amazon) into their product line, so a consumer having a one-time card which can be used regardless of integration presents massive growth opportunities to where they can gain market penetration.
In addition to expanding their potential reach in the e-commerce and physical landscape, this card also changes the way Afterpay earns its fee – giving up a regular merchant margin for an affiliate fee associated with the card. Whilst this might hurt underlying margin overall, this diversifies their revenue stream and helps them gain further market share.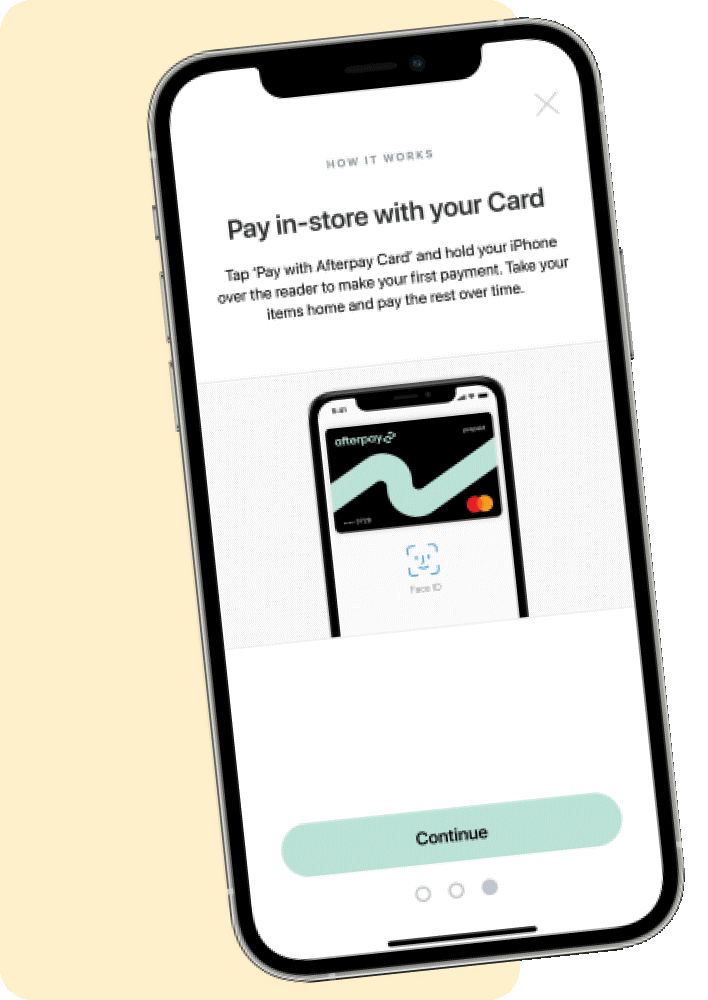 Source: Afterpay
The other significant evolution flagged for its business model is its first meaningful foray into consumer banking, with the "Money by Afterpay" app.
The app has been rolled out to staff as a pilot program and allows users to access an AfterPay Money bank account with a 1% deposit rate – essentially, this is a Westpac bank account wrapped up in an Afterpay-branded disguise, with Westpac paying the deposit rate and Afterpay earning a fee for any deposits brought to the bank.
This is yet another way that the company can diversify their revenue streams and more fully integrate the customer experience.
A common criticism leveled at the company, including from myself, is that it labels the BNPL as a budgeting service whilst there is clear evidence from ASIC that consumers actually lose track of payment schedules. Money by Afterpay seeks to quell this, allowing users with an account to see their BNPL balance, track upcoming installments, and create up to 15 different savings accounts to budget for those installments.
This creates a clear roadmap for Afterpay to lean further into this consumer banking path, with the potential for this to lead to partnerships with insurance broking, mortgages, or asset financing in regards to cars or bikes, which would be transformative both to the business and to the financial services industry if they can execute it well.
Finding Equilibrium
Up until recently, it seemed Afterpay was comfortable in sticking to its core business model and attempting to gain as much market share as possible. If it had made no other choices, you could say it was seeking "Nash Equilibrium", the state in which the player can arrive at an ideal outcome without deviating from its initial strategy.
With these evolutions in its business model, it is clear Afterpay is playing a much bigger game and is attempting to leverage its existing customer base into new areas of the market.
Afterpay investors have always been subject to uncertainty, between a lack of profitability and stratospheric valuations. However, if management can pull off these new innovations and successfully integrate customers deeper into the business model, whilst also expending its total addressable market, this may be a new era for the growth of Afterpay.
The views expressed in this article are the views of the stated author as at the date published and are subject to change based on markets and other conditions. Past performance is not a reliable indicator of future performance. Mason Stevens is only providing general advice in providing this information. You should consider this information, along with all your other investments and strategies when assessing the appropriateness of the information to your individual circumstances. Mason Stevens and its associates and their respective directors and other staff each declare that they may hold interests in securities and/or earn fees or other benefits from transactions arising as a result of information contained in this article.