"I'm gonna keep on the run
I'm gonna have me some fun
If it costs me my very last dime
If I wind up broke, oh well
I'll always remember that I had a swingin' time"

Elvis Presley, "Viva Las Vegas"
Now more than ever, it's uncontroversial to suggest that the world is addicted to debt.
From the individual to most central banks in the world, you would need a pretty hefty flow chart to keep track of who owes who money.
Major financial institutions, such as the Aussie big four banks, or Mastercard and Visa, have been angling towards tighter credit standards as this global trend of debt has grown – as J.P Getty famously said, "If you owe the bank $100 that's your problem – if you owe the bank $100 million, that's the bank's problem."
And this, dear reader, has presented the ideal conditions for the rise of Buy Now Pay Later (BNPL) services.
BNPL is a relatively new financial business model and one which many Australians are at least tangentially familiar with through the public stock market success of ZipPay (Z1P:ASX) and Afterpay (APT:ASX).

Rather than just examine the history and rise of BNPL companies, let's take a closer look at who has benefitted from the business model and the unique set of risks and challenges it poses to investors.
The Strange Case of Dr. Buy Now and Mr. Pay Later
It seems that BNPL companies are some of the most talked about and polarizing shares in the market today.
To make things far more 'black and white' than they truly are, it seems that companies such as Afterpay are championed by their consumers and businesses, whilst many investors see them as a quick growth opportunity at best and the nadir of momentum-driven fluff stocks at worst.
This is not to say there's a clean divide and all investors shun these opportunities, anyone who got into APT:ASX in March will attest, but this is the general mood throughout the market.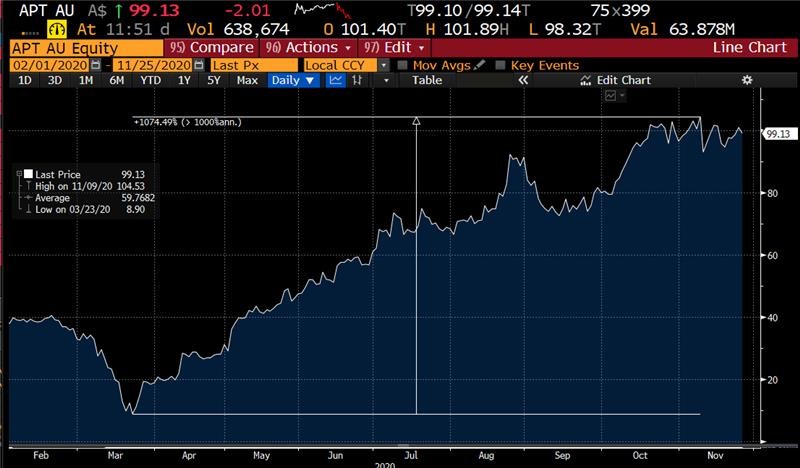 Source: Bloomberg


The Good
On one hand, you have the positives, and the believers of BNPL as a service and as an investment.

Part of the appeal and success of companies like Afterpay comes from their technology integration and ease of access; you can access the ability to pay for a product in instalments, at the point of sale, all through an app or one click online.
This eliminates what Worldpay (a global payment processing company) call "purchase friction", the factors at checkout that impact the customer's sales ease including security concerns, unexpected shipping charges and upfront price (i.e. paying all at once).
Businesses, particularly small-to-medium enterprises, benefit greatly from an increased ability of their potential customers to access their products where the upfront cost may have previously deterred business.
Now let me lead you head-first into a rhetorical question: who loves convenience and technology?
Yes that's right, Millennials and their market-driving power have found their way back into one of my notes. An interesting statistic that explains why Gen Z's preferences drive the market so strongly is this; more than half the world's population is under the age of 30 (circa 3.8 billion people), the largest youth population ever.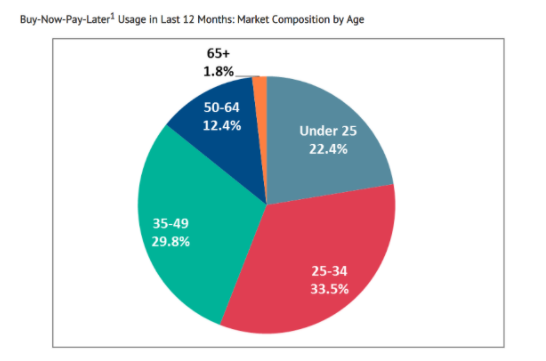 Source: Roy Morgan
In fact, as somebody within this 'youth population', clients and colleagues have both hesitated critiquing Afterpay in front of me, lest I be a raving fan.
This might just be personal preference, but Afterpay is not a regular service for me; from a financial standpoint, I reject the idea of hiding debt/responsibility away somewhere in the future, where it can be worried about later. That's the same risk model as bad parenting and poor diets.
And that's where we veer into the negatives and scepticisms of the Buy Now, Pay Later model.
The Bad
Let's start with one that's a particular sore spot with fundamental investors: BNPL generally doesn't have any fundamentals. It's difficult (if not impossible) to build a trading strategy around investing in companies with weak financials – this doesn't mean you can't make money, as early investors in Afterpay prove, but most will agree it's not a reliable method of investing.
We'll stick with Afterpay as the Aussie posterchild for this, but other industry participants such as Zip have similar symptoms.
I'll place big arrows where Afterpay has made a profit on the chart below: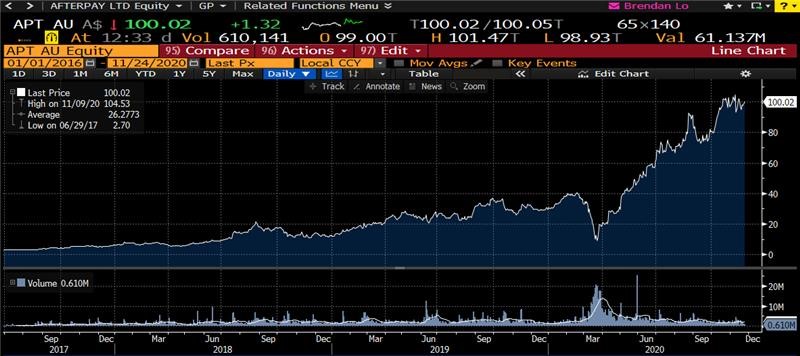 Source: Bloomberg
Yes, you may notice that despite a meteoric rise in share price, there are, in fact, no arrows.

Here we have a company which has only ever managed to lose money, yet is it is worth more than large household names like Coles.
The reasons why such stocks rally is worthy of an entire series of notes, but to boil things down to its simplest form, liquidity in the market and affinity towards particular companies driving momentum in their share price.
On the topic of loan repayments, Afterpay itself said in an ASIC report just last week that one in five of its clients are struggling with repayments. Now, in the current environment, you might look at the mortgage book of the major banks and think "well that seems comparable", but keep in mind that Afterpay is fundamentally an unsecured consumer lender – and unlike most banks, Afterpay has allowed 15% of its users to take out an additional loan to pay for its services.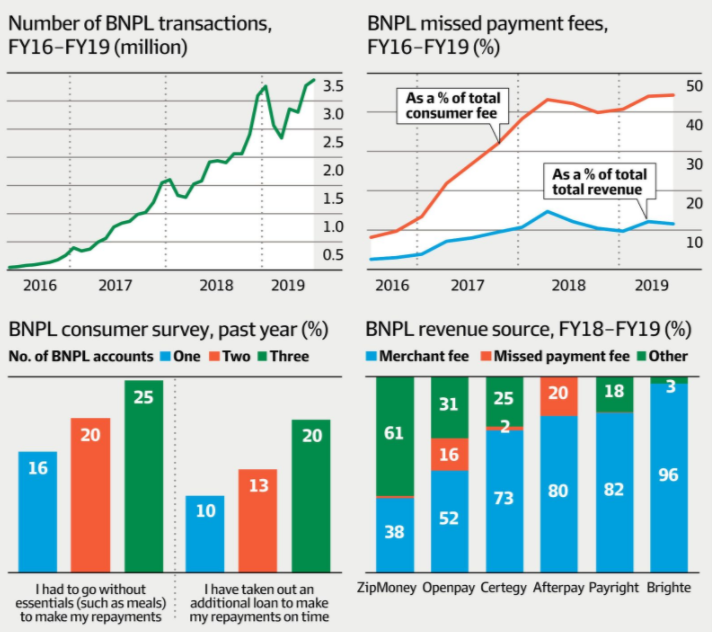 Source: ASIC
Speaking of ASIC, that leads us down the rabbit hole, into the surreal world of regulation.
The Ugly
One of my best friend's partners works for ASIC, so let me preface this by saying ASIC and regulation is not 'ugly' per se – but 'regulation' is certainly a word that deters investors at the best of times.
A friend and investment partner of the firm, Tekne Capital's Beeneet Kothari, made a very apt observation of BNPL companies at last year's Hearts and Minds conference:
"These [products] have grown because they operate in a fuzzy regulatory regime where it is not obviously illegal, nor are they heavily regulated."

Beeneet Kothari
He is not alone in critiquing the lack of regulation and oversight of BNPL as compared to other lending institutions, particularly considering the market demographic they target and the unsecured nature of their credit. Industry critics argue that once small players like Afterpay and Zip found a niche where larger organisations like Visa and Mastercard were loathe to venture, in a race to find scale and volume as quickly as possible and get acquired before heavy regulation comes down on the industry.
What industry observers are saying on large is not that what BNPL is doing is illegal, or even unethical for that matter, but considering they are operating in a financial sector that is so heavily scrutinised by ASIC and supervised by APRA for other financial institutions, regulation on their activities seems inevitable.
Long Now, Short Later
As discussed, the Buy Now Pay Later model is one that has been both unique and polarizing in our stock market – young consumers and businesses benefit from convenience and a temporary increase in buying power, whilst fundamental investors and fund managers puzzle over the financials of the company and spy the storm of ASIC scrutiny that looms on the horizon.
A long trade on BNPL becomes a delicate balancing act between betting on momentum and discarding more traditional valuation models for companies.
In this current market that may indeed yield success (and has in the last two quarters) – but this is analogous to a professional gambler at the track on the weekend. You can have all the edge over the competition by speaking to the trainers, predicting the track conditions, weighing the odds of your horse; but regardless of your conviction in these predictions, a punt is still a punt.
The views expressed in this article are the views of the stated author as at the date published and are subject to change based on markets and other conditions. Past performance is not a reliable indicator of future performance. Mason Stevens is only providing general advice in providing this information. You should consider this information, along with all your other investments and strategies when assessing the appropriateness of the information to your individual circumstances. Mason Stevens and its associates and their respective directors and other staff each declare that they may hold interests in securities and/or earn fees or other benefits from transactions arising as a result of information contained in this article.