Deciding how to allocate hard earned money in an environment of record low interest rates has meant as an investor you've been pushed to take more risk.
As Mike highlighted in yesterday's note regarding growth factors, that progression meant you were pushed to follow what Jeff Bezos did with piloting Amazon to the market cap it currently maintains; focus on growth at any cost.
That changed in 2021 and while retail investors flocked back into the market in the US, the professional investor despite getting caught in well publicised short squeezes (think Gamestop and AMC) were selling growth stocks priced to perfection and shifting to companies that offered value on traditional metrics.
The catalyst being the risk-free rate of return as indicated by the US ten-year treasury yield rose and inflation concerns associated with the reopening of economies with disrupted supply channels the focus.
So what is value investing?
Investopedia will tell you it involves picking stocks that appear to be trading for less than their intrinsic value or book value.
The belief is that on any given day the market offers opportunities depending on your time horizon, where stock price movements do not correspond to a company's long-term fundamentals.
The disruption that the COVID pandemic provided with its associated lockdowns globally has created opportunities that professional investors haven't found for decades.
If we're looking at Value investing you have to acknowledge the progression.
In the early 20th century few people had access to company information like they do these days.
Speculation drove fluctuations in company stock prices much like derivatives do today.
The traditional playbook for fundamental analysis of stocks is Benjamin Graham's text "Security Analysis ", a book many own but few have pushed through to finish reading.
Graham's road map for evaluating stocks moved stock pickers from statisticians to analysts and the most celebrated value investors today are Warren Buffet and Charlie Munger of Berkshire Hathaway.
Value investors want to buy stocks only when their intrinsic value is deeply discounted.
The various combination of metrics used revolve around price to book (P/B), price to earnings (P/E), free cash flow (FCF), dividend payout (DPS), debt levels, and extend well beyond the revenue growth metrics growth investors have focused on.
The short story is they look for a margin of safety before putting your money to work that should protect them in market downturns.
Ben Graham only bought stocks when they were trading at two-thirds or less than their intrinsic value – an investing concept we now refer to as "margin of safety".
Those sorts of opportunities have declined as access to information has increased and the rise of index or passive investing has meant the playbook has evolved but the principles are still the same and that's the skill set you pay for when picking your manager.
Berkshire
If you're wondering why the market reveres Warren Buffet and Charlie Munger and travel far and wide each year to Omaha to hear them speak the chart below conveys the message:
The last 5 years has seen tech dominate not only the market but our lives.
Factoring back to a 100 base despite a growth outperformance an investment in Berkshire has kept pace and left behind a traditional value investor as depicted by the Russell 1000 value index (blue line).
What the chart doesn't show is over the last 6 months the outperformance is over approximately 5 percent with the shift away from growth.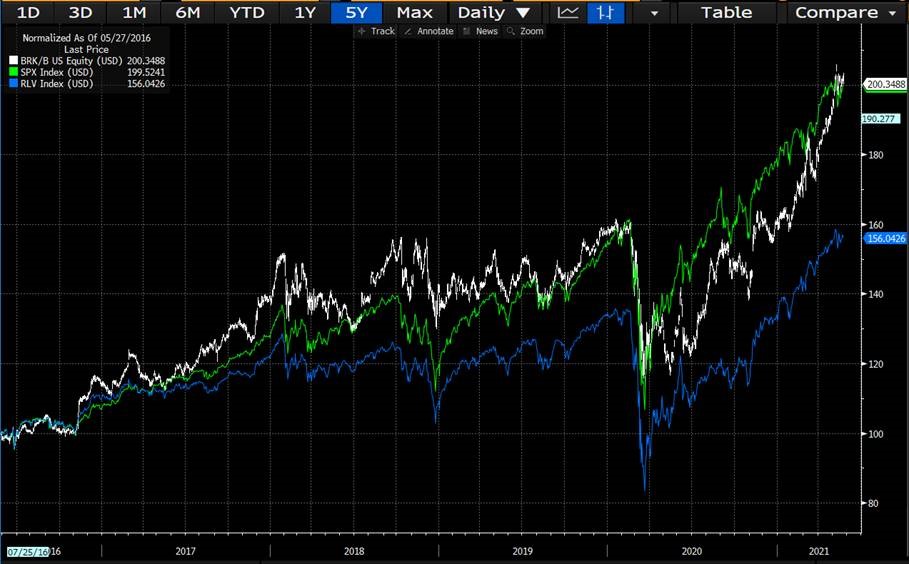 Inflation fears look likely to preoccupy investor's imaginations in the near term, even as the Federal Reserve push back on suggestions that loose monetary policy risks unleashing inflation.
While companies are not immune from rising costs, US large-cap stocks have historically weathered inflationary environments better than other asset classes, due to their larger market share and ability to incorporate higher input prices into business models and maintain profit margins.
Some sectors such as commodity-related materials and industrials stand to benefit from rising inflation.
Other more defensive sectors, such as utilities with steady cash flows, are expected to be negatively impacted by inflation.
Based on the recent rise in bond yields, inflation forecasts and economic indicators pointing to a recovery, Citibank continue to believe the return of value has been modest given it is positively correlated to these indicators.
The overall message is that EPS growth usually wins out in the first year of the cycle.
The corporate turnaround is strong enough to keep markets rising, even as bond yields increase in anticipation of central bank tightening. Hence, they continue to advocate buy any short-term dips.
There is a time to turn more cautious but that may be next year, not this.
Looking domestically, an article on Bloomberg this week highlights how ETF flows and rebalances from offshore could impact the ASX.
Quoting from the article:
"A $167 billion exchange-traded fund is set for a monster makeover this week in favor of value shares over tech as it chases the hottest trends on Wall Street. BlackRock Inc.'s iShares MSCI USA Momentum Factor ETF (ticker MTUM) will see "an astounding" 68% of its portfolio holdings change in order to hold the market's top performers over the past year, according to Wells Fargo estimates. The rebalancing of the quant strategy, due on or around Thursday, will push the weighting of financial stocks to a third from less than 2% currently, the strategists reckon. The technology sector will slide to 17% from 40%."
I highlight this for the magnitude of the shift within an ETF with a momentum mandate that is balanced semi-annually can shift a portfolio based on its quant inputs.
While the article mentions only one ETF in particular and its holdings are US based, that shift will be happening in others, hedge funds and active managers will have positioned for it.
The timing is interesting for the fact domestically ASX banks sector which has been the outperformer this year and is trading on 52 week high with its largest constituent CBA up over 10 percent month to date and trading back over $100 per share.
It due to its market capitalization receives more flows from ETF membership.
Additionally, all 3 near term dividend paying banks – ANZ, NAB & WBC – are currently all neutralising their Dividend Reinvestment Plan (DRP) demand by buying their own stock on market and their stocks are outperforming the index.
The combination of flows has been supportive, but their impact is near its conclusion. Timing is everything and momentum is key to outperformance, as we approach month end, I wonder if there will be a rotation away next month.
The views expressed in this article are the views of the stated author as at the date published and are subject to change based on markets and other conditions. Past performance is not a reliable indicator of future performance. Mason Stevens is only providing general advice in providing this information. You should consider this information, along with all your other investments and strategies when assessing the appropriateness of the information to your individual circumstances. Mason Stevens and its associates and their respective directors and other staff each declare that they may hold interests in securities and/or earn fees or other benefits from transactions arising as a result of information contained in this article.