COVID-19 has been, if nothing else, a capable distraction from the other existential threat to humanity; climate disaster.
Though difficult to think about the polar bears and trees whilst stuck indoors collectively developing eyestrain within a digital existence, the world is still trailing behind the timelines and goals set by climate scientists to bring the planet back from becoming a tacky sci-fi hellscape.
Earlier this month, a penultimate report from leading climate scientists globally gave us the dire message that the planet will warm by at least 1.5 degrees Celsius by 2040 if drastic action is not taken to curb our emissions. This is careening dangerously close to the "point of no return" 2 degrees Celsius warming threshold, a figure which forms the core of emissions guidelines set by the 2015 Paris Agreement.
In the face of overwhelming odds and a lack of collective action, we have turned to the logical solution to this problem: create a financial abstraction.
An Introduction to Carbon Credits
A carbon credit is a tradeable permit acting similar to a water right, allowing the holder to emit a certain tonnage of carbon dioxide in their business operations.
Carbon credits are the latest in what is a growing sector of "ESG commodities" or "sustainability commodities", with the function of attempting to influence corporate entities towards low or zero carbon operations through a cost deterrent (rising credit prices) and commercial incentive (potential to generate and sell carbon credits).
In Australia, the primary way that a company earns carbon credits (or more specifically, carbon offsets) is to run a Climate Solutions Fund project, applying to the clean energy regulator with an emissions-reducing project for their consideration, and then claim carbon credits as the project is delivered.
This fits into what is known as the Australian emissions offset market, which is a secondary market for the trading of Australian Carbon Credit Units (ACCU).


Source: Australian Clean Energy Regulator
Elsewhere, such as California, Canada or Europe, carbon credits operate on what is known as a "cap-and-trade" program, a system in which companies (polluters included) are awarded a set amount of credits, thus placing a tonnage limit on their emissions.
If they exceed the cap, they receive a fine, but they are also able to sell the credits on the secondary market and thus are incentivised to lower emissions beyond the set cap. There are still programs to award non-pullers "offset credits" which similar to the program that we have domestically.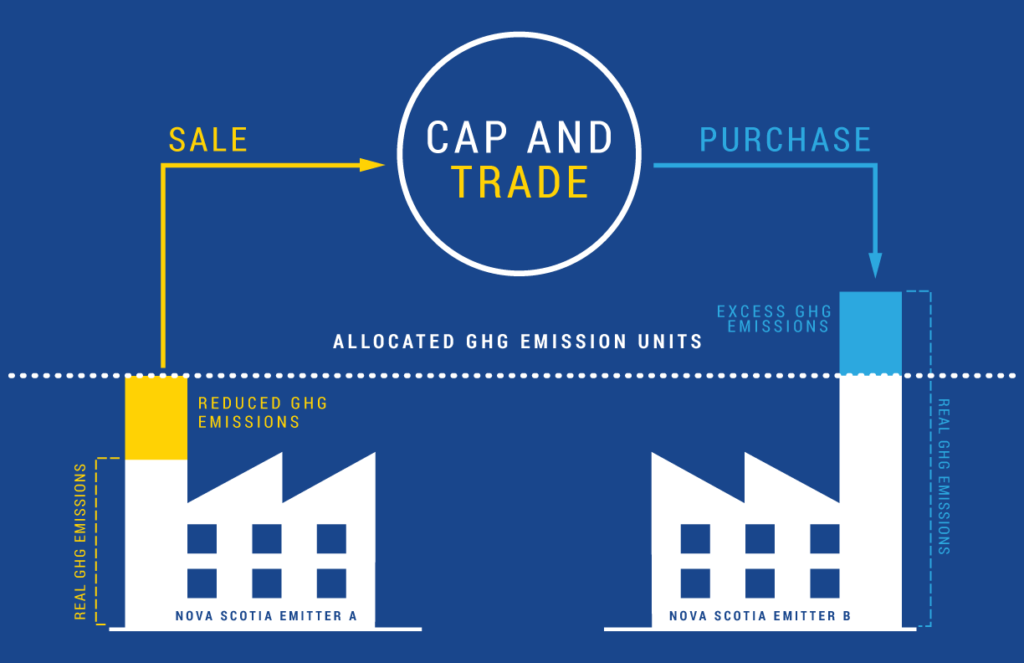 Source: Government of Nova Scotia
There is still contention over whether the ability for polluters to purchase offsets, or to be simply granted credits up to a cap, is addressing the issue of emissions targets or just prolonging the issue.
For what it's worth, I believe the market mechanism is a step in the right direction but are not a solution that can operate in isolation – they are an abstraction which plays to the commercial interest of corporate operators and may be particularly powerful if they can be paired with other methods to increase funding and incentive towards emission reduction projects.


The Present Market
The market for carbon credits is growing at a rapid rate globally, with the significant tailwind of governmental pressures to meet emissions targets set by the Paris Agreement.
The below graph from Trove Intelligence shows the rapid escalation in cumulative retired credits – that is to say, those which have been used by companies to offset their emissions – in the last decade.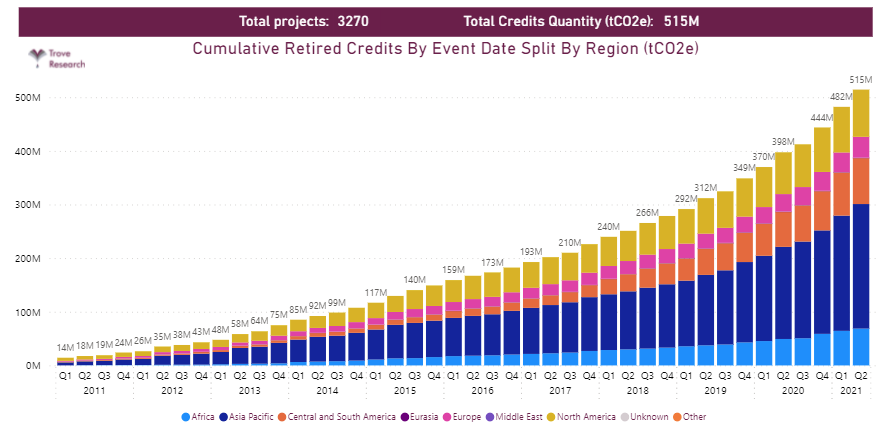 Source: Trove Intelligence
I've separated this by region rather than project type, to get a sense of where the primary consumers of offset credits are coming from.
Domestically we receive a quarterly report from the Australian Clean Energy Regulator, which touches upon key milestones around our emissions projects and volumes within our carbon trading market, with the below being some key takeaways from the recent March 2021 quarterly report:
Emissions reductions from registered schemes expected to reach 57 million tonnes of carbon dioxide equivalent in 2021, up 7% YoY
Our domestic Emissions Reduction Fund (ERF) auctioned 6.8 million tonnes of forward carbon credits (abatements) for $108 million AUD
Private demand for ACCUs reached highest Quarter 1 surrenders on record (532,000 units), up 39% YoY
International Renewable Energy Agency confirmed Australia as a world leader in renewables investment, with the highest wind and solar capacity per capita of any developed nation on a 3-year basis (578 watts per capita)
The U.S. has no federal trading scheme, but many states so far have developed their own schemes on a voluntary basis. As examples, the California Carbon Allowances established in 2013 or the Regional Greenhouse Gas Initiative (RGGI) formed between 11 northeast states established in 2009.
The EU has been a pioneer in the global market since 2005, when it established the first major cap-and-trade market in the form of the EU emissions trading system (EU ETS). Rolled out in phases, the EU ETS has slowly been gaining traction and success, whilst at the outset it was criticized for being ineffective due to an oversupply of credits not sufficiently incentivising companies to lower emissions targets.
To give a sense of scale, the total emissions cap for Phase I was 2.3 billion tonnes of CO2, reduced drastically to 1.7 billion tonnes in 2020.
This is not an exhaustive description – according to the World Bank – there are 74 regional, national and sub-national pricing schemes across the globe, which does not include voluntary offset schemes (which includes ACCUs).
You may notice there has been little mention of the price of carbon here; that is because there is no uniform pricing system across the world to determine the value of carbon credits.
In Australia, ACCUs trade at around $20 AUD/tonne at the moment, whereas the current daily price for the EU ETS hovers around 55 EUR/tonne ($89 AUD/tonne at yesterday's AUD/EUR FX rate).
Logic dictates that one tonne of carbon should be worth the same everywhere, but a newly formed and inefficient market disagrees for now.
Uses and Investing
The investment thesis for carbon credits is compelling for many different parties, from individual investors to institutional entities in their daily business operations.
As ESG-pressures grow on companies, the demand for offset credits in the secondary market will only grow, whilst supply is by nature harder to achieve since it requires projects to be delivered or business operations to become significantly more environmentally friendly.
Simple economics: the price will go up.
A report by McKinsey & Co found that the demand for offset credits will increase by 1,500% by 2030 and by over 10,000% by 2050.
We would not want to misrepresent the investment thesis to state that carbon credit values may rise by that same amount, but it's likely they do rally significantly due to lack of supply and exponential increases in demand from corporates making net-zero emission pledges by 2025, 2030, 2035 etc.
There are multiple use cases where carbon credits may be employed by companies or structures, which all drive demand for this "commodity":
Polluting companies meeting emissions targets set by governments, particularly those who are making emissions commitments without fundamentally changing their business model;

Delta Airlines have committed $1 billion USD to go carbon neutral, as well as Qantas (QAN:ASX) operating a carbon neutral program for members who elect to do so

BP (BP:ASX) have committed to become a net zero company by 2050 or sooner on its oil and gas production projects

Aside from the capital investment into more energy-efficient equipment, these companies will need to purchase enormous quantities of carbon offset credits to achieve these stated targets, as simply a few examples.

Non-polluting companies reducing emissions or developing sustainable projects in order to sell surplus credits (look no further than Tesla (TSLA:NASDAQ) for that particular strategy)
One particular use case that not many may have considered is the linkage of carbon credits over the blockchain to crypto tokens of various forms. This is a multi-faceted use case;
Bitcoin miners could link carbon credits from using renewable energy, generating value amidst concerns of Bitcoin's environmental impact, since those credits would be permanently linked to the token over the blockchain
Carbon credits could become a digitised token, since they operate in a very similar way on the blockchain as they would on a traditional exchange, being burned (or retired) upon usage and having a permanent record on the blockchain of that credit's use
Crypto ETFs, an up-and-coming investment trend, could create carbon neutral forms of nearly any investment vehicle through linking tokens to carbon credits, enabling something as outlandish as a "carbon neutral oil ETF"
New carbon trading exchanges are popping up across the world, including CTX Global (UK, US, Australia) and CBL Markets

For individual investors who want exposure to the growing carbon market, the easiest way to access this investment theme at the moment is through the use of ETFs.
The KraneShares Global Carbon ETF (KRBN:NYSE) offers a broad coverage of cap-and-trade carbon allowances through the use of carbon credits futures contracts. This strategy has over $600 million USD under management to date and is up over 84% since inception in July 2020.

Source: Bloomberg
Similarly, the iPath Series B Carbon ETN (GRN:NYSE), is an exchange traded note seeking to provide exposure to carbon credits on the EU ETS and the Kyoto Protocol's Clean Development Mechanism Components. GRN holds just shy of $70 million USD under management and has delivered ~110% since inception in October 2019.

Carbon Credits where Credits are Due
Carbon credits are an encouraging step forward in our effort to drive meaningful action in sustainability from the private sector, offering both a supply and demand mechanism to incentivise new renewables projects and reduced emissions from existing operations.
The structural tailwinds behind this theme are enormous, backed by governments all the way down to shareholders and bondholders advocating for sustainability in their companies.
As this space grows it will be interesting to see the availability of these credits from a trading point of view, as there are a growing number of global corporates pledging net zero carbon emissions by varying timeframes, all of whom will likely need to purchase carbon offsets to do so.
No doubt, derivative markets will grow larger and deeper as more credits are issued and retired throughout the world, as demand grows exponentially
The global carbon market gives us a rare opportunity to see a budding market develop, one which is still inefficient and going through teething issues.
Fittingly enough for a note touching on sustainability, I leave you with a proverb that a friend quoted to me earlier this week: "The best time to plant a tree is 20 years ago. The second best time is today".
The views expressed in this article are the views of the stated author as at the date published and are subject to change based on markets and other conditions. Past performance is not a reliable indicator of future performance. Mason Stevens is only providing general advice in providing this information. You should consider this information, along with all your other investments and strategies when assessing the appropriateness of the information to your individual circumstances. Mason Stevens and its associates and their respective directors and other staff each declare that they may hold interests in securities and/or earn fees or other benefits from transactions arising as a result of information contained in this article.