Today is the last note of the year.

We'll return to publishing our daily content on Monday, 31st of January 2022.
First and foremost, thank you for your support this year – utilising our investment platform, asset management service, reading our publications, participating in our investment model portfolios, our SMAs and Funds, and the numerous transactions we've sourced as well.
For all the myriad of ways that we work together to achieve objectives and better investment outcomes – thank you.
I asked to be the lucky one to write today's note – just as I did last year – because I wanted to leave you all with a very clear message for the year ahead.
Times were tough this year just as they were in 2020 and will likely continue to be tough in 2022, but we will get through them and prosper.
It doesn't pay to bet against humanity, over the medium to long term.
2021 – The Shortest Year in Decades
One thing I've noticed through the past two years was how years seem to pass quicker when there's fewer large events to demark the year.
In a "normal" year, most of us will have numerous occasions to remember such as weddings, funerals, birthdays, family events, dinners, fun activities, concerts etc.
2021 was largely devoid of those occasions for most Australians, where celebrations were put off or multiple were celebrated at the same time, causing the year to appear quicker.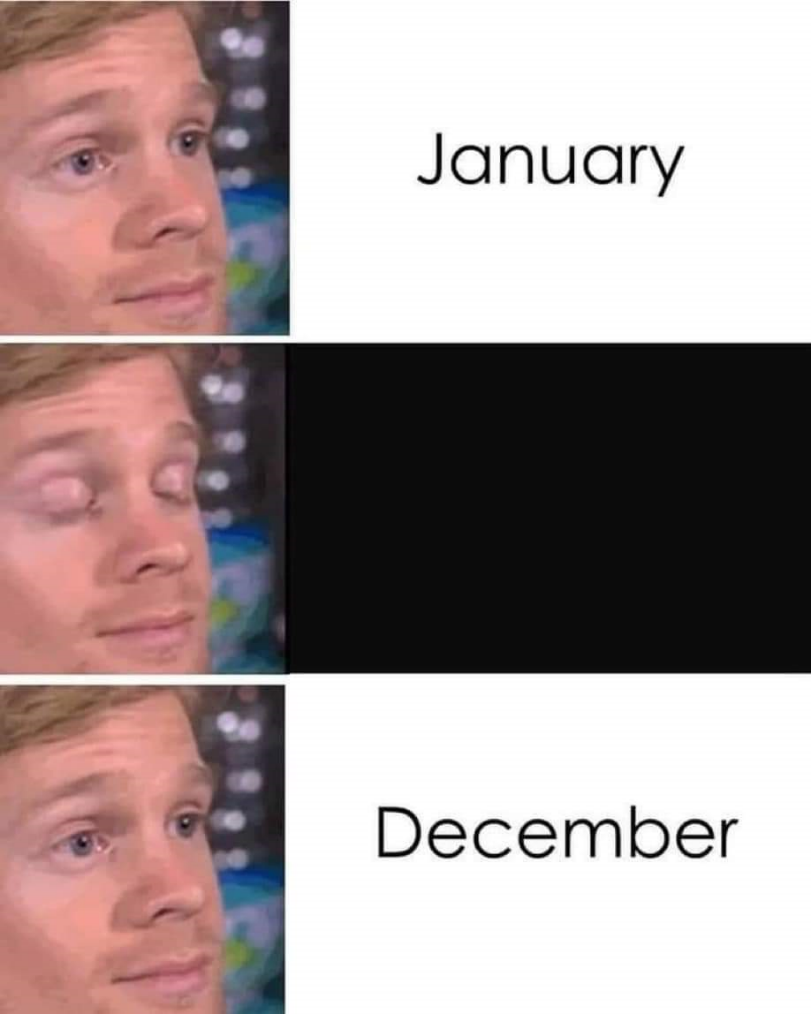 Source: Jesse's Facebook newsfeed
As we're all aware, this has been by-and-large due to global and domestic mobility restrictions, grinding social activity to a halt and a lot of business activity too.
For those residing in ACT, NSW and VIC: you've experienced state-wide lockdowns of varying length that will likely be a blackhole for memory in years to come.
The SARS-COV2 pandemic has morphed into an endemic, meaning that the virus has become native to geographies/locations, a recognition that we will be living with the virus for years to come.
In public policy this was seen in the transition from zero-COVID case targeting to "living with the virus", likely also due to our inability to stop the delta variant infections.
This pandemic to endemic transition was always likely the case, given that most recent common ancestor (MRCA) coronaviruses have existed for thousands of years already, though some models place common ancestors as far back as 55 million years ago, implying a long-term coevolution with bat and avian species.
2022 Outlooks
You may have noticed we've spent an inordinate amount of time preparing our market outlooks for 2022.
If you're interest in any particular market, the following is our comprehensive list:
The main take-aways are that in 2020 and 2021, there were easily identifiable winners and losers that we call COVID beneficiaries or COVID losers.
2022, in contrast, is multifurcated in that there are many competing regimes influencing markets, which will likely become primarily important at different periods of time.
For example, inflation and inflation expectations will compete with labour market participation increasing, along with government stimulus reductions but policy still remaining expansionary in nature, whilst global climate agendas shift capital flows and investment allocations.
Like we mentioned last year, the support that governments and central banks provided was a safety net for a lot of businesses, where the outcome is less innovation and new business formation called "creative destruction" than in past recessions, where we'll experience a sharp rebound in economic activity, but not the longer-term productivity enhancements from new business and technologies that traditionally go along with it.
Coupled with this is the large public debt burden accumulated – bringing future consumption forward to today – to support growth, that has us revising our future growth expectations lower.
Giving Thanks
Thanksgiving is a national holiday celebrated in the USA, Canada, Grenada, Germany, Japan, St Lucia and Liberia, that began as a day to give thanks for the blessing of a harvest and for the preceding year.
It's a holiday that's grown on me as my darling wife, an American, has ensured we celebrate it every year with both family and friends.
In 2019 we had quite a large Thanksgiving celebration with ~20 American-born friends ("FriendsGiving"), and I learnt of a tradition where we went around the room and each person said what they were thankful for.
Some answers were as you would expect – thankful for their family and friends, job, health etc.
Others were most interesting, specific and unique, where people were thankful for some things that kept them going.
Personally, I've dealt with anxiety for a long time and there's many people and animals in my life that help me remember to control the things I can control, and to worry less about the things I can't.
The people that held my hand, gave me their shoulder to cry on, or simply sat by me when times were rough will always be remembered and appreciated.
I believe over the forthcoming public holidays we should all embark on this journey of reflection and introspection, as we'll likely find many joys in life that we didn't appreciate as much as we should.
More generally, there were many good news items this year, here's a list of those I wrote down throughout the year that you may have missed:
An Icelandic study of 2015-2020 of 2500 workers found that reducing 40-hour work weeks to 35-36 hours (with the same pay) produced the same amount of output, while the workers were happier and less stressed
Madrid (Spain) is planting a 75km forest outside the city with ~500k new trees, set to absorb more than 170k tonnes of CO2
France's National Centre for Scientific Research strapped 169 wandering albatross with sensors to detect boat radars and found that 1/3 of vessels in the South Indian Ocean were not broadcasting their whereabouts and were likely fishing illegally, a first step in tackling the practice of over-fishing
Brazilian not-for-profit "Gastromotiva" has 65 "solidarity kitchens" based out of alumni homes, teaching restaurant cooking to people of Brazil's favelas (shantytowns), they distribute over 80k free meals in Rio every month
Tasmanian devils are thriving on the Australian mainland for the first time in 3000 years, thanks to conservation group Aussie Ark. Score of devils were introduced to a sanctuary in NSW in 2020, and this year, a new generation of joeys were born
In the USA, 30% of American military veterans suffer from PTSD and 14% of total suicides are vets, with many others struggling with homelessness and addiction. Marty Weber (a US vet) donated 15-hectares of New Jersey land to Just Believe Inc, to now be a retreat for veterans combatting addiction and mental illness
In Berlin, Germany, a new multi-faith centre called House of One houses a church, mosque and synagogue in three separate sections, linked by a communal hall. The three communities came together due to a rise in religiously motivated attacks, seeking to build trust between the religions
A collection of 16 conservation partners bought 95k hectares of the Amazon from a logging company, to protect it from deforestation, forever. The area is a vital habitat for jaguars, spider monkeys and pumas.
A European app called Too Good To Go has been downloaded by 22 million people in Denmark, Norway, Sweden, France, Germany, UK and others, and can be used to find heavily discounted food that is set to be thrown out, combatting surplus food waste
Austria and Sweden join Belgium to go coal-free this year, with Portugal set to join them in 2023. Several other nations such as France, Slovakia, Ireland, Italy and the UK are expected to eliminate coal within five years.
I Don't Know You Yet
Last year, I mentioned the rise in popularity of COVID songs, spotlighting a favourite of mine called "Six Feet Apart" by artist Luke Combs, that perfectly captured the elements of 2020.
Lyrics such as:
"I miss my mom, I miss my dad,
I miss the road, I miss my band,
Giving hugs, and shaking hands.
Lyrics that a lot of Australians can directly relate to.
This year I've been struck by a different COVID-themed tune, "I Don't Know You Yet" by Alexander 23.
Alexander 23 wrote the song during quarantine in America, where the lyrics can be interpreted differently, depending on the audience.
"How can you miss someone you've never met?
'Cause I need you now but I don't know you yet
But can you find me soon because I'm in my head?
Yeah, I need you now but I don't know you yet"
One can easily read these lyrics through different eyes and appreciate the loneliness of teenagers and children, unable to establish personal connections at school or out and about.
You can envision older teenagers and adults unable to find love or physical connection due to lockdowns, or those with mental issues unable to get help.
I can also relate the song lyrics to personal circumstance, where I'm yet to meet a large number of you in person, because of the on-going nature of the pandemic.
A thing we would take for granted pre-pandemic, where we'd much more readily and easily travel to visit one another, establishing more intimate or personal relationships, sooner.
While Zoom, MS Teams and GoToMeetings are great and a boon for overall productivity, they aren't as personal as sitting opposite someone and seeing their reactions, their gesticulations and hearing the tonalities that might be missed via remote connection.
Alexander 23's song is on-point that the year or two (or possibly more) of our lives that we miss some of these connections and events, makes for forgettable years, with less to remember.
I hope that we all find 2022 a year with more positivities to remember.
Best wishes for Christmas and the New Year, looking forward to re-uniting or meeting you in person for the first time in 2022!
The views expressed in this article are the views of the stated author as at the date published and are subject to change based on markets and other conditions. Past performance is not a reliable indicator of future performance. Mason Stevens is only providing general advice in providing this information. You should consider this information, along with all your other investments and strategies when assessing the appropriateness of the information to your individual circumstances. Mason Stevens and its associates and their respective directors and other staff each declare that they may hold interests in securities and/or earn fees or other benefits from transactions arising as a result of information contained in this article.
---