It has been a tough twelve months owning shares with China exposure. There have been numerous reminders the political system chases its goals at the expense of the market, posing a significant risk for any foreign investors.
Ever since the Ant Financial IPO (which would have been the largest in history) was cancelled a little over a year ago, the government has taken measures against property developers, tech giants, even banned private tuition – all part of President Xi's message on " common prosperity", with the aim of a more equitable distribution of the country's wealth.
The uncertainties around how much control the state will impose on the private sector and which industry is next to be targeted have made the international investor wary, despite the high growth opportunities with low valuations on offer.
Slower earnings growth
While the Government has been aggressive in regulation, the working environment has been difficult with the restrictions the pandemic imposes on trade as well. It's now reporting season for those companies whose stock is commonly traded in the US and whose business is in China.
Tencent Holdings Ltd. (0700:HK) saw revenue grow at the slowest pace since 2004. However, during the earnings call management commented that recent gaming regulation focuses on the protection of minors rather than adults and they also expect the game approval suspension to be temporary. Gaming revenue was up 9% on mobiles / 1% on PC's while international gaming revenue was up 20%. They missed on ads revenue attributing weakness to weak demand from industries affected by regulation such as education, insurance and gaming. Despite the stock price weakness, revenue growth will be over 15 percent this year and next in a tough operating environment. Of the 69 analysts I see covering the stock on Bloomberg, 62 have a buy rating with a twelve-month blended target price of $610 HKD, more than 20% higher than current prices.
The internet search engine – Baidu Inc. (9888:HK), reported broadly in line 3Q21 results, total revenues increased 13 percent, monthly average users increased 12 percent YoY to 607mio with daily active users to monthly active users ratio at an all-time high of 79%.
E-commerce giant Alibaba Group Holding (9988.HK) stock tumbled after its quarterly results. Earnings before interest, taxes, and amortization was $4.4 billion, delivering earnings per share of $1.74. Expectations were for sales to be slightly below $40 billion, with earnings of $4.9 billion delivering EPS of $1.86. On outlook, Alibaba had projected more than 930 billion Chinese yuan ($146 billion) in sales for the year ending March 2022—which would represent nearly 30% year-over-year growth. It has now cut that figure, projecting revenue to grow 20% to 23%. Baba's active annual consumers across their ecosystem reached 1.24 billion adding a further 62 million for the quarter. While the market is disappointed and showed it post results Baba's sales were still 29% over last year hardly a concerning sign on Chinese consumption.
Political situation easing
President Joe Biden and Chinese President Xi Jinping last week held their first "virtual meeting" since the U.S. leader took office. The two sides strove to make the remote summit as realistic as possible to a face-to-face meeting and it appeared cordial from both sides. Joe Biden appeared at ease in with his informal style and the two reminiscing, drawing media focus on their decades long "friendship".
Aiding the backdrop is China passing a resolution that cements Xi's grip on power for a third term, elevating him to the level of Mao Zedong and Deng Xiaoping in his country's political history – the key take-away is that his position is secure.
Statements later released by both sides, while restrained, give the impression that there's an opportunity to restore some degree of normalcy to ties that reached historic levels of tension under President Donald Trump.
Then later last week China's growing role on the world stage and climate change were in focus as the Bloomberg New Economy Forum got underway in Singapore, bringing together global leaders of government, finance and industry. Chinese Vice President Wang Qishan vowed that China will continue to open up to foreign investment at a time when other countries are raising barriers and underscored the importance of its relations with the U.S.
While trade was scarcely mentioned, economic officials were present at both the U.S. and Chinese tables, so no doubt it came up during the discussions.
The three-day event in Singapore was just 24 hours after Joe Biden and his Chinese counterpart Xi Jinping spoke to defuse tensions, and just days after a climate deal at the COP26 talks in Glasgow.
"China cannot develop in isolation of the world and nor can the world develop without China," Wang said Wednesday past. "China will keep its arms wide open, provide more market investment and growth opportunities to the world."
The possibility of easing US-China tariffs could become a non-consensus tailwind for US and China equities. The onset of the pandemic completely de-prioritized trade and left $350-370B of Phase I-III tariffs in place. While most investors remain negative on US-China trade, JP Morgan analyst's see a potentially compelling case for easing tariffs. In fact, heading into 2022 US midterms, easing tariffs could align with Biden's campaign commitment, support the party's election strategy, and address business concerns.
During the US-China trade negotiation over April 2018 to January 2020 (figure below), Chinese equities rallied when tensions fell and corrected when tensions escalated.

Source: JPM Global Markets Strategy Nov 15
Chinese PMIs have struggled this year but have moved back into expansion territory. JPM economists are projecting a strong re-acceleration in the Asian growth momentum in the coming months.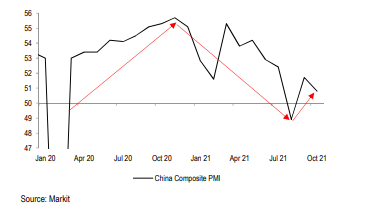 Looking at those Chinese internet giants while they have taken a beating, the continuation of the digitisation of world's second largest economy means these companies will stay industry leaders over the long term. The slower earnings growth rates are reflected in the current prices and a catalyst like an easing of trade tariffs into the close of the year is something that could start a new positive trend.
The views expressed in this article are the views of the stated author as at the date published and are subject to change based on markets and other conditions. Past performance is not a reliable indicator of future performance. Mason Stevens is only providing general advice in providing this information. You should consider this information, along with all your other investments and strategies when assessing the appropriateness of the information to your individual circumstances. Mason Stevens and its associates and their respective directors and other staff each declare that they may hold interests in securities and/or earn fees or other benefits from transactions arising as a result of information contained in this article.