First and foremost, thank you for your support this year – reading our publications, utilising our platform and investment service, participating in investment transactions and models, and for all the myriad of ways that we work together to achieve objectives and better investment outcomes – thank you.
I had asked to be the lucky one to write today's note because I wanted to leave you all with a very clear message for the year ahead.
Times have been tough in 2020, and they may be yet again in 2021, but we will get through them and prosper. It doesn't pay to bet against humanity, over the medium to long term.
2020 – the year out of left field
In baseball, there is a situation where a base runner is sprinting towards home plate and can't see what is happening behind him or her.
Focused on scoring, they can't see if the outfielder is throwing a ball that will reach home plate first, where they could be caught out.
This is where we get the phrase "out of left field", referring to events that aren't foreseen, as opposed to a ball thrown from right field, which you can see happen as you run home.
COVID-19 was the ultimate ball out of left field.
We've had viruses and pandemics before; we knew they were possible; many of us have lived through them. I'm talking about Mad Cow (BSE), H1N1, SARS, Ebola (EVD) etc. But we didn't foresee this particular one appearing when and where it did, and it quickly changed our history and future.
Or did it?
COVID-19, the event, shall pass.
Maybe the virus itself will stay around for a long time and never be fully eradicated, an endemic rather than pandemic, but COVID-19's constant effect on our society and economy may reduce over time, until it becomes a small part of most of our lives – the way measles, rabies or diphtheria are.
In the grand scheme of things, COVID-19 has diverted our attention for 2020 and likely 2021 too, but it has not materially shifted the trajectory of long-term themes affecting our global economy.
Things such as:
Creative destruction
Capitalism is an evolutionary process.
Businesses adapt to changing conditions, they survive and grow, or they fail and perish.
Typically, this produces more and better products and services, where consumers have more choices.
Economist Joseph Schumpeter (a favourite of mine) coined the term "creative destruction" to describe the process of value creation through business failure as a repeating cycle of human innovation.
The problem that 2020 has shown us is that we don't have true capitalism nor creative destruction.
We have an amended and regulated version where governments and agencies protect favoured constituencies and groups from competition.
This year, the survival factor was size of the company.
In the most affected industry sectors, companies of the largest size were protected whilst the smaller ones were allowed to die.
2020 was not survival of the fittest, it was survival of the BIGGEST.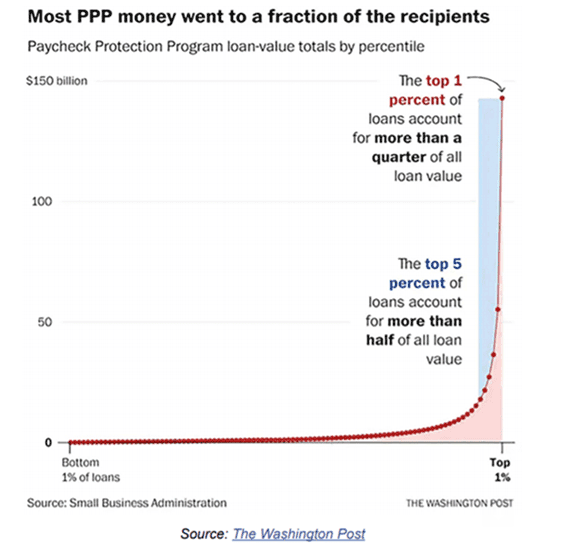 2021 Outlooks
You may have noticed we've spent an inordinate amount of time preparing our market outlooks for 2021.
If you're interested in any particular market, the following is our comprehensive list:
The main take-aways are that there are easily identifiable winners and losers from 2020 that translate into outlooks for the first six months of 2021.
Those that receive government bailouts (loans) or were nimble or already positioned for a pandemic, won.
Those that had no access to capital markets, government bailouts or were slow to react, lost.
Because of this, we won't experience the innovation and productivity gains that past creative destructive moments produced, likely we experience an economic output gap for years and years with persistently low wage growth and high unemployment.
Latest RBA academic research published on 10 December highlights that economies experience sluggish growth and higher unemployment when they are unable to transition 'temporarily' unemployed persons back to the labour force, where long-term unemployed persons are a drag on economic output (as tax dollars are diverted to support the unemployed, where otherwise they could be spent on other development goals).
Reasons for prosperity
Socially, as opposed to economically, we are faster to adapt to certain changes 2020 has presented.
We have embraced technology and changed consumer behaviours at unprecedented rates.
In case you missed some of the good news this year:
Africa was declared free of polio by the World Health organisation in August, with no new cases since 2016.
While cinemas have fallen out of favour, drive-in movies have made a return as a socially responsible way of watching big screen movies.

Get ready for drive-in concerts next year too!

For the first time around the world, there was a rush to adopt pets and countries such as the Netherlands reported they had no unadopted dogs across the entire country.
Books such as "How to be Antiracist" topped global best-selling lists.
Because of less pollution this year, both Aurora Borealis and Aurora Australis are more visible than ever.
Home-schooling taught millions of parents how hard teaching their children really is, and that teachers are all heroes.
Venice became beautiful again, where marine life returned to the canals and the water returned to a more natural blue/green colour.
Amazon introduced new packing boxes that can be turned into a cat fort or a robot costume.
We still celebrated birthdays, but we did it this year via Zoom or with smaller, more personal meetings.
With reduced human activity, wildlife has prospered with animals such as elephants in India, deer in Japan, pandas in Hong Kong, dolphins in Turkey, turtles in Australia and many more re-turning or moving closer to human occupied lands, en masse.
Many 'green' energy supplies became cheaper than conventional 'brown' supplies, even without government subsidies. This creates the momentum where green energy becomes economically as well as socially viable.
Six Feet Apart
One thing that's certainly made me happy has been the new COVID-19 related songs that are starting to emerge.
This indicates an anecdotal level of psychological 'scarring' where we'll be thinking, talking and singing about COVID-19 for years to come.
In 20-30 years, children will ask why mum and dad use so much hand sanitiser after their grocery shopping, and we'll blame COVID-19.
Likewise, we'll generally be better displaced to wearing masks and social distancing regimes if and when another global health calamity re-emerges.
I leave you with my favourite lyrics of my favourite COVID-19 song, "Six Feet Apart" by US country music artist Luke Combs, who captures the key elements of this year.
I miss my mom, I miss my dad
I miss the road, I miss my band
Giving hugs and shaking hands


It's a mystery I suppose
Just how long this thing goes
But there'll be crowds and there'll be shows


And there will be light after dark
Someday when we aren't, six feet apart

Luke Combs, Six Feet Apart (2020)
Best wishes for Christmas and the New Year, looking forward to re-uniting with you all in 2021!
The views expressed in this article are the views of the stated author as at the date published and are subject to change based on markets and other conditions. Past performance is not a reliable indicator of future performance. Mason Stevens is only providing general advice in providing this information. You should consider this information, along with all your other investments and strategies when assessing the appropriateness of the information to your individual circumstances. Mason Stevens and its associates and their respective directors and other staff each declare that they may hold interests in securities and/or earn fees or other benefits from transactions arising as a result of information contained in this article.