With Christmas rapidly approaching, investors and listed companies alike are probably looking forward to some quiet time over the summer break.
With borders reopening in all states in Australia (thank you WA for joining the fray) many of us can escape our homes, take in different surrounds and reflect on 2020, whilst looking forward to 2021 with a degree of optimism.
In this three-part note, we take a look at the 11 major sectors that make up the Australian Equity market and how they are placed for 2021.
The big events that have provided volatility to equity markets globally have largely been resolved.
The US Presidential election has been finalised, with President elect Joe Biden getting ready to occupy the White House in January. The likelihood of a split house with Democrats controlling the House of Representatives and the Republicans likely to control the Senate has given the market some comfort, as this is the norm in US politics.
The truly amazing speed in which genuine vaccine candidates were developed, tested and approved has given investors optimism, that 2021 will be a year in which a fair degree of normality will return.
Pfizer/BioNtech, Moderna, Atrazeneca/Oxford University, all have vaccine candidates that are ready for emergency approval by each country's respective medical authority. With the imminent rollout of vaccines, equity markets have taken a glass-half-full approach, despite earnings being well off pre-COVID levels.
Domestic equity markets were dominated by the coronavirus and the rapid response by both State and Federal governments in implementing lockdowns to limit the spread, as well as providing effective and timely stimulus response. The huge stimulus response has plunged the Australian government into record levels of debt relative to any other period since Federation with $872 million of debt forecast by 2021.
Equity markets were crushed in March, with the ASX 200 falling from February high of 7197 to a low of 4402 on 23 March. The rapid sell-off was then offset by a surprising rally in equity markets, despite earnings being hit hard and guidance being almost non-existent. At the time of writing this note, the Australian equity market is almost back to being in positive territory for the year.
With that, I will move into discussing the outlook for energy, consumer discretionary, financial and utility sectors.
Energy (XEJ)
Energy was one of the hardest hit sectors, as global economies ground to a halt under COVID-19. The outlook for 2021 is looking optimistic with oil & gas, coal and uranium companies all having positive price targets from analyst's survey by Bloomberg.
Energy retailer & power generator Origin Energy (ORG.ASX) is the standout with analysts forecasting target price of $6.35 for 2021, up 22.8% from current levels of $5.17.
Oil & gas shares are also expected to continue to recover despite the uncertainty on OPEC. That being said, investors are more focused on the reopening of economies, which will lead to increased levels of consumption of oil & gas, as we all start to move again. Woodside has a target price of $25.44 for 2021, up 11.8% from $22.65, while Santos (STO.ASX) has a target price of $6.80 up 7.6% according to Bloomberg.
The coal sector is still under pressure, with up to 20 vessels stranded off the Chinese coast waiting to unload, as China has banned Australian coal imports for failed environmental standards. As the world inches towards more sustainable energy sources, the long-term outlook is less optimistic. In the short term though, listed coal company's share prices have been hit hard so any pickup in demand or a settlement with the dispute with China could lead to a reasonable rebound in 2021.
Analysts are most optimistic on Whitehaven's outlook with Bloomberg consensus target price $1.80 per share, a 25.9% increase from current prices.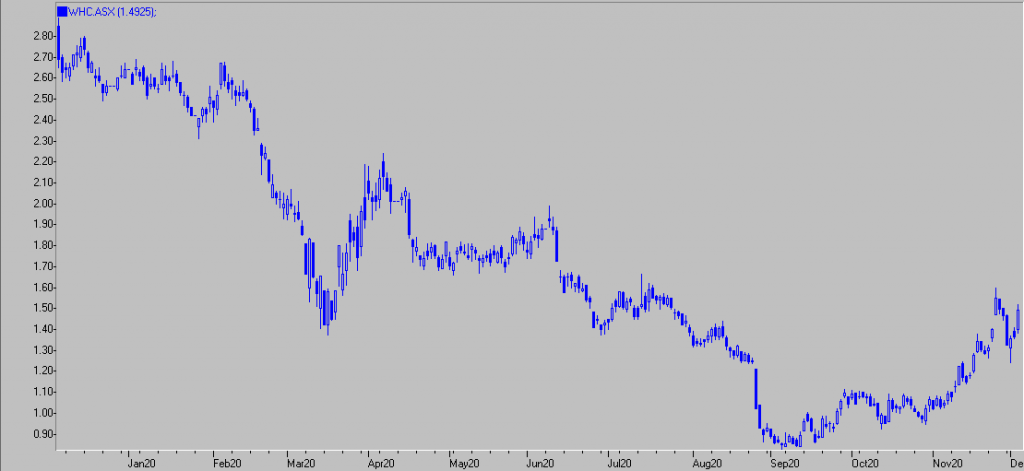 Whitehaven Coal. Source: Iress
Consumer Discretionary (XDJ)
One of the strongest sectorial rebounds throughout 2020, the sector is back to pre COVID-19 levels. Work from home, home improvement & online retail all boomed as enforced structural change due to lockdowns impacted us all.
Wesfarmers and their Bunnings franchise, JB-HiFi, Harvey Norman, Kogan have all performed exceptionally well in 2020.
Will the trend continue?
According to the Bloomberg average analyst forecast, JBH and HVN have 2.5% & 6.2% upside for 2021 while Kogan (KGN.ASX) the online retailer has 9.8% upside. Tabcorp (TAH.ASX) has been subject to potential takeover action with private equity consortium rumoured to be looking at its breakup valuation. Well off pre-COVID-19 levels of $4.60, TAH has a target price of 4.08 for 2021.
Financials (XFJ)
This sector was hit hard during the March sell-off with a perfect storm of reduced economic activity and falling interest rates putting pressure on net interest margins. With concerns over bad debts, provisioning levels and cuts in dividends, the sector fell out of favour. The last 6 months has seen the banks reinforce their balance sheets (now up with the strongest in the world) with equity and debt issuance. With this done, the focus is back on the economy and how the big banks will increase profitability, limit bad debts and increase their dividends through 2021.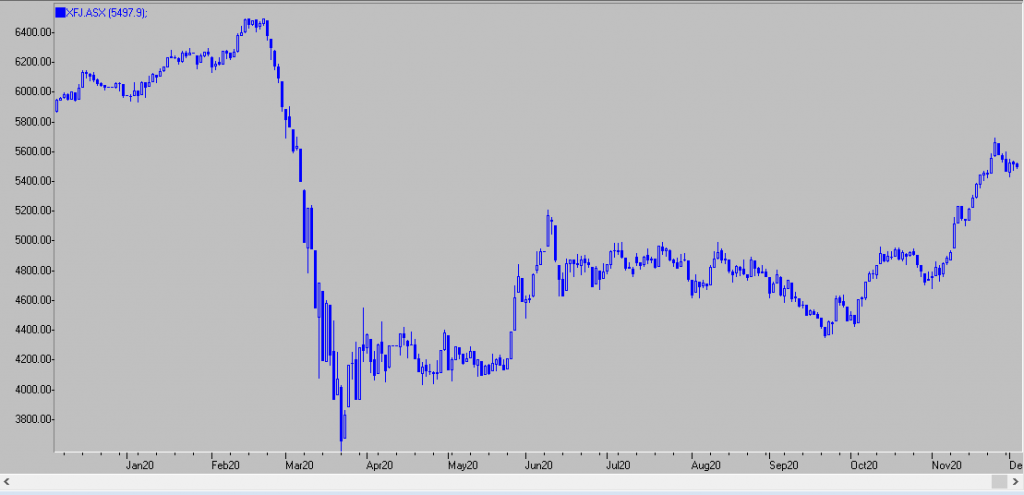 Financial Index. Source: IRESS
Much of the optimism surrounding a recovery in 2021 has been factored into the banks' share prices, with the Bloomberg target price targets being below current levels. CBA is the most overvalued with analysts on average expecting a 7.5% reduction is share price through 2021, while WBC is the only bank of the majors that has positive price target of $21.14 for 2021.
Insurers is one sector that has fallen further from the March lows.
The recent news that COVID-19 business insurance related claims will be allowed by the Full Bench NSW Court of Appeal, put fresh doubt in investors' minds. IAG announced a $865million provision and a $850million equity raise to plug the gap, while Suncorp has taken a smaller provision and is yet to raise equity. Also on investors' minds, is the potential for La Nina driven weather events, cyclones and floods, which become more prevalent in the summer months and which could have negative implications for the insurers.
Despite this pessimism, Bloomberg's target price for SUN is $10.92, up 7.9% while IAG TP is $5.41, up 2.9%.
Utilities (XUJ)
The Utilities sector is one that could potentially provide investors with low volatility and improving asset prices in 2021. The sharp sell-off in March, followed by an almost equally sharp rebound in April, only caused modest losses for investors.
Since then, the sector has slowly deteriorated and is now only 10% above the March lows. With economies reopening in 2021, a shift towards gas and renewable energy generation the big names in this sector look attractively priced.
APA Group (APA), has a target price of $11.30 up 9.7% from current levels while AGL has 8% upside from current levels for 2021. The best priced utility for 2021 is Spark Infrastructure (SKI) which recovered well post the lows of March. Analysts have a SKI returning to its mid-year highs in July with a target price of $2.35, up 12.4% from current levels.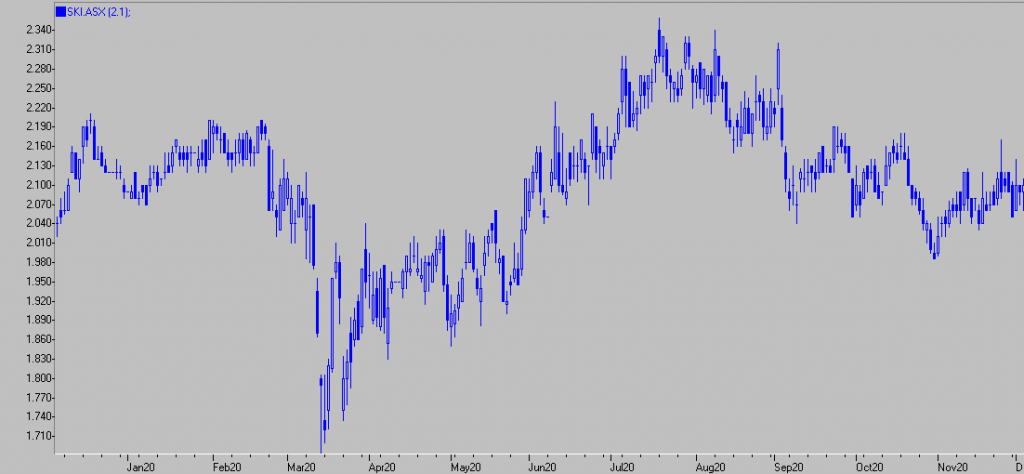 Spark Infrastructure. Source: Iress
Tomorrow, we will examine the outlook for the materials, consumer staples Information technology and Real Estate, which will be very interesting given the impact the likes of the big iron ore stocks and the Buy Now, Pay Later sector has had during 2020.
The views expressed in this article are the views of the stated author as at the date published and are subject to change based on markets and other conditions. Past performance is not a reliable indicator of future performance. Mason Stevens is only providing general advice in providing this information. You should consider this information, along with all your other investments and strategies when assessing the appropriateness of the information to your individual circumstances. Mason Stevens and its associates and their respective directors and other staff each declare that they may hold interests in securities and/or earn fees or other benefits from transactions arising as a result of information contained in this article.