In this final part of our Australian equity outlook notes, we look at the industrials, healthcare and communications services sectors. All three sectors were hit hard in 2020 and have yet to recover to their pre-COVID highs, something that analysts have some expectation may happen in 2021.
Healthcare
This sector proved to be rather chameleon-like during 2020, with the Australian healthcare stocks being camouflaged from investors, despite the pandemic becoming a clear medical and health issue.
Most of the smaller stocks in the sector just underperformed as it became clear the spectrum of coverage was not aligning with overseas trading. The majors though did well, although CSL is still trading below its pre-COVID level.
Fisher & Paykel (FPH.ASX)
Fisher & Paykel benefitted from the surge in demand for respiratory humidifiers which were being directly used on patients with Coronavirus. FHP share price surged 45.2% from a low of $24.05 in March to $34.92 in July.
Trading has settled down, and expectations for 2021 have a marginally positive outlook of 0.4% growth from its current price of $30.67.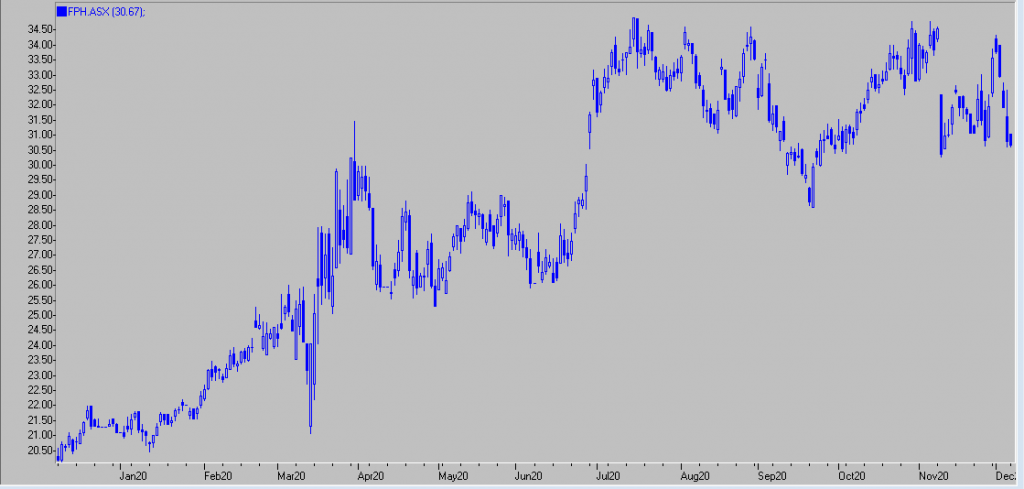 FPH. Source: Iress.
CSL Limited (CSL.ASX)
Our largest company by market cap has struggled to deliver in 2020, and analysts expect only a marginal recovery in 2021.
CSL's plasma business in the US is the driving force of revenue and the collection process in the US is at risk of falling short of expectations.
Decreased foot traffic due to second wave of COVID-19 is having an impact with a 9-month lag between collections and delivery of final product.
Domestically, news has been positive with the company announcing the production of 51 million doses of the University of QLD vaccine if and when it's approved, and importantly 30 million doses of the AstraZeneca/ Oxford Uni vaccine which has recently received emergency approval in the UK.
In addition, CSL announced the construction of a new $800million vaccine manufacturing facility in Melbourne.
CSL's pre-COVID high was circa $340 and analysts surveyed by Bloomberg have a price target of $314.17, 6% higher than current levels.
Sonic Health Care (SHL.ASX)
Sonic Healthcare has had a tumultuous year with business volumes initially hit hard following lockdowns and cancellations of elective surgery.
When the methodology for testing for Coronavirus was established, Sonic's business turned around with COVID PCR testing, antigen testing, antibody tests, rolled out globally. The reliance of governments in Australia, UK, Germany and Switzerland on Sonic's laboratories testing analysis was recognised by investors and the share price recovered.
The new COVID-19 world we all live in will be part and parcel of 2021, and as such, analysts see more upside in the stock with a price target of $36.69, not far off its all-time high.
Ramsay Health Care (RHC.ASX)
Private hospital operator, Ramsay Health Care, is yet to track back to pre-COVID levels, with the lockdowns and cancellation of elective surgeries hurting earnings.
The outlook is still cloudy, with CEO Craig McNally stating the second wave infections in Europe will affect first quarter earnings for 2021, while the increased costs of operation in the COVID world have also impacted analysts outlook.
Australia is expecting a better year with revenues up 1.5%, which if we exclude Victoria, was up 6.6%, however, the company was not in a position to give guidance.
Analysts are taking a glass-half-full approach with a price target of $67.56 for 2021 up 6% from current levels.
Resmed (RMD.ASX)
Australia's manufacturer of masks and respiratory devices has had a strong year with 12% revenue growth in masks in the US, along with 8% growth in the rest of world in Q1, giving analysts optimism for 2021.
The Biden government's rhetoric on masks has added impetus to the story, post the US election. However, despite earning upgrades, valuations have run ahead of expectations with the average analysts' target price forecast for 2021 being $27.11, down 3.7% from current levels.
Industrials
The shift in focus from value to growth as a major global thematic has taken its toll on the sector.
As the world entered its sudden recession, the reboot of economies has been very sector specific and old school industrials have lagged.
Transurban (TCL.ASX)
COVID-19 lockdowns hit Australia's largest toll road operator hard with daily traffic volumes in the month of March falling from 2.4 million to 1 million.
For the year ending June 2020, the decrease in volumes was a modest 8.6%, but it was the outlook that investors were focusing on.
The company was in the hands of State and Federal governments with regards to the reopening of economies, which changed on a daily basis.
Victoria's reopening has certainly boosted sentiment and analysts have a marginally optimistic outlook for 2021 with a price target of $14.48, +2.9% up from current levels.
Sydney Airport (SYD.ASX)
Airports and airline stocks were the poster stocks of those hit hardest by COVID-19.
Sydney Airport, Australia's gateway, has international traffic down 97% while domestic travel is only just starting to pick up following the various state-based lockdowns being withdrawn.
The outlook for 2021 still has analysts very cautious, with no international travel forecast despite the optimistic vaccine outlook for first quarter of 2021.
Analysts have a price target according to Bloomberg of $6.34 which is 5.8% below current levels.
Brambles (BXB.ASX)
The global slowdown in GDP impacted Brambles, the global leader in pallets and logistics services. Brambles' share price waxed and waned on Coronavirus infection levels and when a reopening of global economies would start to materialise.
Certainly, the uptick in recent European auto sales in early October was a start, but the second wave in Europe wiped away that optimism from shareholders.
Brambles' first quarter (financial year) update proved how resilient Brambles is and the quality of its management with financials meeting the markets expectation and guidance for 2021 increased.
Subsequently, a raft of upgrades have come through with analysts forecasting a target price of $12.33, 11.4% above current levels.
Aurizon (AZJ.ASX)
The impact of COVID-19 on Aurizon was mild compared to China's announcement that it was not accepting Australian coal on quality control grounds.
Around 95% of Australian coal is headed for Asia and Aurizon's rail network is critical in delivering the product to ports in Queensland and NSW.
How this plays out in 2021 is anyone's guess, however, analysts are still expecting the shares to do well in 2021 with and average price target of $5.03 up 16% from current levels.
Cleanaway (CWY.ASX)
In a year that has been very tough to outperform, Cleanaway has done just that.
The company is focused on collecting and recycling waste, converting waste into energy and producing new products from recycled materials which ticks plenty of boxes from an investor perspective.
Attracting money from underperforming stocks in the industrials sector, its going a real optimist to predict this level of growth to continue.
Analysts have a price target of $2.34 which is 10% lower than current levels, but if CEO Vik Bansal can keep this momentum up, maybe it will be the analysts that play catch up.
Communication services
Telstra (TLS.ASX)
Telstra's investor day in early November was the catalyst for analysts to review and upgrade their outlook for a company that was a core holding since the first tranche of Telstra was sold from governments' hands in November 1997.
Analysts liked the division of TLS into 3 core parts and the progress in rolling out Australia's most comprehensive 5G network.
The proposed sale of the 5G towers sometime in 2021 will give the company a strong balance sheet and potentially the opportunity to increase its cash dividend.
Analysts have lifted their price target for Telstra to $3.58 per share which is 16% above current levels.
REA Group (REA.ASX)
Despite expectations of a 2020 residential property slump, it has failed to materialised, even though unemployment was rising and a large percentage of loans going into deferral at the height of the pandemic. With the major house lenders all seeing a dramatic reduction in loan deferrals, optimism is returning to the property market. Tightly held (Newscorp owns 62%) REA has seen a surge in price over the last month on Sydney house prices and auction clearing rates which has taken the price well past the 2021 price target of $121.80 held by most analysts.
Seek Ltd (SEK.ASX)
SEK's share price halved in 2020 at the worst of the market crash, but has since staged a strong recovery.
The emergence of a short seller's research report alleging fake Chinese job ads in late October was a brief respite before it pressed new highs.
Upgraded guidance by the company at the AGM seems to be already priced into the share price for 2021, with Bloomberg analyst surveys forecasting a price target of $24.48, 6.9% below current levels at the time of writing.
Nine Entertainment (NEC.ASX)
Nine Entertainment has nearly tripled from its March lows, as stronger advertising revenues and improved performance from streaming business Stan during the lockdowns all adding to this bastion of the media sector in Australia.
With the economy in Australia reopening and a strong Christmas sales period expected, analysts believe the optimism will continue into 2021 with a price target of $2.66.
Summary
So how does this leave the outlook for the ASX 200 index for December 2021?
With the market currently trading on a forward PE of just under 20x, the Australian market is expensive relative to any time in the past 30 years.
The year will no doubt have selective winners and losers, with market hoping that the 2020 winners like Afterpay and Fortescue continue and that stocks like Telstra regain a bit of lost shine from years past.
Trade with China, US President Biden's first 6 months of Presidency and a recovery in Europe following hopefully a sensible Brexit will all be issues affecting the market.
The elephant in the room though is COVID-19, and the various vaccine rollouts alongside the impact this has on the reopening of the global economy.
If this materialises, the high PE status of the Australian equity market will be ignored as investor confidence will rise and money will find its way into equities as the long-term outlook for interest rates remains low.
Should this play out the ASX 200 may well finish above 7400 by December 2021.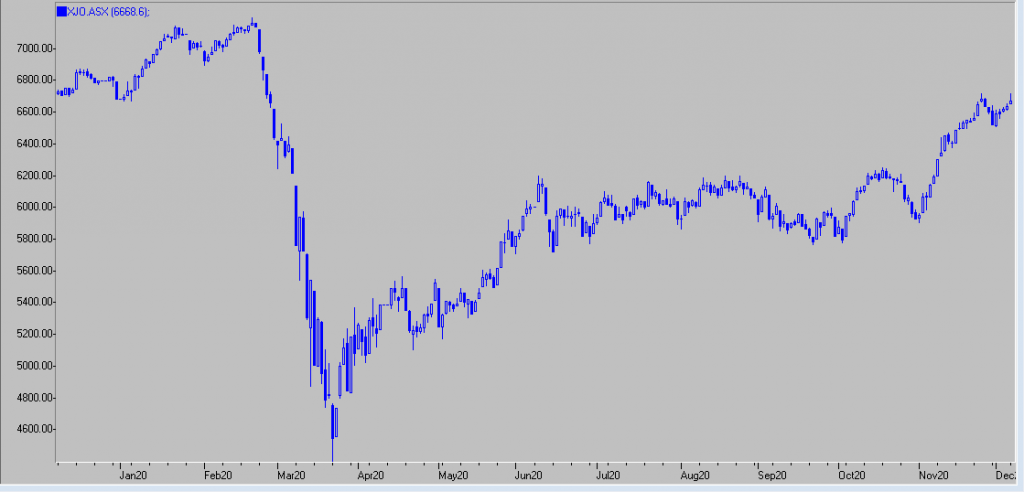 ASX 200. Source: Iress
The views expressed in this article are the views of the stated author as at the date published and are subject to change based on markets and other conditions. Past performance is not a reliable indicator of future performance. Mason Stevens is only providing general advice in providing this information. You should consider this information, along with all your other investments and strategies when assessing the appropriateness of the information to your individual circumstances. Mason Stevens and its associates and their respective directors and other staff each declare that they may hold interests in securities and/or earn fees or other benefits from transactions arising as a result of information contained in this article.