Domestic Property Outlook 2022
The Australian property market has been the star performer this year, in spite of the obvious challenges the pandemic posed. As lockdowns dragged on and businesses pivoted to stay afloat, and despite increased anxiety over job safety–each weekend people were prepared to visit auctions where they could and chase the homeownership dream.
Westpac's recent "Housing Pulse" update for November outlines how extraordinary those growth rates have been. The table below shows that despite half of Australia being in strict and extended lockdowns, the Australia wide price jump is over 20% in 2021 with Sydney leading the way.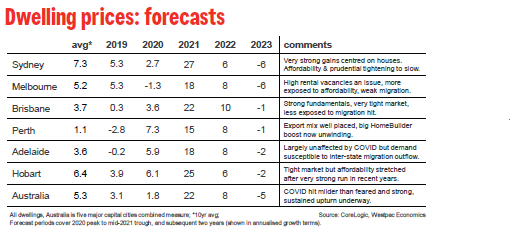 Gains like that scare regulators and at the start of this month, APRA announced that those applying for a home loan will face higher hurdles in accessing a large mortgage. APRA considers loans with a debt-to-income ratio of six or higher to be risky and over twenty per cent of new loans hit this benchmark in the June 2021 quarter.
Addressing that concern, banks will now need to confirm their borrowers can manage repayments in the event interest rates increase by three percent, or that they can meet the bank's own serviceability floor if that is higher.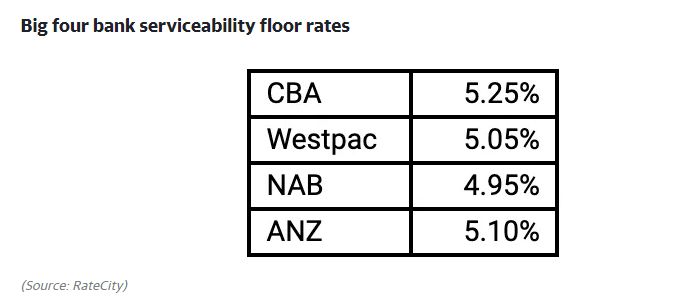 Low Interest Rates Likely to Continue Supporting the Housing Market
Despite a tougher lending environment and the concern of higher interest rates, Westpac still see residential housing prices climbing next year, and only starting to cool in 2023 in the face of possible RBA hikes. It's worth noting though, despite surging inflation being a concern for most central bankers around the world, Governor Lowe is relaxed on the outlook.
With goods inflation currently running at 3-4%, the RBA believes this will subside as spending switches back to services post-pandemic, and supply chain disruptions ease. Lowe's outlook is that while wages growth remains subdued at around 2.5%, Australia is unlikely to have an inflation problem.
Housing Supply Set To Slow Growth, But Migration Likely to Increase
One of the casualties of COVID has been the arrival of new Australians. Net overseas migration has swung from a consistent inflow of approximately 250k people per year to an estimated outflow of 70k to June 2021 according to government estimates. As borders reopen, these rates should improve, however as we found with the Delta outbreak, the future can be difficult to forecast.
Increased housing supply should begin to counter price rises in the year ahead, with dwelling approvals having surged since mid-2020, aided by the government's HomeBuilder grant scheme. Westpac have estimated that this will see around 190-200k new dwellings in 2022.
Given lower migration rates, we will likely see higher vacancy rates in rental properties, reversing current trends of declining vacancies and increasing rents (outside of Melbourne).

Source: Westpac November Housing Pulse
Real Estate in Financial Markets
Looking at the ASX, the Real Estate Index (ASX: XRE) is up 19% year to date, similar to Westpac's estimates on residential housing for the year.
If we maintain the understanding that inflation is transitory and not persistent, then the real estate sector will continue to benefit from the low-interest rate environment which has offered 8-12% annual returns throughout the cycle.
Moreover, UBS analysis shows that while the concerns over Evergrande has hit Chinese markets, it has not been a global concern.

Source: Global Real Estate Analyser UBS
The US market has delivered the strongest returns over the year as investors chased reopening trades on the back of a swift vaccine roll-out. The industrial-focused REITs have been the best performers as the pandemic accelerated the shift to online sales, and the need for higher inventory boosted demand for warehouse space.
Focusing on Australia, the preference from a UBS perspective is for the developers (Mirvac (ASX: MGR) and Stockland (ASX: SGP)) and fund managers, over office and mall REITs.
Listed REITs investing in core real estate sectors are trading at a discount to numerous recent transactions which prove market asset values. However, on a global basis, they are underweight Australia, preferring Europe and the UK given limited upside to price target objectives and the focus on Retail and Office within the Australian market.
Safe as Houses?
Reopening has seen consumers return to physical retail after months of online shopping.
While we're missing the tourist dollar, domestic demand is filling the gap, though it would be a mistake to think all is back to normal.
Citibank looked at Google's mobility indices in 14 cities which have reopened following lockdowns – as restrictions have eased, mobility has increased sharply, with malls rebounding faster than the office, though both indices remain well below pre-lockdown levels.
Grocery and pharmacy mobility have proven much more resilient globally, although Sydney and Melbourne have been notable laggards. Retail and workplace mobility are currently down 20% across their sample, despite many cities not having been in lockdowns for months.
That global experience suggests that investors should expect the subdued recovery in mobility within Sydney and Melbourne will continue and the re-opening trade may have overextended itself in certain sectors.
The views expressed in this article are the views of the stated author as at the date published and are subject to change based on markets and other conditions. Past performance is not a reliable indicator of future performance. Mason Stevens is only providing general advice in providing this information. You should consider this information, along with all your other investments and strategies when assessing the appropriateness of the information to your individual circumstances. Mason Stevens and its associates and their respective directors and other staff each declare that they may hold interests in securities and/or earn fees or other benefits from transactions arising as a result of information contained in this article.