Infrastructure has had a volatile year as an overall asset class, with the MSCI AC World Infrastructure Index struggling to regain its pre-COVID highs.
We can attribute this largely to disruptions to economic re-opening, a time lag for infrastructure assets to pass on inflationary cost pressures and supply chain disruptions afflicting global markets.
Against the backdrop of all-time highs in equity markets, dramatic movements in bond markets and a white-hot property market, infrastructure has not had the spotlight on it for some time.
As markets navigate uncertain times and economic backdrops continue to be tested, is now the right time for investors to consider infrastructure?
Time to pull out our favourite 5-step plan.

The Fundamentals of Infrastructure

Infrastructure is not real estate.
Though often tempting in a balanced portfolio to combine the two into one allocation, these are two very different areas of the market with differing characteristics and fundamentals.
One key benefit of infrastructure over property is the inflation-linked nature of much of its rental yield/revenue sources – for example, consider how much the tolls on the Sydney M2 Motorway have risen, which escalate quarterly by "Capital Cities CPI".
Apply that to the much larger toll roads in regions such as North America, and then consider the chart below: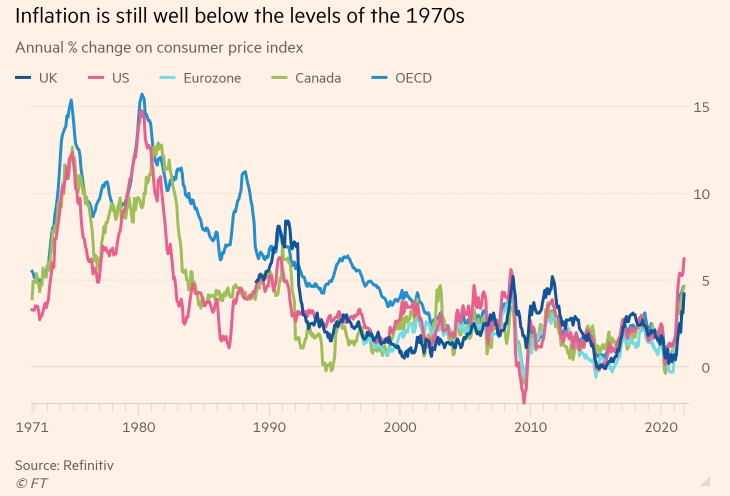 Source: Financial Times

As an asset class, infrastructure is also driven by fundamental factors such as economic growth, but more specifically by public and private investment volume in urbanised areas.
You need look no further than the US and the recently passed "Infrastructure Investment and Jobs Act", which allocates USD 1.2 trillion over the next 10 years to infrastructure projects, with USD 550 billion of that being in the next five years.
According to the G20 Global Infrastructure Outlook, there is a USD 15 trillion gap in infrastructure investment between now and 2040, driven most notably by Energy and Roads.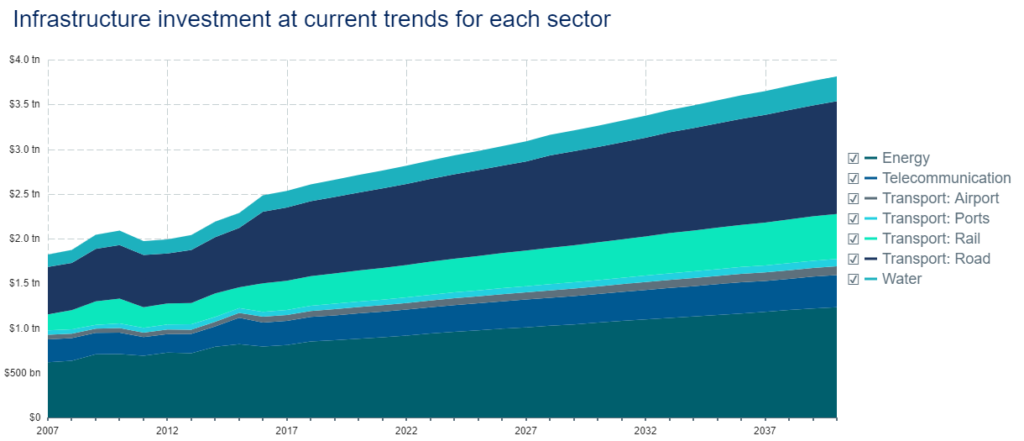 Source: Global Infrastructure Outlook
So fundamentally, you have accommodative levels of investment flowing into the infrastructure sector at the same time that global inflation levels are increasing, suggesting a rising yield from these assets.
Technical Positioning of the Sector
In USD terms, the MSCI World Infrastructure Index is down 6.5% from its pre-pandemic highs.


Source: Bloomberg
Price action has been choppy as different regions find success (or failure) with re-opening their economics and encouraging mobility, supply chains restrict the operations of certain assets (such as ports) and lacklustre returns (compared to other asset classes) fail to catch the attention of investors.
Interestingly though, the index has become cheap relative to its 5-year average on a price-to-earnings basis, trading at only 16.8x versus the average of 17.68x (and versus its high of 19.7x in Q1 this year):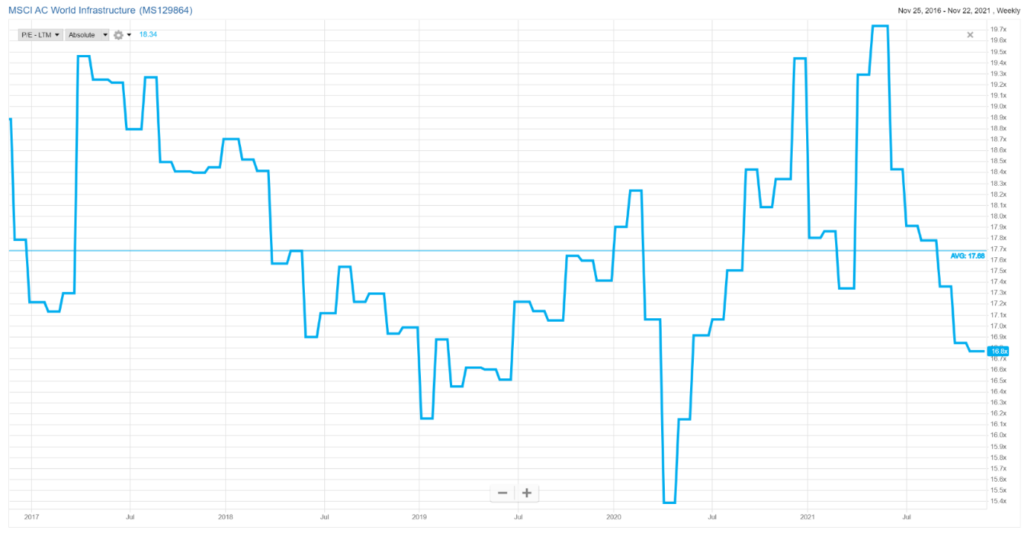 Source: Factset
Although the index overall appears slumped, this may be a technical positioning for a cheap investment.
Sentiment
Sentiment is likely mixed around this asset class, given its robust fundamental backdrop but poor performance track record over the last ~20 months.
For example, from 1 April 2020, the below how MSCI World Infrastructure (blue line) performed versus equities (MSCI World, red line)), property (MSCI World Property, purple line) and precious metals (gold, green line).
I tried to include Bitcoin, but the rest of the indexes became too difficult to see… which says something about the outperformance there.

Source: Bloomberg
Though infrastructure outperformed gold by 9%, it underperformed property by ~27% and equities by over 50%.
This does not garner positive feelings from market participants, particularly those who might have been holding since the beginning and have seen the opportunity cost of the allocation.
However, infrastructure is also known as a defensive positioning into high inflation, so the outlook is mixed on whether investors will "buy the story".
Correlation to other assets
Infrastructure is often seen as a diversifier to an equity-heavy portfolio, not quite uncorrelated to equities (given that most exposure is listed infrastructure companies) but also subject to different macro drivers.
Measuring in the US as an example, we use IFRA:NYSE (iShares US Infrastructure ETF):
0.857 correlation to the S&P 500 = very high positive correlation
0.124 correlation to Gold = very low positive correlation
0.858 correlation to US Real Estate = very high positive correlation
-0.385 correlation to US 10-year bonds = mild negative correlation
Presently, the correlation figures tell us that listed US infrastructure is still largely positively correlated to "risk assets", meaning that it is likely that they would move in line with equities and listed property in the event of a broad market sell-off.
Catalyst
Given that we have so far encountered a mixed story to what has been a relatively anaemic asset class over the past few months, "why invest now?" is the most important question we have to answer.
The catalyst for infrastructure may be one, or all, of the below in my opinion:
Continued rise in inflation – this will likely be triggered by the point that "inflation becomes a major political issue", meaning that CPI moves beyond central bank narratives to a top concern of governments, a phenomenon we're already seeing in the US particularly
Large and public investments into infrastructure – again, we are seeing this phenomenon in the US, as infrastructure spending tends to be a good way to stimulate the labour market and broader economy
Easing of supply chain restrictions – once goods can move and be processed at normal levels around the world, many core infrastructure assets will be direct beneficiaries
It seems that some of the catalysts are already in position, and the rally of the index throughout October may have been a sign that the market has begun to pay more attention to this asset class.
Planes, Trains and Automobiles
Infrastructure is currently not as exciting an asset class as some of its peers; there are very few people creating enthusiastic financial blogs about listed infrastructure, as you might see in equities or cryptocurrency at the moment.
However, infrastructure has historically offered a compelling inflation hedge to portfolios, something which should be at front of mind with investors if rising CPI continues to present risks to risk asset markets.
Pieces are starting to come together for success in infrastructure over the medium term, but there has not yet been the market-wide push to start taking notice and allocating capital.
As investors, a risk we have to consider is timing, and if we want to be some of the first to start taking notice or wait until the street takes notice.
The views expressed in this article are the views of the stated author as at the date published and are subject to change based on markets and other conditions. Past performance is not a reliable indicator of future performance. Mason Stevens is only providing general advice in providing this information. You should consider this information, along with all your other investments and strategies when assessing the appropriateness of the information to your individual circumstances. Mason Stevens and its associates and their respective directors and other staff each declare that they may hold interests in securities and/or earn fees or other benefits from transactions arising as a result of information contained in this article.