Uranium is in an interesting spot at the moment – pun intended.
At time of writing, spot uranium is trading at US $44/lb, levels we have not seen since late 2012. Even still, this is only half of the price spot uranium traded at around 2011.
This is not discounting the fact that we saw uranium stocks enjoy a multi-bagger rally from the end of Q3 2020 up till Q2 2021.
If you take into account the purchases conducted by Sprott Asset Management, the developing "commodity supercycle", and technological improvements like small modular reactors (SMRs) or new enrichment techniques, it's not hard to see why market sentiment may be positive for our 92nd element.
Today, we will examine the current state of the uranium market and look to test how robust the investment thesis for being long the commodity really is over the coming years.
Fundamentals – Use and Market Demand
The "bull case" for uranium is that the market has seen underinvestment by producers/participants for over 10 years, since the fall-off in spot prices around 2009.
Capital expenditure necessary to explore new reserves or maintain peak mine output has not been there and there was little forward-looking investment and minimal expectation of growing global demand.
I will note on the below chart that the uranium spot market is opaque and varies between different market consultants – something we will touch on later – which is why this chart does not show the same to-date level for Ux U3O8.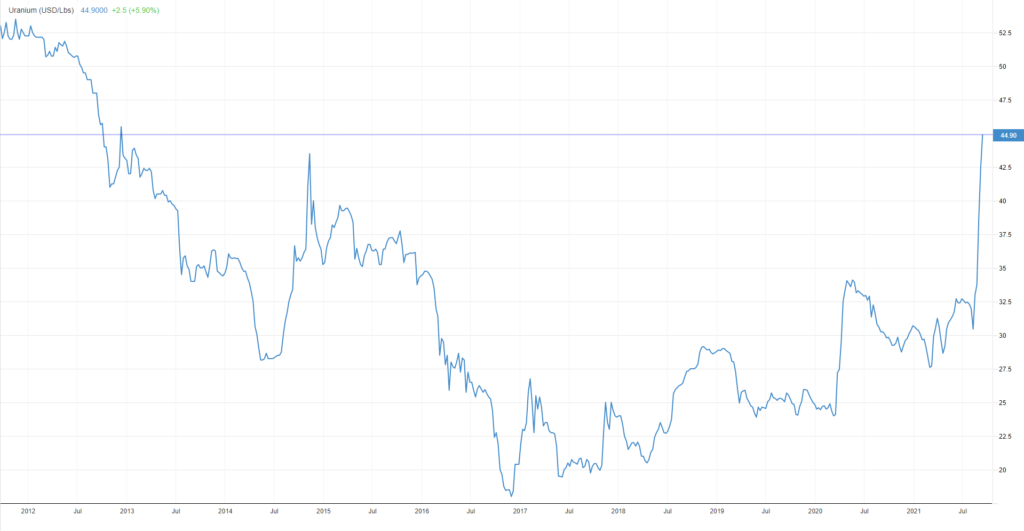 Source: Trading Economics
But what is the basis of that growing global demand?
Uranium's primary use case, arguably its only use case of scale, is as fuel in nuclear reactors due to its incredible energy density and radioactive properties – a single kilogram of the most commonly used uranium isotope, U-235, can release the equivalent energy of up to 1.4 million kilograms of coal.

Source: Our World in Data
Whilst our global nuclear power generation has steadily increased since the 1980s, it still represents only 10% of global electricity production (note that certain countries like France are nearly 80% nuclear powered).
The International Atomic Energy Agency reported that in 2019 there were 443 reactors operating globally, with 51 further under construction. China alone has 13 major nuclear reactor projects under construction, more than India, Russia and the US combined.
According to that same agency, world reliance on nuclear power generation will grow from 10% to 15% by 2040, and that is not discounting that general world power demand will grow during that time.
This is relevant since as we move towards greener energy sources, uranium-powered nuclear reactors are a clear candidate to be a reliable, efficient energy baseload, and to replace coal fired powerplants.
Whilst there are issues in the disposal of nuclear waste, nuclear reactors can be considered "clean energy" given their energy output and relative environmental damage, and are well and truly in the mix to become a part of the push towards global decarbonisation.
In fact, we are already seeing this transition, particularly in the U.S, with the Biden Administration's FY22 budget for their domestic nuclear operations being $1.8 billion USD (the largest US nuclear investment ever, according to Cameco).
This has fed through to ground-level operations, such as Bill Gates-backed TerraPower intending to construct a 345MW 'mini-reactor' to phase out a Wyoming coal-fired plant.
But to consider demand, we must also consider supply, which has encountered some issues.
Due to low spot prices and a general feeling of ennui around the adoption of nuclear power up until recently, supply chains have not been operating at full capacity, instead opting to leave uranium reserves in the ground.
This has then been coupled by COVID-19 ravaging many developing countries where these mines are located, creating further disruption to supply.
According to Cameco, 90% of global uranium consumption occurs in countries with no domestic production or supply – so supply chain bottlenecks are drastically amplified for this commodity.
In summary then, we have growing from the push towards electrification and decarbonisation – coupled with nuclear energy providing one of the only viable replacements for large-scale coal-fired power generation – coming up against supply chain issues which limit how much of that demand can be met in the short term.


Technicals – How Do The Numbers Look?
From a technical level, uranium has clearly been trading at depressed levels for the better part of a decade – though it might be approaching 2012 levels, it bears noting that the spot price for Ux U3O8 was over US $70 in 2011, and over US $130 in 2007.
The relative strength index (RSI) for the uranium spot market (here U308 swaps) has been trading at either oversold or just above since around 2013.
Recently however, two surges have caused that momentum and index to swing entirely the other way; once in November 2020 when a strong rally sent it into overbought territory, to then slip back down to oversold until August this year – given the ferocity of the recent rally, it's no surprise that it's back to overbought.
Over a multi-year time horizon there has been building positive momentum, and as we are about to discuss, there is a particular catalyst in the market that may force momentum to stay positive any time the spot price falls off.


Catalyst – What Will Make Uranium Go Critical?
Though the numbers may stack, we still need some kind of catalyst within the market to see uranium players do well. We have already seen one catalyst, being parties purchasing physical uranium on the market when the spot price dips back down
Boss Energy (BOE:ASX) raised $60 million AUD earlier this year to purchase physical uranium to bolster their inventory whilst spot prices were low
Sprott Physical Uranium Trust (U.UN:TSE) activated an on-market facility to purchase physical uranium from the market, starting from an at-the-market equity issuance of $300 million USD, launched on August 17. In less than a month they increased this by a further $1 billion USD to meet demand from investors.
I see two potential further catalysts which may piggy-back off the market favour and positive sentiment driven by the previous:
Local governments announcing accelerated projects to phase out coal-fired plants, with operators such as TerraPower taking advantage of a new focus on uranium to install mini-reactors
Wall Street Bets have already turned their eyes to uranium miners and futures; back in September, Aussie uranium stocks rallied over 40% over a few days from retail traders getting in on the uranium action. This may act as an amplifier to any positive price action cause by any of the above catalysts.
Potential Causes of Meltdown
Let's touch momentarily on some of the risks to the bullish case for uranium, since despite its merits there are still outliers which may impact performance across both near-term and longer time horizons.
As mentioned earlier in this note, the uranium market is opaque and difficult to forecast. There are different types of uranium needed for different operations, and in general it is a highly specialised commodity market. This is a risk to individual investors trying to pick the winners, but also that the market may eventually lose momentum amongst confusion or a lack of clarity.
Some of the largest uranium reserves in the world are located in unstable regions of the world; Kazakhstan, Namibia, Niger and Uzbekistan, to name a few. Though the supply chain issues caused by COVID may help a demand-side squeeze for the moment, this can also back-fire and hurt the overall market as investors are turned off by the geographic risk associated with the commodity.
Finally, public sentiment risk is one of the largest issues facing uranium today.
Arguably, the world would be far more progressed in its adoption of nuclear power with better education of how a reactor works and the genuine risks – many Sydneysiders are still afraid of Lucas Heights, a reactor which by design cannot possibly go supercritical.

It may only take another meltdown caused by unforeseen environmental or human error risks, or the commercialisation of an alternative fuel (e.g. Thorium), to de-rail market appetite for uranium.
Investible Opportunities
In terms of investible opportunities, you can consider uranium producers themselves, funds which buy those producers, physical uranium on the spot market, or companies associated with technological development in the space.
Cameco (CCJ:NYSE)
Cameco is the largest publicly traded uranium producer in the world, being one of the largest producers globally (estimated ~20% of global uranium). As such it is generally in a strong position to benefit from rising uranium prices and demand for the commodity.
Jesse called out this stock late last year and those who listened would have enjoyed over an 80% YTD rally.

Source: Mason Stevens


Silex Systems (SLX:ASX)
Silex Systems are an Australian mining/technology company, whose laser enrichment technology is aimed at improving uranium production and yield for nuclear power. Particularly as a global focus turns to clean energy, enriched uranium (consider the equivalent of high-grade iron ore) is much better placed as a fuel source.


Global X Uranium ETF (URA:NYSE)
The Global X Uranium ETF is the largest listed uranium fund in the world, with circa $930 million USD under management. The fund buys global companies involved in uranium mining, production of nuclear components (extraction, refining etc) and nuclear equipment manufacturers.
A rising tide lifts all boats, and this ETF is up nearly 74% YTD on the back of the recent rally in uranium players.
Seeing Green
Uranium does have a robust bull case at the moment, sitting at the juncture between a push for electrification and clean energy, and a growing demand which must be met by currently disjointed supply chains.
It is a complex commodity market and not without risks, however as we move away from coal power and the technological development of nuclear stations progresses at breakneck speeds, uranium exposures may be set for a compelling few years of growth.
The views expressed in this article are the views of the stated author as at the date published and are subject to change based on markets and other conditions. Past performance is not a reliable indicator of future performance. Mason Stevens is only providing general advice in providing this information. You should consider this information, along with all your other investments and strategies when assessing the appropriateness of the information to your individual circumstances. Mason Stevens and its associates and their respective directors and other staff each declare that they may hold interests in securities and/or earn fees or other benefits from transactions arising as a result of information contained in this article.