This morning represents 24 hours since NSW took the first step in re-opening, stepping bleary-eyed out of our homes into a week of wind and rain – but at least it's fresh air.
As our eastern seaboard tentatively finds its feet and begins to learn how to operate as a functional economy again, there are potential investment ideas tied to those sectors and companies which might benefit from our collective ability to go out, to move around, and to spend.
Following on from Mike's note yesterday discussing "sharing economy" equities, today we will turn our attention domestically and take a high-level view across those sectors which have arguably been hardest hit by lockdowns: food, leisure, and domestic travel.
Hungry for More
If like me, you structured your walks this lockdown around what routes would take you past some form of takeaway, then you may already understand the investment thesis for restaurant or leisure exposures.
Streets upon streets of closed restaurants have been the usual sight for VIC and NSW over these past few months, so much so that the question of "can I get exposure once they are back open?" may have crossed your mind once or twice.
Unlike larger markets like the U.S, we have limited listed "food" companies on the ASX.
Two of the largest food exposures we have domestically are Collins Foods (CKF:ASX), which operates fast-food franchises (particularly KFC) globally, and Domino's Pizza Enterprises (DMP:ASX). Collins Foods was in the news last week, after signing a new corporate franchisee agreement with Yum! Brands, which may expand their footprint in the Netherlands by up to 130 new stores.
Both of these companies have enjoyed a reasonable share price performance despite lockdowns interrupting physical operations, largely owing to their online/delivery presence across the country. Though there is potential upside from foot traffic increasing, this may already be priced in.

Chart 1 –CKF:ASX, DMP:ASX, RFG:ASX since 1 Jan 2019


Source: Bloomberg
As a point of comparison, I've included Retail Food Group (RFG:ASX) in purple, as an example of a set of franchises which do not have a strong delivery presence. Although a much smaller company ($170 million AUD market cap, compared to Domino's $12.3 billion AUD market cap), their languished share price is indicative of those assets it holds; primarily café and bakery franchises.
There may be another re-opening angle to food, one which could be surprising.
Our major supermarkets, Coles (COL:ASX) and Woolworths (WOW:ASX), have been regarded as relatively stable ships through the storm of the pandemic – we all need to eat, and so long as they remain open, our local supermarket will receive our sponsorship.
Yet at the same time as we re-open, we are also getting reports from investment banks that food price inflation may jump high single digits next quarter.
In the face of rising input prices, our supermarket chains can leverage their duopolistic pricing power to pass on the costs associated with supply chain disruptions and more expensive freight, whilst remaining an essential staple of our household spending. The same pricing power and essential status cannot be said of restaurants, so Coles and Woolworths are likely to be in a much stronger and more stable position.
Chart 2 –COL:ASX, WOW:ASX since 1 Jan 2019

Source: Bloomberg
Food inflation (the solid green line below) has generally been more volatile than overall CPI (dotted blue line below) – however, you can see that line trending upwards. If food prices do increase by the predicted 7-9% in the December half, then our major supermarkets could continue to be compelling exposures.
Chart 3 – Australian CPI (All items) and CPI (Food) since 2006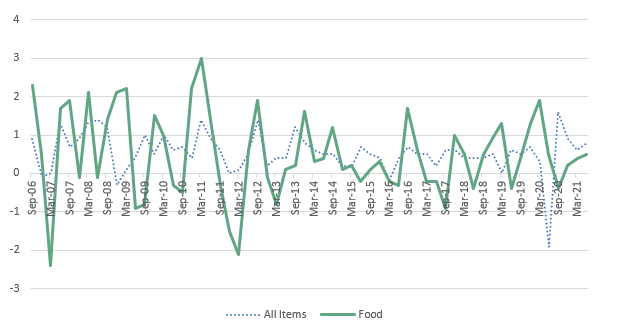 Source: ABS, FactSet, Mason Stevens
Roll the Dice
On either of the two routes, I generally walk around my area, I happen to pass by either one of Sydney's two largest casinos – fortunate then that I'm not a gambler, outside of the occasional small-cap mining stock.
Unlike Tabcorp (TAH:ASX), which has established a robust online offering which helped maintain some form of stable business operation, both Star Entertainment (SGR:ASX) and Crown Resorts (CWN:ASX) rely almost entirely on a physical presence on their premises to generate revenue.
Chart 4 –SGR:ASX, CWN:ASX, TAH:ASX since 1 Jan 2019

Source: Bloomberg
Although they have not released Q3 earnings yet, we saw June 2021 sales drop significantly YoY for both Star (-34.4%) and Crown (-61.9%), whilst Tabcorp ended up nearly flat with only a 1.5% drop in sales across the period.
An interesting point to note about TAH, which our resident bookkeeper Mike Young clued me in on, is that TAB do have re-opening upside from the fact that they hold a near-monopoly on gambling terminals in pubs – as these venues re-open, so too does another revenue arm of Tabcorp's business.
For the casino operators – and particularly Crown operating at depressed levels after a slew of negative news regarding licensing and audit issues – the reopening of our eastern states may present a compelling opportunity as pent up local and interstate demand is directed back towards their gaming services.
Flying Low
The idea of travel stocks as a re-opening play is nothing new. Despite all trading below their pre-COVID levels, Qantas (QAN:ASX), Flight Centre (FLT:ASX) and Webjet (WEB:ASX) have all been touted at some point or another as the key re-opening stock.
Chart 5 –QAN:ASX, FLT:ASX, WEB:ASX since 1 Jan 2019

Source: Bloomberg
The thesis seems obvious: we have pent up corporate and tourism demand, international borders have long been an uncertain topic, so we choose to travel interstate. So why hasn't this been reflected in the stock prices?
Partially I believe this has to do with uncertainty. There are four main periods after the March 2020 crash when all three of these stocks have rallied – coinciding with various sentiment shifts or news items relating to "COVID not being that bad" or "re-opening" before the market got spooked by another wave or another lockdown.
Another factor which must be considered is the actual traffic data around domestic "regular public transport" (RPT) traffic.
According to information from the Bureau of Infrastructure and Transport Research Economics (BITRE), between July 2020 and July 2021, we decreased our total domestic passengers carried by 45.3%, whilst also reducing our available seats by 32.4%. In other words, we lost demand AND cut supply.
Chart 6 – Domestic Regular Public Transport Traffic (Monthly)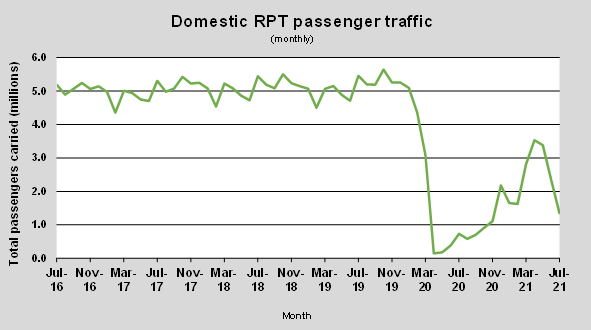 Source: BITRE
On a simple IS-LM chart, if we reduce both demand and supply, we end up with lower market equilibrium.
That may sound bad, but it also offers an investment opportunity. It means that as our domestic economy re-opens (and state borders drop the 'iron curtain') if we reach even close to pre-pandemic domestic RPT traffic we will not have enough supply. Lack of supply means that airlines hold more pricing power and can enjoy at least short-term benefits from excess national demand.
Open Wide
There are a multitude of opportunities which await us, as we see how smoothly and effectively we can re-open after this extended lockdown.
Many of the opportunities rest with unloved companies, those who have been most hit by the pandemic, whilst others rest with those who can continue to use their positions of strength to leverage both their robust business model and a reinvigorated domestic economy.
In the coming weeks, we will touch on further investing opportunities, across multiple asset classes, which may position a portfolio well to participate in the "release valve" being loosened on the constrained people and wallets of NSW and VIC, as well as the nation as a whole.
The views expressed in this article are the views of the stated author as at the date published and are subject to change based on markets and other conditions. Past performance is not a reliable indicator of future performance. Mason Stevens is only providing general advice in providing this information. You should consider this information, along with all your other investments and strategies when assessing the appropriateness of the information to your individual circumstances. Mason Stevens and its associates and their respective directors and other staff each declare that they may hold interests in securities and/or earn fees or other benefits from transactions arising as a result of information contained in this article.