The "re-opening trade", or the strategy of investing in stocks which are widely held to be beneficiaries of an economic re-opening after the COVID-19 pandemic, has been in play largely since late Q2 2020.
Predicated on a rebound of earnings once lockdowns end and the global (or local in some cases) economy is able to return to pre-pandemic activity, this is a trade that lives or dies on market sentiment around vaccination rollouts and economic recovery.
As an example, if you believed that the U.S was going to fully re-open within your investment time horizon, and corporate travel could recover to pre-pandemic levels, then a re-opening trade would be buying stock in Expedia (EXPE:NASDAQ), Southwest Airlines (LUV:NYSE) and so on.
Closer to home, you may see the accelerating pace of our domestic vaccine rollout and look to invest into companies which would benefit from increased consumer mobility, like ARB (ARB:ASX), or again bet on an increase in domestic travel like Flight Centre (FLT:ASX).
These are just a few select examples of how investors have previously played the reopening theme.

It Is What They Think It Is
Arguably the validity of the re-opening trade lives or dies on market perceptions and attention.
Fundamentals of businesses may be priced five years into the future or disregarded due to uncertainty around broader macro factors – the decisions of the markets to vary its pricing is grounded in sentiment and perception on if this reopening trade will pan out.
This perception is, in turn, driven by the market's view of global economic recovery, in conjunction with the relative success of handling the on-going pandemic throughout those economies.

Re-Opened, or Re-Closed?
"Is the re-opening trade over?"
It's a question we're asked a lot, and one that we also ask equity managers in our Mason Stevens Morning Calls.
It seems that sentiment is mixed around the world, and with markets pushing ever higher it has become unclear if equities are now fully pricing an optimistic re-opening scenario, or if that is still "room to run".
Internationally, there has been a growing interest in the re-opening trade over the past few months, particularly as the U.S exits a broader lockdown and have made efforts to avoid any further shutdown of their economy.
Re-opening themed ETFs have been gaining flows and new sectoral ETFs are being established – these include the U.S Global Jets ETF (JETS:NYSE) and the AdvisorShares Hotel ETF (BEDZ:NYSE).
Markets appear to have been viewing the Federal Reserve's continuing accommodative monetary policy, as well as the pent-up aggregate demand of American consumers with pools of savings, propping up stocks geared towards economic improvement.
An interesting insight into sentiment is the comparison between the Google Trends data for key phrases like "reopen" versus the US 10-year Treasury yields. As yields fell early in 2020, the enquiry for re-opening spiked dramatically, slowly decreasing through to Q1 2021 (as yields rose again). Now that we see yields falling again on the back of renewed vigour in the US economy, it seems interest in re-opening searches is picking up again.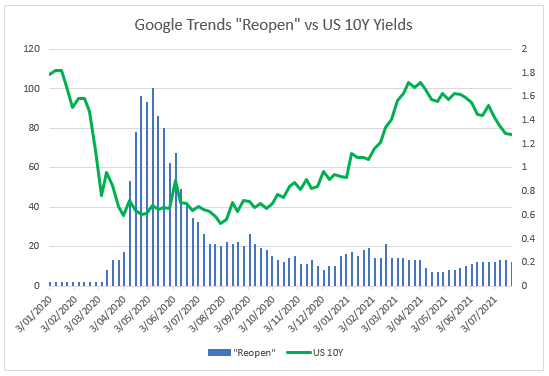 Source: Mason Stevens, Bloomberg, Google Trends

Domestically, the on-going lockdown in NSW and lagging vaccine rollout has drawn the potential of economic re-opening into sharp focus. In the below graphic, it highlights how far we are behind other nations in regards to vaccination, remembering that we want to achieve approximately 160 doses per 100 people, which is at least 80% of the population receiving two doses of the various vaccines we have available – Pfizer, Moderna and AstraZeneca.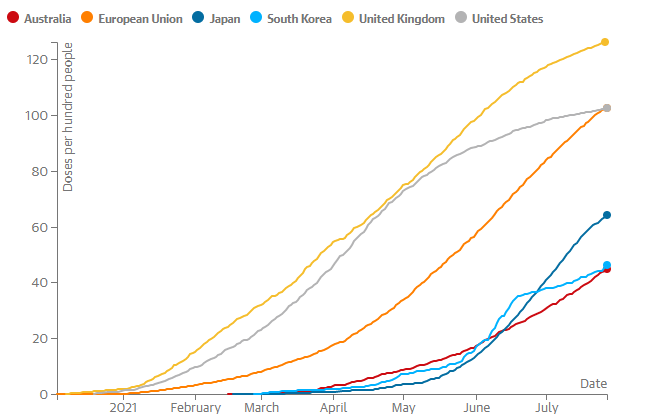 Source: The Guardian
As we head into reporting season, it's likely that more companies may withdraw guidance as GPT has already done, given the uncertainty around our domestic economic conditions.
The spread of the COVID Delta variant continues to plague domestic market sentiment, and fears of a withdrawal of policy support from the Commonwealth government and the RBA may leave capital markets in a vulnerable position of a negative shock.
According to NAB economists, the recent lockdowns and nationwide fear of the Delta strain has severely impacted domestic consumption, down 7% on average from 2019 levels, across our states and territories. In the same trend, hospitality is down 25% since January 2021 levels, another key sector thematic for re-opening trades.
More clarity will surely emerge as we go through reporting season as to the corporate health of our economy, but as we stare down a lagging vaccine rollout and a growing number of COVID-19 cases, it seems unlikely that there is positive sentiment around the re-opening trade for Aussie stocks.
Keep Your Eyes (Re)Open
The idea of some companies being most highly correlated towards economic recovery presents an interesting investment opportunity, one which incorporates global macro factors and company-specific exposure and fundamentals.
Sentiment around this trade appears mixed, and the global landscape is not a level playing field when it comes to management of the new Delta strain and vaccination programs.
Paying attention to the perspective of the market is key to many themes and this is no exception – if it seems that the market is growing positive towards re-opening, that may be a sign to keep your eyes open for those companies worst hit by lockdowns and begin your analysis of if these are worthwhile opportunities in a portfolio.
The views expressed in this article are the views of the stated author as at the date published and are subject to change based on markets and other conditions. Past performance is not a reliable indicator of future performance. Mason Stevens is only providing general advice in providing this information. You should consider this information, along with all your other investments and strategies when assessing the appropriateness of the information to your individual circumstances. Mason Stevens and its associates and their respective directors and other staff each declare that they may hold interests in securities and/or earn fees or other benefits from transactions arising as a result of information contained in this article.