Emerging Markets (EM) have been a compelling investment case for the last few decades.
This has been for a number of reasons;
Modern portfolio theorists like EM because it represents a risk diversification tool, both geographic and sector, across equities and fixed income
Currency specialists (see Jesse's note on India) may find opportunities in currency exchange and the opportunities that a foreign investor may find in appreciating/depreciating values
More generally, EM has shown a higher growth rate than most of the developed world
The structural and economic factors behind EM investing have changed over the years, but the market generally accepts that technology development and a burgeoning middle class are two main engines of growth.
But much as we'd like to give you a simple focus on where to look in EM, COVID has completely disrupted the playing field and left different emerging economies in states of strength or weakness.
Instead, we will explore some of the main investment themes across EM as a whole, and in the process attempt to establish a 'state of play' for each region going into the remainder of 2021.
Internet Penetration and Technology Adoption
This metric outlines the foundation for the next few, since without the Internet or a population who embraces technology, very little innovation and growth can occur. According to OECD, internet usage in Emerging Markets has increased from 4% to over 45% of populations since 2000 – driven largely by a growth in infrastructure and individual wealth in Asia Pacific.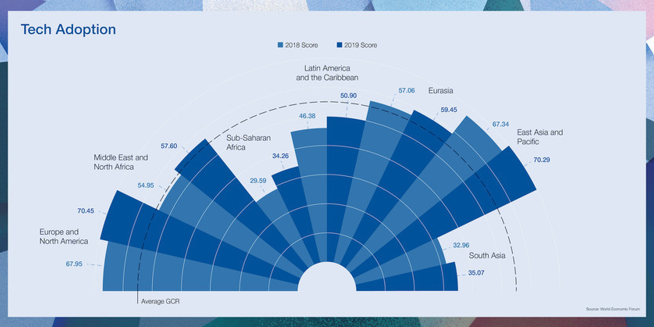 Source: World Economic Forum
In the chart above, you can see that global 'technology adoption' – the adoption of new technologies like cloud computing, data storage, e-commerce and encryption technology – has been on the rise. Some of the most significant growth can be seen in Sub-Saharan Africa, Latin America (LATAM) and Asia Pacific.
Digital Payments and Banking
The evolution of the banking system in Emerging Markets is far outpacing that of the developed nations in many respects, fastest of all being digital payments and banking.
Borrowing a chart from my Digital Payments note back in October, you can see that e-wallet penetration in 2019 was heavily skewed towards South-East Asia, which is going to be a running theme for most of the technology we discuss in this note.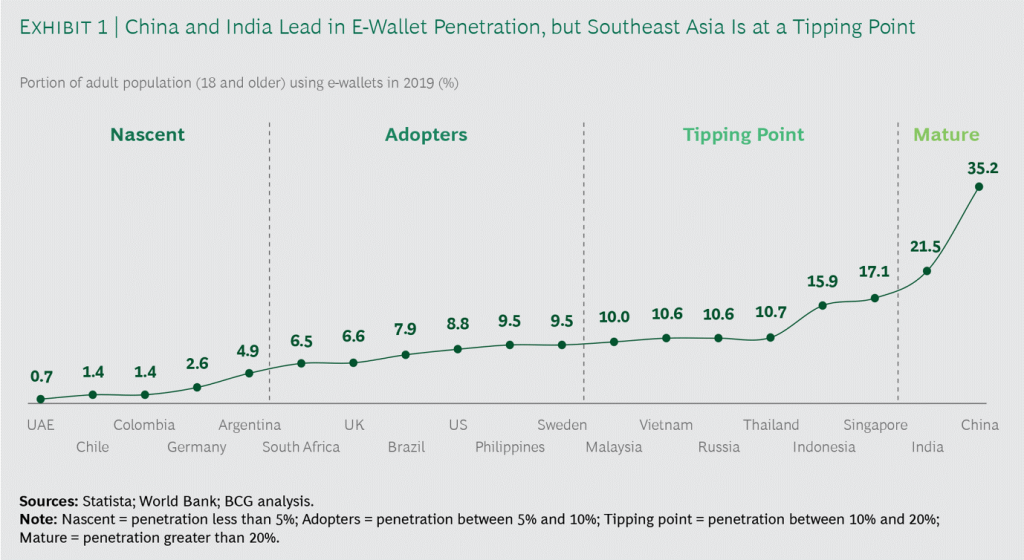 Source: Boston Consulting Group

A keen example of this innovation is a company like Grab Financial, who have expanded from just a ride-sharing business to hold banking licenses, SME financial products and a super-app to handle payments. Small wonder they raised over $300 million USD this year in Series A funding.
Most of the progress seen here is focussed on Asia-Pac, with LATAM trailing behind in the 'adopters' or 'nascent' categories for now. We can expect to see further development in this region as large e-commerce operators expand their capabilities and create a larger market for consumers online.
E-Commerce
E-Commerce is booming globally, but unlike Amazon (whose mammoth market share may restrict drastic further expansion), e-commerce in Emerging Markets may still have a long runway.
Here LATAM enters the scene with e-commerce operators such as PagSeguro (PAGS:NYSE), an e-commerce service for commercial operations with a mobile payments arm, operating largely within Brazil.
E-commerce sales in LATAM grew from $70.07 billion USD in 2019 to $83.63 billion USD in 2020, according to Statista. We can attribute this to physical retail stores continuing to be closed (COVID continues to impact this region far more severely than Asia), forcing a greater supply of goods offered online and an increasingly digitized population to drive consumption towards e-commerce.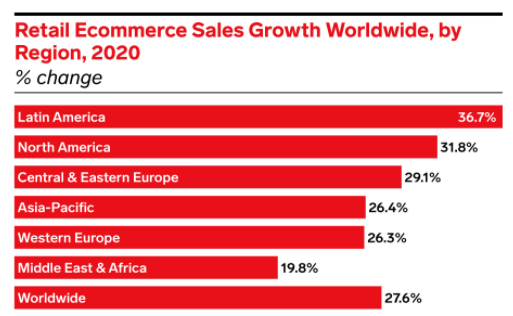 Source: eMarketer
It should be noted here that Asia-Pacific's slumped numbers may be skewed from coming off a relatively high base compared to the rest of the world, given the high rate of e-commerce participation over the last few years.
High-tech Production

If you want to talk about high-tech production in EM, there's only one word that will be on most people's mind: "Taiwan". Also, maybe "Korea".
Semi-conductor specialisation seems like a small focus for an entire economy, but the growth of mobile device usage across EM plays into this narrative very well. Taiwan Semiconductor (TSM:NYSE) particularly has benefitted from Intel's outsourcing of microchip production. But we cannot forget Samsung Electronics (SMSN.IL), which held almost half of global revenue from semiconductor manufacturing in 2020 – between Taiwan and Korea, these two nations' largest corporations generate over 65% of global semiconductor revenue (in USD).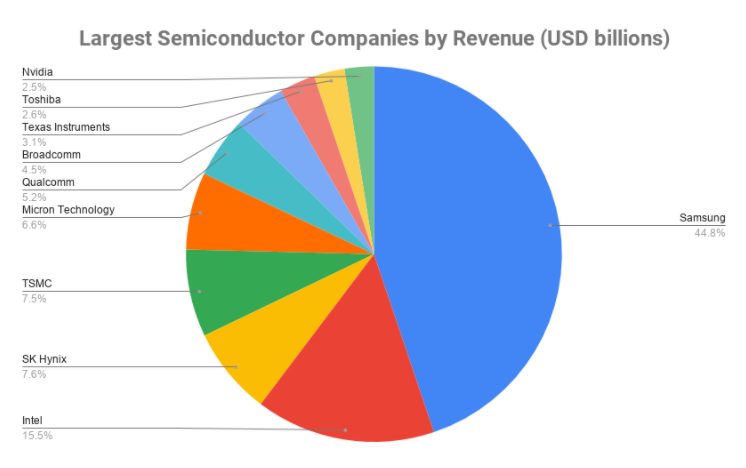 Source: Bizvibe
Infrastructure
Infrastructure is often touted as an inflation hedge and a means of volatility-smoothing for portfolios, so it's logical that we look to EM for opportunities in that space.
Brazil and LATAM in general have shown strong signs of growth for infrastructure, particularly port operators such as Santos Brazil (SNTBL:OTC) who are benefitting from increased activity due to rising commodity prices. The recovery theme continues for LATAM, since their low base presents a long runway for growth as vaccine rollouts pick up momentum and stimulus comes into key infrastructure projects throughout the region.
An area which is often overlooked in LATAM is energy production; the International Renewable Energy Agency reported that wind power production in Brazil was 22x higher in 2018 compared with 2010 – and thanks to increased levels of private investments through vehicles such as mutual funds, this will become a growing area as the project managers rely less on long-term government commitments.
Infrastructure is an area that Asia Pacific has seen some challenges, particularly smaller economies such as Malaysia whose infrastructure projects tend to be linked to tourism (for example, airport operators) – China and Vietnam are expected to perform the best out of the region according to Bennelong Funds Management.
The State of Play
There are several ways to play Emerging Markets – we have only scratched the surface here. This area of investment is operating in a bifurcated fashion, with Asia-Pacific leading in the more advanced innovation in technology, whilst LATAM is finding success in projects that benefit from a low starting point ("base effect:") such as increasing volume of consumers shopping online and critical infrastructure. This means that investors are able to select exposure from a wide variety of thematics, as opposed to just investing broadly across geographies and sectors.
Whatever the purpose a global portfolio may be looking to serve, there are compelling cases to include an exposure to one EM sector or another.
The final word is that EM, possibly more any other market, the rate of change and innovation presents new opportunities to the keen-eyed observer all the time.
The views expressed in this article are the views of the stated author as at the date published and are subject to change based on markets and other conditions. Past performance is not a reliable indicator of future performance. Mason Stevens is only providing general advice in providing this information. You should consider this information, along with all your other investments and strategies when assessing the appropriateness of the information to your individual circumstances. Mason Stevens and its associates and their respective directors and other staff each declare that they may hold interests in securities and/or earn fees or other benefits from transactions arising as a result of information contained in this article.