In advance, thank you to Brent Donnelly at HSBC for the two charts and providing the link to the BBC news article.
"Past performance does not indicate future performance."
You may have seen this statement or a similar one on every fund manager's performance report in Australia, and in most jurisdictions across the world, over the last few years.
This is to clarify that we must remember, what has happened in the past does not predict future events due to ever-changing realities and circumstances.
However, we make these projections time and time again in our lives, extrapolating the past into the future.
The US election occurs tomorrow on 3rd of November 2020.
It is also still fresh in our mind that in H2 2016, US national polls underestimated Republican candidate Trump's voting base, leading to an upset that many did not foresee.
However, this does not necessitate the same mistake in polling data for the 2020 election.
Let me explain.
US polling data
Since 1952, there has only been two US elections that have been polled incorrectly prior to the result: 1980 and 2016.
We forget this because of "recency bias" – a form of cognitive bias that favours recent events over historic ones.
This means we place greater emphasis on the polling errors of 2016 rather than the importance of the statistical value in polling for estimating outcomes.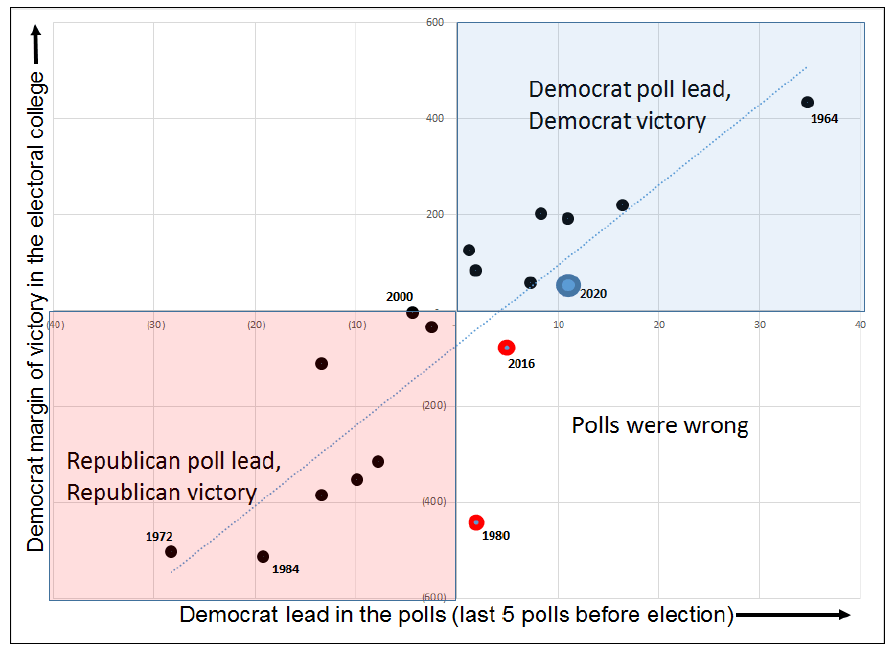 Source: HSBC
While national polling ignores the subtlety of the US Electoral College (the body of electors who actually determine the election result), it is very consistent at picking the winner of the election, and the statistical population representation is updated regularly.
Fool me once, shame on you, fool me twice…
The recency bias I state resonates because in 2016, US voters were "shy" and did not accurately state their intention to vote for candidate Trump, whom had a publicly unpopular connotation at the time.
However, it's unlikely that pollsters have not thought of this and corrected for it since the last election.
Further, I'd say it's sensible to assume to a high probability they may have OVER-corrected for it and almost no chance they have under-corrected for it, if anything but to regain credibility after last election's mishap.
This isn't new – a UK example
In May 2015 the UK held a general election where the Conservative (Tory) Party won, and Teresa May was elected.
In this election, UK polls were wrong, which resulted in a lot of hand-wringing by pollsters, very much like what happened after the 2016 US presidential election.
In fact, there was even an expression for the undercount of Conservative votes call "the Shy Tory".
Sounds familiar to the "shy Trump voter" we're talking about now!
Guess what happened in the 2017 election?
You guessed it, pollsters over-corrected for the Shy Tory voter and erred the other way.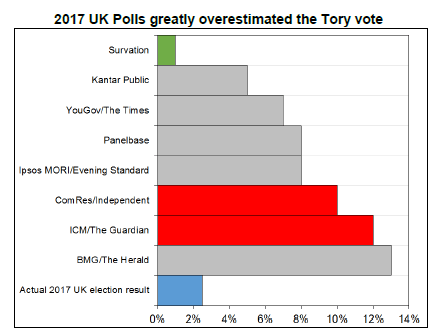 Source: HSBC
The most interesting aspect of that result is that it happened for exactly the reason you would guess it would have happened. Here's an excerpt from a BBC article on why the polls went wrong:
"In 2015 the polls went wrong because their samples were not representative of the electorate – they contained too many Labour voters. They also failed to estimate the difference in turnout rates between different age groups – they overestimated turnout among young voters.
The pollsters who were further from the actual result this time were those, like ICM and ComRes, who had taken the strongest measures to try to rectify the problem from 2015. Survation made no significant changes to their methodology and came out on top."
The US election tomorrow
Going into the election tomorrow, Democrat candidate Biden leads POTUS Trump by anywhere from +5 to +11 points.
This has a high probability of being a real lead, and the lead may even be understated.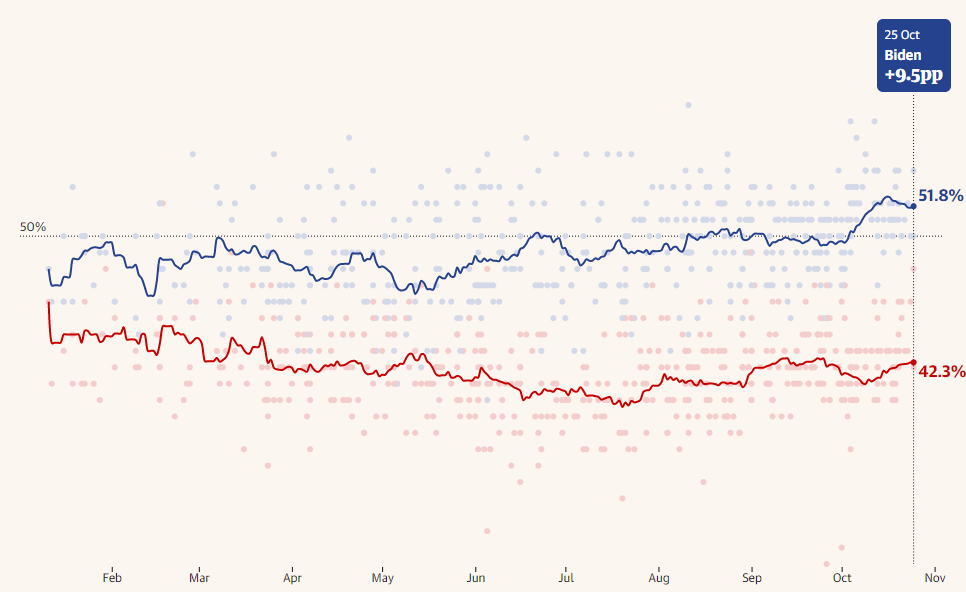 Source: The Guardian
However, this is all based on statistics, we'll have to wait and see who wins the Electoral College vote in the coming days… or possibly weeks and months.
The views expressed in this article are the views of the stated author as at the date published and are subject to change based on markets and other conditions. Past performance is not a reliable indicator of future performance. Mason Stevens is only providing general advice in providing this information. You should consider this information, along with all your other investments and strategies when assessing the appropriateness of the information to your individual circumstances. Mason Stevens and its associates and their respective directors and other staff each declare that they may hold interests in securities and/or earn fees or other benefits from transactions arising as a result of information contained in this article.