Although the awareness of supporting small businesses and shopping locally have been raised by the pandemic, there's no denying that our friendly local restaurants and retailers have been amongst the victims of COVID-19.
One major problem which has faced many retailers has been the lack of an online presence, thereby having no way to connect with a customer base who has taken to searching Google for a take-away option rather than strolling their local restaurants looking for a good place to eat.
Which brings us to the industry sub-sector of online advertising and expenditure, which may act as a microeconomic indicator to inform us where economic activity is occurring and where consumer preferences are placed at present.
Light at the end of the tunnel
"Light at the end of the tunnel" is how the Interactive Advertising Bureau (IAB), a peak trade association for online advertising, described ad spending forecasts for the end of 2020.
This surprised me in my research, considering the figures you see presently are all showing growth for the sector – but like most of the economy, ad spending had a problematic Q2 because of the pandemic. In Australia alone, the value of online advertising fell 12% in the June quarter.
Despite this, $9.1 billion AUD was spent on online advertising in FY19-20, representing a 1.0% growth y/y.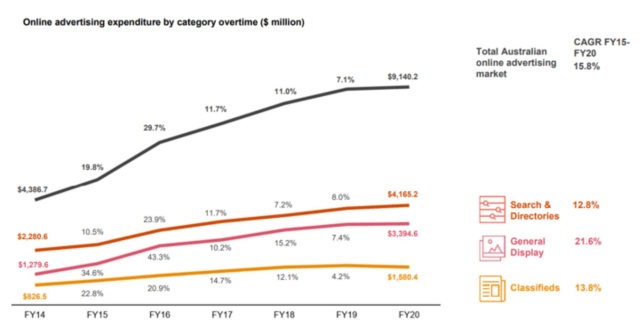 Source: Interactive Advertising Bureau
The outlook for global online advertising was similar, reporting only 2.4% growth or the first time on record that growth has been in the single digits (according to eMarketer.com).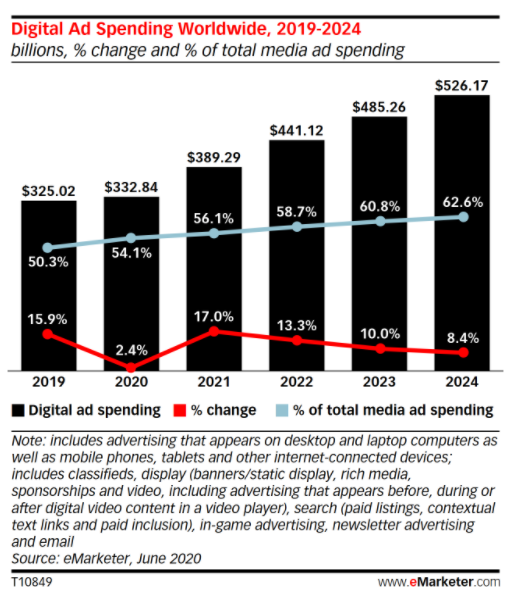 Source: eMarketer.com
But the above chart does give an interesting insight into what may be happening to the digital economy as a whole. We can see that between 2019 and 2020 there was sluggish growth, largely pulled down by a catastrophic June quarter; and yet the % of total media ad spending increased by a large margin as our spending becomes increasingly focused online.
Follow the light
If we continue with the theme of online ad spending as a measuring device for spending habits:
Which different sectors are being given the online limelight?
Can we determine which sectors are performing based on the changes in advertising expenditure?

Firstly let's consider geographic growth, the results of which will come as no surprise to anybody who has paid attention to global economies over the last few years. Asia-Pacific leads the way in the growth of online advertising, with the rapid digitization of retailers and payments across the region necessitating more advertisers to connect with their audience where they spend most of their time.
In the U.S, Q3 surveys suggest 62% of US shoppers say they shop online more now than pre-COVID, whilst US radio advertising has dropped over 25% in calendar year 2020.
Consultancy firm WARC reports than due to COVID-10, the UK online advertising market contracted by 12.7% in Q2, but will close off 2020 up 3.4% on total spending y/y.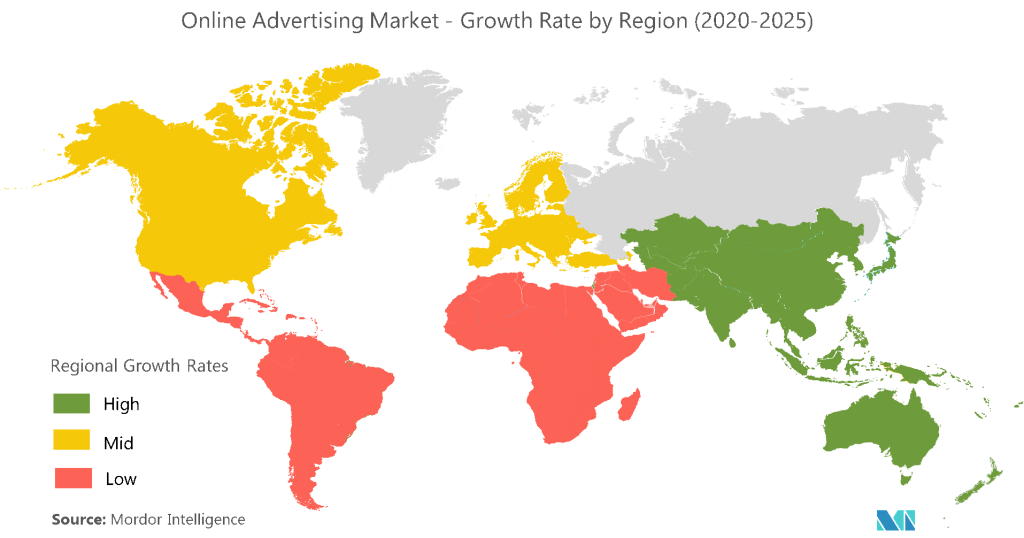 By sector, the sectors reporting increases in digital ad spending include healthcare (14.2%), telecom (12.0%) and consumer goods (5.2%).
Consumer spending, in particular, has increased around 'fast-moving consumer goods' (FMCG), with beauty and personal care advertising expenditure increasing 41% y/y in Q3 2020.
On the other side of this, there are the sectors who have been hardest hit by COVID, currently being heralded as the 're-opening trades'. Their advertising spending reflects how hard these sectors are lagging in consumer spending; automotive spending is down -18.2%, travel is down -41.0% and physical retailers (with no online presence) are down -6.9%.
These numbers seem to intuitively reflect the actual economic performance of each of these sectors and regions – from a macro point of view, we may be able to get a gauge on the state of consumer spending based on where online ad expenditure is going.
How does this affect my portfolio?
For the less abstract reader, worry not – it's not all broad themes here.
Certain major tech players have benefited considerably from the ad spending bounce back this year and may continue to reap those benefits as consumer spending habits remain fixated on a more digital offering.
Facebook (FB:NASDAQ) added ten million new active advertisers to its platform between Q1 and Q2 2020 – as you may know, Facebook derives most of its revenue from online advertising. COVID has greatly boosted the advertising presence of Facebook, due to the relative simplicity and massive user access afforded to new advertisers on the platform. The company reported a 22% increase in revenue for Q3, or a figure of 21.47 billion USD. According to eMarketer, Facebook now controls 23.2% of the worldwide digital ad market.

Speaking of worldwide market, let's touch on the largest digital ad publisher, Google (GOOGL:NASDAQ) – according to Omnicore (a U.S based digital marketing agency), 93% of all website traffic comes from search engines. Furthermore, 86% of people look up locations of businesses in Google Maps before physically attending. Google is in an incredibly strong position to benefit from any increase in digital advertising, holding just over a 29% global market share, as was seen by their 14% revenue gain in Q3.
Closer to home and a new company to many readers is Adslot (ADS:ASX), an advertising technology platform that automates the trading of guaranteed display media placements. As a media platform, this company acts as an online agent by partnering advertisers with media agencies and forward advertising placements across various digital spaces. In Q3 Adslot reported a record quarter, with value of trading up 31% Q/Q, as well as reporting increased managed media spending across China, India and Australia primarily.
Finally, Snap Inc (SNAP:NYSE), which owns Snapchat, saw a 20% share price rally in October after reporting that their advertising revenue had increased to USD 678.67 million, up from USD 454.16 million in the previous quarter. This is off the back of their successful B2B marketing campaign launched in August to attract new advertisers to the platform during the pandemic, who looked to leverage the platform's high number of daily active users and 'direct response advertising' model.
Finding sense in the abstract
If anything is to be taken away from this investigation, it is that digital advertising can affirm some of the global economic themes that we've followed in our notes for some time.
There's no doubt that the major tech players have seen tremendous benefit this last quarter from an increase in digital ad spending, likely to continue over the next few months as businesses work to continue their online exposure to customers.
However, where we may find real value is the use of this trend as an indicator;
Where people are willing to spend money on advertising, there are customers willing to spend money.
Where customers are willing to spend money, there is economic activity.
The question that investors need to ask in this case is, "will that activity continue once the world recovers from the pandemic?".
The views expressed in this article are the views of the stated author as at the date published and are subject to change based on markets and other conditions. Past performance is not a reliable indicator of future performance. Mason Stevens is only providing general advice in providing this information. You should consider this information, along with all your other investments and strategies when assessing the appropriateness of the information to your individual circumstances. Mason Stevens and its associates and their respective directors and other staff each declare that they may hold interests in securities and/or earn fees or other benefits from transactions arising as a result of information contained in this article.