Our next Federal election is to be held on Saturday 21st of May, where polling takes place between 8am and 6pm that day – in all Australian time zones – where WA polling booths close slightly later because of the time difference.
While the majority of Australians tend to vote on "Election Day" (21/May), a growing portion votes in early voting, a larger preference since the pandemic began as one can avoid crowds on Election Day.
Early voting opened on Monday 9/May where various centres open to in-person voting (aec.gov.au/where), whilst postal votes have also been sent out and need to be sent back to reach the Australian Electoral Commission (AEC) by 6pm Wednesday 18/May.
Over 96% of Australian citizens are on the electoral roll, where there's >7000 polling stations open across the nation on Election Day, 500+ early voting centres, and 100,000+ temporary election workers employed to ensure all votes are counted as quickly and efficiently as possible.
[Note to self: expect strong employment data for May that will unwind in June]
It's important to note that this election is a full House of Representatives election, and a half Senate election as well.
Remembering there are 151 seats in the House of Representatives (lower house) and 76 seats in the Senate (upper house).
Current Lower and Upper House
Our last federal election was held on 18/May/2019, also an election for both lower and upper houses of parliament.
The second-term incumbent, minority government of the Liberal-National Coalition ("Coalition") claimed a three-seat majority of 77 seats in the House of Reps, Labor with 68 seats, 6 seats for the Australian Greens, Centre Alliance, Katter's Australian party and three independents.
By the way of analysis, I prefer to analyse the political landscape by Party, as it highlights that Australians vote for a myriad of parties, where only after preferences do we aggregate and talk about the Australian Labor Party (ALP), Liberal Party of Australia (LPA) and the Coalition.
Hence, it's nearly always news to people I speak to that the LPA receives around one third of the vote nationally, fairly similar to Labor and that it's preferences and relationships with other parties that forms governments.
Indeed, it's becoming quite rare that a single party in Australia achieves a majority government.
Table 1: 2019 House of Representatives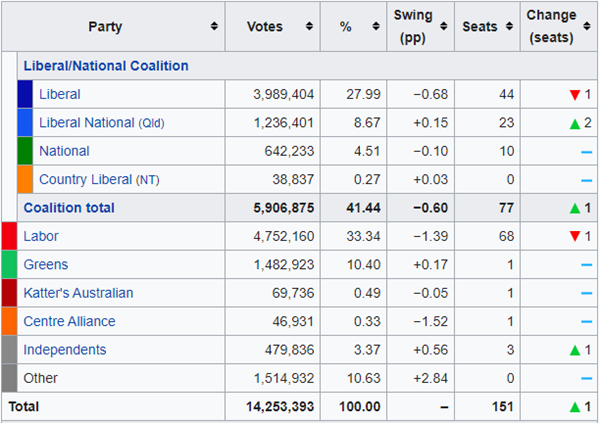 Source: Wikipedia
Table 2: 2019 Senate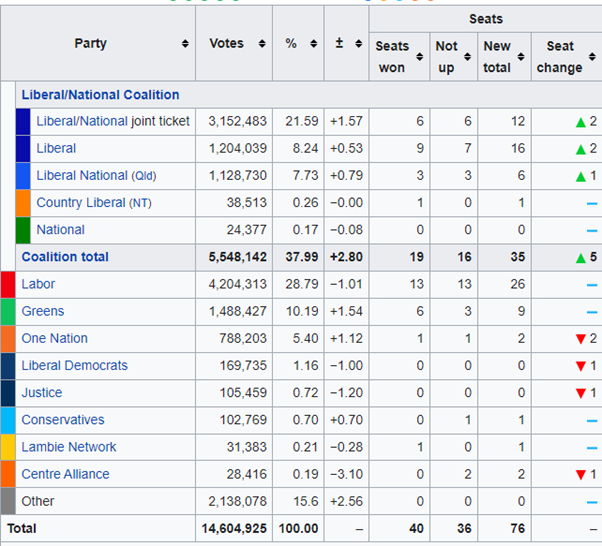 Current Polling
News polls are showing this current election – in regard to the House of Representatives – is the Labor Party's to lose.
In the latest Newspoll reading (9/May), Labor leads the Liberal Party 39% to 35% in two-party preferred, whilst the latest Ipsos poll has Labor 57-43 Liberals. 
If these figures were roughly what occurs in voting as counted on 21st of May, it would result in quite a considerable shift in government, where the ALP would gain the Executive leadership and Prime Minister position, with a majority in the House of Reps.
The shift in Newspoll results – as well as other election polls – is largely driven by female participation, where male voting preferences are roughly unchanged, where female voting preferences have shifted towards the ALP, away from the LPA.
Key Seats, Swing Seats
As the current Coalition government has a majority in the lower house of 1 seat (after recent resignations and only after preferences), "marginal seat" is a term that you'll hear plenty of this election cycle, due to the relative influence marginal seats may have in shaping the election outcome. A marginal seat can be classified several different ways, but a common one is a seat where the outcome is likely decided by less than a 2% margin.
For example, if the Coalition was to lose 1 seat to either the ALP or a party that agrees to preference the ALP, then the House would switch to the ALP.
On this topic, I've noticed quite a lot of negative rhetoric surrounding minority governments this election cycle, that minority governments are ineffective as they don't have clear majorities.
This seems to be a scare tactic, as the last minority government in Australia was the Gillard government, which was one of the most prolific governments in Australia's history at passing legislation.
Moreover, and as I mentioned in my introduction, the current Coalition is a minority government given the Liberal Party does not have a majority on their own, and both the LPA and National Party (that form the Coalition), have different party policies.
This is the main reason that we so often talk about the National Party – because the LPA need them to form government – despite receiving a small vote nationally.
As for the key seats and swing seats that are likely to determine this election, the key seats to look out for are:
Wentworth (NSW) – Incumbent Liberal MP Dave Sharma vs Climate 200 candidate Allegra Spender
Kooyong (VIC) – Incumbent Liberal MP and Treasurer Josh Frydenberg against independent candidate Professor Monica Ryan
Hughes (NSW) – Incumbent Craig Kelly held the seat since 2010, but in 2021 resigned from the Liberal Party, where voters may not vote for Mr Kelly now that he's a United Australia Party candidate, instead of Liberal candidate
Lingari (NT) – Incumbent Labor MP Warren Snowdon is retiring from politics, where the seat is to be challenged by Marion Scrymgour, the first Indigenous women elected to NT parliament, also contested by former Alice Springs Mayor Damien Ryan for the Country Liberal Party
Flinders (VIC) – Incumbent Liberal MP Greg Hunt retires, with a heated contest ensuing between new Liberal candidate Zoe McKenzie and Independents Despi O'Connor and Sarah Russell
Biggest Election Issues
Given the recently published Q1 2022 CPI print, where headline inflation is now 5.1% y/y, and accelerating, it should be logical that almost two-thirds of Australians believe tackling cost of living is the most important issue for the next government.
Using this analysis from Australian National University, this was a bipartisan issue where 60.8% of Coalition voters said this was highest priority, and 68.8% of Labor voters respectively.
Second-order cares:
60.1% fixing aged care system
54.4% strengthening the economy
53.5% reducing cost of health care
52.8% deal with global climate change, becoming a larger issue each election cycle
We also found it quite interesting that voters were least concerned about immigration, particularly illegal immigration, despite seeing it constantly debated in main-stream press.
Financial Markets
While the 2019 Federal election was more concerned with taxation and future investment, this election appears to be more a vote of no (or less) confidence in the incumbent government for their handling of the pandemic as well as 2019-2020 bushfire season.
This has led to a YTD surge in ALP preferences and a strong lead with less than two weeks to go before Election Day, where investors are already looking beyond the election.
As one gauge though imperfect, the ASX 200 has relatively outperformed other major stock indexes these past 3 months despite the run-up into the Federal election, -2.12% over the period to 9-May but decidedly less negative than other markets.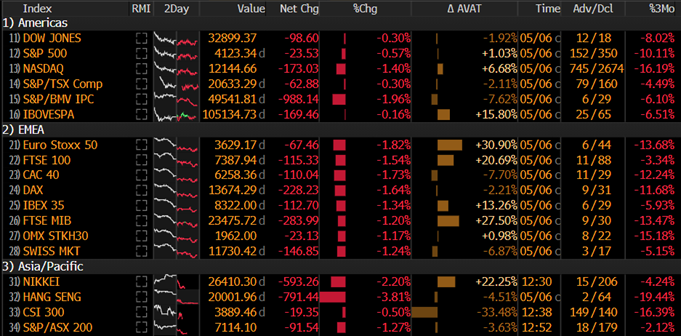 Source: Bloomberg, as at 9/May/2022
This is true for past elections as well, where on average, the ASX 200 returned 1.74% during election campaign to Election Day (using 14 elections from 1983 to 2019).
In general, Federal election results becoming known also alleviate uncertainty, investors return to the market, and on average, the ASX 200 returns +4.41% for the three months post-Election Day.
Analysis tabled by the AFR shows this in a more granular form: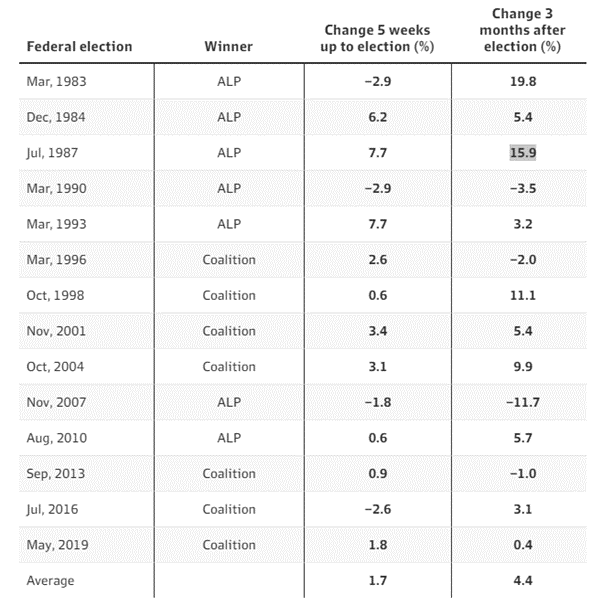 Source: AFR, Refinitiv
In terms of debt and property markets, there is no strong correlation between asset price returns and federal elections, unless the election is predicated on a material change in bond issuance.
For example, in previous elections such as 2013, bond markets responded to the Federal election where the Coalition government's rhetoric was around deficit reduction and reducing bond supply relative to economic output (dept/GDP ratios).
While this debt reduction never panned out after 2013 or 2016 elections and debt/GDP grew, the bond market initially priced in the reduction of supply both times, seeing slightly lower bond yields for a short period.
Either way, this isn't the case this election where monetary policy and inflation are the key factors affecting the debt capital markets as well as property valuations.
Closing Remarks
So long as the outcome of the election appears to be predictable, financial markets appear to be looking through the result at a known outcome, with less chance of uncertainty or endogenous volatility.
Viewed this way, an upset result could cause a market reaction, though we're uncertain of this given a surprise win from the Coalition be a continuance of the current status quo for another 3 years.
As for the longer term, the size of an ALP minority or majority government is difficult to assess at this point, as that would be the integral factor to determine their ability to legislate new laws or amend existing ones.
This knowledge would then allow for markets to weigh probabilities of policy impact on markets, at a later date.
The views expressed in this article are the views of the stated author as at the date published and are subject to change based on markets and other conditions. Past performance is not a reliable indicator of future performance. Mason Stevens is only providing general advice in providing this information. You should consider this information, along with all your other investments and strategies when assessing the appropriateness of the information to your individual circumstances. Mason Stevens and its associates and their respective directors and other staff each declare that they may hold interests in securities and/or earn fees or other benefits from transactions arising as a result of information contained in this article.