The investment theme of Healthcare may carry some of the strongest emotional links in capital markets – it does not get much more sentiment-driven than considering our own quality of life and mortality.
As the world gets wealthier, most will consider it a duty to their loved ones to seek the highest quality treatment possible for the sick and elderly; as the world gets older, there must be more of that high-quality healthcare.
For governments and individuals, quality and longevity of life is seldom outside of their top three priorities in allocating capital or effort.
To invest into healthcare, you are not simply asserting an investment thesis on the revenue or profit growth of an industry – but rather being "long" the innate desire of humankind to care for each-other and seek comfort when faced with pain.

To quote Oscar Wilde, "some things are precious because they don't last long".
Today we will examine the global healthcare landscape, the merits of investment and where some key areas of growth may be found in the long run where, to now quote Keynes, "we are all dead".
Global Health Check-up
For most of the world, life expectancy has been steadily increasing throughout history – today the WHO report that the average life expectancy globally is 73 years old, with Japan boasting an average life expectancy of 84.23 years, the longest in the world.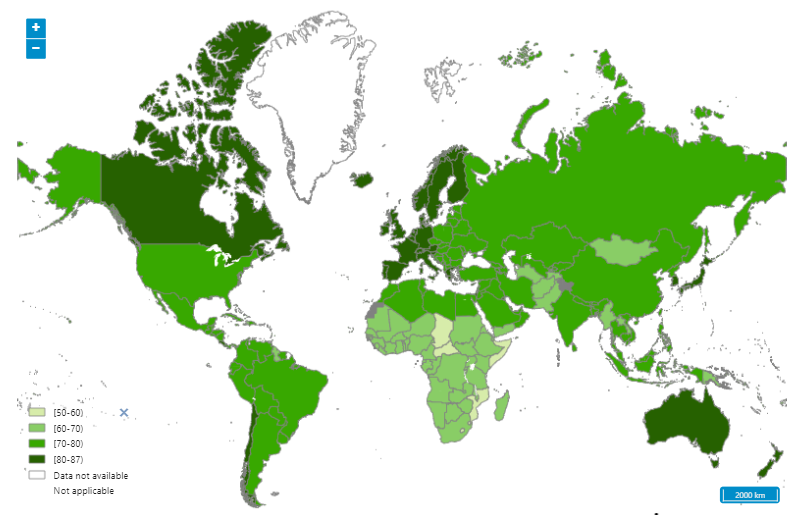 A piece of information which is not always included here is 'healthy life expectancy' (HALE), currently sitting at ~63 years.
If you want to take a very simple extrapolation, this implies that for every person on Earth, they will spend at least 10 years in a state of disability or illness.
In 2020, the world spent approximately 8.3 trillion USD on healthcare (source: IHS Markit), a number forecast to grow to almost $9 trillion USD this year.
Since 2000, the percentage of GDP that is spent on healthcare has steadily increased; in 2018 we spent 9.89% of GDP, up from 8.6% (The World Bank).
According to the United Nations' World Population Prospects report from 2019, there were approximately 1 in 11 people over the age of 65. This is predicted to almost double to 1 in 6 people by 2050.
This ageing population trend is occurring in most major regions (Africa may be an exception), as the longevity of life increases due to improved health outcomes and raises standards of general living in both developed and developing countries.
In South-East Asia in particular, population ageing and improvement of health outcomes has occurred the fastest – the population over 65 years doubled between 1990 and 2019 (from 6% to 11%).
On average across this region, the life expectancy increased by ~7 years between 1990 and 2015 (United Nations).
Healthcare Themes
With this background we can begin to explore some prevalent themes in global healthcare, with a particular emphasis on the U.S and Asia, two nexuses of healthcare innovation and development.
Firstly, we have an ageing population which is going to only become a larger proportion of the global headcount over the next 30 years.
As we seek to improve quality of life and HALE, this will necessarily require on-going spending and improvements to healthcare, both in on-going treatments and research for new medicines or technology.
Why is this?
As life expectancy grows longer, HALE is not a strictly linear relationship – empirical evidence shows that as we get older there are diminishing returns to the effectiveness of treatments, so it is more-or-less inevitable that we will experience disability or disease as we age.
We have already started to see this in countries like China, where life expectancy and HALE have improved dramatically but at differing rates;
In 1990, the average life expectancy was 66.96 years, with 7.11 years lived with disability
In 2016, the average life expectancy was 76.36 years, with 8.51 years lived with disability
Source: Institute of Health Metrics and Evaluation
This means that it is unlikely (bar technological improvement normally reserved for science-fiction) that we will never require treatment in our lives, if anything as life expectancy increases to ~80 years we will require circa 10-15 years of treatment on average.
Secondly, as our per capita income increases, so too does our ability to spend on better healthcare outcomes – this operates on both sides of the demand/supply equation, since as people become wealthier it creates a market for more healthcare spending and better-quality treatments/facilities.
The United States spends by far the most per capita on health consumption, with $10,966 USD per capita spend in 2019 – the 'comparable country average' was $5,697 USD per capita (OECD).
But it is not erroneous in its large spending, in fact, across all economies, health spending grew faster than GDP between 2000-2017 according to the WHO: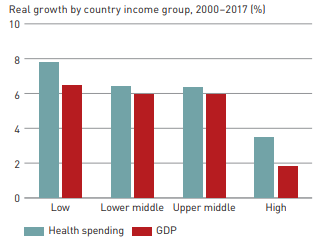 You can also see on the below chart that as economic opportunities improve across the world, lower and middle-income populations took up greater share of healthcare expenditure.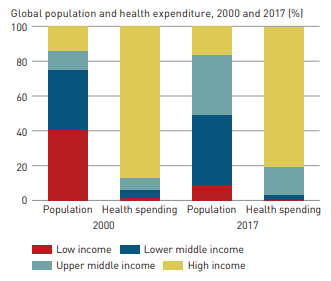 Getting Exposed – yes, a COVID pun
As with most equity themes, you can access global healthcare via listed securities, ETFs or actively managed strategies – all depending on your conviction and risk profile.
We have some familiar household names listed on the ASX operating within the healthcare space, from CSL (CSL:ASX) to Ramsay Healthcare (RHC:ASX), who have been differently affected by COVID but will both also benefit from long-term growth in healthcare consumption and spending.
For ETFs, both the VanEck Vectors Global Healthcare Leaders ETF (HLTH:ASX) and BetaShares Global Healthcare ETF (DRUG:ASX) are potential exposures from a sector-wide perspective, taking a view on the global healthcare market as an index rather than taking a stance on the merits of a particular company.
And finally, there are managed funds which look to actively managed a basket of leading companies across global healthcare – this represents a blend of the two earlier strategies.
An example of these would be the Platinum International Health Care Fund and the Zurich Healthcare Impact Fund, both of which offer global exposure to healthcare through differing investment approaches – both are available for investment over the Mason Stevens platform.

A Clean Bill of Health
In closing, increased healthcare spending is a trend which is here to stay, motivated by our ongoing desire to live longer and be healthier – there are few structural tailwinds so strong as the human fear of our own mortality and aversion to pain or discomfort.
This offers investors a wide range of opportunities to leverage this theme across different regions, sub-sectors of healthcare and investment time horizons.
We all know the financial lengths that we would go to for our own family, and the market sentiment towards healthcare is likely no different.
To end on one final quote from George Burns, "I can't afford to die; I'd lose too much money."
The views expressed in this article are the views of the stated author as at the date published and are subject to change based on markets and other conditions. Past performance is not a reliable indicator of future performance. Mason Stevens is only providing general advice in providing this information. You should consider this information, along with all your other investments and strategies when assessing the appropriateness of the information to your individual circumstances. Mason Stevens and its associates and their respective directors and other staff each declare that they may hold interests in securities and/or earn fees or other benefits from transactions arising as a result of information contained in this article.