The world is now into month four of COVID-19 vaccinations, and we're one month since starting the inoculation process in Australia.  It's also been one month since our last update.
On 22-Feb: there was 186mln doses administered worldwide across 82 different countries, at a run-rate of 6.34mln doses per day.
On 22-Mar: there was 410mln doses administered worldwide across 132 countries, at a run-rate of 9.96mln doses per day.
When will life return to normal?
This is a two-part question as we need to be able to return life to more normal circumstances and then we need to be willing to do so.
For part one, the process is tied to a concept of "herd immunity", where a critical mass of 70-85% of the population become immune either through exposure to the virus and build-up of anti-bodies, or through vaccination that provides the anti-bodies without infectious exposure.
On a global scale, that's a daunting level of vaccinations of more than 4 billion people, who will require two doses of vaccine from most of the vaccine varieties – though some only require one injection.
At the current pace of 9.96mln doses per day, it will take years to achieve herd immunity, where potential mutations could occur in the meantime that make existing vaccinations less effective.
Hence, it's imperative that manufacturing and dissemination of vaccinations continue to ramp-up.
For example, take what the USA is doing; they're vaccinating at 2.5mln/day, which means they'll achieve herd immunity by the end of August, with additional supply still coming online to speed up this process.
This will allow the ability for communities to return to normal and at this point, normality will resume should people be psychologically ready to do so.
Flattening the curve
Israel was the first nation to show that vaccinations could have nationwide effect on social mobility and resumption of normalised lifestyles with less chance of lockdown.
They led the world in vaccination roll-out achieving an 84% vaccination rate by the end of February, where all "at risk" people had also received their second dose.
This saw COVID cases and death rates decline rapidly, which is now being seen to occur in the United Kingdom as they ramp-up vaccinations.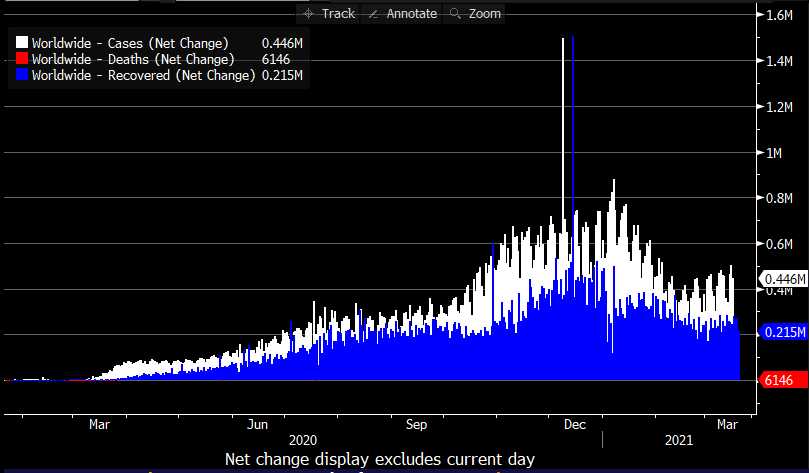 Australia's vaccination process
In Australia, we've vaccinated 231.7k persons as at 19-March, now a month into the vaccination roll-out.
This is a long way away from the Commonwealth Government's target of 4 million people vaccinated by the end of March, and the entire country inoculated by October.
To make this clear, we should've vaccinated 2.6 million people by this point, compared to the ~232k we've done.
Hence, without a sufficient near-term ramp-up in production of vaccines, we're unlikely to reach even 1 million vaccines by the end of March, let alone 4 million.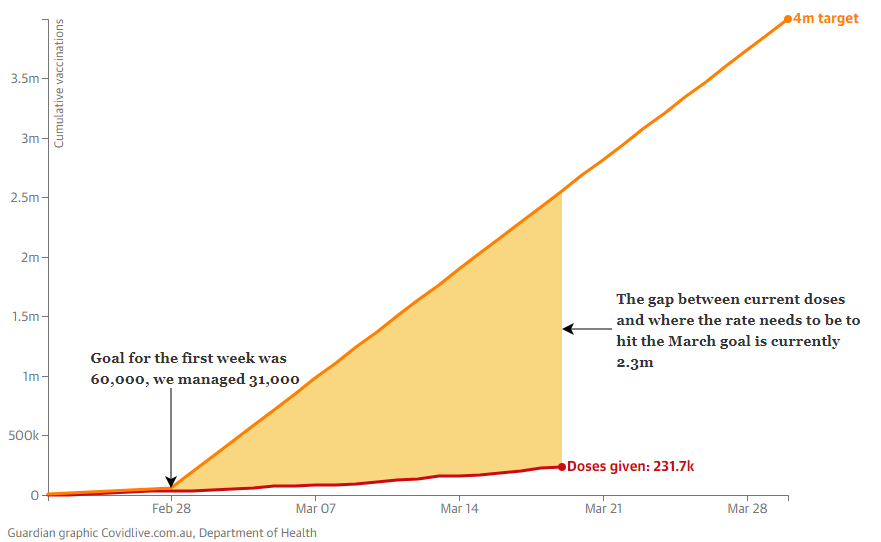 Thankfully, we only have 133 active cases, which is manageable to contain.
Worldwide, this puts us in 70th place for vaccine rollouts by total number of doses, closely following behind Uruguay, Jordan, Costa Rica, Panama, Maldives, Philippines and Estonia, and narrowly ahead of Ghana and Cambodia.
These are not countries known for the efficacy of government operations and logistical prowess and not countries we would usually rank amongst for purchasing power and supply-chain security.
When will you get your dose?
The date that you get your first dose of the vaccine will depend on your classification by the Commonwealth government's schedule.
This is why the above numbers are so important, as below-target run-rates imply later and later dates for vaccinations in later categories.
For example, if we had achieved the target vaccinations of ~2.6mln people right now, we would've concluded Phase 1a and be partially through 1b.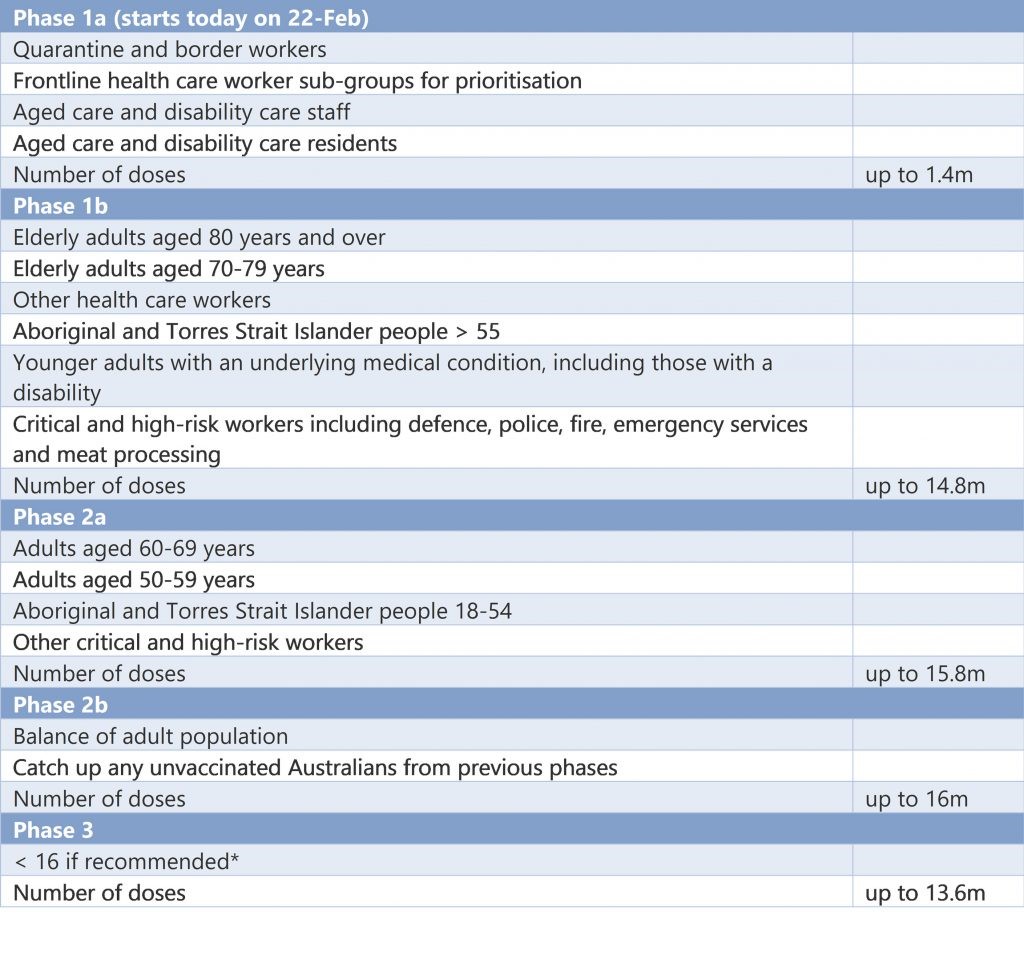 Therefore, it's hard to determine at present when Phase 2 will be initiated, as it will be determined by the completion of Phase 1.
Recent AstraZeneca news
You may have heard of the news that many European nations were pausing AstraZeneca vaccinations because of reported instances of blood clots.
To clarify this issue, there were 18 reports of cerebral venous thrombosis, out of over 20 million people who had received the vaccine in Europe.
That's ~0.0000009 (or 18/20,000,000) chance of this occurring, where being struck by lightning is 1/500,000 chance or 1/366 of being in a car accident.
Hence, the European Medicines Agency (EMA) stated on Thursday 18-March "…has come to a clear scientific conclusion…safe and effective vaccine."
Knowing your vaccine location
While you may not be receiving your vaccination for some time – for the majority of Australians, it'll be later in the year – it's important to know where you will be able to be treated.
I would recommend saving the following link, which provides government updates and advice, with an enquiry email and phone line should you have questions:
https://www.health.gov.au/initiatives-and-programs/covid-19-vaccines/getting-vaccinated-for-covid-19/how-will-i-get-my-covid-19-vaccine
So far there are ~20 Pfizer hubs available across the nation for those receiving Phase 1 vaccinations.  Phase 2 will involve a larger portion of AstraZeneca vaccines, where the distribution will be wide-spread and with less logistical issues, given the ability to store these vials at room temperature.
In most cases, AstraZeneca will be available at General Practitioner (GP) clinics, where they meet specific requirements.
Therefore, likely you'll receive your vaccine at your local doctor's office (where they are approved).
Closing remarks
While we have under-achieved our initial vaccine roll-out target, we should remain positive that we're relatively less affected because of our isolated island nation topography, with less active cases within the community.
However, this does pose the situation where border re-opening is less likely and international travel delayed until we can sufficiently ramp-up vaccinations.
As long as we're aware of these realities, we can become comfortable in our social and economic trajectory, so that we're not surprised when there's a slow re-opening of our physical economy to resume more "normal" international relations and travel.
The views expressed in this article are the views of the stated author as at the date published and are subject to change based on markets and other conditions. Past performance is not a reliable indicator of future performance. Mason Stevens is only providing general advice in providing this information. You should consider this information, along with all your other investments and strategies when assessing the appropriateness of the information to your individual circumstances. Mason Stevens and its associates and their respective directors and other staff each declare that they may hold interests in securities and/or earn fees or other benefits from transactions arising as a result of information contained in this article.