We are now into month ten of COVID-19 vaccinations globally, and seven months into the Australian inoculation process, 4 weeks since our last update.
On 22-Feb: there were 186mln doses administered worldwide across 82 different countries, at a run-rate of 6.34mln doses per day
On 22-Mar: there were 410mln doses administered worldwide across 132 different countries, at a run-rate of 9.96mln doses per day
On 19-Apr: there were 848mln doses administered worldwide across 154 different countries, at a run-rate of 17.9mln doses per day
On 17-May: there were 1.38bln doses administered worldwide across 176 different countries, at a run-rate of 22.5mln doses per day
On 16-Jun: there were 2.42 billion doses administered worldwide across 180 different countries, at a run-rate of 35.1mln doses per day
On 3-Aug: there were 4.16 billion doses administered worldwide, across 180 countries at a run-rate of 42mln doses per day.
On 3-Sep: there were 5.39 billion doses administered worldwide, across 183 countries, at a run-rate of 41mln doses per day (ever so slightly slowing down).
On 7-Oct: there has been 6.41 billion doses administered worldwide, across 184 countries, at a run-rate of 28.7mln doses per day (slowing down more and more).
That's enough doses to full vaccinate ~41.7% of the global population.
Visually, the laggard nations tend to be the poorer nations who were slower to secure vaccine supply, but also had limited ability to rollout vaccines requiring cold temperatures to remain viable.
Wealthy nations have vaccinated 15-20x faster than these poorer nations, which we can see from the lighter green colouring in parts of southeast Asia, Africa and South America.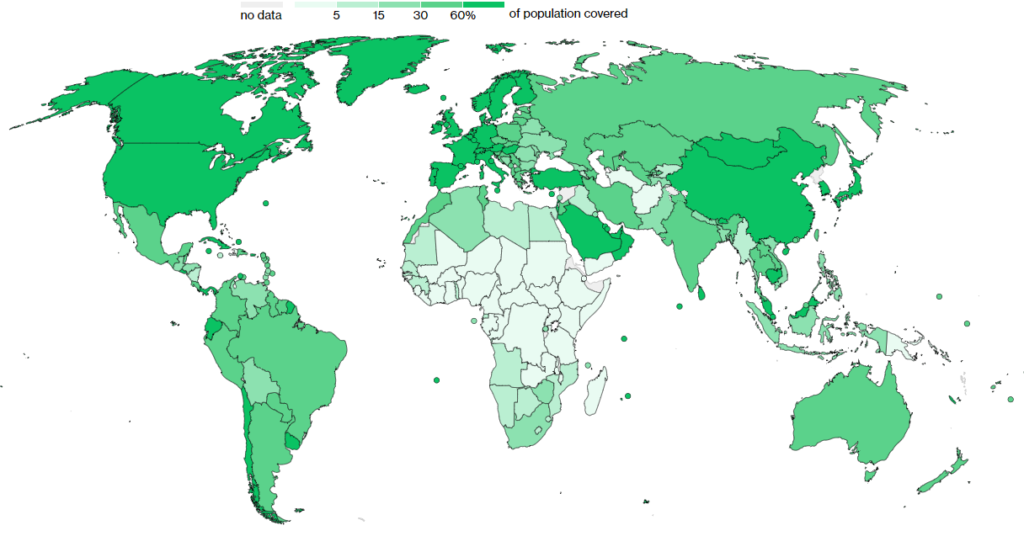 Source: Bloomberg
Life Returning to Normal
Globally, achieving herd immunity – a critical mass of 70%+ of the worldwide population – has been the key indicator for when global life could return to normal – the old normal – where country's borders may be more open than present.
Given our global vaccination pace is slowing, it's with a grain of salt that we mention that at the current pace it will take another six months to achieve global herd immunity.
In reality, this is likely to create a bifurcated economic landscape, where the richer countries will benefit from resumed trade and travel, whilst the poorer and relatively less vaccinated nations may not experience the tourism boom that others experience.
This is also not likely to be a mean-reversion event as we can forecast a large tourism splurge in the 3-9 months post reopening of international borders – where countries open to tourism will experience a surge in demand – and countries that aren't will miss the boat (so to speak) as the pent-up demand is unleashed.
Australia's Vaccination Progress
It shouldn't be a surprise to anyone that our domestic vaccination progress has gone well over the past month, though inline with statistical expectations for reaching 70% and 80% 16+ vaccination thresholds.
Comparing our progress to other OECD nations – a comparable cohort – we've risen in the ranks from 35/38 to 31/38 in the pastmonth, where it'll be difficult to move higher in the rankings unless we find Aussies have less vaccine hesitancy than other developed nations.
As at 6-October, we've given 29.3 million vaccination jabs, fully vaccinated 47.04% of our population  – noting we aren't half done yet.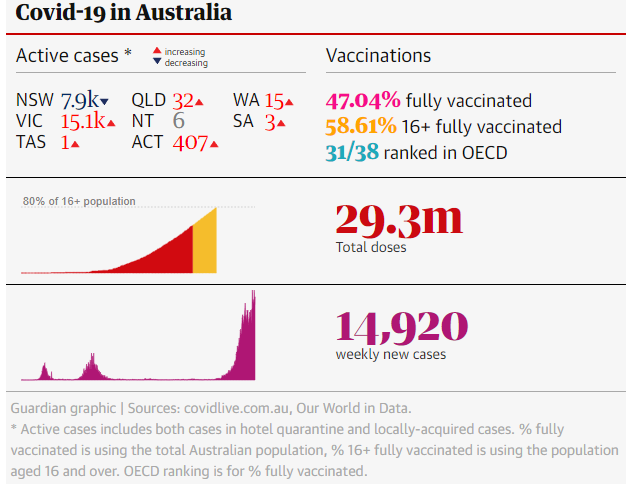 Reopening Australia
States and territories have begun to adopt frameworks that establish at what thresholds they will consider easing lockdown restrictions or become less likely to instigate future lockdowns.
We know these as our 70% and 80% thresholds, where once we double-dose vaccinate 70% and 80% of the 16+ population, we'll consider reopening and locking down less – subject to hospitalisation rates.
It's key to remember that if hospitalisation rates soar within the unvaccinated community, there may be future restrictions put in place to ensure hospitals aren't overwhelmed.
At present, the 70% 16+ threshold should be reached by most states and territories by the end of November, and the 80% 16+ threshold by early December.
The rule of thumb is to take the forecast date and add a week, which is when governments can forecast to reopen once the threshold is passed + margin of error + vaccines reaching peak efficacy a few days after the inoculation is received.
Hence, the NSW forecast for 70% 16+ was originally 5-October, NSW reached it on 6-October, where easing of restrictions was proposed for 11-October.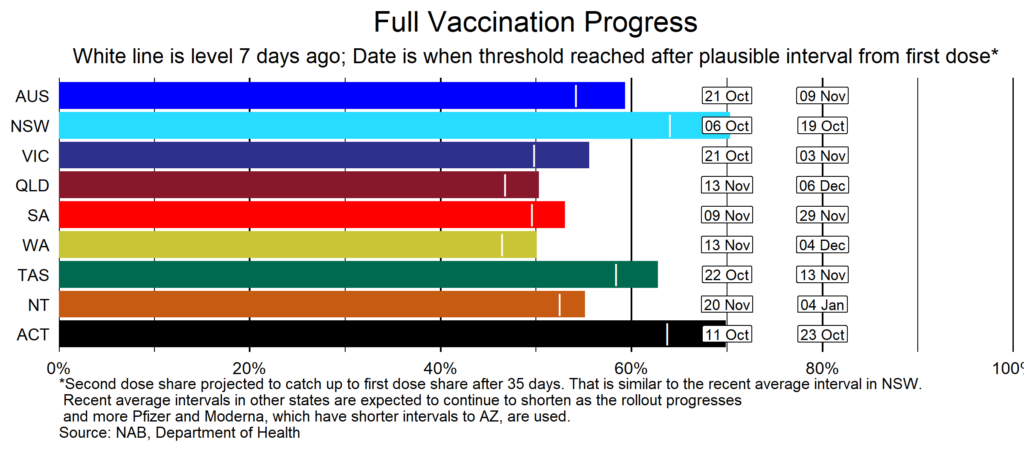 Rather than looking state-by-state, if we instead look age bracket by age bracket, there's obviously a skew of higher levels of vaccination amongst the 55 and older aged community.
This was due to a prioritisation embedded into the vaccination rollout, where the relatively elderly amongst us were vaccinated first as they were deemed more at risk from serious infection.
This highlights the fragility of the 70% and 80% 16+ thresholds, as we'll be reopening at a time when younger Australians are still at risk or haven't been able to secure their first or second doses yet.
Vaccinating Our Youth
The Australian Technical Advisory Group on Immunisation (ATAGI) is now recommending vaccinating against COVID-19 for all individuals from 12 years of age, though as a lesser priority to older Australians.
There are 1.2 million people aged 12-15 in Australia, where adding them to the rollout in September only minimally slowed down our overall rollout by a week.  
If ATAGI were able to add 5–11-year-olds at a later date, that would add an additional 2.3 million Australians.
In aggregate, 5–15-year-olds would add 3.5 million people to the rollout, requiring 7 million doses of vaccines, which should still be within our expected 2021 mRNA supply, where all of these minors would be able to receive either Pfizer or Moderna.
Noting, we're due to receive 41 million Pfizer and 10 million Moderna by the end of the year.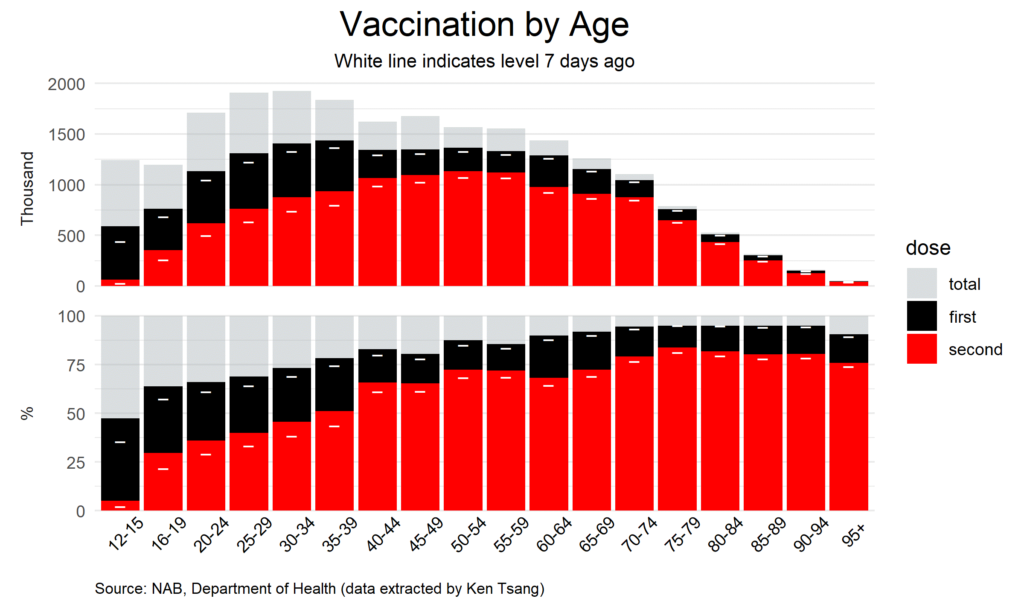 Vaccinating Kids 5-11
For those wondering if there may be future vaccination approval for children added 5-11, then you should be aware that Pfizer and their partner BioNTech SE are currently trialling if their COVID-19 vaccine is safe for 5-11 year olds, in a large-scale trial.
In the trial data that we saw in September, 2,268 participants (kids) received a 10mcg dose – about 1/3 of the dose 16–25-year-olds receive.
Pfizer were expected to seek US FDA emergency approval this month, whilst also sharing data with European health regulators too.

As of yet, I'm yet to hear if our local TGA is reviewing the data, but all-in-all it sounds promising.
Receiving Different Vaccines
Our Department of Health is now publishing a breakdown of the three vaccines we're administering in Australia, where the increase in Moderna is apparent.
This is quite important as while Pfizer had a relatively higher efficacy compared to AstraZeneca, it wasn't as suitable for deployment to regional Australia as it requires a very low cold storage temperature, where we don't have adequate facilities to accommodate.
Moderna becomes a game changer in that regard as it has a higher efficacy level and uses mRNA but isn't required to be stored at the low temperatures Pfizer's vaccine is.
Hence, it allows the proliferation of vaccines across regional and rural Australia.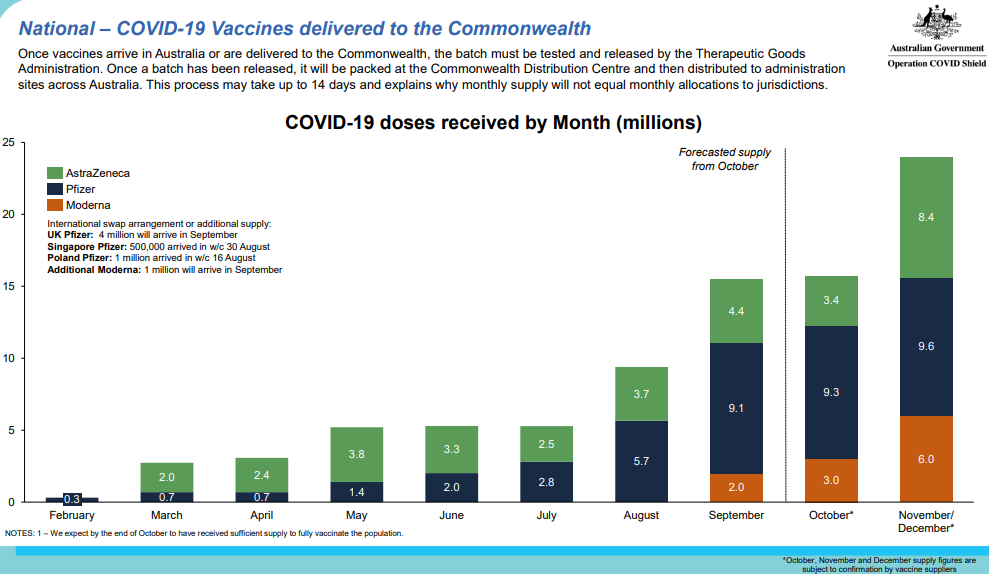 Source: Department of Health
Vaccination Hesitancy
The remaining factor in our vaccine rollout that we should discuss is those that are hesitant or firmly against vaccination, where they have ability to receive a vaccine but choose not to.
Obviously, we'd want this group to be less than 20% of our population, to allow us to hit the 80% 16+ threshold.
The best data source I've found (via a NAB research paper) is produced by the Melbourne Institute, part of Melbourne University.
Their Vaccination Report (see hyperlink) shows that as at 23-September (latest report) total vaccine hesitancy amongst our adult population was 6.8% and vaccination refusal was 8.2%.
In aggregate, 15% of our population were not willing or unsure to get vaccinated at this point, which infers we shouldn't have any significant impediment to achieving our 80% 16+ targets by mid-December.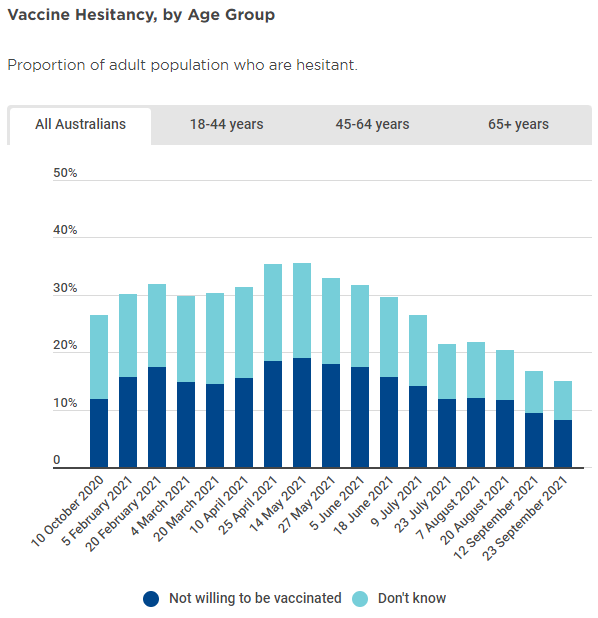 Source: Melbourne Institute
On a state-by-state basis the distribution of hesitancy is fairly well distributed across the nation, though WA and QLD have slightly above average hesitancy levels, which may result in a slower achievement of 80% 16+ threshold.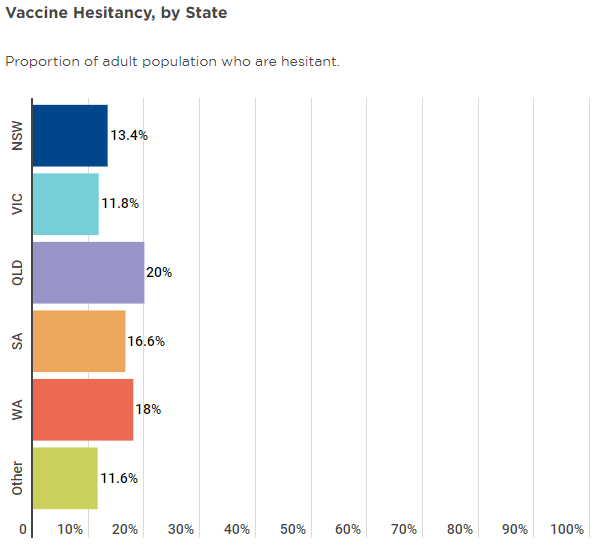 Source: Melbourne Institute
The views expressed in this article are the views of the stated author as at the date published and are subject to change based on markets and other conditions. Past performance is not a reliable indicator of future performance. Mason Stevens is only providing general advice in providing this information. You should consider this information, along with all your other investments and strategies when assessing the appropriateness of the information to your individual circumstances. Mason Stevens and its associates and their respective directors and other staff each declare that they may hold interests in securities and/or earn fees or other benefits from transactions arising as a result of information contained in this article.