We are now into month nine of COVID-19 vaccinations globally, and six months into the Australian inoculation process, 6 weeks since our last update.
On 22-Feb: there were 186mln doses administered worldwide across 82 different countries, at a run-rate of 6.34mln doses per day
On 22-Mar: there were 410mln doses administered worldwide across 132 different countries, at a run-rate of 9.96mln doses per day
On 19-Apr: there were 848mln doses administered worldwide across 154 different countries, at a run-rate of 17.9mln doses per day
On 17-May: there were 1.38mln doses administered worldwide across 176 different countries, at a run-rate of 22.5mln doses per day
On 16-Jun: there were 2.42 billion doses administered worldwide across 180 different countries, at a run-rate of 35.1mln doses per day
On 3-Aug: there has been 4.16 billion doses administered worldwide, across 180 countries at a run-rate of 42mln doses per day.
That's about 27.1% of the global population receiving at least 1 dose of the vaccine.
We're getting there team, we're getting there!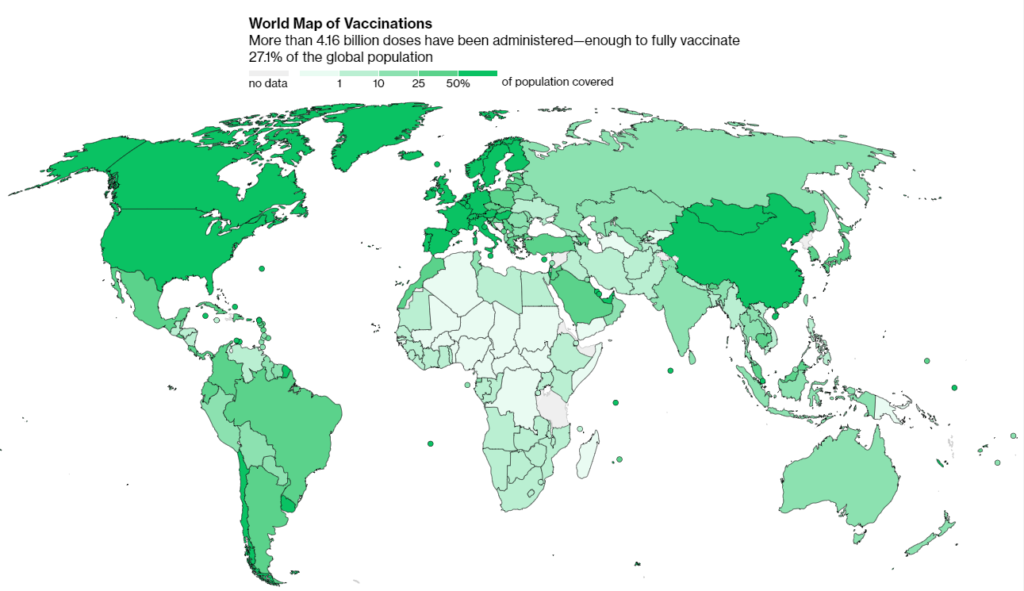 Source: Bloomberg
Life Returning to Normal
Aggregate vaccination doses and the proportion of society fully vaccinated remains the key indicator for when life may return to normal – the old normal – where country's borders may be more open than at present, and we reach "herd immunity" where a critical mass of 70%+ of the global population is immunised to the current strains of COVID-19 through vaccinations or a build-up of anti-bodies through exposure to the virus.
We assume most people would prefer the former to the latter of these scenarios.
At the current pace of ~42 million doses per day, it would take at least another year to achieve herd immunity for the global population, though manufacturing capacity is steadily increasing.
However, there are obviously large parts of society that exhibit vaccine "hesitancy" or disdain, which will be a barrier for achieving herd immunity, depending upon the size of the cohort of the global population.
Pandemic of the Unvaccinated
Israel was the first nation to achieve herd immunity by February, where 84% of people aged 70+ received two doses, and COVID case rates declined rapidly within that age grouping.
Israel further showed the "flattening the curve" worked for other age groups, as did other nations who achieved their own forms of herd immunity.
At present, there's 18 different nations that have administered enough shows to cover at least 60% of their population – sadly, Australia is not within the list nor even close to inclusion (we're less than 20%).
These are:
Maldives (78.4%), UAE (78.3%), Malta (77%), Bahrain (73%), Seychelles (72.7%), Qatar (68.5%), Uruguay (68.2%), Singapore (67.9%), Chile (67.1%), San Marino (67.0%), Iceland (65.9%), Canada (65.5%), Denmark (64.0), UK (63.9%, Belgium (63.5%), Israel (61.7%), Mongolia (61.4%), Spain (61.1%).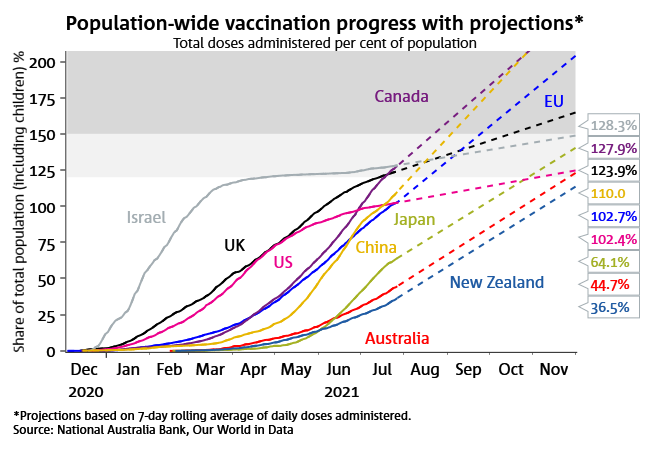 These high vaccination rates have been highly effective at preventing severe cases of COVID that lead to hospitalisation and death.
According to the latest data from the USA, UK and Israel, the delta strain of COVID-19 has seen vaccines less effective at preventing mild cases of the virus, though dramatically reduce the severe side effects.
This has led US health officials to dub it the "pandemic of the unvaccinated".
Australia's Vaccination Progress
The Morrison government was originally hoping to have 4 million people vaccinated by March and the entire country inoculated by October this year.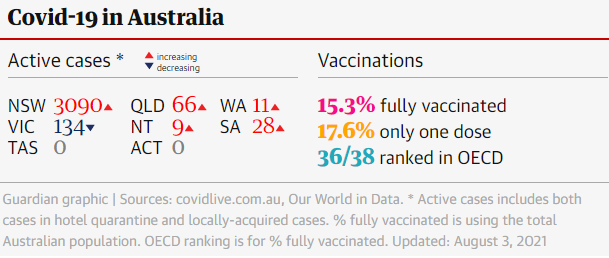 We've fallen well short of this original goal, as well as the subsequent lower current goal, where we have currently vaccinated ~12.4 million Aussies, below target of at least 25 million (original) or 15 million (current goal).
The current run-rate is around 169k doses per day.
In comparison with other OECD nations, we're no longer in last place (38th), having improved slightly to 36th.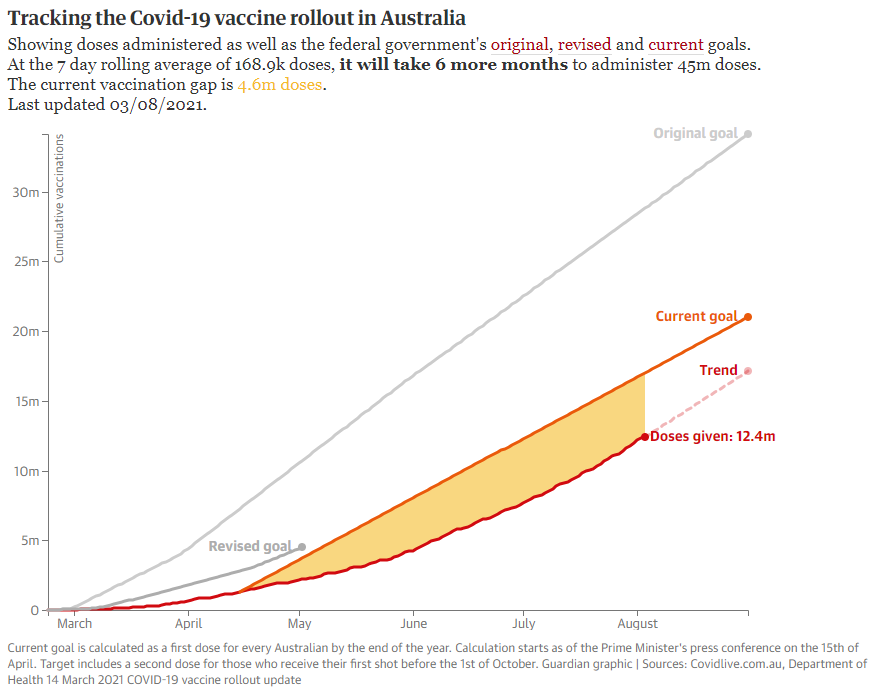 Source: The Guardian
This underperformance of targets to achieve herd immunity and the failings of hotel quarantine have created the "rolling lockdown" situation, where state governments respond to spikes in COVID cases by locking down specific areas (such as NSW local council areas) or entire cities (Melbourne, Brisbane).
The rationale is that until we have herd immunity, the unvaccinated will be most vulnerable to infection and potential for rapid spread to cause stress to our hospital system.
Australian Reopening Targets
In the last fortnight, the National Cabinet has agreed to two distinct thresholds to reopen our national economy:
1/ 70% of Australian adults are vaccinated, where at both state and national level, government can ease restrictions and use less lockdowns.
It should be noted that this was specific to say adults, where children are not required to be vaccinated in this plan.
It also doesn't rule out lockdowns, it said to use less.
2/ 80% of Australian adults are vaccinated, where we can then focus on international borders reopening, where Australians will also receive booster shots of vaccinations on an on-going basis.
With both thresholds, there is no published timeline.
In research published by National Australia Bank, they show it's feasible that we could reach these thresholds by the end of November, assuming low vaccine hesitancy and no supply chain bottle necks.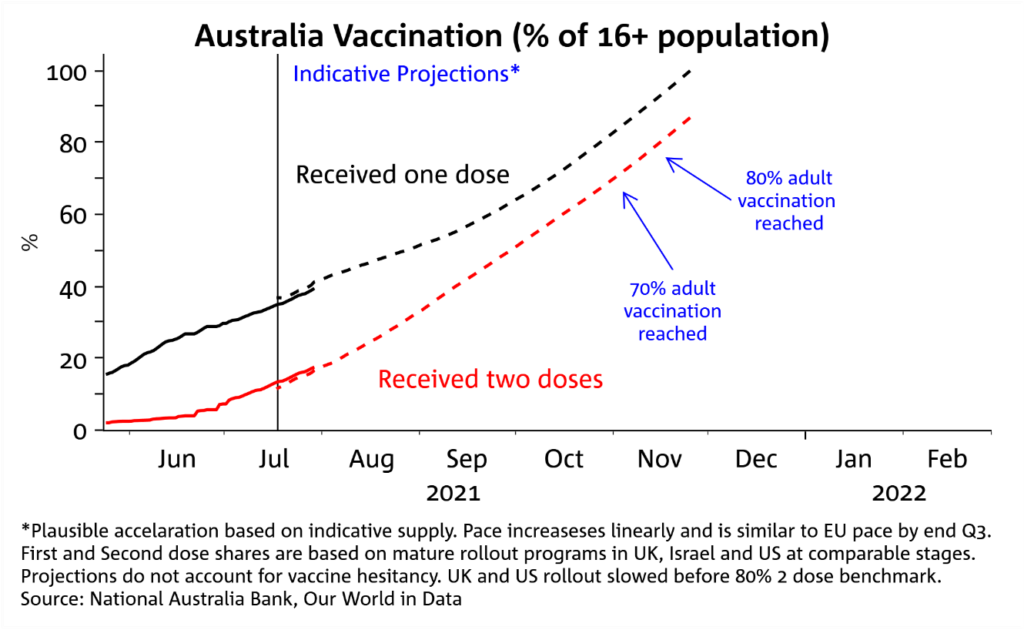 Disproportionate Risks
It should come as no surprise that because of our vaccination schedule targeting the elderly first, that younger Australians who are slightly less at risk of the severe effects of the virus, are proportionally less vaccinated compared to older age groups.
This is the key part of the vaccination story that won't change until the government opens Pfizer vaccinations to under 40-year-olds, as until then, their vaccinations will require them to volunteer for AstraZeneca – something we've yet seen under-40s to do en masse.
This is also unlikely to change, as it's widely known that Pfizer and Moderna vaccines will be more available in H2 2021, where people will likely hold out until they can secure their mRNA vaccine dose.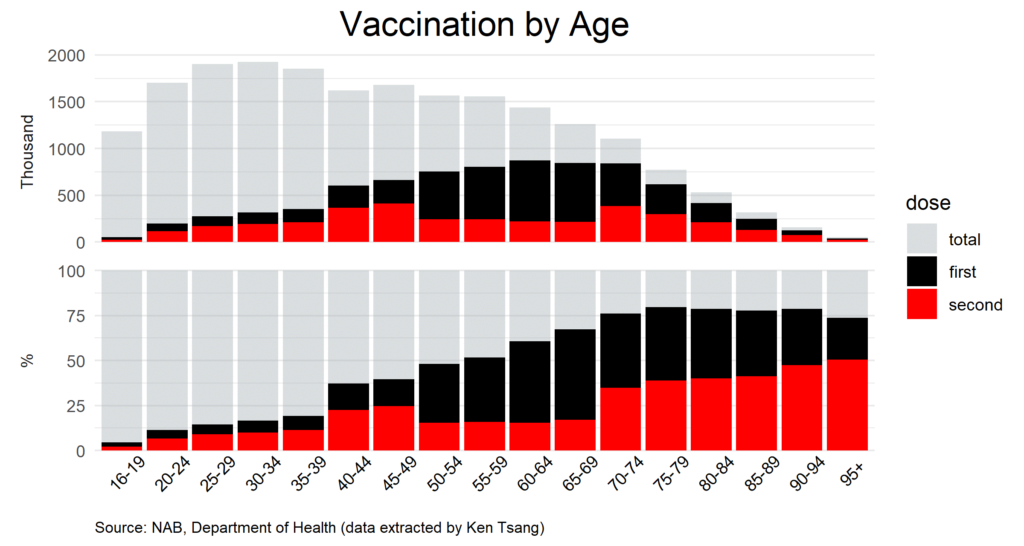 This creates an impasse for governments, as the lack of Federal supply of Pfizer and Moderna will continue the rolling lockdown policies of state governments, likely until the 2022 calendar year.
Booster Shots
Because of the protracted nature of vaccinating against the global pandemic, mutations such as the delta variant have occurred and will continually occur until herd immunity is in place, and even then, some mutations will continue to occur.
This creates a situation of "living with the virus", where we find an appropriate balance between opening ourselves to domestic and international travel, where there are known risks of infections to occur for unvaccinated persons.
In the meantime, existing vaccines will become less effective over time and require regular "booster shots".
Pfizer has already announced it will produce 85 million booster shots for Australians next year, after the Federal government signed a deal with the pharmaceutical giant in the last two weeks.
60 million are due for use next year, and 25 million for 2023.
However, booster shots are still not formally part of our national vaccine policy (yet), as the Australian Technical Advisory Group on Immunisation (ATAGI) is yet to recommend additional doses.
We note that again, Australia will rely on global supply chains for this manufacturing, as we are yet to have domestic manufacturing capacity built.
We also want everyone to be aware that these booster shots man be combined with seasonal flu vaccines, or could also come in the form of pills, intranasal sprays or patches, instead of injections.
Closing Remarks
As we vaccinate a growing portion of our nation's residents, we encounter a philosophical debate, where we rationalise when we can reopen our economy at the expense of people who are yet to be vaccinated, unable to be vaccinated or don't want to get vaccinated.
This aggregate figure will be critical, as if that number is greater than 25% of our population, herd immunity may not be able to be reached and Phase 2 of the government's reopening plan would be delayed further, hurting travel and recreation industries.
This seems unlikely, as it would be political untenable to never reopen part of our economy, hence the philosophical debate.
---
The views expressed in this article are the views of the stated author as at the date published and are subject to change based on markets and other conditions. Past performance is not a reliable indicator of future performance. Mason Stevens is only providing general advice in providing this information. You should consider this information, along with all your other investments and strategies when assessing the appropriateness of the information to your individual circumstances. Mason Stevens and its associates and their respective directors and other staff each declare that they may hold interests in securities and/or earn fees or other benefits from transactions arising as a result of information contained in this article.