We are now into month seven of COVID-19 vaccinations globally, and four months into the Australian inoculation process, a month since our last update.
On 22-Feb: there were 186mln doses administered worldwide across 82 different countries, at a run-rate of 6.34mln doses per day.
On 22-Mar: there were 410mln doses administered worldwide across 132 countries, at a run rate of 9.96mln doses per day.
On 19-Apr: there were 848mln doses administered across 154 countries at a run rate of 17.9mln doses per day
On 17-May: there were 1.38bln doses administered across 176 countries at a run rate of 22.5mln doses per day
On 16-Jun: there has been 2.42 billion doses administered worldwide, across 180 countries, at a run rate of 35.1 million doses per day. That's about 15.8% of the global population receiving at least 1 dose of a vaccine.
Life Returning to Normal
Aggregate vaccination doses and the proportion of society vaccinated remain the key indicators for when life may return to normal – the old normal – where country's borders may be more open than at present, and we reach "herd immunity" where a critical mass of 70-85% of the global population is immunised to the current strains of COVID-19 through vaccinations or the build-up of anti-bodies through exposure to the virus.
At the current pace of vaccinations of 35.1mln doses per day, it will take another year to reach global herd immunity, though the world is still increasing its run-rate.
Countries that rolled out vaccinations quicker than others, namely Israel, Seychelles, Gibraltar, Bahrain, Chile, UK and the USA are already nearing or are at this point.
This has allowed them to not reinstate lockdowns or "shelter in place" mandates and remove the necessity to wear masks, which is a constant reminder in some countries, states or cities about COVID's lingering impact on society and associated behavioural ramifications.
It's therefore no coincidence that nations that have vaccinated quicker, have also seen upgraded economic forecasts associated with their progress, where those further down the rankings, have been relative undperformers.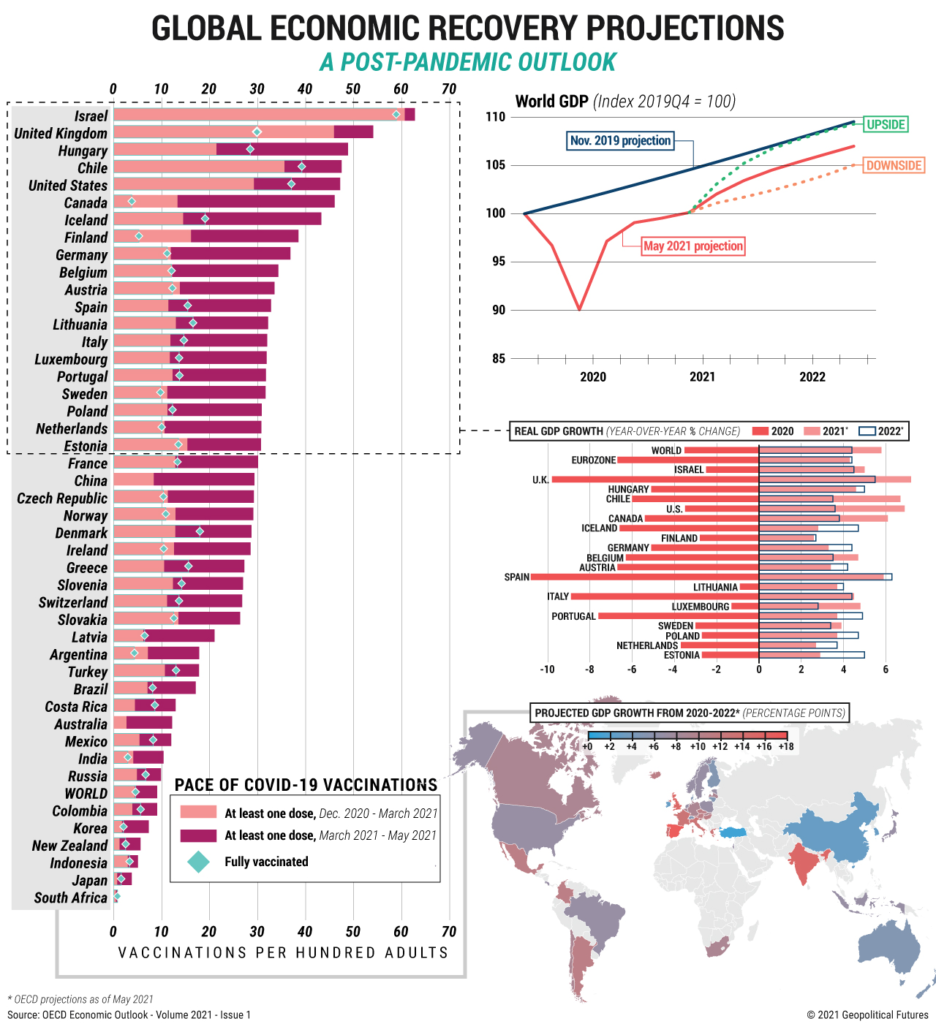 Because Australia was generally less effected by COVID due to our isolated geography and our quicker acting state governments, many of us might be unaware there is still significant 3rd wave infections being transmitted across nations.
To put this in numbers, there have been 176 million tested COVID infections worldwide, and no doubt this would be a much larger number if we could factor in those people that had the virus and did not get tested or had no access to testing.
There have been 3.818 million deaths and currently 318k active cases globally.
Of these active cases, 111k are from APAC, 83k EMEA and the majority of the remaining from South American (i.e. Brazil, Columbia, Argentina).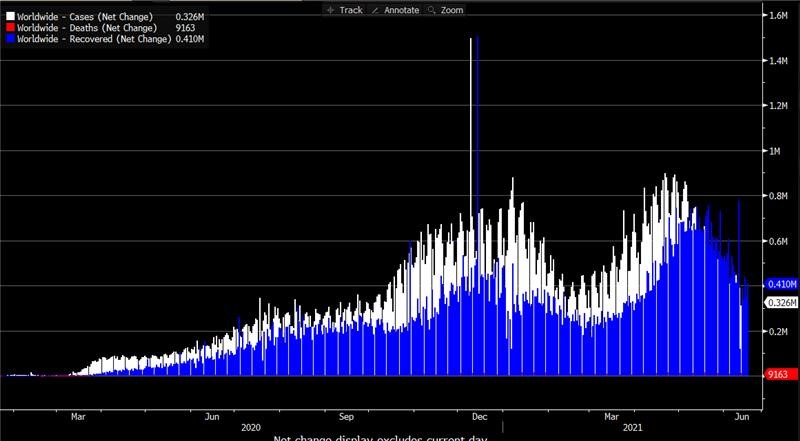 Source: Bloomberg
Australia's Vaccination Process
We've seen a definite improvement in Australia's vaccine rollout in the last month.
As of 16-June-2021, we've administered 6 million vaccinations and currently have 117 active cases and 910 total deaths due to COVID.
Our current run-rate is 104k doses per day, meaning it'll likely take another 42 weeks or 10-11 months at the current pace to administer the required ~45 million doses of the vaccine, to fully vaccinate all Australians.
As we've noted in our previous monthly updates, we've continued to underperform our national target vaccination rates, underperforming the original goal, the (lower) revised goal and even the (lower yet again) current goal, which equates to approximately 4.2 million doses behind the "current" goal schedule.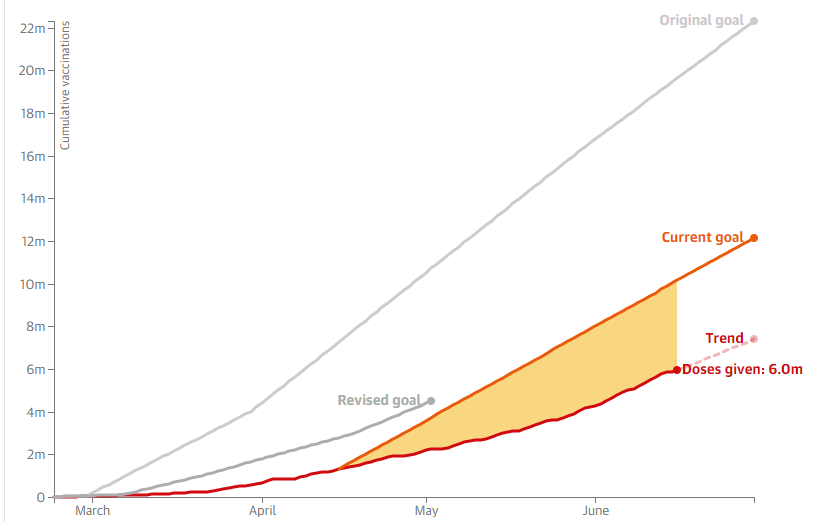 Source: The Guardian
On the brighter side, our vaccination pace is likely to accelerate in July from more supply of Pfizer vaccines. Supply is expected to lift from 300k to 600k doses per week over July, and then yet again in Q4 2021 with the additional supply of 20 million Pfizer doses and expected delivery of Moderna vaccines too.
Looking at the state and territory level data, the rollout has obviously not been uniform across the nation either.
For example, NT, TAS and ACT have vaccinated 15-20% of their popuatlions already, while NSW, QLD, WA and SA have underperformed, with less than 10% of their respective populations vaccinated.
Interestingly, VIC breaks the trend of small population versus large population, having vaccinated ~12% of the population, a noticable spike in vaccinations occuring after the last rise in cases and the recent lockdown.
In fact, the recent acceleration in our national vaccine rate is almost entirely due to Victoria, who managed to vaccinate ~5% of their population in a single week.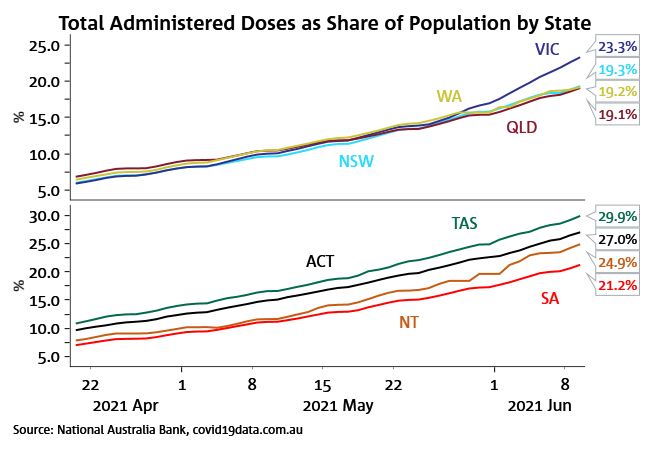 Queue Jumping
An interesting development since last month has been the increasing popularity of stories regarding "queue jumping", referring to Australian residents who receive their vaccination ahead of the schedule.
As background, the rollout was focused on high-risk professions (i.e. military and health services), and high-risk persons (the elderly).
Next in line were those slightly younger, descending in ten year increments cutting off at 16+.
Queue jumping has become more widespread in that Australians under 40 years old, without underlying health conditions or employment in high-risk professions are being vaccinated against COVID-19 before others.
The main reason for this is that they're volunterring for AstraZeneca vaccinations, choosing to forego their future Pfizer vaccination, due to a lack of signups for the AstraZeneca (AZ) jab.
This is interesting from a sociological perspective, as there are thousands of vaccine doses that have been wasted due to a lack of people volunterring for vaccinations over the last few months, as some people worried about the remote chance of blood clots arising from the AZ vaccine.
Hence, our governments and health officials need to assess whether they should open the vaccination process up more broadly, or see what can be done to get greater participation from the current targeted group of people.
Closing Remarks
If you're not already aware of where you sit in the vaccine timetable, we encourage you to find out, where the Commonwealth government has a resource available for all our use.
As of 16-June, if you're ages 40 years or more, you're eligible for vaccination, and if you're ages 16-39, you may be eligible for vaccination if you fit within specific criteria.
From there, you're able to find the right clinic so that you can make a booking.
If not currently eligible, you can register so that you're notified when you are.
The views expressed in this article are the views of the stated author as at the date published and are subject to change based on markets and other conditions. Past performance is not a reliable indicator of future performance. Mason Stevens is only providing general advice in providing this information. You should consider this information, along with all your other investments and strategies when assessing the appropriateness of the information to your individual circumstances. Mason Stevens and its associates and their respective directors and other staff each declare that they may hold interests in securities and/or earn fees or other benefits from transactions arising as a result of information contained in this article.