We are now into month six of COVID-19 vaccinations globally, and three months into the Australian inoculation process, a month since our last update.
On 22-Feb: there were 186mln doses administered worldwide across 82 different countries, at a run-rate of 6.34mln doses per day.
On 22-Mar: there were 410mln doses administered worldwide across 132 countries, at a run rate of 9.96mln doses per day.
On 19-Apr: there were 848mln doses administered worldwide, across 154 countries, at a run rate of 17.9mln doses per day
On 17-May: there has been 1.38 billion doses administered worldwide, across 176 countries, at a run rate of 22.5mln doses per day.
Life Returning to Normal
Vaccinations remain a key indicator for when life may return to normal – the old normal – where country's borders will be more open, where we reach "herd immunity" when a critical mass of 70-85% of the global population is immunised to the current strains of COVID-19 through vaccinations or the natural build-up of anti-bodies through exposure to the virus. The latter is obviously not the preferred method.
As of Thursday, last week, the US Center for Disease Control and Prevention (CDC) is allowing fully vaccinated American residents – those that received two doses of their vaccines – to traverse the country mask free.
This may seem a small freedom but will be a welcome one as mask wearing has been a necessary but constant reminder of COVID-19's impact on society, with behavioural ramifications.
As a sanity check, to achieve herd immunity globally, we would require at least 4 billion humans to be vaccinated, meaning over 8 billion vaccinations need to be administered considering most of the vaccines require two doses, a month apart.
Therefore, we're pleased to calculate that in six months we're ~17% of the way there, where production is increasing week on week, increasing our run-rate.
This is why we can project that the global community should achieve herd immunity within the next 12-13 months.
Australia's Vaccination Process
In Australia, we've managed to increase our run rate to 60.2 thousand vaccinations per day, with a total ~2.9 million Australians receiving at least one dose, or 9.2% of our population.
This 60.2k vaccinations per day may be a slight overstatement of fact, where our 7-day rolling average has been 47-50k vaccinations per day.
This is also a relative increase compared to other nations, where we've moved from ~60th in the world by total vaccinations to top 45.
In all, we're still drastically underperforming the government's original, revised and latest vaccination timetable.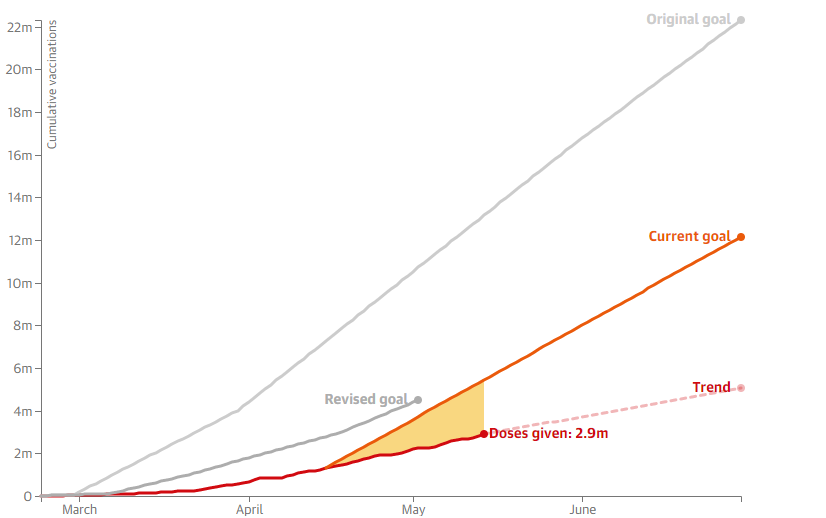 As we've continued to underperform expectations as a nation, the Commonwealth government have subsequently revised down expectations each month, to conform closer to a realistic vaccine schedule.
Part of the problem has been a lack of Australians registering their interest to receive the vaccine with their state government medical authorities, which has led to sub-optimal levels of vaccination.
As such, it's likely that we'll be fully vaccinated in just over 2 years, unless we see increased interest in vaccinating as well as increased production and dissemination.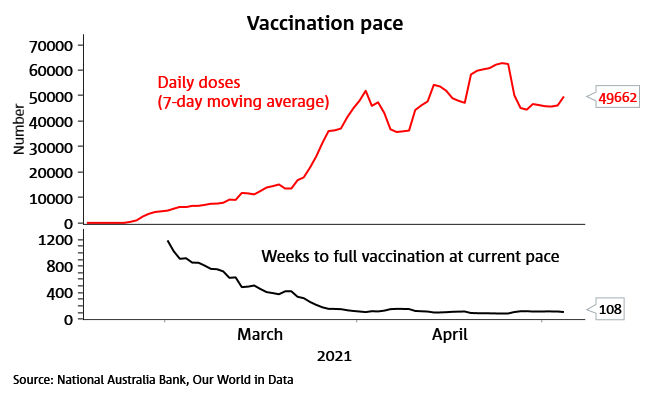 Here is how we compare to other major trading partners and global economies: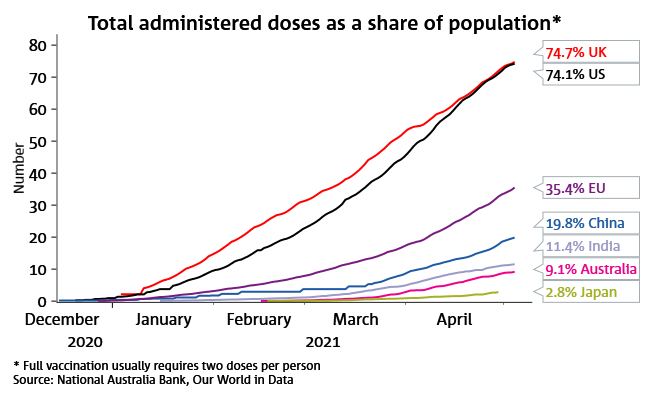 India's Rise in COVID Cases
Since our last update, there has been a notable surge in infections amongst Indian residents, where they've seen an increase in reported cases similar to what the USA experienced in December 2020.
To illustrate the similarity in case numbers, the following chart shows global cases where the white line denotes the net change in COVID-19 cases per day, spiking in December and January (USA and UK) and again in April (India).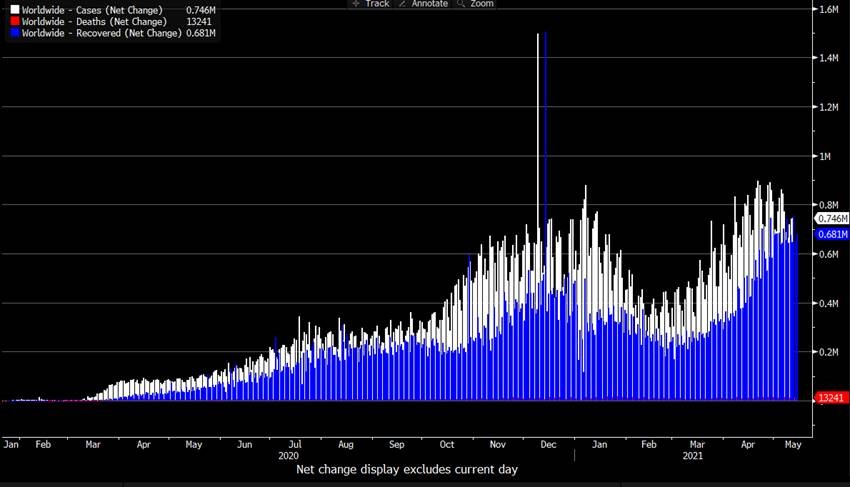 To further this point, below we compare USA case numbers (top panel) side by side with Indian case numbers (bottom panel).
It should be noted that when Indian case numbers hit 250k per day on 25 April, we proposed a travel ban for all persons wishing to fly to Australia from India but didn't in late December and early January when we saw higher total case numbers and per capita case numbers from the USA.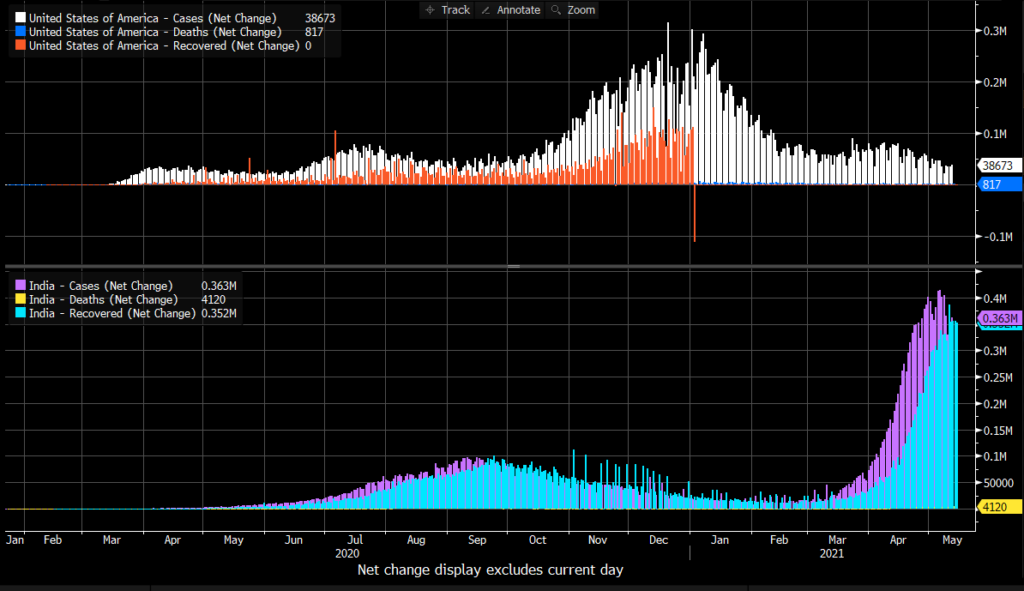 Shown another way, here are the rolling average cases per million that India (red), Italy (orange), the UK (dark blue) and the USA (light blue) have experienced since the onset of COVID-19 in these countries in Q1 2020.
We share this to reflect the relative risk of Indian case numbers to Australia, comparative to what we've experienced when our borders remained open to other nations.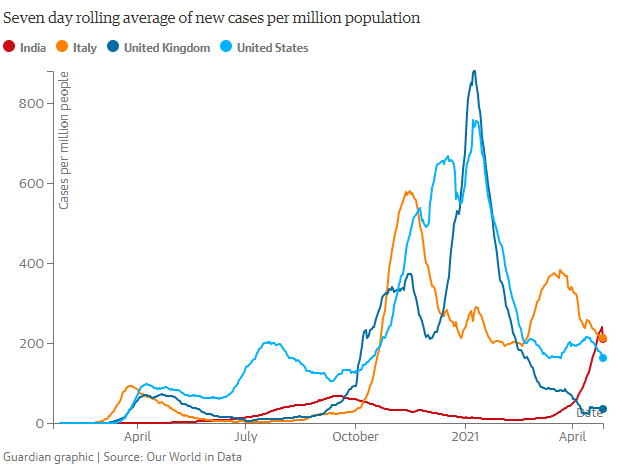 Closing Remarks
The main point we wish to re-emphasise with this month's update is that if you are seeking to receive a COVID-19 vaccination, register your interest with your state's health authority whom are all seeking expressions of interest.
Another is that while India's surge in cases has been concerning, it seems an inflection point has been reached and their cases numbers are trending downwards, where we hope the worst is over for the Indian nation and the ~9k Australian citizens that are still there (Source: DFAT).
Lastly, we continue to remain cognisant that we're unlikely to reopen our international borders to a broad degree until at least mid-2022, if not later, due to our protracted vaccination rollout. And for those that are dreaming of a foreign getaway, vaccination is likely the key requirement to ensure you're able to do so, when international borders eventually reopen.  
The views expressed in this article are the views of the stated author as at the date published and are subject to change based on markets and other conditions. Past performance is not a reliable indicator of future performance. Mason Stevens is only providing general advice in providing this information. You should consider this information, along with all your other investments and strategies when assessing the appropriateness of the information to your individual circumstances. Mason Stevens and its associates and their respective directors and other staff each declare that they may hold interests in securities and/or earn fees or other benefits from transactions arising as a result of information contained in this article.