Swipe, swipe, partner for life…?
Dating apps have revolutionised the dating industry, with the advent of Tinder in 2013 flipping the script on existing matchmaking services by placing the onus on users to pick and choose from singles in their area.
Location-based dating applications such as Tinder, Bumble and Hinge now boast over 270 million registered users worldwide (source: Business of Apps), with growth expected to continue as singles pursue more efficient and effective dating outcomes.
Now, more than ever, there are more fish in the sea.
Why use dating apps?
Whilst dating apps may not be everyone's cup of tea, they aim to improve on traditional dating methods through expanding the pool of eligible candidates and providing greater opportunities to filter potential partners.
The industry will continue to grow as it provides a more efficient means to solve one of most important priorities of human beings – finding the "ideal" partner.
Dating apps are also particularly beneficial for those in "thin dating markets", where single individuals may be squeezed out of original dating methods through time pressure and smaller friendship groups. Those in thin dating markets may include recently divorced singles, time-poor individuals and those in less populated areas.
The popularity of these dating apps has surged particularly in the United States, with 40% of marriages starting online, up from 3% in 2006 (Match Group).
The majority of dating apps currently operate using a "freemium model", where more advanced features are offered in a paid subscription, such as extra swipes (where users are able to "swipe" and view more potential candidates), the ability to see who has "liked" you and boosting your own visibility to others.
Revenue streams from these subscription-based models has experienced rapid growth in recent years, almost doubling from USD1.7 million in 2015 to USD3.3 billion in 2020 and forecasted to reach USD8 billion by 2025. (source: Business of Apps, Bloomberg)
Who are the main players?
The global online dating app market is dominated by two major players; Match group's Tinder (MTCH:NASDAQ), and Bumble.
Match group is comprised of 45 global dating companies, and accounts for 3 of the 6 largest dating apps; Tinder, Plenty of Fish and Hinge.
Tinder holds 40% of market share and provides a more "casual" dating approach.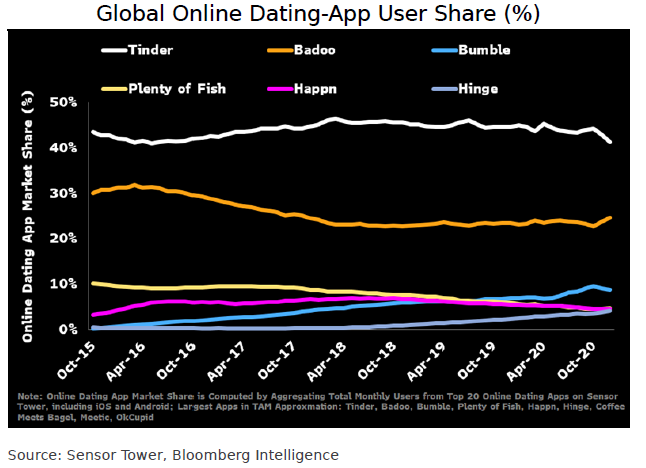 Bumble has amassed 54 million users, with this comprised of the Bumble app and Badoo, which have 9% and 25% market share respectively. The Bumble app in particular has grown rapidly, having doubled their user base since 2017.
This growth has come as a result of its positioning as a "female-centric app", where only women can make the first move, empowering women and taking the pressure off men, who more traditionally were viewed as needing to take the first step.
Bumble IPO
Bumble (BMBL:NASDAQ) is set to list on the 10th of February at a valuation of approximately $6 billion USD (Bumble).
Core to its value proposition will be the Bumble app, with its expansion likely to be a strategic priority of the company given its differentiation through its "women first" model, and its position at the confluence point of two structural societal trends: online dating and female empowerment.
The app is also positioned towards singles looking for more serious relationships, differentiating itself from the more 'casual' environment of Tinder.
"Healthy relationships are the foundation of a happy life. Without them, we can't reach our full potential. I founded Bumble to empower women to build healthier and more equitable connections in an effort to improve relationships for everyone."

Whitney Wolfe Herd, CEO of Bumble
When compared to other dating apps, Bumble's closest competitor would be Match Group's Hinge, which is also positioned as a more relationship orientated app. The app is focused on limiting potential partners to those you share a mutual friendship connection with, bringing the focus back to those in your immediate social circles.
To date, Bumble's growth has trounced Hinge's, with 14 million monthly users to Hinge's 7 million (Bloomberg), with its "women first" model acting as a sustainable advantage.
When operating under a "freemium" model, the ability of dating apps to monetise its users is critical, with Bumble's market leading average revenue per user (ARPU) proving the benefits of providing a positive user experience.
Despite offering similar pricing and features in their subscriptions, Bumble's ARPU of $26.8 per user in FY2019 far exceeds Tinder's ARPU of $16.3 per user.
This high rate of monetisation can be attributed to the relationship-based positioning of Bumble, with users willing to pay more for an app which would provide them more meaningful outcomes.
As the user base increases, Bumble will likely continue to experience strong ARPU figures given the importance society places on healthy and strong relationships, and the growing acceptance of dating apps as a primary form of matchmaking.
Whilst the current industry growth is impressive, the market remains considerably under-monetised, given the importance people place on relationships, and the large role that dating apps can play in this.
Bumble's expansion in new and existing markets
Bumble is set to be at the forefront of Emerging Market expansion of the online dating industry, with triple digit growth in countries such as India, Mexico, Brazil and the Philippines in 2020 (Bumble).
Badoo will act as a vital component of this geographical expansion, given their experience internationally for the last 10 years.
Opportunities also exist in underserved markets, such as Japan where only 20% of single adults have reported using dating apps (Match Group).
The most popular dating app in Japan is Pairs, which is focused on developing serious relationships and ranks 3rd in the world for consumer spend behind Tinder and Bumble. The greater focus in Japanese culture on fostering relationships leans towards Bumble's positioning and provides an opportunity to increase its user base and revenue flows.
COVID-19 has supported further adoption in the lucrative North American market, with 82% of singles using dating apps whilst they self-quarantine (Dating.com).
Of the surveyed participants, only 5% indicated that they will stop dating until the virus passes, with many users sharing when they have received the COVID-19 vaccine on their profiles in the hopes of capturing more matches.
One more swipe
The way in which singles date one another has radically changed over the past 10 years and looks to continue evolving around the world.
Extensive opportunities exist for dating apps to expand their reach and improve the monetisation of their products.
Whilst its family of dating apps remains small relative to Match Group's, Bumble should be in the portfolios of those investors willing to take a bet on love.
The views expressed in this article are the views of the stated author as at the date published and are subject to change based on markets and other conditions. Past performance is not a reliable indicator of future performance. Mason Stevens is only providing general advice in providing this information. You should consider this information, along with all your other investments and strategies when assessing the appropriateness of the information to your individual circumstances. Mason Stevens and its associates and their respective directors and other staff each declare that they may hold interests in securities and/or earn fees or other benefits from transactions arising as a result of information contained in this article.