Gambling predates almost everything known in human existence, with the first instances of gambling recorded in the Palaeolithic era, (The Stone Age) – almost 3.3 million years ago.
It first appeared in written history through the creation of the 6 sided dice around 2300 BC during China's Xiao dynasty.
Since then, it has evolved dramatically, to become the USD $465 billion dollar industry it currently is (Business Wire) – ranging from casinos, lotteries, racing and sports betting.
But why exactly has it stood the test of time, becoming an ever-present feature in modern society?
The act of gambling is defined as the wagering of something of value, on an event with an uncertain outcome.
When gambling, the uncertainty of outcomes and potential reward promotes the creation of dopamine – the neurotransmitter released during enjoyable activities, like eating food, drinking, exercising and getting your daily dose of sunlight.
The fact of the matter is that most human beings are hardwired to enjoy gambling, whether it be through making an annual Melbourne Cup bet, or that risky investment with blue sky potential.
Having worked previously at Tabcorp as a bookmaker, I was able to see firsthand how gambling companies have evolved through their increased digitisation, and the effect this has had on an age-old industry.
In today's note, we will go through the current state of the gambling industry, the factors driving change, the methods in which you can gain exposure.
Where is the industry heading?
The gambling industry has enjoyed a strong 2020 and a fast start to 2021 – benefitting from strong online customer growth and from being a part of the "reopening trade".
As with many other industries, the COVID-19 pandemic has accelerated the process of technological adoption in the industry, with consumers having access to a broader online offering – including online sports/racing books, online casinos and lotteries.
Online gambling could offer a glimpse of what is to come in the future, with gambling operators able to massage bottom lines through not having the overhead cost of a bricks and mortar presence and consumers able to access a diverse range of products from the comfort of their own home.
Regulatory tailwinds have also driven geographical expansion of the industry, with deregulation across America driving greater access to the largest gambling nation in the world.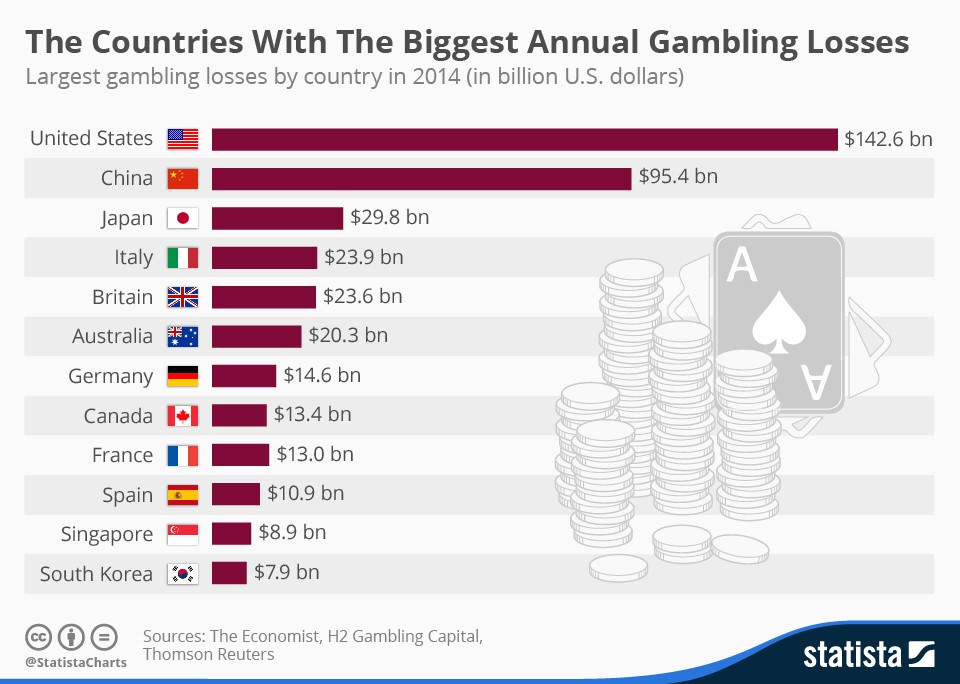 Source: Statista
New York has recently become the 16th state to legalise sports betting – driven by the allure of a forecasted USD$500m in annual tax revenue. Further US states look likely to adopt similar measures, motivated by the need to fund increasingly larger budget deficits.
Size Matters
Mergers between the largest online gambling companies have shaped the industry, and look set to define its trajectory. Betfair's merger with Irish bookmaker Paddy Power (now Flutter Entertainment (LSE: FLTR), Ladbrokes and Coral (LSE: LCL), Tabcorp (ASX: TAH) and Tatts Group and The Stars Group and Flutter Entertainment have all been driven by the same objectives – diversification and scalability.
Gambling companies thrive from M&A – allowing greater geographical dominance, and economies of scale. By having greater access to user data, companies are able to better filter between which customers are profitable, and which are not.
Think of it this way – if the industry were fragmented, professional gamblers would be able to go from casino to casino, or online bookmaker to bookmaker – making money up until the point where the venue realizes that they are undesirable for business.
By consolidating the industry and therefore consolidating user data, these professional gamblers will eventually run out of locations to earn money.
This user data is also incredibly powerful and valuable – showing bookmakers customer win rates, preferred sports, bet size, historical performance and much more.
In any business, it's important to know your customer, and this is especially important in the gambling industry.
What About ESG?
Whilst gambling companies claim to implement "responsible gambling" practices, most fund managers would exclude the industry as a whole when they have an ESG screen.
Investors must be conscious of this risk when investing into the industry, given the relatively lower level of fund flow which may eventuate, difficult financing conditions, and the greater regulatory risk.
How Can You Have a Punt?
Australian's love a gamble, so much so that we are the largest losers by capita, with the average adult resident losing approximately USD$1000 a year. A large portion of this is derived through the world-famous Melbourne Cup – which saw a record AUD$221.6 million of turnover on the race in 2020 despite the COVID-19 pandemic, with the 4-day carnival bringing in a total of AUD$667.3 million. This high rate of involvement can be in part attributed to Australia leading the world in gambling deregulation – with the government loosening the majority of regulations in the 1990's.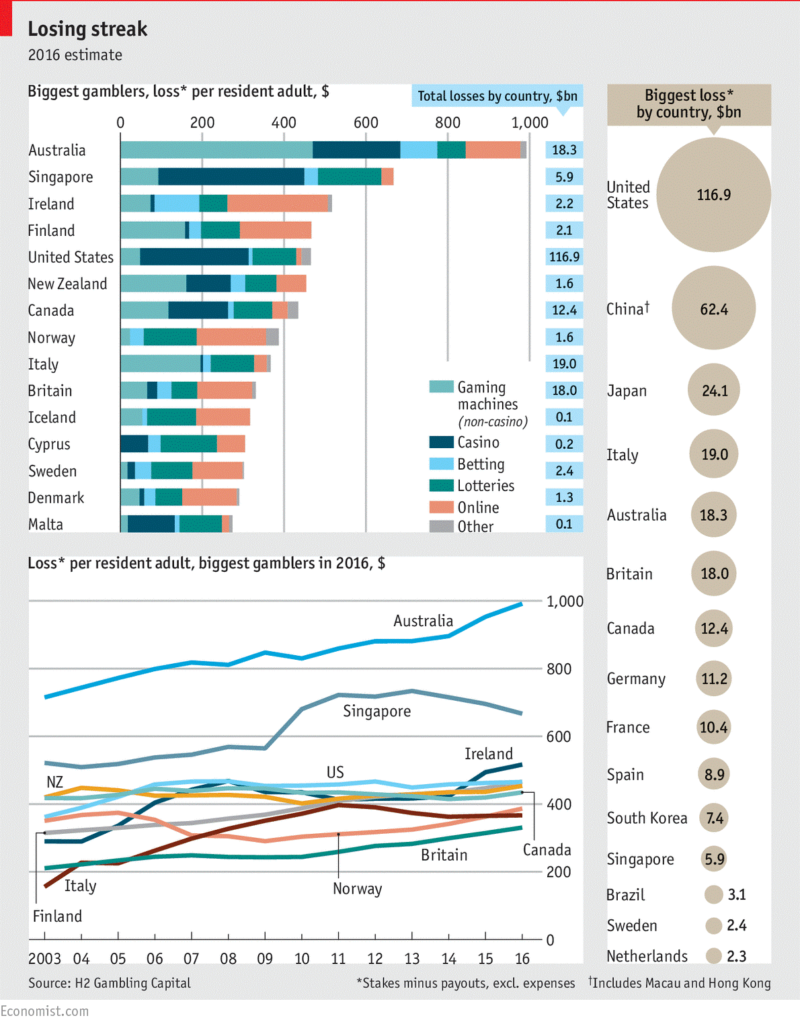 Source: The Economist
As such, Australian investors are blessed with choice – with the ASX hosting casinos, bookmakers, data services, lotteries and gaming.
So, who are some of the main players?
Pointsbet (ASX: PBH)
Pointsbet are a corporate bookmaker, offering racing and sports betting products in Australia, and more importantly, in New Jersey, Iowa, Indiana, Illinois, Colorado and Michigan, with licenses to operate in Pennsylvania and Mississippi having recently been acquired.
As time goes on, PBH will attempt to derive the majority of its revenue from the U.S, given the relatively larger market, which will continue to grow as more states deregulate. Central to the success of PBH will be their ability to win market share, the acquisition of new licenses, and changes in the U.S regulatory environment.

Source: Bloomberg
Crown Resorts (ASX: CWN)
Money laundering controversy aside, Crown Resorts boasts an impressive portfolio of casino assets, with their flagship Melbourne casino being supported by operations in Perth and the United Kingdom. Crown also operates the Australasia operations of Betfair, as well as owning a 20% stake in international restaurant chain, Nobu.
However, they were considerably more affected by the COVID-19 pandemic relative to other industry incumbents, given their low share of revenue from online, and the removal of revenue from international VIP clients.

Source: Bloomberg
Flutter Entertainment (LSE: FLTR)
Going international now, Flutter provides an example of how effective M&A can be in the gambling industry, with their geographically diverse portfolio of brands across various subsectors in the industry – including Betfair, Paddy Power, Sportsbet, FanDuel and Pokerstars.
Flutter's proposed IPO of its FanDuel arm – which accounts for 31% of the U.S online sportsbook and gaming market, could enable the company to de-leverage and provide comfort to investors concerned about increasing regulatory pressures in the UK.

Source: Bloomberg
Outlook
As has been the custom over the past 5000 years, it is likely that the gambling industry will continue to hold a place in society for many years to come. The question will lie in what form this takes – be it physical or digital, and the various government regulations which may boost, or dampen the prospects of the industry. Companies which will perform will likely be those with strong online presence, and those with diversified income streams, both across product lines and geographies.
The views expressed in this article are the views of the stated author as at the date published and are subject to change based on markets and other conditions. Past performance is not a reliable indicator of future performance. Mason Stevens is only providing general advice in providing this information. You should consider this information, along with all your other investments and strategies when assessing the appropriateness of the information to your individual circumstances. Mason Stevens and its associates and their respective directors and other staff each declare that they may hold interests in securities and/or earn fees or other benefits from transactions arising as a result of information contained in this article.