There's a common – but nonetheless accurate – joke that investors love to put money into things they do not understand. Contrary to the advice of Peter Lynch, many do not "know what they own", but rather invest in what they've been told is a growth area or a hot stock-pick.
One way to truly know what you are investing into, particularly where technological development is concerned, is to understand the supply chain and the investible opportunities at each stage of production.
Following on from our electric vehicle (EV) note, today we will explore the process of constructing and selling an electric vehicle, from the miners to the makers. At each stage we will look to identify investible opportunities, as a template to analyse other "high tech supply chains" to make more informed investment decisions in growing areas of the market.
The Chain
The EV supply chain extends from the mining and processing of rare earth materials, all the way to the dealership floor where the consumer purchases the end product.

Source: Mason Stevens

Each stage carries merit as an investment strategy, and the complete chain affords the advantage of being able to get exposure across a broad range of markets which all benefit from the growth of the same theme.
Rare Earths
Rare Earth is possibly an incorrect label to attach to all materials used in electric vehicles; lithium is not always classified as a rare earth element, neither is copper or nickel. But since the name is often attached to all EV metals, not just neodymium and dysprosium (true rare earths), we will continue with the misnomer for now.
The figure below illustrates some of the most in-demand metals as a result of being used in the EV supply chain: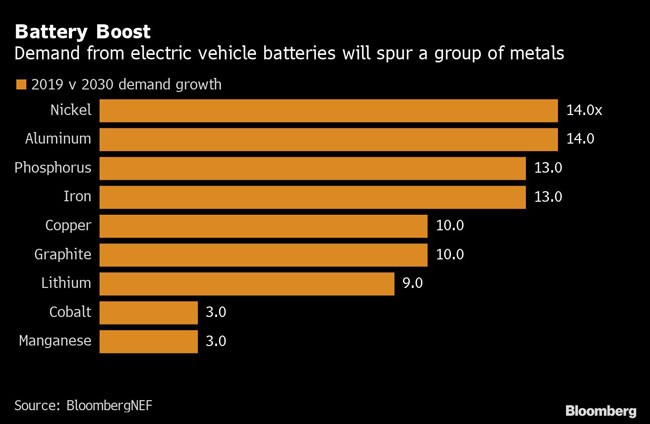 Fortunately for investors, these metals are readily accessible through listed miners and index funds.
Below are some of the largest countries and listed producers for a handful of these materials:
MATERIAL
LARGEST COUNTRY PRODUCERS
LARGEST LISTED PRODUCERS


Nickel
Indonesia
Australia
Brazil
21m tonnes
20m tonnes
16m tonnes
Vale
Glencore
BHP


VALE:NYSE
GLEN:LON
BHP:ASX
Aluminium
China
India
Russia
36m tonnes
3.7m tonnes
3.6m tonnes
Chalco
Rio Tinto
Norsk
2600:HK
RIO:ASX
NHYDY:OTC


Copper
Chile
Peru
China
5.7m tonnes
2.4m tonnes
1.3m tonnes
BHP
Glencore
Southern Copper


BHP:ASX
GLEN:LON
SCCO:NYSE
Lithium
Australia
Chile
China


42m tonnes
18m tonnes
7.5m tonnes
Gangfeng Lithium
Albermarle
Mineral Resources
1772:HK
ALB:NYSE
MIN:ASX


Source: Mason Stevens
There are ETFs which track nearly all major commodities and even commodity indexes, such as for "rare earths" with the VanEck Vectors Rare Earth/Strategic Metals ETF (REMX):

Source: Bloomberg

Buying this stage of the supply chain provides exposure to a global commodity market and is therefore one of the broader exposures. Resources pose a high-risk's, with the understanding that they may yield higher returns to a portfolio, particularly through buying the highest-quality producers or those with the lowest cost of production.
A secondary benefit which is not always considered is the potential of resource allocations representing a 'reflation' theme within the portfolio, particularly to those with exposure to economies like the U.S where inflation shock fears are prevalent and capable of moving broader equity markets.
However, investment into this early stage brings with it; inherent risk to the global economy, risk sentiment and large commodity price fluctuations, all of which may create high levels of volatility within a portfolio (to the upside or downside).
Battery Cell Manufacturing and Pack Assembling
Battery producers and assemblers form a key part of the supply chain.
This is where much of the frontier-technology development occurs around chemical processing, energy efficiency and battery capacity improvements.
This also means that the number of opportunities to invest are scarcer; generally only the largest companies have a listed presence, either because the other producers are smaller (or government owned) or because they operate as the R&D division of a larger parent company.
One of the largest EV battery manufacturers and assemblers in the world are Panasonic (6752:TYO), being one of the only listed manufacturers outside of China.

Source: Bloomberg
From a smaller scope, QuantumScape (QS) listed via a SPAC in 2020 with the promise of producing a solid-state lithium battery (i.e. using solid electrodes rather than a liquid or gel which is the current practice), which would be cutting-edge technology and the next leap forward in battery technology. Promise is still the operative word at the moment, but that hasn't stopped the stock price.

Source: Bloomberg
Vehicle Manufacturing and Sales
Here is where we return to last week's note in discussing the growth of EV volumes and the companies currently positioned to enter the market.
A key characteristic of investing at this end stage of the supply chain is the nature of the companies;
Where miners have costs of production subject to fluctuating commodity prices, and producers have contracts and R&D breakthroughs, manufacturers have physical stock and assets to back the valuation of the company.
If Tesla did not exist, we could say that this stage represents a 'lower risk' investment, however this is still a growing industry which is rampant with sentiment-based trading, so volatility is inevitable with many of these manufacturers.
The figure from EV Volumes below shows an evident narrative of who is currently the market leader in EV sales volumes – however please refer back to the timeline in our previous note around when other major manufacturers are introducing/expanding their EV range, it is structurally impossible for the EV industry to become a one-horse race.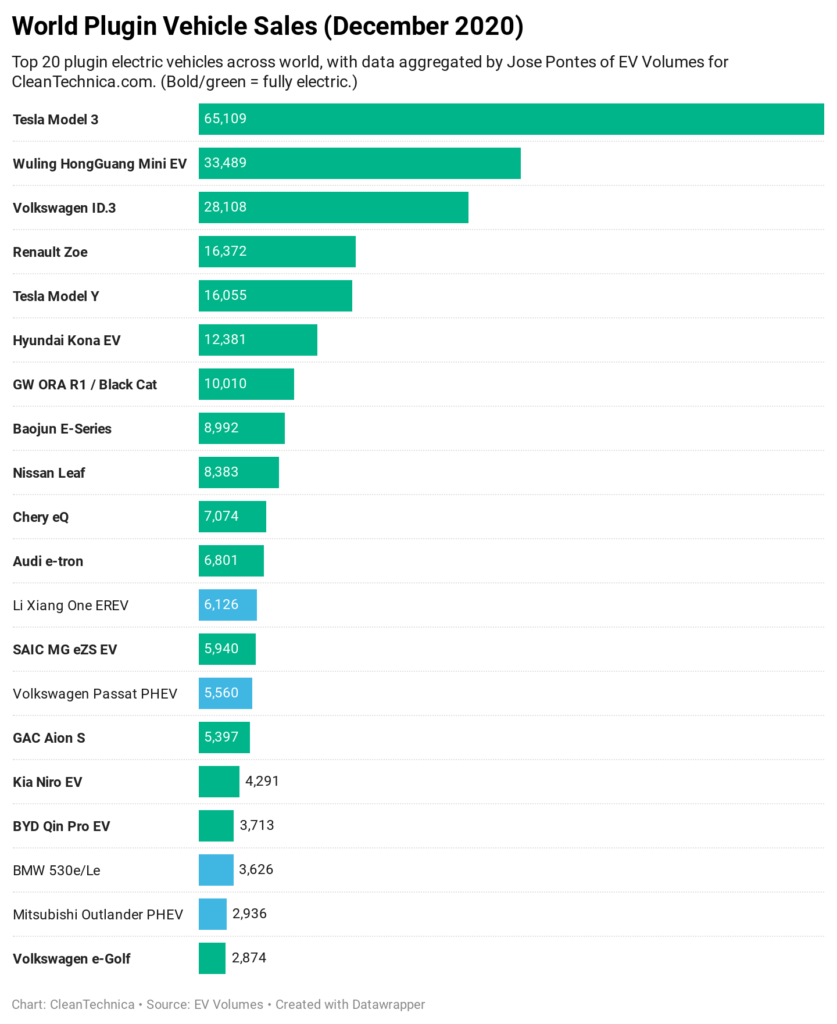 Never Break the Chain
There is potential across the entire supply chain of the EV market to participate as an investor – each stage offering a different profile of company, risks and returns.
This is an opportunity for investors to get exposure to a favoured theme without necessarily having to sacrifice their risk parameters or return appetite.

Nor is this an opportunity that is unique to EV – the method of searching the supply chain for essential components, services and distribution channels is used by investment managers globally across vastly different industries.
Particularly when you are analysing high-tech investments, look back through the chain, from end-product to the first primary components – if nothing else, this allows you to better understand what you own and what contributes to the theme you are getting exposure to. Knowledge of your investment is yet another key aspect to managing your risk and understanding the true composition of your portfolio.
The views expressed in this article are the views of the stated author as at the date published and are subject to change based on markets and other conditions. Past performance is not a reliable indicator of future performance. Mason Stevens is only providing general advice in providing this information. You should consider this information, along with all your other investments and strategies when assessing the appropriateness of the information to your individual circumstances. Mason Stevens and its associates and their respective directors and other staff each declare that they may hold interests in securities and/or earn fees or other benefits from transactions arising as a result of information contained in this article.