For the last month financial market commentary, when not discussing the merits of Bitcoin, has been focused on how the tech sector which has lost its performance lead and the rotation from Growth to Value has accelerated, triggered by rising bond yields.
However, if your investment universe was limited to Australia, the trend you were more concerned about was whether the Materials sector which had been the outperformer was going to continue to pay in 2021.
That run has been slowed significantly year to date and banks and consumer names have outperformed.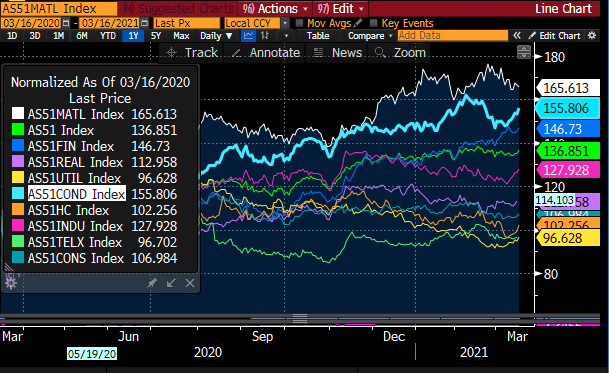 The above chart, while complicated, shows the marked outperformance of the Materials sector (AS51MATL Index, light blue line) over a 12-month period against the other sectors.
If we are now concerned about inflation with rising bond yields, then commodities could be a good place to remain. They hedge against inflation and are key inputs into household consumption budgets and therefore the components of the Consumer Price Index (CPI).
However, the inflation hedge has driven oil higher this year and iron ore has range traded.
Specifically, China's demand for iron ore has driven a rally that was longer lasting and more resilient than most predicted.
The chart below shows how the pure play that is Fortescue, has outperformed the diversified miners, but in 2021 things changed.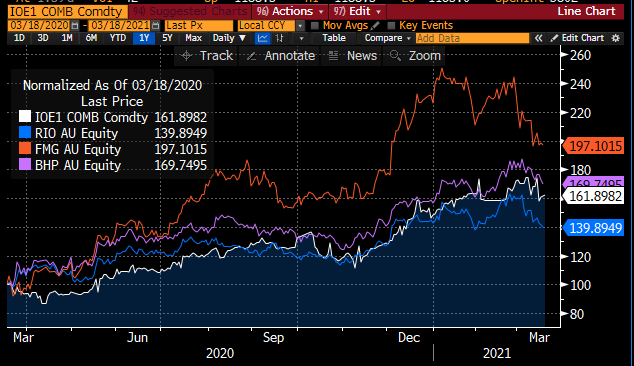 Near term, steel demand trends will support prices as the fiscal injections into economies post-COVID all have an infrastructure focus. However, equities are forward-looking, and without growth, the money moves into other sectors.
Importantly, this year has seen the first disruption-free start to the year since 2018 for major miners, alongside upside surprises in Indian supply to the market.
Coupled with this, Chinese environmental policy continues to constrain their onshore steel sector's requirements from 2H21 onward.
Current indications suggest there is a goal of peak steel sector emissions by as early as mid-decade. Part of achieving that includes an expectation that Beijing will introduce policies restraining blast furnace-based steel production as well as supporting both scrap and Electric Arc Furnace ( EAF) steel supply alternatives. EAFs use scrap metal rather than iron ore and use significantly less energy than traditional blast furnaces. They can also be quickly stopped and restarted to take advantage of low-cost electricity, an advantage as grids increase their renewable energy sources. These environmental policies alone will not eliminate China's end user steel demand, but they will likely soften the onshore steel trade balance, steel production and reinforce the view that China's iron ore imports are peaking.
Goldman Sachs' iron ore price forecasts reflect this progressive fade with 3/6/12 month targets of USD $135/115/100/t all well below current levels around $167/t.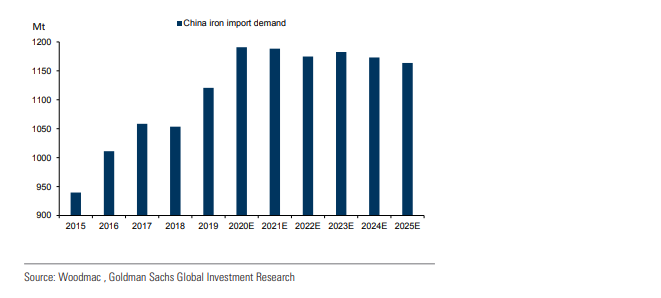 If structural demand shifts for Australian iron ore is not enough of a warning, one of the dominant market trends over the past two years has been the underperformance in Vale's iron ore supply as it recovered from the headwinds of the Brumadhino dam accident in January 2019.
This persistent underperformance has been key tightening effect on fundamental expectations and price support.
However, so far in 2021, the latest data suggests that Vale (sp up 4.8% ytd) is achieving at least a trend of shipment volume in-line with broad guidance.
The good news is the results season passed saw massive dividend pay-outs with BHP, RIO and FMG all exceeding market dividend expectations.
Even with these unexpected dividends for investors and high payout ratios (BHP 85% payout, RIO 84%, FMG 80%), balance sheets remain incredibly strong with net debt below the target US$12–17bn range for BHP, just US$.7bn for RIO and FMG US$0.1bn.
Looking ahead, while the outlook appears to be lower pricing coming, we've seen similar forecasts before and maintaining the exposure has been the right choice.
The Andrew Forrest backed "Western Force" Rugby Union side recently had their first victory in four years, so maybe 2021 continues to see more positive surprises for himself and those who follow him.
The views expressed in this article are the views of the stated author as at the date published and are subject to change based on markets and other conditions. Past performance is not a reliable indicator of future performance. Mason Stevens is only providing general advice in providing this information. You should consider this information, along with all your other investments and strategies when assessing the appropriateness of the information to your individual circumstances. Mason Stevens and its associates and their respective directors and other staff each declare that they may hold interests in securities and/or earn fees or other benefits from transactions arising as a result of information contained in this article.