"Money, so they say,

Is the root of all evil today

But if you ask for a raise it's no surprise that they're

Giving none away."

Pink Floyd, "Money"
The world is steadily gaining more wealth – with more money dispersed across the globe than ever before, will we see even more rapid growth of digital payment usage in the coming years?
In Part 1 of this series we touched on the growth trends around the digital payment sector – now let's continue with Part 2,  where we'll examine how some major players are looking to leverage their titanic consumer bases with a unique business model, and how this stands to capture upside in the next few years.
From FinTech to consumer bank
The sheer volume of payments already going through digital wallet infrastructure is staggering, and even more so when you consider the projected growth the market is expecting for the next decade.
The total number of customers has been growing year upon year, and this has presented an increasingly attractive opportunity to corporations as consumer bases swell in size and overall wealth: undergo an aggressive push towards fully integrating their seller ecosystems, effectively evolving from a payment facilitator to a fully-fledged consumer bank.
The business case for this move is compelling when you consider the level of vertical integration a company could achieve, and it is no coincidence that three of the largest digital wallet services are all poised to move in this direction.
Firstly, let's check in with one of the biggest names in the e-commerce market right now,  Ant Financial. Most observers of the financial market would be familiar with the looming IPO, but let's explore the business model and how they are able to leverage both their huge Chinese market share and the growing payments sector.
Once just the payments service for Alibaba, Ant is now the most integrated FinTech platform in the world – reportedly handling 544,000 orders per second through Alibaba alone, the volume of userbase and transactions through Ant Financial is one of the largest of any financial institution.
Ant reported last year to have over 700 million MAUs and processed 118 trillion Yuan in FY2020 (roughly equivalent to 69.4% of China's entire GDP in 2019). Even though it charges as little as 0.1% per transaction, Ant generated nearly 52 billion Yuan (approx. USD 7.75 bn) last year in transaction revenue.
Ant is perhaps one of the best examples of e-wallet services trending towards a fully fledged consumer bank; Ant's lending arm 'CreditTech' began in 2014 and links a myriad of services from all its clients, including credit scores, personal and small business lending and other loan services. Ant has developed a wealth management arm to complement these services. In just over 5 years, Ant accumulated 1.7 trillion Yuan in outstanding consumer loans, approximately 15% share of China's entire consumer-lending market.
Add to this the somewhat lax Chinese privacy laws and you have the largest online market place globally, linked into one of the largest and most integrated e-wallet services, suddenly having more current and up-to-date information on its users than any bank could ever hope for.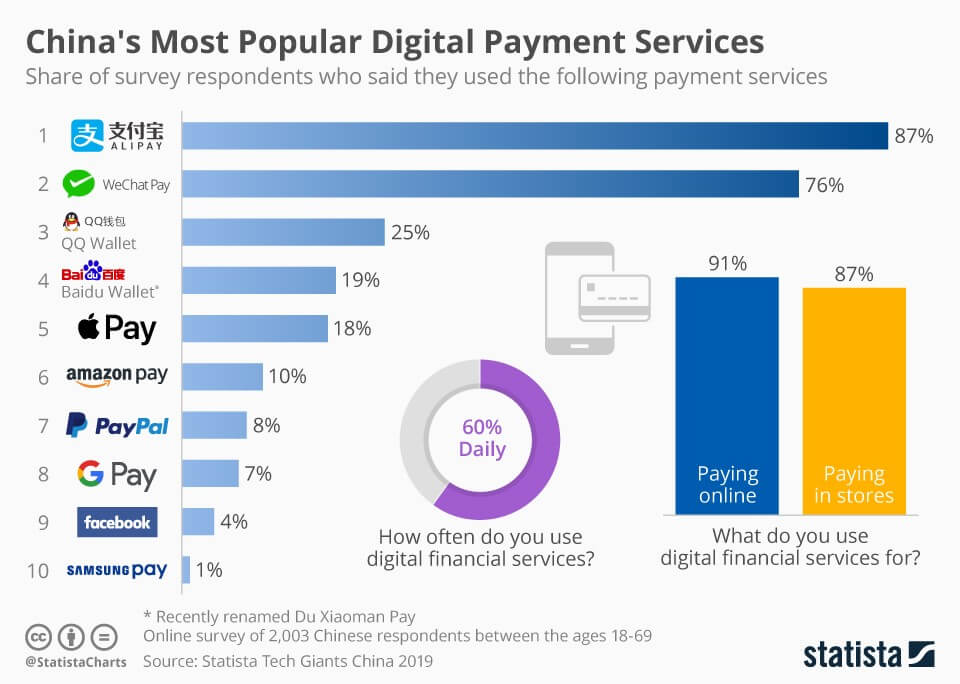 Source: Statista, 2019
Ant knows your cash flow, your customers, the customers of your customers – and can tailor financial offerings to you leveraging that level of insight.
Another interesting aspect of this business, unique to its economic base, is the fact that all the consumer funds sitting in their wallet is earning interest for Ant – with China's cap rate of 2.2%, this allows Ant to offer merchants discounts and still retain margin to further grow its already impressive market share.
Moving west, there's Square Inc (SQ:NSYSE) – Jack Dorsey's favourite child, or at least the one that doesn't enable the leader of the free world to insult him at 3am, Square's 'Cash App' is one of the preeminent e-wallet  services in the US today.
To put some quick figures to the service, Cash App has approximately 30 million monthly active users (MAUs) as of Q2 2020, up from 7 million in 2017. Revenues increased by 361% YoY to USD 1.2 billion last year, and there is over USD 1.7 billion stored in client accounts (likely boosted by government stimulus checks).
Cash App has come a long way from a Peer-to-Peer payments system in 2013, and now offers banking services (direct deposit, debit cards, ATM access), an investment platform (equities and Bitcoin), foreign exchange transfers and more.

Source: Bloomberg
This process is what is referred to as 'integrating their seller ecosystem', where Square and others use their access to a large financial database to offer more and more financial product offerings – ones which they will process all of the digital transactions and payments for.
Square is likely the fastest growing digital wallet provider in the US, with a faster trajectory than PayPal's Venmo. Being one of the only companies in the world to have real time access to businesses at the Point of Sale and consumers over their wallets, CashApp has opportunity to monetize both sides of its userbase without losing any potential volume or upside to financial intermediaries.
Finally, let's touch on a house darling, Grab Financial.

Grab is well placed to capture the accelerating South-East Asia market we discussed last note, with large operations in Singapore, Malaysia, Indonesia and Vietnam primarily.
GrabPay is currently the most used digital wallet in South East Asia, with over 100 million MAUs.
GrabPay (launched in 2016), also stands out by being able to offer financial licenses and insurance products to its consumers. Part of this business model is their application for a digital banking license in Singapore, which will open new doors for consumer financial products. To date, there are over 600,000 merchants using GrabPay in South-East Asia, enabling the use of an e-wallet and incentivised with merchant and consumer discounts.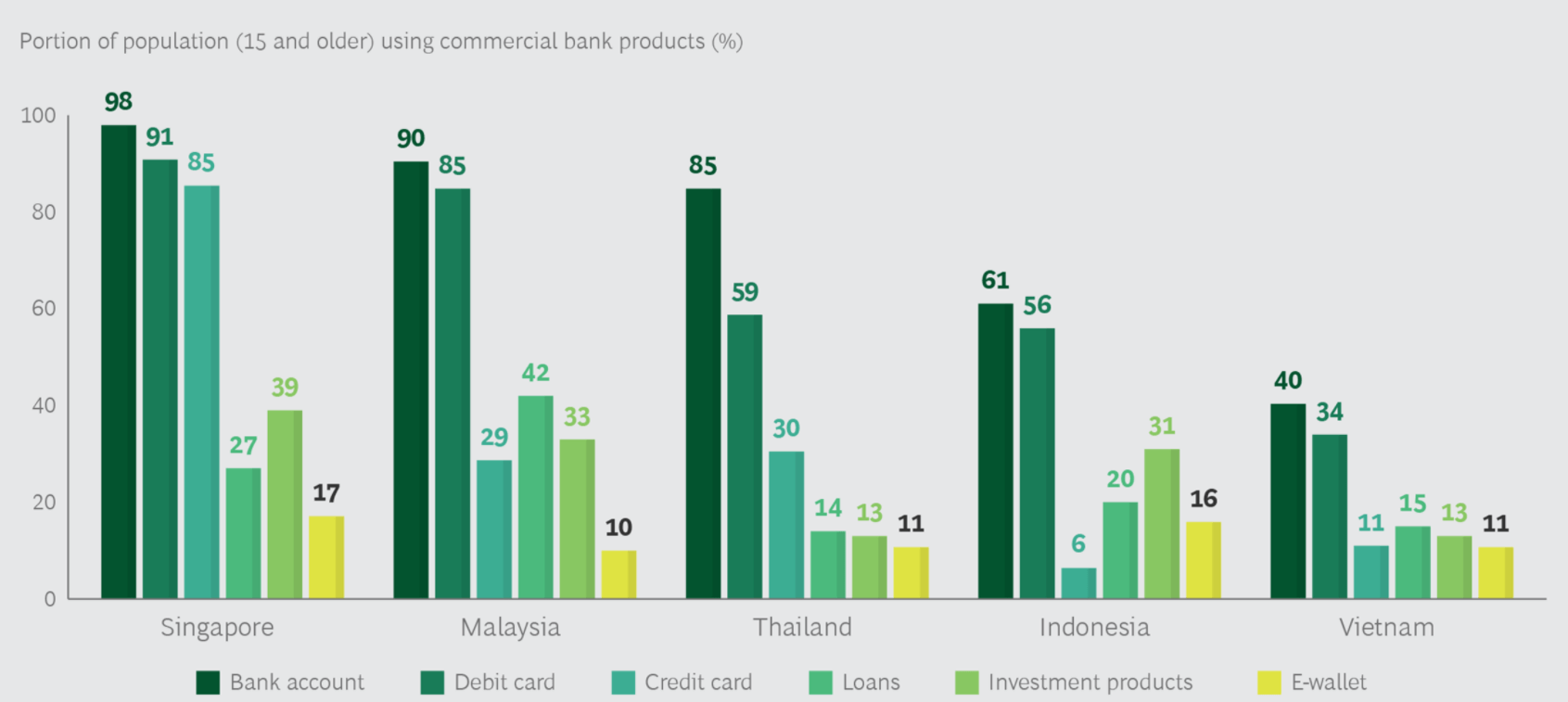 Source: Boston Consulting Group

Like the others, Grab provides loans to consumers and SMEs, as well as a 'buy now pay later' option, a service that it is able to leverage partly because of the digital wallet interest income we discussed with Ant a moment ago.  If you look at the chart above, Grab is looking to move into almost all the major consumer bank products listed, adding to an already impressive market penetration for purely e-wallet products.
Grab is also looking to launch 'AutoInvest', a platform to invest small sums of money through the Grab digital wallet, as well as expand its insurance offerings to health and hospital insurance. Micro-investing in particular will be an interesting space to watch, since they will be able to leverage small digital transactions made by their consumer to round up their value into investments, giving the insurer a way to put capital to work whilst increasing overall transaction volume through Grab's network.
The birth of the banks
It's a little too easy to say 'digital payment volumes are growing, therefore digital wallet companies will grow', though I imagine they wish that was the case. Where these industry giants are looking to find growth is to expand the ways they can generate payment volumes, and take on the likes of major banks, Visa and Mastercard. Take all the growth trends we discussed last note, plus the levels of consumer integration and capitalisation that the above business model achieves, and you are looking at three serious contenders for major consumer banks in the years to come.
Like a good performer, the three companies we touched on today know how to work the crowd – they are able to leverage their user base to offer new products, new access to familiar products and new levels of convenience, all under one banner. Watch this space carefully, you may very well have a line of credit with one of these companies before too long.
The views expressed in this article are the views of the stated author as at the date published and are subject to change based on markets and other conditions. Past performance is not a reliable indicator of future performance. Mason Stevens is only providing general advice in providing this information. You should consider this information, along with all your other investments and strategies when assessing the appropriateness of the information to your individual circumstances. Mason Stevens and its associates and their respective directors and other staff each declare that they may hold interests in securities and/or earn fees or other benefits from transactions arising as a result of information contained in this article.