"Get on a TWA to the promised land.
Every woman, child and man
Gets a Cadillac and a great big diamond ring.
Don't you know you're riding with the king?"

Eric Clapton, B.B. King (2000)
The adage that 'cash is king' may be going out of style faster than many of us imagined, as digital payments aim to take its crown. A growing number of new trends and innovations have led transactions increasingly towards a digital infrastructure, particularly as business-to-consumer relationships must move online to accommodate a post-COVID world.
And with drastic change comes opportunities to invest and benefit from a growth market.
This topic is too large to fit into just one note, so for posterity we'll be splitting this into two parts; this note will address the current landscape of digital payments and prevailing trends, and next time we'll touch on the major players and growth business models in the market.
The move away from cash
Microsoft CEO Satya Nadella's now famous quote, "We've seen two years' worth of digital transformation in two months", may in fact be only the tip of the iceberg for the shift away from cash. If we look at our own economy in isolation, you can see that momentum has shifted away from cash to cards and digital payments significantly since 2007.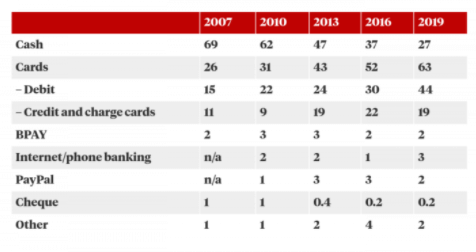 Source: RBA calculations
On the other side of the coin (pardon the pun), you can see the drastic growth in digital wallet users over the last decade. According to Ark Research, both PayPal's Venmo and Square's Cash App have amassed roughly 60 million users organically, a milestone that took J.P. Morgan more than 30 years and five acquisitions to reach.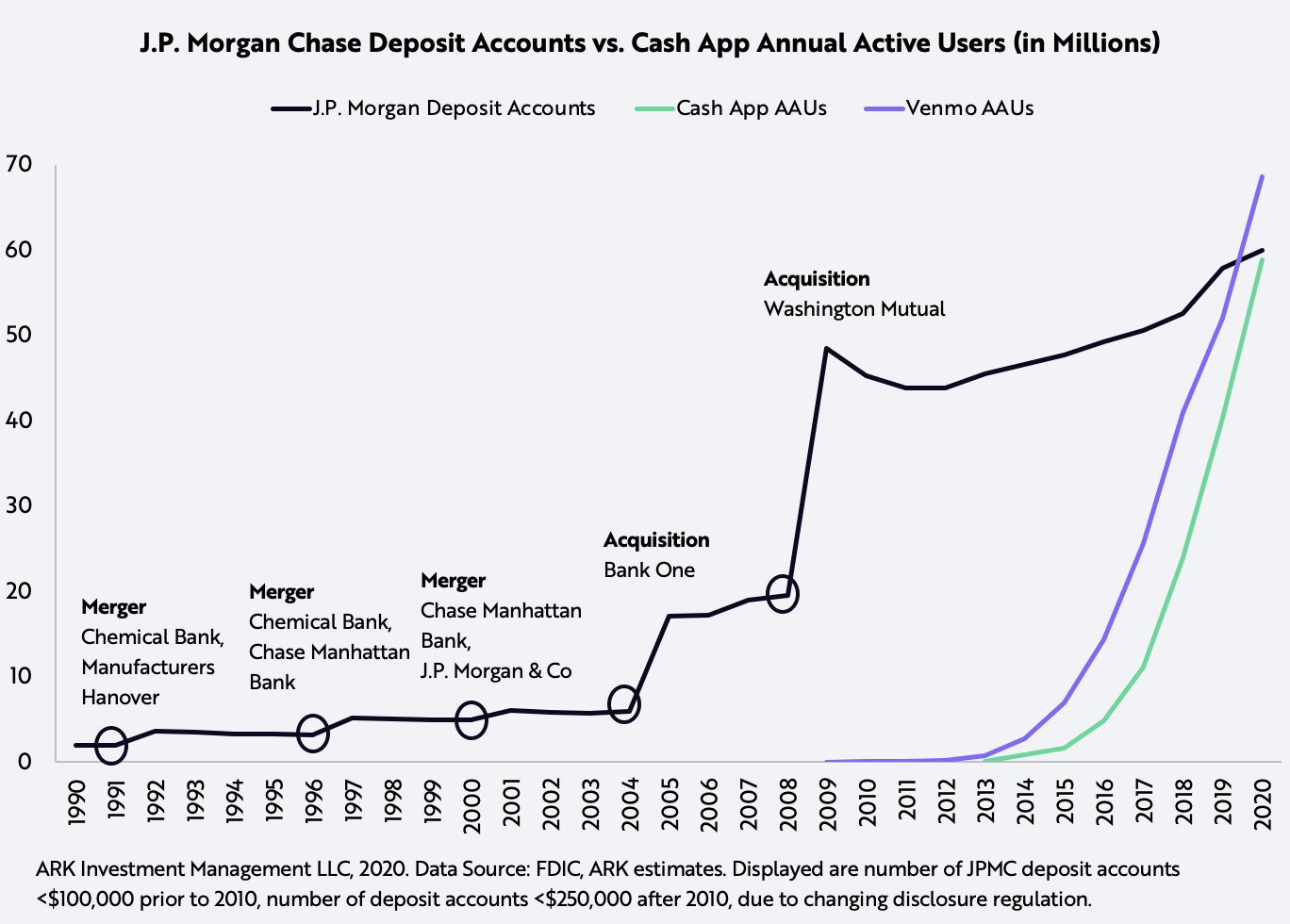 Source: Ark Research

e-Wallets
A digital wallet (or e-wallet) is an app that allows you to connect your credit/debit card information to an online system, allowing you to pay via your smartphone with increased convenience. Increasingly these digital wallets are becoming the preferred way to make transactions, in a similar vein to how we shop online using the card details stored in PayPal.
By 2022, digital wallet usage will account for 28% of all point of sale transactions according to forecasts, whilst cash will reduce to just 17% of global payments. In 2019, 140 million new customers created a new mobile wallet account – in 2020, an estimated 1.2 billion users have an e-wallet.

Source: Boston Consulting Group
You can see in the chart above that Asia is leading the pack in the adoption of e-wallets as of 2019, with China having a staggering 35.2% of the population having at one e-wallet account, over 4x the market penetration of the United States.
The trend globally is one of growth, and we can only speculate from current growth rates that almost 2 billion customers will be using a digital wallet within the next few years.
The rise of the QR code
Don't underestimate those little squares of black and white pixels, QR codes are in use by the billions across the globe. The wide use of these codes drives more and more consumers towards using their devices to make payments and purchase products.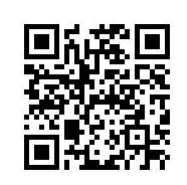 Example of a QR code

Unsurprisingly China is the fastest growing country for mobile payments. Alipay, the world' most used payment app, has over 15 million small businesses signed up for QR code payments in China. On a call discussing digital payments in Asia, we heard from an ex Alibaba executive that to even compete in the Chinese market, a digital payment player would need to print at least 40 million physical QR codes for merchants to post in their shopfronts.
Elsewhere in the world, some notable users of QR codes are; Apple Pay, PayPal and Amazon Pay, UnionPay, Mastercard Masterpass and Visa Pay.
According to Beaconstac, PayPal alone managed to sign up 15 million customers in Japan using a QR campaign. This year, 11 million households in the US will scan a QR code, and that's up from 9.76 million in 2018.
By 2022, Beaconstac estimate that 5.3 billion QR code coupons will be redeemed – and each one of those redemptions will be processed through a digital payment infrastructure.
Biometric authentication
Chances are you already use biometric authentication to log into your phone or approve app purchases right now: from a fingerprint scanner to the newer face ID method, our digital signature is moving more towards identifying us through our biology than using a password.
Why is this important to digital payments? Convenience.
It's estimated that 18 billion transactions per year will be authorised using biometric authentication by 2021. Juniper Research estimate by 2023 the total value of these payments will be over USD 2 trillion.
The ability to authorize payments via fingerprint or eye makes transactions faster and convenient and builds habits in consumers. It also adds a layer of security against fraud and identity theft which current methods like two-factor authentication simply does not cover.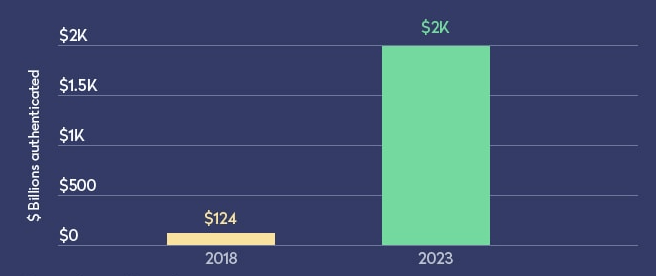 Source: Juniper Research
Smart speaker payments
Soon we will be living in a world where you don't even need to pick up your phone and scan your finger to authorise a purchase, simply turn to your home assistant and say "Hey Alexa, buy me that couch off of Amazon" – home assistant/smart speaker payments are being pushed hard by major tech giants like Google, Amazon and Apple.
Smart speakers/assistants have been gaining popularity among households, but for the moment they are rudimentary in their functionality and allowing payments. According to Statista, 35% of users currently use smart speakers for small purchases like groceries and clothing.
The growing push from tech giants is for these purchases to grow in both volume and value, as people become more comfortable in buying through their home assistant, encouraging consumers to quite literally put their money where their mouth is.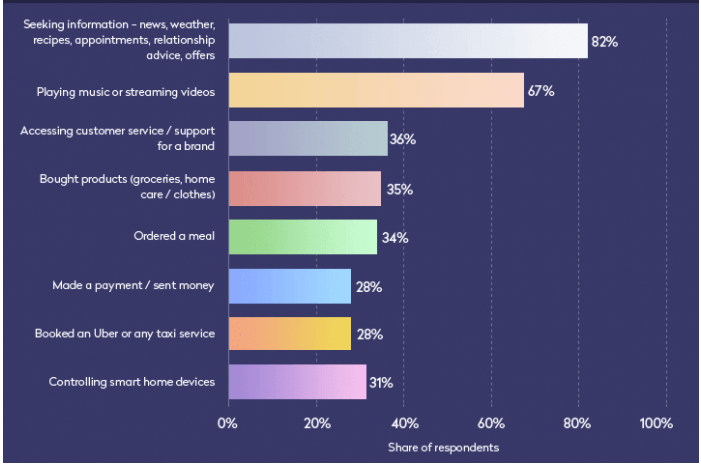 Source: Statista
Money never sleeps
If there's one conclusion you can draw from all of this information, it is that the volume and value of digital payments is growing. We will delve deeper into who the market players best poised to take advantage of this growth in our next note, as well as sort out the major business models amongst the largest payment providers.
And to continue referencing 'Wall Street', greed is good. Not necessarily for yourself individually for a person, but perhaps for as an investor. Consumer spending shows no signs of slowing, only changing where that money is spent – now the question is, who's going to facilitate that spending?
Stay tuned for Part 2 of this article, set to be released this Friday.
The views expressed in this article are the views of the stated author as at the date published and are subject to change based on markets and other conditions. Past performance is not a reliable indicator of future performance. Mason Stevens is only providing general advice in providing this information. You should consider this information, along with all your other investments and strategies when assessing the appropriateness of the information to your individual circumstances. Mason Stevens and its associates and their respective directors and other staff each declare that they may hold interests in securities and/or earn fees or other benefits from transactions arising as a result of information contained in this article.