Momentum is important, it makes movement easier.
For the Australian equity market, the momentum was driven by the earnings recovery that a successful vaccine rollout would create post lockdowns globally coupled with the valuation expansion falling interest rates allowed.
These combined twin engines saw the index get within 3.6% of the record high of February 20th 2020 before the pause button was hit.
The reality of the growth recovery and accommodative central banks meant the momentum around inflation concerns built to a level that was hard to ignore, and the long end of yield curve (where central banks have less influence over) started to wake up.
A bond market sell-off means the growth stocks and their stratospheric growth assumptions fuelled by cheap money look overly ambitious, even for the retail money pouring into the market.
The chart below from the equity strategy team at UBS shows you why the sharp back up in 10-year yields in the Australian government bonds knocked confidence, despite what was a good earnings season.
For the index to keep making new highs you we will need valuation expansion and earnings growth.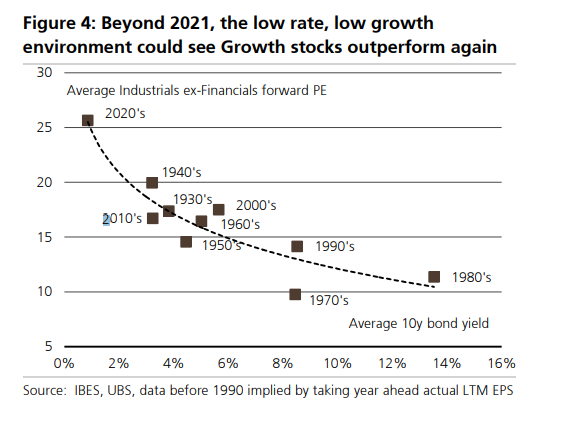 Positive period for corporate earnings
Looking at the earnings just published, overall it was good news.
According to Goldman Sachs, earnings are still depressed relative to pre-pandemic levels, as 2HCY20 Earnings Per Share is still down 12% for the average ASX 200 firm vs 2H19.
However, there was a strong recovery in margins, the largest and most broad-based earnings surprise in their 25-year database.
So far, 59% of firms beat Goldman EPS forecasts, well above prior peaks and the long-run average (40%), 44% of firms saw consensus EPS upgrades, a stronger revision cycle than any prior recovery.
COVID-19 forced companies into broad-based cost reductions, margins rebounded strongly with industrial sector classified companies delivering a large sequential improvement in earnings (+27%) after last half's collapse (-33%).
It's not all good news
Sales forecasts were typically cut slightly more often than they were upgraded by analysts.
This reinforces the theory that, so far, this earnings recovery has been more about margins than a much stronger than expected revenue environment.
That said, given concerns around the fading impact of last year's pent-up demand and the end of government support measures in Q2, Goldman expects many companies took a more conservative approach with guidance than would normally be the case.
Goldman also highlights in their recent earnings trend summary that despite the strongest set of earnings numbers relative to consensus expectations in over two decades, market reactions were relatively muted overall.
The market had already built in very high expectations thanks to the retail fund avalanche that hit US stocks and inspired similar participation here.
Stocks that reported 'in-line' results fell 1.1% on average on the day, and even those firms that delivered 'beats' have typically seen their stock price underperform post the initial positive reaction. This has led to circa 20% of stocks having >10% P/E compression post earnings.
So where are we now post the recent disclosures?
We are now just over 5 percent below last year's pre-pandemic peak but EPS in FY22 is forecast to be 4% lower than they were before the crisis.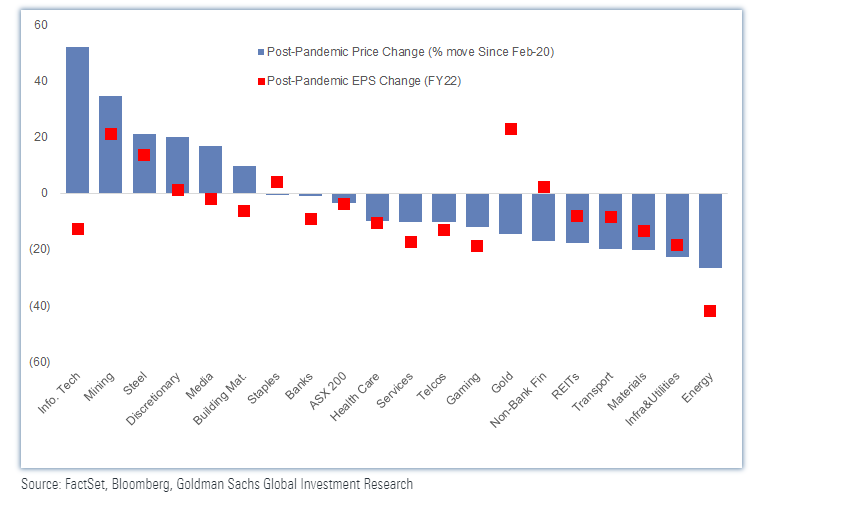 The recent rise in the AU 10-year bond yield has impacted and will likely continue to impact.
In this environment, UBS still likes the Value and Housing (cyclical) thematic lists.
However, if the AU 10-year yield reaches ~2% without any further material improvement in economic outlook, they will shift and will be tactically overweight stocks in their Defensive Growth list.
To make it more confusing, along with an increase in the AU 10-year bond yield, the AUD has risen around 13% since 30 June last year.
Offshore earners will continue to experience revenue headwinds due to that strength. Cochlear and CSL are two stocks that have significant negative share price sensitivity to an appreciating AUD.
Value stocks will likely continue to outperform due to their greater exposure to the economic recovery. UBS continue to propose three trades:
Cyclicals over Defensives
Value over Growth
Small caps over Large caps will likely work for the majority of 2021
If the above recommendation is what the strategy team with the largest market share is pushing, it should be no surprise that two upcoming ETF listings on the domestic market reflect the above.
Van Eck, one of the world's largest ETF providers who design investment strategies that take advantage of targeted market opportunities, will be listing an International Value ETF (ASX: VLUE) and an International Small Companies Quality ETF (ticker QSML).
Both pending listings will offer a thematic offshore exposure with a domestic (ASX) listing, a timely listing as the rotation away from growth and technology stocks that have dominated flows continues.
The views expressed in this article are the views of the stated author as at the date published and are subject to change based on markets and other conditions. Past performance is not a reliable indicator of future performance. Mason Stevens is only providing general advice in providing this information. You should consider this information, along with all your other investments and strategies when assessing the appropriateness of the information to your individual circumstances. Mason Stevens and its associates and their respective directors and other staff each declare that they may hold interests in securities and/or earn fees or other benefits from transactions arising as a result of information contained in this article.