It is now impossible to imagine life without your smartphone and 2021 is supposed to be the year the 5G transition takes hold.
Currently, most know 5G represents the fifth generation of mobile networks and think that will mean their ability to download a whole season of their favourite series in seconds on their phone is exciting but further understanding is limited.
The transition is what will allow all the other technological leaps you read about to start happening and the speed of life will accelerate again.
5G is the innovation platform that will impact in ways beyond most imaginations, as the highway of information is more and more open and accessible.
Knowing something is coming and not really understanding its impact is easier understood when you know where you've been.
Initially, your mobile allowed voice and messaging (2G), then web browsing started with 3G in the early 2000s.
By 2010 high-speed data and video streaming started with the current 4G network.
The promise of 5G is latency will decrease dramatically again – the time it takes for a response following an action and not only that; the capacity to handle responses will increase.
Imagine instead of having a conversation with one person, you're now talking to everybody at once, everywhere.
Key Features:
Up to 100x faster data rates.
Less downtime as they're using high, mid and low frequencies.
More reliable network as the structure changes.
The ability to handle connections and mobile data volumes will expand by a factor of 1000.
How is this possible?
Mobile networks use radio waves and like any waves, they have a frequency.
5G is using more of it and the network delivery changes with it and that's why the infrastructure takes time and COVID slowed that rollout. Operators are using a combination of low, mid and high range spectrum to support different 5G uses.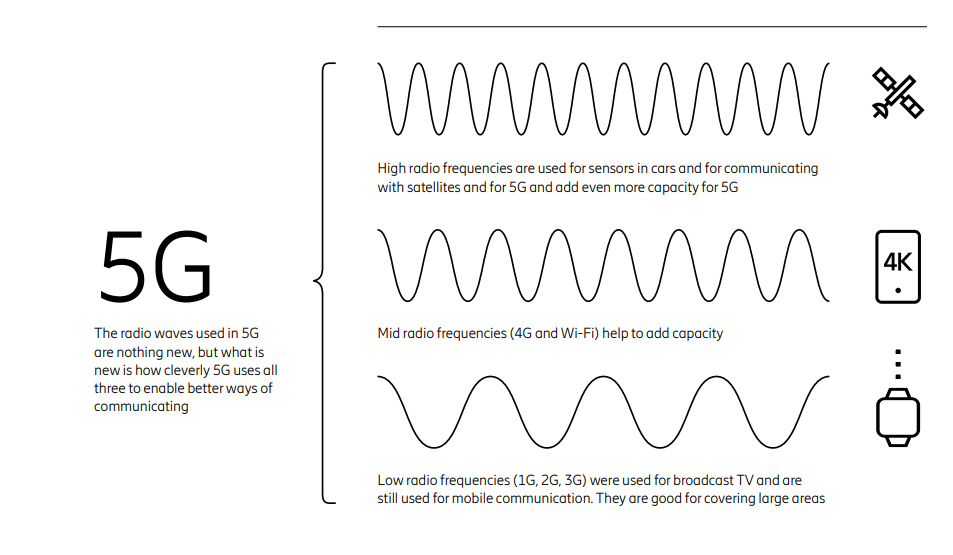 Source: Ericsson, This is 5G
Those higher-frequency waves need more towers.
A 5G tower is different than a 4G tower both physically and functionally.
They're smaller and transmit data on those different parts of the radio spectrum and they need to be closer together.
5G networks powered by millimetre wave spectrum have required the deployment of hundreds of 5G small cells, capable of providing the reliable connectivity and ultra-low latency needed for industrial and business applications such as the Massive Internet of Things and Virtual Reality (VR). The term small cell describes this mix of mobile base stations used to boost signals in indoor areas such as shopping centres and office, easily noticeable as additions to light polls.
Approximately 100 to 350 small cells per square kilometre are needed for 5G densification to work.

Look around the streets in the Sydney CBD, they're everywhere.
Telstra now advertise 75% of Australians are covered by a 5G network.
They are now comfortable advertising how that integration will impact with augmented reality (AR) applications beyond the obvious, a cyclist helmet that warns you of impending dangers in real-time is a case study on the website to promote thought.
While self-driving cars feel a while away the transition will happen. Try driving a car without any camera assistance after a period of using them and recognise how your driving technique has changed.
Health concerns associated with 5G rollout are condensed into the slide below: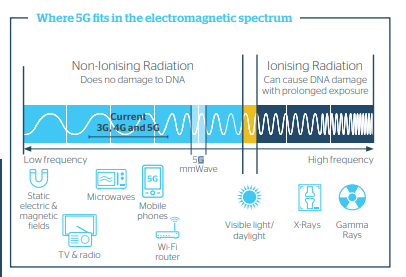 Source: Australian Mobile Telecommunications Association (AMTA)
The argument regarding increased wave frequency is focused on ionizing radiation – the level at which the wave has enough energy to remove an electron from an atom or molecule causing it to become ionized – causing chemical changes in cells and possibly cancer.
A fetus and young children are more sensitive to radiation exposure than adults. I've only mentioned it as a place to start a discussion.
Why talk about 5G now?
The twist in the unfolding Telstra restructure is the catalyst.
Telstra recently announced they found a strategic partner for its InfraCo Towers with a consortium including Future Fund, Commonwealth Superannuation Corporation and Sunsuper.
The consortium will acquire a minority interest of 49% in InfraCo Towers.
Telstra Infraco Towers, once operational will hold 8200 mobile towers making it the owner and operator of the largest mobile tower network in Australia.
This is part of the restructure of Telstra with 3 separate entities under the Telstra Group parent company that started last year.
InfraCo Fixed, which will own and operate fibre assets, data centre exchanges, and subsea cables
InfraCo Towers, which will own and operate mobile towers, and
ServeCo, which will own and operate the radio access network, mobile spectrum, and customer service functions.
The sale agreement bypassed the auction process which was due to take place in the December half of FY2022.
The sale price of A$2.8 billion values the towers at A$5.8 billion with an EV/EBITDA multiple of 28x.
That's a heavy multiple and for a stock that most consider boring and a disappointing addition to their portfolio.
Telstra announced that 50% of the proceeds would be returned to shareholders.
The company has previously stated at their December half 2021 results that an FY2023 EBITDA of A$7.5-$8.5 billion would be required to maintain the dividend at 16cps.
Following the divestment of 49% of InfraCo Towers, JPM estimate that Telstra's EBITDA will fall to the bottom of that range to A$7.5 billion, where they expect Telstra will likely opt for a share buyback rather than an additional dividend.
Telstra is currently trading at a consensus EV/EBITDA of just over 8x which is a significant discount to the tower sale at 28x. JPM's analyst believe Telstra could look to monetize further assets while demand is high for infrastructure assets.
Change is happening, just keep an eye on the new wave direction.
The views expressed in this article are the views of the stated author as at the date published and are subject to change based on markets and other conditions. Past performance is not a reliable indicator of future performance. Mason Stevens is only providing general advice in providing this information. You should consider this information, along with all your other investments and strategies when assessing the appropriateness of the information to your individual circumstances. Mason Stevens and its associates and their respective directors and other staff each declare that they may hold interests in securities and/or earn fees or other benefits from transactions arising as a result of information contained in this article.