In the past, we have touched upon the geopolitical landscape surrounding the Indo-Pacific Region, with a particular focus on China's interests and actions in the area.
As Australian citizens and investors, it is without a doubt that we are at risk of fluctuations within the geopolitical landscape of our region, not only with our largest trading partner (yes, that is still China) but with other economic powers holding sway from around the globe.
As tensions have risen on the global stage, a new strategic partnership has begun to gather momentum and influence, one which is beginning to form the lynchpin of several other economic interests as a key ally for the years to come: the "Quad".

A Curious Marriage
The Quadrilateral Security Dialogue, better known as the Quad, is a partnership formed between the United States, Japan, India and Australia.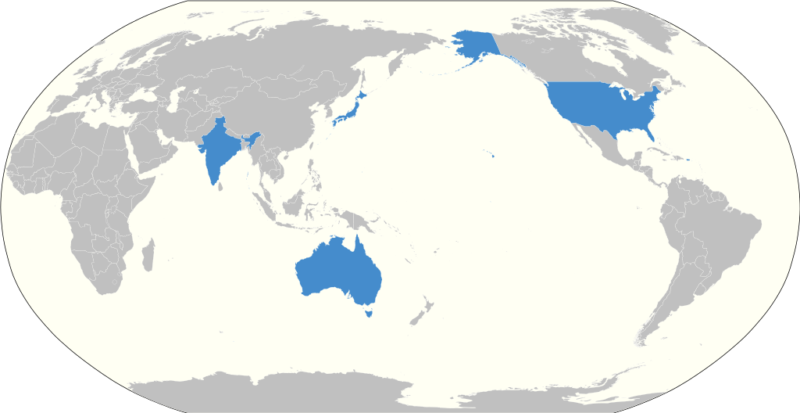 Source: Wikipedia
First established in 2007, it was re-established in late 2017 and recently held its first in-person summit in September 2021.
The topics of that summit do a fine job of explaining the purpose of the Quad; discussions of international cooperation in tacking the COVID-19 pandemic, climate change, the growing importance of cybersecurity, and the promotion of a free and open Indo-Pacific.
If that last one sounded a lot like "how to deal with China" to you, then well done on reading between the lines.
Though the focus of the dialogue is multi-faceted, it is undeniable that the four nations have come together to act as a potential dampener to the ambition and power dynamics exhibited by China in recent years.
Before the Quad sounds like a military coalition, however, it's worth noting that there is no treaty binding these parties (a la NATO), the focus of the Quad is entirely on diplomacy rather than alliance.
Rather, a more apt way to view this group is a diplomatic and economic think tank, sharing information and working together politically to achieve their goals (which can include considerations of defence).
The Quad certainly have the "economic" power, as well; between the four nations, they account for approximately 35% of global GDP (Source: IMF, 2019).
The focus and combined diplomatic and economic influence have attracted other parties to become closely tied to the Quad; New Zealand, South Korea and Vietnam have all attended Quad conferences as strategic guests since the COVID-19 pandemic began.

Quad's Next Moves
There has been plenty of speculation around what the Quad will do in the coming years, particularly in regards to relationships with China.
Here we will touch on several possibilities presented by multiple market observers – I highly recommend anybody interested to read the piece by CNBC on the Quad and game theory, which will inform some of the content below.
Somewhere beyond the sea:

The naval freedom of the Pacific has been a contentious issue for many years now, particularly with a focus on regional disputes around 'ownership' of the South China Sea. This will doubtlessly be a focus for the Quad.

CNBC produced an interesting graphic on just how many parties are contending for that particular bit of water: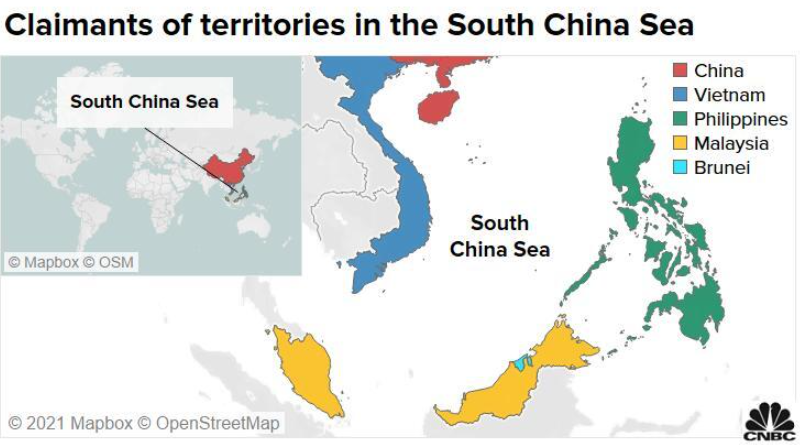 Source: CNBC
In fact, only last week, all four members participated in India's annual Malabar naval drills, illustrating their intention to work together on all levels of regional security.
Most commentators believe it unlikely that any drills would be performed in 'contested' territory such as the South China Sea however, particularly given the Quad's positioning as a diplomatic cooperation rather than a formal military treaty.

The treehouse club:

As we have already seen, other nations have begun to associate themselves with the Quad in an attempt to align their own interests regarding the stability of the Indo-Pacific Region.

The Quad may in fact form a "concession group" where countries like New Zealand – which recently took an independent view from the rest of the Five Eyes intelligence coalition this year, over concerns around the group's stance on China – may be able to take a "softer" approach to the geopolitical environment whilst still having a seat at the global table.

This may or may not eventuate in security collaboration, in the form of naval exercises or otherwise, or economic approaches to the region which may look to counter the level of sway China currently has over aspects such as resources imports and shipping facilities.
Best friends forever:
The main consensus that political and market commentators have come to is that the Quad's alliance will only grow stronger in time.
I think a particularly good quote comes from Michael Green from research house CSIS, "The baseline conclusion about the Quad becoming a permanent part of the architecture of Asia is right. I think it's baked into the politics of the four countries."
This notion of cooperation definitely comes from the interplay between the nations.
The rising tension between India and China is well-known, particularly after the dispute on their Himalayas border earlier this year, however less attention is paid to Japan's security concerns for the region and the potential for a full territory dispute after Chinese military activity has increased in the East China Sea.
Of course, we are well aware of the tensions between Beijing, Canberra and Washington.
The Quad allows for Japan to build relations with a growing superpower – India – whilst continuing to develop economic and diplomatic ties with key Western powers.
Consequences for Investing
As mentioned earlier, Australian investors are subject to the whims of the Indo-Pacific geopolitical environment, and it's almost certain that the rising influence of the Quad will impact our investments in one way or another.
A backlash from Beijing is the most likely consequence – and given our vulnerability to resources export volumes to China, that seems the most plausible area of the market to be hit.
An obvious example of this was the Chinese ban on our coal, both in retaliation to Prime Minister Scott Morrison's public criticism of their handling of COVID-19 and for our growing involvement with the Quad.
Any holders of Whitehaven Coal (WHC:ASX) will remember the ~14.50% drawdown experienced over a few days once it had become evident that China had placed the ban on Australian coal.

Source: Bloomberg
Given that (as of November 2020), China has a 100% share in our nickel exports and 83% share of our iron ore exports (source: Australian Strategic Policy Institute, Department of Foreign Affairs), any holders of domestic miners should be aware of the potential investment risk a growing Quad may bring with respect to backlash on our resources markets.
Quad Pro Quo
The Quad is a fascinating player in the geopolitical landscape, simultaneously a clear show of united strength, whilst also not being focussed (or bound) on military endeavours.
From a domestic perspective, the Quad may be a mixed blessing.
In the long-run, having a free and open Indo-Pacific region is doubtless a good thing for trade and global society.
In the short run, this may further aggravate an already volatile geopolitical landscape, which in turn may create volatile capital markets.
We should continue to watch the ambitions and momentum of the Quad, to see which direction they want to take our region and whether they have the strength and resolve to carry through.
The views expressed in this article are the views of the stated author as at the date published and are subject to change based on markets and other conditions. Past performance is not a reliable indicator of future performance. Mason Stevens is only providing general advice in providing this information. You should consider this information, along with all your other investments and strategies when assessing the appropriateness of the information to your individual circumstances. Mason Stevens and its associates and their respective directors and other staff each declare that they may hold interests in securities and/or earn fees or other benefits from transactions arising as a result of information contained in this article.