There has been a reality check for equity investors in January 2022 – you can't continue to price a perfect future for a company without allowing some room for error or alternate outcomes.
Using the S&P500 as the focus of this discussion, prices fell by over 10% from the peak on Jan 3rd to Jan 24th, before stabilizing with month-end flows. The primary catalyst has been rising interest rates.
Falling rates had allowed investors to focus on growing revenue outlooks for technology company's without paying too much attention to future borrowing costs
As rates continued to push higher in January and the perception shifted to inflation being more than "transitory", the forward Price-Earnings multiples of stocks contracted to match the associated rise in long term rates.
The technology-heavy Nasdaq has been the hardest hit. It peaked in November and its peak to trough fall has been just over 19% at its widest. High growth companies with lofty valuations driven by expected cash flows in the distant future, often with no earnings to support their valuation, continue to be the most vulnerable.
An influx of retail investors in 2021 perhaps fuelled with profits from cryptocurrencies, poured money into the companies of the future – but if one pillar slides, then it takes others with it. Bitcoin's peak to trough slide has been over fifty per cent over the same time period, with far steeper losses in coins with lower market capitalisations. This increased volatility feeds on itself and towards the close of January, heavy selloffs in equity index futures markets were driving the market lower.
An abrupt deterioration in market liquidity has not helped either. One important equity market liquidity metric is the market depth for S&P500 E-mini futures (based on the average number of contracts at the bid/offer), which has been deteriorating since last September and is at its lowest level since the peak of the pandemic correction in March 2020. Liquidity is only discussed when it's needed, and that's when you're trying to sell or are forced to sell.
Another feature has been the sharp rise in market share from ETF's in equity volumes. When liquidity in individual stocks dry up, investors make greater use of ETF's to adjust their overall positioning.
As can be seen from the figure below we are pushing into unchartered territory for usage of ETFs and it's been in a falling market – a fair indicator of the increased short position in the market.
Equity ETF Volume as a % of Total US Equity Trading
Volume
Last obs is 25th Jan 2022.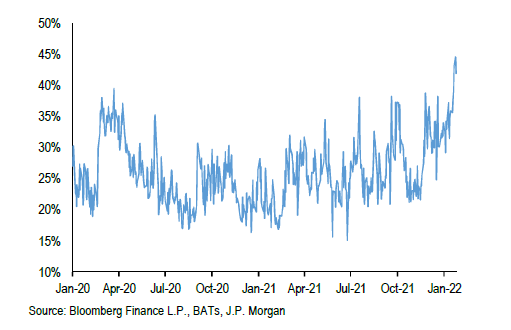 Earnings Support?
The close of the month saw some stability in the market and thankfully it was driven by earnings. At this point in earning season, more companies are beating EPS estimates than average, but they are beating estimates by a smaller margin and that trend is why some stocks have fallen despite beating on a headline basis.
If 24.3% is the actual growth rate for the quarter in earnings, it will mark the fourth straight quarter of earnings growth of 20% or more for the index. The last time the index reported four straight quarters of earnings growth above 20% was Q4 2009 through Q3 2010.
Notably the largest technology stocks have exceeded expectations. Microsoft's strong guidance started the rebound and then it was Apple's turn. They posted record sales over the Christmas holiday quarter despite supply chain issues with a revenue record of $123.9bn (+11% y/y), above street expectations of $118.7bn and an EPS of $2.10, beating the street estimate of $1.90. Revenue growth was recorded across all product segments except the iPad (from supply constraints). iPhone sales of $71.6bn vs. street estimates of $68.4bn, Mac revenues of $10.9bn vs. street estimates of $9.4bn, Wearables/Home/Accessories segment revenues of $14.7bn beat street estimates of $14.5bn, while iPad revs of $7.2bn were below street estimates of $8.1bn. The share price reacted accordingly to the extent of these beats, and more importantly it provided some reassurance on the current state of mind of the US consumer.
Looking Ahead ….
The forward 12-month P/E ratio is 19.2, which is still above the five-year average (18.5) and above the 10-year average (16.7). However, it is below the forward P/E ratio of 21.3 recorded at the end of the fourth quarter (December 31), as prices have decreased while EPS estimates have increased over the past month.
The figure below from Goldman shows how rising rates are dragging equity valuations lower.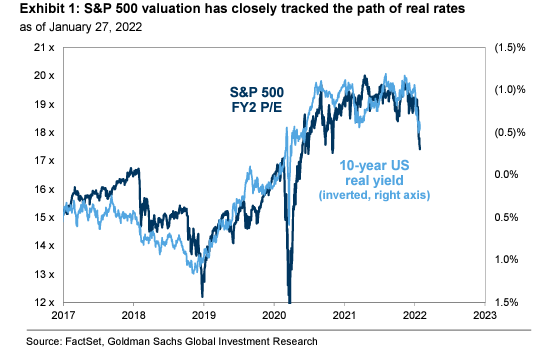 Goldman's analytics team revealed that the S&P 500 has historically fallen by an average of 15% peak-to-trough during the 21 non-recession corrections since 1950, which in the current market would place S&P 500 at 4100.
They highlight that buying S&P500 pullbacks of more than 10% from recent highs when the economy is not in recession, has generated a median return of +15% in the following twelve months. Various investment bank outlooks for 2022 maintain strong equity market returns approaching 10%, as we head to a more normalized operating environment as economies start to benefit from the high vaccine take-up. JP Morgan in their recent outlook document have a 5050 price target for the S&P500, close to 14% higher from current levels should it be achieved.
Their outlook also markets a positive view on China, which was a significant anchor on many portfolio performances in 2021. China's listed universe will deliver strong earnings growth this year and next according to their outlook offering over 30% returns if 2022 price targets are met. The belief is that commodities, and particularly energy assets, are in a super cycle driven by COVID-19 recovery, monetary debasement, geopolitical tensions and supply/demand frictions built over the past years (e.g. they've upgraded their long-term forecast for oil to $80, as compared to the current market price of ~$60 for long-dated contracts).
In summary, it has been a tough start to the year, and in a similar start to last year, the focus is firmly on value stocks at the expense of growth. How we go from here will be dictated by central bank commentary and geopolitical events which can't be predicted. Looking at the market position – the froth has been taken out, and valuations are not challenging while earnings are supporting.
The views expressed in this article are the views of the stated author as at the date published and are subject to change based on markets and other conditions. Past performance is not a reliable indicator of future performance. Mason Stevens is only providing general advice in providing this information. You should consider this information, along with all your other investments and strategies when assessing the appropriateness of the information to your individual circumstances. Mason Stevens and its associates and their respective directors and other staff each declare that they may hold interests in securities and/or earn fees or other benefits from transactions arising as a result of information contained in this article.