"Don't care if my liver is hanging by a thread,
Don't care if my doctor says I ought to be dead,
When my ugly big car won't climb this hill
I'll write a suicide note on a hundred-dollar bill."

Dire Straits, "Heavy Fuel"

Let's preface this note by saying that investing does not have to lend itself to one moral/social outlook or another – a portfolio often reflects the values of the individual constructing it.
As well as an excuse to use one of my favourite bands in a quote, the 'Heavy Fuel' lyrics have a tongue-in-cheek comparison to a hedonistic view to investing – one which seeks yield regardless of the cost or method.
This is a view that has been gradually waning, particularly so as we find ourselves in this pandemic environment.
Historically, we've seen a 'devil take the hindmost' view to what actually constitutes our investments, but an interesting trend has emerged towards what is known as Environmental, Social and Governance (ESG) investing.
This isn't an examination of what is the 'right thing to do', but rather a question of what's made ESG so popular and does it mean you have to sacrifice yield at for the sake of a more ethically conscious investment?
The Rise of the Conscious Investor
Modern responsible investing began in the 1900s, with investors avoiding 'sin stocks' – alcohol, tobacco or gambling related companies. The Boston-based Pioneer Fund was one of the first ESG funds, established in 1928. ESG truly found its drive in the 2000s when the United nations released Principles for Responsible Investment, which would eventually link into the UN Sustainable Development Goals in 2015.
The various filters to ESG products and investing differ, with the top criteria generally relating to; terrorism/regime funding, smoking and tobacco sales, carbon emissions/environmental awareness (including usage of fossil fuels or percentage of earnings from the sale of non-renewable energy sources), governance structure and social policies.

Source: 'Top ESG Criteria for Institutions 2018', US SIF Foundation
As for the growth of ESG amongst global investors, the numbers speak for themselves:
In 2006, signatories to the Principles for Responsible Investment (PRI) held just under USD 6 trillion in assets under management
In 2020, signatories to PRI held USD 103.4 trillion, an increase of 22.55% (annualized)
ESG managed funds passed USD 1 trillion in assets under management for the first time in August 2020
ESG ETFs and Index Funds currently hold USD 170 billion in assets under management, and are expected to exceed USD 1.3 trillion by 2030 (according to State Street)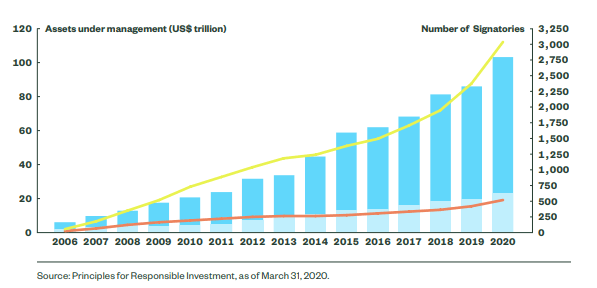 Interestingly, COVID-19 has accelerated this trend towards conscious investing; Morningstar reported that the flows into ESG funds rose by 72% in Q2 2020 as the pandemic hit worldwide, bringing total assets under management of ESG products to 13% of the entire global managed fund industry. In terms of variety of investment products, there are 2,706 ESG funds in the market with 125 of those launched in Q2 alone.
The performance of ESG investing
On our regular Markets Meeting, we have spoken to a number of portfolio managers running sustainable portfolios, and the usual question we ask is "do you need to sacrifice performance to build an ESG portfolio?". Unsurprisingly, a resounding "No." – but some of the reasons go beyond some savvy active management.
Firstly, a simple observation to get out of the way is that ESG investments inherently carry less risk surrounding reputational damage, political/litigation action and regulatory risk. In the long run, there is less exposure to some baked-in risk surrounding company dealings in your portfolio.
From a sector view, ESG funds have tended to outperform the market over the last decade, largely due to an avoidance of the energy sector which is subject to high volatility and has had one of the worst performances of any sector during this pandemic. Morningstar found that during the Q1-Q2 sell-off of this year, ESG funds averaged 1.83% better off during the sell-off and rebound than general funds – to temper this however, ESG funds by design have been overweight sectors that have benefitted from the COVID-19 rebound (i.e. healthcare and technology).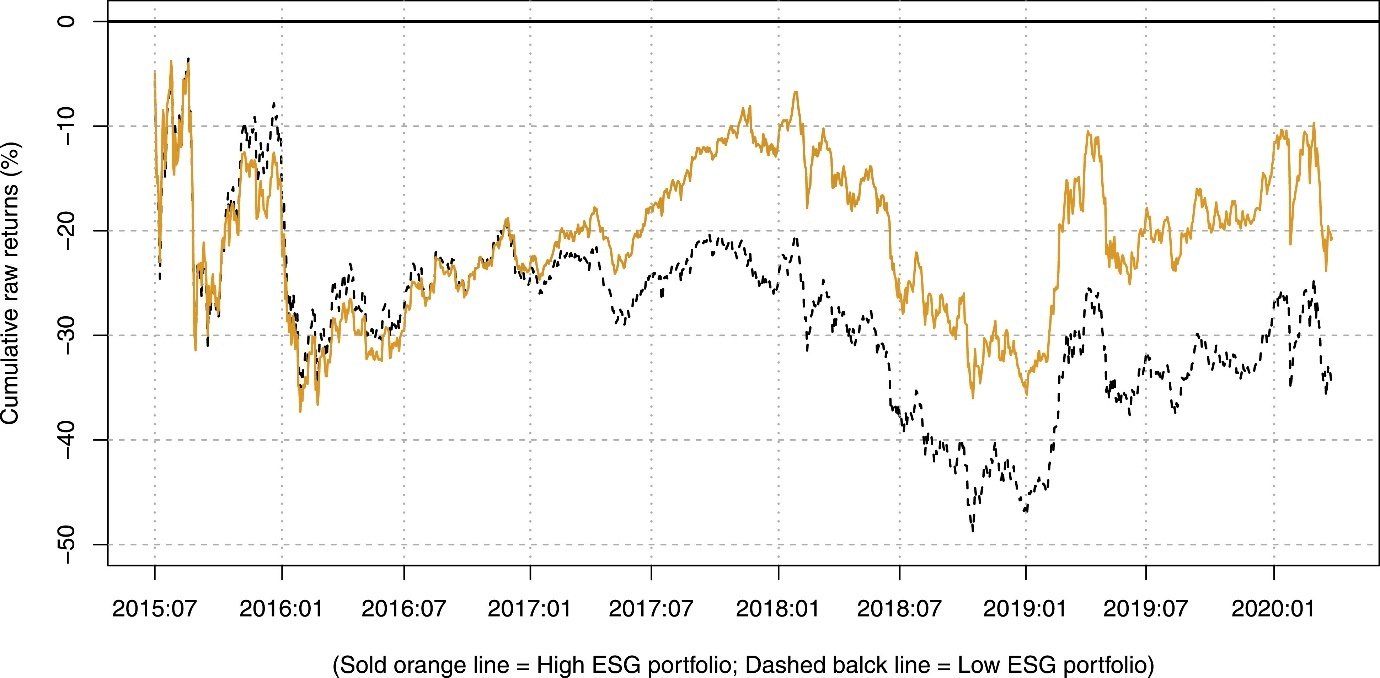 Source: Science Direct
From an individual company view, one reason put forward is that if the management (aka the Governance) are actively taking an ESG focus, then generally this is a forward-thinking management team who look at the long-term value and outlook for the company. Think of this as a correlation between ESG and quality.
What this means is that the companies generally tend to outperform the market, since a management team who can add value to investment have a large overlap in qualities to a management team who seek to make the company more ethically conscious. This has led to an on-going trend over the last decade that, in a volatile market, ESG-compliant companies tend to outperform and have less volatility than the broader market. The MSCI ESG index outperformed the general index by 1.6% in Q1 2020.
The bottom line
Whether or not you take up an ESG focus on your portfolio doesn't necessarily have to rely on your moral stance. A platform that all can get behind is "I'll take less risk and more reward", something that ESG is starting to show it can deliver.
Should you immediately sell your BHP share and burn down your local TAB? Well, the answer to that is complicated (disclaimer: please do not commit arson under any circumstances). As any disclaimer will tell you, past returns do not reflect future performance, and given how recently ESG has risen to popularity there may not be sufficient data to bring comfort to some of the assumptions we've discussed here.
For now, the social and ethical gains are clear and irrefutable. If that can translate into lower risk and better performance to boot, then perhaps the Conscious Investor is the way of the future.
The views expressed in this article are the views of the stated author as at the date published and are subject to change based on markets and other conditions. Past performance is not a reliable indicator of future performance. Mason Stevens is only providing general advice in providing this information. You should consider this information, along with all your other investments and strategies when assessing the appropriateness of the information to your individual circumstances. Mason Stevens and its associates and their respective directors and other staff each declare that they may hold interests in securities and/or earn fees or other benefits from transactions arising as a result of information contained in this article.