Private equity (PE) is often one of the most opaque and inaccessible investments, frustrated by three main issues; transparency, accessibility and liquidity.
Investing in PE is a fine art which requires a balance of business acumen and intuition, for both the manager and the end investor.
The lack of clear reporting or guidance by private companies lends the sector to the high risk, high reward profile which it is known for – It is often difficult for an investor to pick the winners out of a vast majority of private companies which do not become successful enterprises.
To quote the Dire Straits song this note is named after, "I go checking out reports/ Digging up the dirt/ You get to meet all sorts/ In this line of work".
Today we will look at the characteristics of private equity investment as part of a complete investment portfolio, some popular approaches to private equity by players in the market and means to get exposure to this subset of the equity asset class.
Private Equity Characteristics
The primary idea behind PE investment is to generate capital appreciation from purchasing or funding a business (be it an existing private enterprise, or by taking a public company, private), improving the business financials or structure, then finding a seller to purchase it at a higher price at some point in the future – be it a private buyer or taking the company public.
PE operates across all equity markets in the world and in massive scale; according to Bain & Co. the average deal size in 2020 was $776 million USD, with $592 billion USD of global buyout deals completed during the year.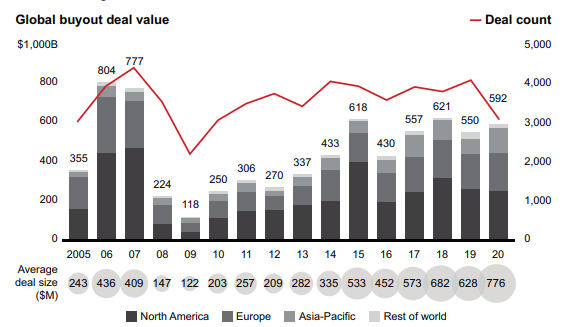 Despite this massive size, PE is often heralded as a diversifier of a portfolio – since the investments are not yet listed, they are not necessarily subject to the volatility you would expect from the stock market.
We will go ahead and place the massive disclaimer here that just because something is not priced every day does not mean it is not volatile, you just don't see it.
PE investments can be diverse across a wide range of sectors, sizes and stages that a private equity firm can tap into – a large private equity manager like KKR or Blackstone may invest in six different industries across three different regions.
PE opportunities tend to also feature untested or unknown managers, particularly in founder-led businesses.
For certain sectors, financials particularly, it is not uncommon for management to be investment banking alumni, but for 'unicorns' and disruptive businesses the managers are generally passionate individuals with a vision, as opposed to 20 years of markets experience.
On the subject of management, PE investors can also benefit from a phenomenon we will call "managerial leverage" exuded by the managers – let me explain.
If you invest into a global public equities fund, their largest holding will be at most 10% of their own portfolio and likely less than 10% of the company itself – you run into liquidity issues beyond that in most cases. Whilst an important holder, you would not expect someone who holds 10% of a business to drastically change management behaviour or strategy.
With PE, you have no such liquidity issues and thereby the ownership is generally a much higher percentage.
This means that PE managers have increased potential to influence the management and strategy of the business, with the incentive of creating profitability and cash flow within the business to then sell it for a gain later on. Since an investor could almost certainly not do this on their own, this benefit to PE access could be considered "managerial leverage".
As a house view, we consider a relationship and trust with the management team of the private company to be paramount – where there is an innovative, disruptive business opportunity, it is not always appropriate to exert influence over the operations of the company.
Rather, the investor needs comfort in the capability, resolve and acumen of the management to guide the business to success in addition to financial merits of the emerging business.
Major Strategies
There are several investment strategies managers employ within what is broadly called "private equity", including;
Buyouts/Leveraged Buyouts involve a manager taking a large investment in an established company, using a combination of equity and debt to buy all or a portion of the underlying businesses' assets (hence 'leveraged').
Growth/Venture Capital involve providing the company with capital to help it grow, with venture capital coming in at an earlier stage of the business and hence carries higher risk (but potentially higher reward).
Special Situations is a more niche strategy, looking to restructure companies (particularly their balance sheet) and potentially buy distressed assets or debt with the view of on-selling them at a higher price as the company improves.
Direct Investment is one of the rarest opportunities involving direct investment into established, 'late-stage' businesses as a direct investor during their own capital raising rounds – many readers would be familiar as Mason Stevens investors with our direct holdings in Didi, Grab and Sensetime, using this exact strategy.
As a segment of the equity asset class, PE has consistently outperformed a broad public equity investment according to Cambridge Associates – naturally this carries with it a higher level of risk (in particular liquidity risk to many investors), but this does present a compelling case for an allocation within a portfolio.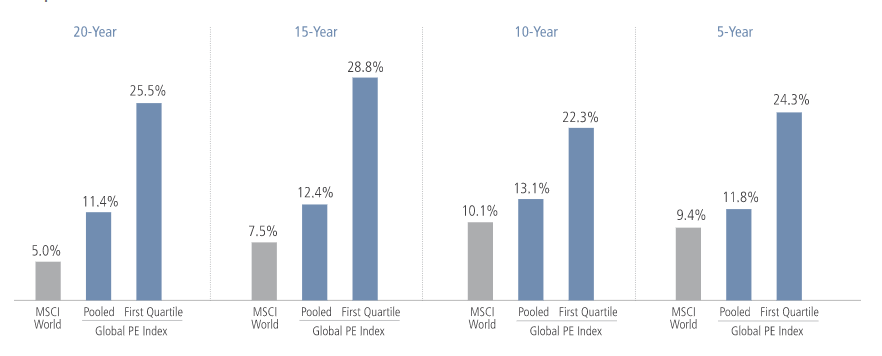 Private Browsing
When it comes to accessing private equity opportunities, there is not the wide range of products available like you would find in listed equity or debt – often there are liquidity constraints, minimum investments, lock-up periods or tax residency hurdles.
However, there are still means to browse the available selection, of which include:
Managed Funds specialising in buyouts or growth/venture capital funding;

These are generally run by boutique managers seeking niche opportunities not available to the wider market, or global investment managers who have a large team sourcing companies from around the world to hold in a concentrated portfolio


Fund of Funds

These products make investments into managers who they see holding quality portfolios of their own, enhancing diversity across the investment but potentially limiting visibility of the underlying investments


Listed stocks

You can also buy the listed stocks of some private equity firms, including KKR and Blackstone, the latter of which has a very "up and to the right" looking chart:

And of course, Mason Stevens continue to scour for direct private equity opportunities for our platform investors – this access to a private equity offering will continue to be a part of our investment universe as just one of many exposures an investor can place in their portfolio.
A (Private) Part of a Portfolio
As we have touched on, PE is an opportunity which sits apart from many 'mainstream' investments, offering a unique risk/reward profile to an investor who wants to add it to their portfolio.
There are many strategies used by managers and therefore many ways for an investor to get exposure to the PE universe.
Private equity appeals to a particular risk profile and if looking at is as an allocation to a portfolio, we should keep in mind the illiquidity of the investment – for almost any private equity investment will recommend at least a two-year holding period
As always, an investor can expect to find more comfort in a vehicle offering higher transparency, but don't be surprised if a manger wants to keep their holdings, private.
The views expressed in this article are the views of the stated author as at the date published and are subject to change based on markets and other conditions. Past performance is not a reliable indicator of future performance. Mason Stevens is only providing general advice in providing this information. You should consider this information, along with all your other investments and strategies when assessing the appropriateness of the information to your individual circumstances. Mason Stevens and its associates and their respective directors and other staff each declare that they may hold interests in securities and/or earn fees or other benefits from transactions arising as a result of information contained in this article.