"Want to hear you say come on over,

'cause when you tell me to come on over,

I like the sound of that"

              Rascal Flatts (2014)
It's become increasingly evident that economic data series are struggling to convey the economic realities of our COVID-19 affected world.
We've recently written about the trouble of interpreting unemployment data, due to the classification of persons that are considered employed but aren't working as employed.
Yesterday, the Australian Bureau of Statistics (ABS) published the Consumer Price Index (CPI) for Q2 2020, and if you are a consumer, you would be singing I Like the Sound of That like I was.
Prices dropped!
Fantastic, right?
Maybe not. Let's discuss.
The results
Headline CPI was -1.9% q/q for Q2 2020, after a +0.3% lift in Q1.
This took the twelve-month CPI rate to -0.3%, from +2.2% when last measured at 30 March.

Source: Bloomberg
The biggest price drops were childcare -95%, automotive fuel -19.3%, preschool and primary education -16.2% and rents -1.3%.
The biggest price rises were tobacco +2.7%, non-durable household products +4.5% and furniture +3.8%.
In context, this is the first year-on-year drop in the index since 1998 when there were changes to the health care rebate. Aside from this nuance of change, this is the first fall in CPI in 60 years.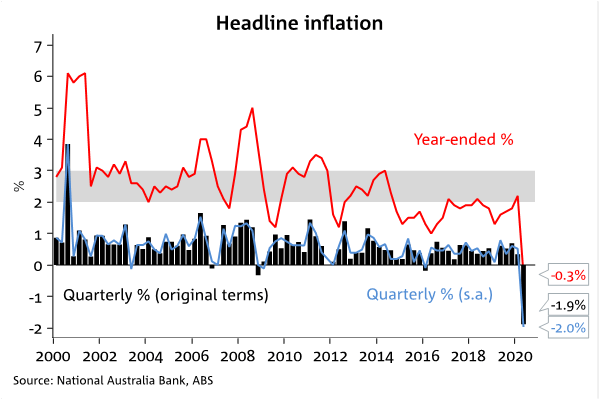 Source: ABS, NAB
The interesting results
Your jaw may have dropped a little that childcare costs dropped 95%, which along with the decline in fuel prices made up the lion's share of the result.
The thing is, childcare prices did not drop 95% q/q, but the government paid for it, which means the effective out-of-pocket expenses declined, not the actual value.
This is something ABS gave us forewarning of on 8-July, and I make note of the interesting changes to the normal data series:
Free childcare and the reductions in rental agreements have seen lower out-of-pocket expenses to consumers and resultingly flowed through to measured CPI
For good and services with no available data – i.e. urban transport fares, domestic holiday travel costs and accommodation, international holiday travel, sports participation and other recreational activity >> the quarterly result is imputed from the headline result.
i.e. because the result is unmeasurable, it assumes an average inflation/deflation in line with other goods and services
Whilst consumer expenditure patterns have completely changed under COVID-19, the weights that the ABS assume an average household spends have NOT been changed and will be updated in December 2020.
i.e. if you usually spent 5% of your annual wages on fuel and are now spending 0-1% on fuel because of lockdowns and travel restrictions and business closures, ABS result still calculate based on 5%.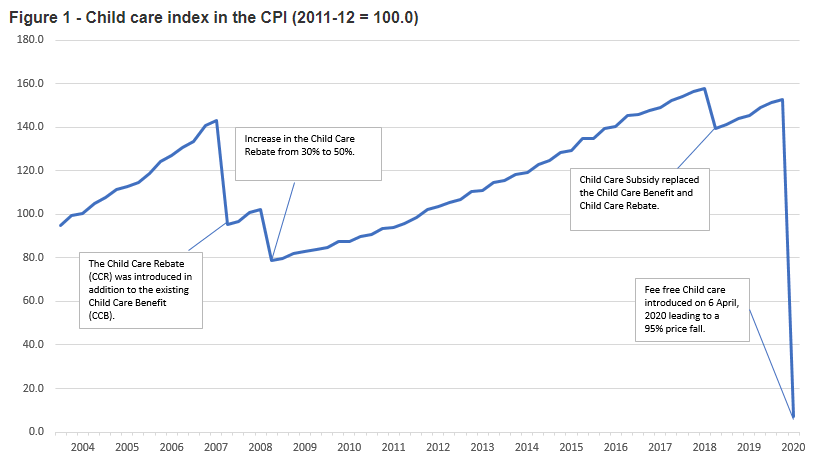 Source: ABS
Price impacts in Q3
The two temporary factors that effected the CPI decline in Q2 have reversed in Q3 already.
Firstly, while the government made childcare free as part of its response to the COVID-19 crisis, the childcare fee waiver ended in July.
Secondly, whilst petrol prices declined for Q2 due to the sharp fall in oil prices in April, that has largely reversed.
Hence, we would expect headline CPI to rise in Q3 in respect to Q2 – this should be a no-brainer.
In fact, we have that data already as PriceStats – a joint venture between State Street Global Markets and Massachusetts Institute of Technology (MIT) – produces "real-time" price data, which has a three-day lag.
i.e. instead of waiting for nearly two months to receive Q2 CPI on 29 July, we had the 30 June data on 3 July.
For background, PriceStats uses website-scraping technology to monitor and collect daily prices on more than five million items sold by online retailers around the globe. From these prices, PriceStats constructs daily measures of inflation and real-exchange rates.
As such, we can already see that inflation (or in this case, deflation) has bottomed, and has already returned to positive figures as at 25 July.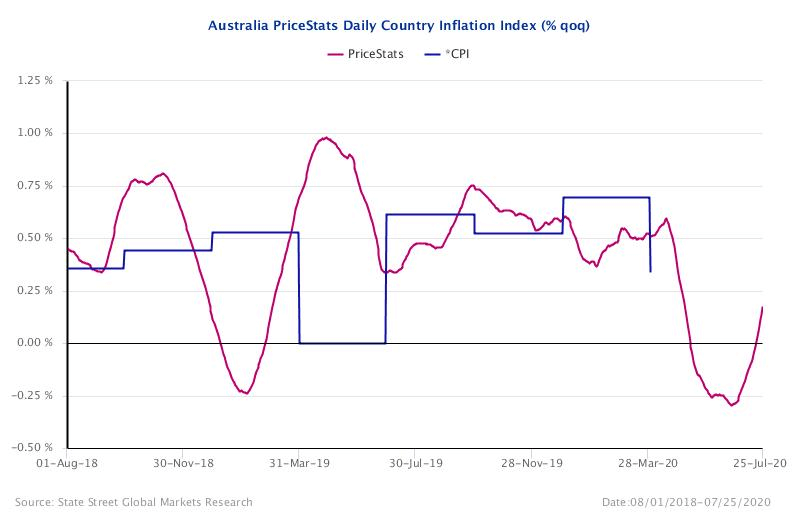 Closing Remarks
I believe that economists and markets will look through these results like was done in 1998 under the healthcare rebate adjustments.
The RBA certainly will – as their preferred measure of inflation called "trimmed mean" because it removes outliers before calculating the mean value – saw only a -0.1% drop in Q2, as opposed to the "headline" inflation drop of -1.9%.
For clarity – trimmed mean inflation is tracking at +1.2% annualised.
This is below the RBA's 2-3% target band, but not nearly as far away as the headline measure at -0.3%.
In terms of policy response – the RBA has already outlined they see their current monetary policy setting as near the limits of monetary policy.
As such, any further need to boost the economy should be fiscal, and further fiscal expenditure is likely, given the already weakening labour market impulse and second wave of COVID-19 cases in Victoria.
The views expressed in this article are the views of the stated author as at the date published and are subject to change based on markets and other conditions. Past performance is not a reliable indicator of future performance. Mason Stevens is only providing general advice in providing this information. You should consider this information, along with all your other investments and strategies when assessing the appropriateness of the information to your individual circumstances. Mason Stevens and its associates and their respective directors and other staff each declare that they may hold interests in securities and/or earn fees or other benefits from transactions arising as a result of information contained in this article.