It's an understatement to say it's been a rough few months for US stocks. The SP500 logged its sixth straight weekly decline at the close Friday, something that has not happened since 2011. Looking further back according to CNBC's research on its recent "Markets in Turmoil " programme the ~16% percent fall in the SP500 year to date is the second-worst start ever to a trading calendar year.
You need to turn back ninety years to the depression era and the 25.99% fall at this point of the year in 1932 to find worse; a grim correlation.
With an index performance like that, you would be under the impression we had just experienced tumultuous Q1 earnings for US companies but that has not been the case. Over 90% of SP500 companies have released updates and earnings at the aggregate level have been remarkably resilient. We have seen earnings growth of ~10%, and topline revenue growth of ~14%. The table below from Bloomberg highlights those gains on a sector basis.

Source: Bloomberg
Consumer Discretionary remains the core disappointment of this earnings season and note that both Consumer Discretionary and Communications are seeing declines in their upward projections for both April and May. Energy continues to lead the way for YoY bottom line growth following the March commodity spike.
If you look at the consensus earnings per share on a full-year basis and the year ahead; positive news continues. The chart below from JP Morgan's analytics shows market consensus still expected to be ~ 10% earnings growth next year from US corporates.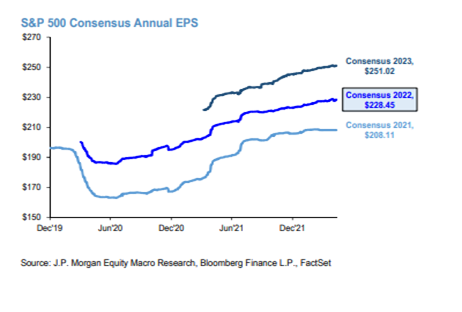 So if it's not earnings then what's happening to the market?
The equity market has adjusted its valuation based on the perception of higher inflation for longer. Real interest rates have risen by 134 bp year to date to 0.3%. Valuations have moved in near lockstep with that shift in real rates. The S&P 500 forward P/E has fallen by 24% to 17x currently according to Factset and is now inline with its 10-year average.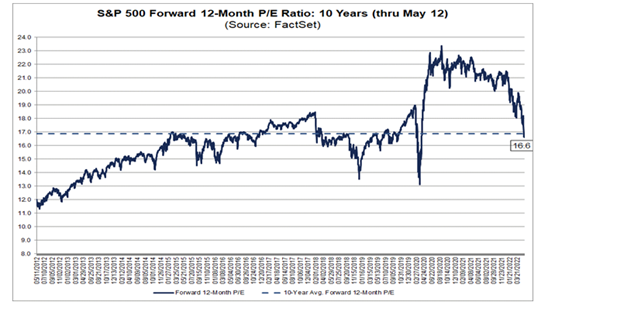 Source: Factset
US Consumer prices increased by 8.3% in April, the second largest (year-over-year) increase since 1982. The surging inflation in 2022 driving the bond market sell-off was preceded with an unprecedented asset allocation to equities. We're witnessing the adjustment to that allocation going on.
According to flow data collated by Goldmans – Global equities saw $1.34 trillion of inflows from November 1st 2020 to April 1st 2022. To put this in context, these inflows were more than the prior 25 years combined.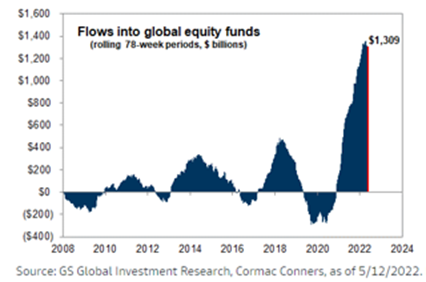 Those inflows when overlayed with a corresponding SP500 level are now underwater.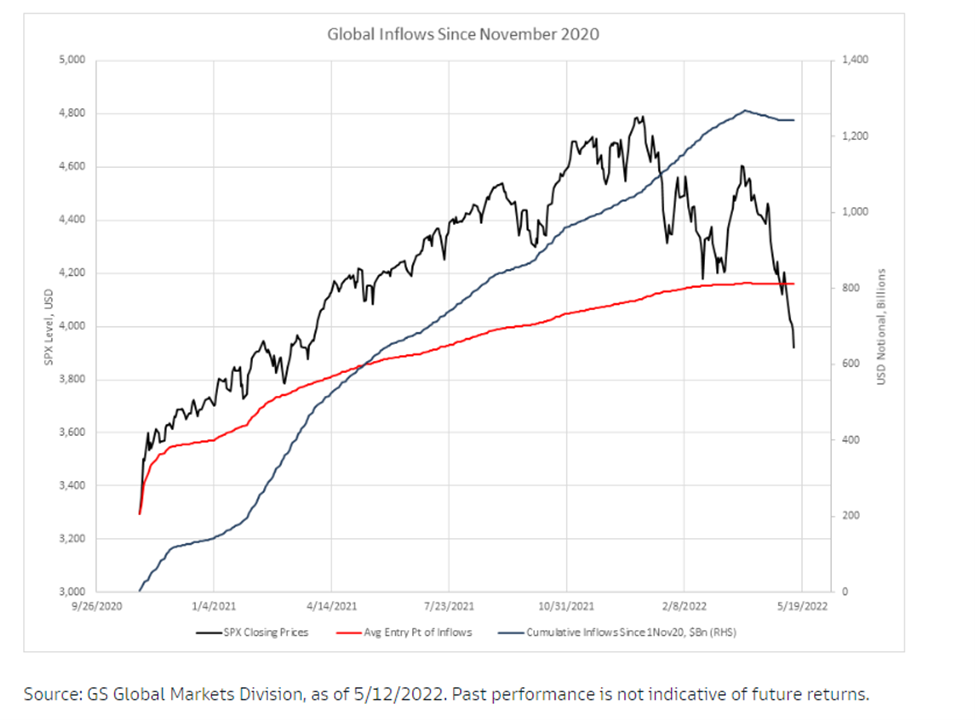 The change in the equity flow picture over the past few weeks has been the selling of equity funds by retail investors. Driven by US-domiciled investors, April saw the first monthly redemption from equity funds, including mutual funds and ETFs, since July 2020 and the highest redemption since March 2020.
While it's easy to extrapolate the market price action with the flows we saw in April, JP Morgan are sceptical of the idea that April's equity fund outflow is the beginning of a more drawn out reversal of 2021's inflows. They continue to look for retail investors to inject around $700 bln into equity funds this year, which while lower than last year remains at the high end of historical ranges.
JP Morgan's recent equity strategy focused on the fact we have reached peak Fed Hawkishness. The April CPI print was lower than the previous month and Fed fund futures have stabilized. If a recession doesn't come through, the multiple derating has already been very substantial, and given the reduced positioning and downbeat investor sentiment, equities stand to recover from here.
To end with a positive note, it's worth returning to another statistic the analysts from the CNBC's "Markets in Turmoil" compiled – the median return from the top ten worst starts to the year for the remainder of the year has been a positive 8.2%.
The views expressed in this article are the views of the stated author as at the date published and are subject to change based on markets and other conditions. Past performance is not a reliable indicator of future performance. Mason Stevens is only providing general advice in providing this information. You should consider this information, along with all your other investments and strategies when assessing the appropriateness of the information to your individual circumstances. Mason Stevens and its associates and their respective directors and other staff each declare that they may hold interests in securities and/or earn fees or other benefits from transactions arising as a result of information contained in this article.